Looking for helpful tips on taking good flat lay photography photos for your Instagram feed?
While flat lays are not as popular as they used to be, they're still all over Instagram.
Flat lay photos are great because they work for pretty much anything, from tech setups to beauty product scatters.
They're also just so aesthetically pleasing to look at!
Plus, you can shoot a bunch of flat lays at once and take your time posting them 😉
Here are some simple flat lay photography tips to help you take better photos!
---
What is flat lay photography?
---
If you don't know exactly what a flat lay (or flatlay, however you want to spell it) is, it's basically a shot taken directly above a scene.
Also known as top-down shots, they can make a scene look a lot more clean-cut and professional.
There are accounts completely dedicated to posting flat lay photos, which you can get some inspiration from.
Look up repost accounts like @flatlaytoday, @flaylaysquad, and @flatlay_gallery for inspiration!
---
Flat lay photography tips
---
Flat lay photos are actually fun to take once you get the hang of them!
It's a struggle trying to make flat lay photos more interesting, but it takes some practice to get it right.
Here are my tips on how to take great flat lay photography for Instagram!
1. Tell a story with the flat lay
Sure, you could throw in random pens and lipsticks, but if it doesn't tell a story, it looks pretty random.
For example, throw in your laptop, a cup of coffee, some notebooks and pens to tell a story of your work life.
Or, slap together some cooking utensils and toss some flour to tell a story of you baking something.
Just have fun with it! The busier the elements, the better the photo.
Include as many items and props as you can to make the photo more interesting. Less is more does not apply here.
Some people are into the whole minimal thing, but it will probably make for a boring photo if you just stick your laptop and notebook on a plain white table.
---
2. Play around with colour and light
Make it a grayscale setup with a Macbook and black notebook on a white marble surface, or throw in a pop of colour with a green juice.
Flat lays can be beautiful with or without colour!
Most flat lays are taken in flat lighting, which is typically taken in daylight when the light is even all around.
However, if you take photos during sunrise or sunset (also known as golden hour) as light streams in through the windows, it can make really cool effects!
---
3. Think about spacing between items
When you're putting things into the scene for your flat lay photo, think about the spacing between each of the items.
You usually don't want things to touch each other, and you don't want empty spaces to actually look empty.
Which takes us to our next point: the importance of balance!
---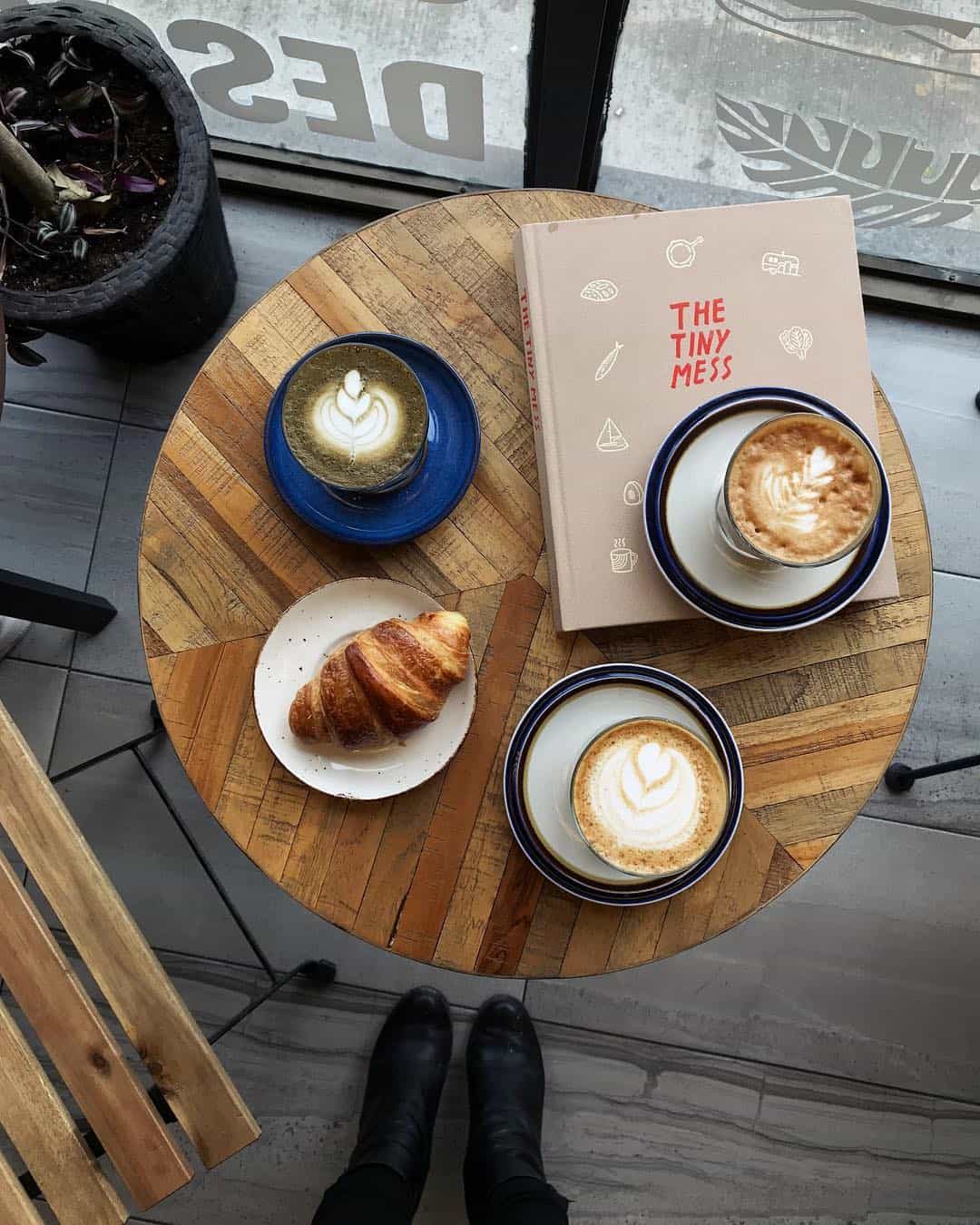 4. Make sure to balance out the flat lay
Ever heard of the rule of thirds in photography?
It means mentally dividing a photo into rows of three both horizontally and vertically.
This way, you can picture the balance of elements within a photo.
If you have similar items in a flat lay, you're going to want to place them in a way that'll balance out the photo.
If you have 1 pink plate and 2 white plates, don't put the white plates side-by-side – place the pink plate in-between them.
---
5. Layer it up
Instead of just having a few items laying out on a flat surface, play around with layering.
Stack your items on top of a newspaper or book, or just anything with a different height.
Having more layers to the flat lay can give it more dimension and make it just a little more interesting!
A very simple flat lay can be a little boring, so try to play around with it.
---
6. Add a human element
Include your hand or leg in the photo to make it look less like a product placement and more like a human in their natural environment.
By having a human element in there, it can look much more interactive and less impersonal.
However, this isn't always the case, because many flat lay photos without people in them look amazing!
---
7. Make sure things are in focus
Most of the time when it comes to flat lay photos, you're going to want the entire scene to be in focus.
A lot of people use their phone cameras to take flat lays, so it's pretty simple to have everything focused.
However, sometimes you can break the rules and play up the depth of field.
It's easier done with a camera over a smartphone, but nowadays phone cameras have depth of field capabilities as well.
---
8. Change up the angle
Nowadays, a lot of people are playing up the bird's eye view and taking flat lays from 45 degree angles instead.
Done well, they can look really artsy!
For example, lay out some pretty gold jewelry and maybe a candle on your vanity and give it some dimension with a 45 degree angle shot.
Some people might not call this a flat lay photo since it's not exactly taken directly top-down, but I personally call any shot taken from a higher angle a flat lay tbh.
---
9. Have go-to props to throw into your photos
Props are the most important part of flat lays.
If you don't have enough things in the photo, it can look a little too empty and boring.
Sunglasses, notebooks, and phone cases are just a few props that you can pretty much throw into any photo without it looking out of place.
---
10. Use flat lay equipment essentials
One of the simplest tips for taking great flat lay photography is using a tripod to get the shot.
A tripod is one of the most important Instagram accessories if you take flat lays or self portraits!
You can easily take flat lays by standing over the setup, but sometime it can be much easier to get a flawless top down shot with a tripod.
I use either my AmazonBasics tripod or my Gorillapod to take flat lay photos.
If I'm shooting with iPhone, I use my phone tripod adapter.
If you're exclusively shooting with iPhone and don't have a camera, a phone tripod is a more budget-friendly option!
---
Tips on how to take great flat lay photography:
Tell a story with the flat lay
Play around with colour and light
Think about spacing between items
Make sure to balance out the flat lay
Layer up items in the photo
Add a human element
Make sure things are in focus
Change up the angle
Have go-to props to throw into your photos
Invest in good flat lay equipment
Flat lay photos might not be as popular on Instagram as they used to be, but they're still pretty to look at and fun to take.
Sure, there are unwritten "rules" of taking flat lay photos, but they're totally breakable and you can make them your own.
Make sure to use the best Instagram hashtags and tag flat lay accounts in order to help your flat lay become more discoverable.
Gotta show off all that hard work, right?
Do you have any other flat lay photography tips? Let me know on Twitter or Instagram!
Be sure to keep up with me on Instagram, TikTok, Twitter, Facebook, and Pinterest if you aren't already!
Feel free to subscribe to my weekly newsletter to get my blog posts delivered straight to your inbox.

---