Ah, 'tis the season. The holidays are approaching quickly, so I guess it's about time I get started rolling out my holiday gift guides! I've compiled some of my top holiday gift ideas under $50 for ma ladies, some of which could be great stocking stuffers as well.
Whether she's into makeup or tech gear, I've featured tons of different gift ideas. Here are 50 holiday gift ideas for her under $50!
READ ALSO:
---
Gift ideas for the beauty guru
---
For the beauty guru who loves playing with makeup, here are some holiday gift ideas! From pretty gift sets to glittery makeup, there's guaranteed to be something for her to love.
1. Stila Glitter & Glow Liquid Eye Shadow – What's more festive than some glittery eyeshadow? Liquid eye shadows are fun to play with, and this glittery gold one is so perfect for the holiday season. You can get 4% cash back if you shop on Sephora through Ebates.
2. Quo Glitz On-The-Go Brush Set – This brush set features the basics, and comes with a gorgeous matching gold traveling case.
3. Avon Crave Lip Gloss Set – Avon's Crave lip glosses are some of my all-time favourite lip glosses. They're comfortable to wear and not too sticky! This holiday gift set comes with 5 different shades.
4. OPI Nail Polish – OPI makes some of the best nail polishes, and they make for a great stocking stuffer. To align with the holidays, try a festive colour like oxblood or silver!
5. Conair Cordless Curler – This Conair cordless hair curler is super easy to use and great for beginners. Because it's cordless, she can carry it anywhere she goes!
---
Gift ideas for the fashionista
---
For the lady who likes to make a statement with her looks, here are some fashionable gift ideas she'll probably love.
6. Calvin Klein Loungewear – These Calvin Klein bras are so comfy to lounge around in, or even to layer under sweaters. During the summer, they look adorable under overalls! They're so versatile and you can't really go wrong with them tbh.
7. Pandora Charm – If she has a Pandora bracelet, a Pandora charm is a simple yet thoughtful gift. There are tons of charms you can choose from, and there's bound to be something relatable to her. The new Harry Potter collaboration just released, and there's even a cute Dobby charm. If you shop through Ebates, you can get 1% cash back!
8. Dr. Martens Jadon Boots – The Dr. Martens Jadon Boots are actually on my wishlist at the moment. They're just so badass, and a bit more unique than the traditional Docs. If she's not into the edgier stuff, classic Dr. Martens are just as awesome.
9. Everlane Card Case – Wallets can get annoying and bulky, and card holders are the perfect alternative. You can fit your essential cards, and easily tuck it into your back pocket or coat pocket. I love this chic card holder from Everlane, one of my favourite sustainable brands! It's made in Spain with 100% Spanish leather, and the price for the quality is a steal.
10. Matt & Nat Backpack – Backpacks are my fave bags to wear because they hold my millions of things, and a stylish one is essential especially on days where she's wearing cuter outfits. This vegan backpack by Matt & Nat is perfect for work or school. Like all their bags, the lining is made out of 100% recycled plastic bottles. You can get 5% cash back on Ebates.
---
Gift ideas for the jet-setter
---
For the gal who loves to travel, here are some holiday gift ideas that she'll definitely find useful.
11. LANEIGE Hydration Dream Team – Ain't nothin' better than soft, glowy, and hydrated skin when you wake up after a long, dry plane ride. This set features some of my all-time skincare faves from LANEIGE: the Water Sleeping Mask, Cream Skin Toner & Moisturizer, Moisture Cream, and Lip Sleeping Mask. If she's into Korean skincare, she'll definitely love this set! Cash back is 4% if you shop on Sephora through Ebates.
12. ban.do Passport Holder – Traveling the world can get messy, but she can keep her passport safe and clean with a trusty (and cute) passport holder. You can also grab this matching luggage tag to go along with it.
13. Burton Beanie – For your friend who travels to cold places (lol me and Adam every single time), give them the gift of a quality, warm hat. I love this cozy one from Burton, and it comes in several colour ways.
14. Eddie Bauer Plaid Throw Blanket – A cute throw blanket will not only look good on her Instagram feed, but it'll keep her warm on those long road trips or in cold winter cabins. This plaid sherpa throw is perfect for the winter season!
15. Pool Floats – For the friend that loves taking photos for the 'Gram, a pool float is a super cute and creative gift idea. You can find all sorts of fun pool floats on Amazon!
---
Gift ideas for the fitness enthusiast
---
For the lady who loves working on her fitness, here are some holiday gift ideas that will help keep her moving.
16. invisibobble Hair Rings – I absolutely love Invisibobble hair rings because your hair doesn't end up in weird shapes after taking them out. It's a great stocking stuffer idea!
17. Nike Golf Cap – I almost always wear caps when I workout, because it catches my sweat (lol) and it covers my makeup-less face. Get her a cute golf cap for all of her workouts.
18. Crocs Slides – Gym floors are gross, and I always prefer to walk around in slippers I have specifically for gym showers (or for gross Airbnb showers). These Crocs slides come in adorable colours, they're comfortable, and they're completely waterproof.
19. Ban.do Gym Bag – Getting your fitness on is hard work, and so is having to lug all your stuff around without a proper gym bag. Do her a favour and get her a cute and motivational gym bag!
20. S'well Water Bottle – S'well water bottles actually keep your liquids cold all day long, and they're great to carry around all day and to the gym. The quality is amazing, and she'll probably be able to keep it forever.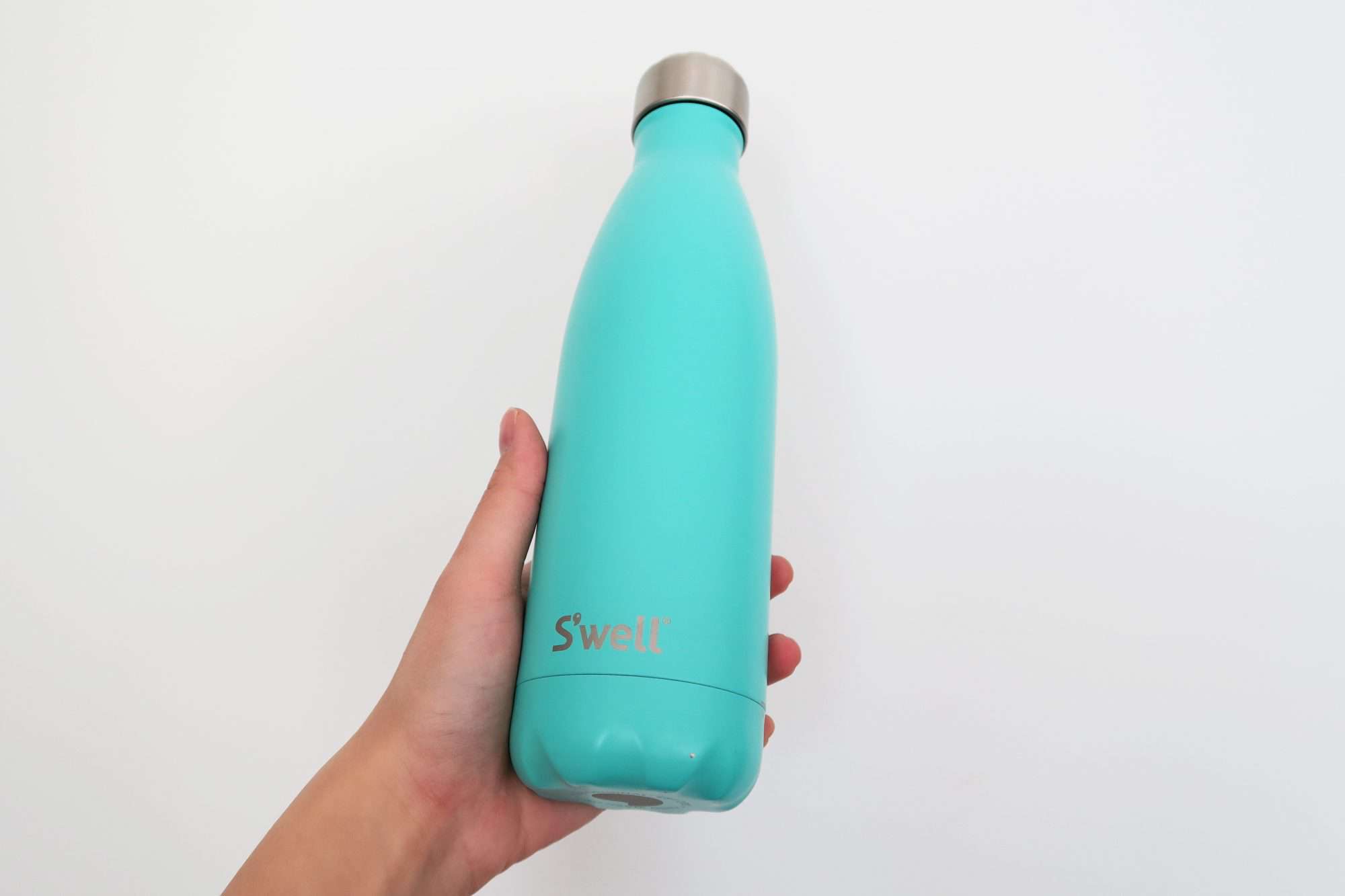 ---
For the kitchen aficionado
---
For the host who pours all of her love into her dishes, here are some tools she might need in the kitchen.
21. A kitchen utensil organizer – Between spatulas and whisks and all that good stuff, your kitchen aficionado is bound to have drawers or cabinets filled to the brim. Help her stay organized (and sane) with a utensil organizer!
22. A set of coasters – There's nothing more annoying than ruining clean tables with coffee and drink stains. Coasters are one of those things you don't bother to get for yourself, so it's a great holiday gift.
23. A mini cocktail kit – For the cocktail connoisseur, give her something she can make drinks with everywhere and anywhere!
24. A spice rack – Spice racks make life so much easier when it comes to cooking. It's a super thoughtful gift idea, and she'll definitely love it!
25. A mini donut maker – You can make all kinds of delicious donuts in these babies, and they're super easy to use. This is perfect for the baker in your life!
---
For the homebody
---
For the gal who'd rather stay in than go out, here are some holiday gift ideas that will help her feel even more at home.
26. Ryan Porter Candle – When it comes to gifts, candles are always a classic gift idea. Plus, soy wax candles are non-toxic and much safer than regular candles. Ryan Porter makes candles with fun sayings that your sassy homebody friend will appreciate.
27. 52 Lists for Happiness by Moorea Seal – For the homebody who enjoys journaling and writing, this is an adorable little gift idea. It'll help her kick off the new year with some extra happiness and positivity!
28. A cute mug – She can never have too many mugs. Never. Indigo always has the cutest mugs, and I love this wintery one. If you shop Indigo through Ebates, you can get 5% cash back.
29. Reading socks – Walking around in comfy socks is so much nicer than walking around barefoot. Indigo makes the coziest reading socks, and these candy cane themed ones are adorbs.
30. A funny doormat – For the introvert who prefers to stay home over going out, a funny little doormat telling visitors to go away is an awesome gift. This one is great for minimalists and this one is for cheeky cat lovers.
---
For the animal lover
---
For the girl who really loves her pet(s), here are some holiday gift ideas that she (and her pet) will love.
31. A huggable llama – This adorable lil dude will keep your fave lady warm or cool, depending on her mood. She can throw it into the microwave for warmth or into the freezer for cold!
32. Dog-shaped ice cubes – For the true doge lover. She can have little dog-shaped ice cubes swimming in her cold drinks.
33. An ugly Christmas sweater for her dog – If she has a small dog that gets cold easily, get her pup an ugly Christmas sweater to keep it warm throughout the winter. Bonus points if you can find her a matching one.
---
For the fandom geek
---
For the fandom geek, here are some fun holiday gift ideas that'll spark joy.
34. A Funko Pop! Figure – Can't go wrong with an adorable little Pop! figure of her fave character(s). I personally have Tyrion from Game of Thrones, Daenerys from Game of Thrones, Sailor Moon, and two Gudetama figures, all of which were gifted to me by my friends and loved ones.
35. A themed board game – A huge reason why I love visiting Snakes & Lattes here in Toronto is because I feel like we all spend too much time on our screens, and it's nice to unplug and get rowdy with some board games. Pick up this Harry Potter puzzle or this Game of Thrones card game.
---
For the tech nerd
---
For the lady who's into the latest and greatest in tech, here are some holiday gift ideas she might be into!
36. A gaming mousepad – For the friend who obsesses over PC games, get her a proper gaming mousepad. You can get her a plain one or a themed one from one of her favourite games!
37. A gaming headset – Perfect for your gamer friend, whatever she's into!
38. A chic radio – Who says radio is dead? Get her a nostalgic little gift that'll keep her entertained all the time. Plus, it'll look cute on her shelf.
39. Echo Dot – If she's into Smart Home, an Echo Dot is a nifty little gift idea. I use Alexa every single day for everything from playing music to checking the weather and time.
40. TP-Link Smart Plug – From heating up the hair curler to turning off the Christmas lights, a smart plug is the perfect gift for your tech geek.
---
For the student
---
For the gal who's in school, get her some useful school supplies that she can use even beyond her school years.
41. Agenda/Planner – Cause yep, the new year is coming quickly. I absolutely love ban.Do's planners, and this one is currently one I'm eyeing! I've had the pink version in the past, and I love how it comes with cute little stickers to decorate.
42. A thermal mug – Daily coffee runs add up $$$, and having a cute thermal mug might give her an incentive to make more coffee at home. Or, she can even take them straight to the coffee shop and be more environmentally-friendly. I love this fun Kate Spade thermal mug!
43. Brita Water Bottle – She's gotta stay hydrated all day, and with a Brita water bottle, she can have clean water anywhere on campus.
44. A laptop case – To keep her MacBook looking chic and clean, get her a protective laptop case.
45. AfterShokz Open Ear Wireless Headphones – I've talked about AfterShokz quite a few times before, and I still use them all the time. Because they go over your ears, you can still hear what's going on around you, so it's safer for her to wear around campus than earphones or headphones that cover her ears.
---
For the girl boss
---
For the girl boss, here are some cute essentials for her daily life as a lady boss.
46. Marble Mouse Pad – Carpal tunnel ain't a joke, my friends. With a cute mouse pad, she'll actually want to use a mouse instead of the trackpad on her laptop.
47. Desktop Organizer – Slaying the world ain't always so easy, but a little decluttering and organizing can help! Give her the gift of something that will help make her life a lot neater.
48. Cinema Lightbox – She can fill this neat little cinema box with all kinds of inspirational quotes and sayings. Plus, it'll look good on her Instagram feed. Cuz that's important to girl bosses, right?
49. Kate Spade Lunch Tote – Give her something that will have her looking forward to lunch everyday, and double up as a takeout bag (#ByeByePlasticBags).
50. #GIRLBOSS by Sophia Amoruso – Sophia Amoruso is a huge inspiration to girl bosses all around the world, and what better gift to your fave girl boss than a book from the OG #GirlBoss? If she already has it, you can also pick up Capture Your Style, a book by Aimee Song, who's another badass lady boss.
---
What are some gifts you're shopping for this year? What are your top holiday gifts for her? I'd love to know in the comments!
If you can't think of any specific gifts to get for someone, you can also share experiences for them! Take them out to dinner, go out to watch a comedy show, or even just chill at home and watch holiday movies together.
It's not all about how much you spend or what you get – the holidays are a time to cherish and share memories with your loved ones.
Looking for more holiday gift ideas? Check out some of my other holiday gift guides:
Be sure to keep up with me on Instagram, TikTok, Twitter, Facebook, and Pinterest if you aren't already!
Feel free to subscribe to my weekly newsletter to get my blog posts delivered straight to your inbox.

---