I was kindly invited to a complimentary tasting by King Taps Toronto and chose to write a review. As always, all opinions are my own.
A couple of weeks ago, Adam and I visited the King Taps restaurant at First Canadian Place.
I'd passed by a gazillion times before, but I never had a chance to actually stop inside.
I'm so glad we had the opportunity to, because now it's one of our favourite restaurants in the Financial District!
It's right in the heart of the Toronto Financial District in First Canadian Place, so it's super easy to get to whether you work in the area or just want to have a taste of the awesome food and drinks.
Here's everything you need to try on the menu at King Taps in Toronto.
Be sure to also follow me on Instagram and TikTok – I share a lot more content on those platforms that don't make it to the blog!
---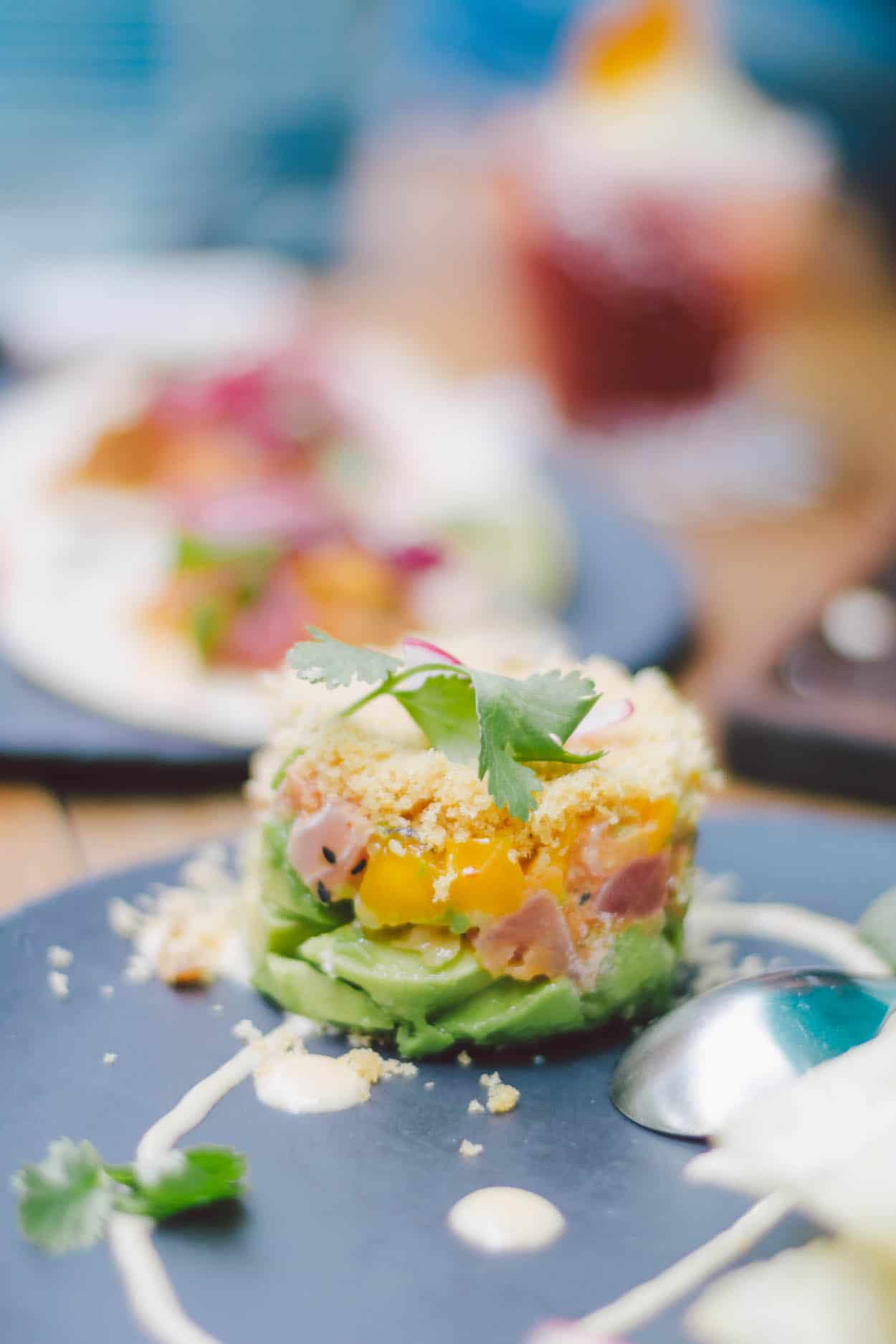 But first, drinks
King Taps truly is the king of taps in Toronto, with over 50 rotating taps of craft beer from Ontario and beyond.
We tasted the Elora Pink Guava Sour from Elora, Ontario and the Bellwoods Apricot Mango Jelly King from Toronto.
When it comes to beers, I like them lighter and more sweet, and these were both great.
We decided to grab some cocktails as well.
Adam got the Frojito with Bacardi, mint, and lime, and I got the Strawberry Frozen Margarita with Cazadores, triple sec, and lime, both of which were exquisite!
Of course I preferred the Strawberry Frozen Margarita – I'm all about the sweet stuff.
If you're into craft beer, you might enjoy this post on the best craft breweries in Toronto!
Shareables, please!
The first dish we tried was the Poke with ahi tuna, mango, avocado, sesame-ginger vinaigrette, miso, and wonton chips.
It was a little messy to eat, but it was so delicious!
Everything was paired together perfectly, from the soft mango pieces to the ripe avocado slices.
Next, we tried the Crispy Sushi with seared rare ahi tuna, crispy sushi rice, avocado, and yuzu emulsion. It was amazing.
I'd never gone to a non-sushi restaurant that did sushi right before, until King Taps!
The fish was so fresh and absolutely divine.
It's a shame that this dish only comes with four pieces – you'll definitely be craving for more!
So ready for the mains
Aside from the extensive beer selection, pizzas are another highlight at King Taps.
We tried two different pizzas, and believe me when I say these were some of the best pizzas we've had in Toronto.
The Prawn & Pesto features roasted prawns, feta, oven-dried grape tomatoes, baby kale, and pesto.
The Stinging Bee features Soppressata salami, Kalamata olives, mozza, and Calabrian honey.
The Stinging Bee was definitely the more unique one, but both were incredible.
Psst: pizzas are half-priced weekdays 2-5pm and 10pm-close, Saturdays 11-5pm and 10pm-close, and all-day on Sunday. You're welcome.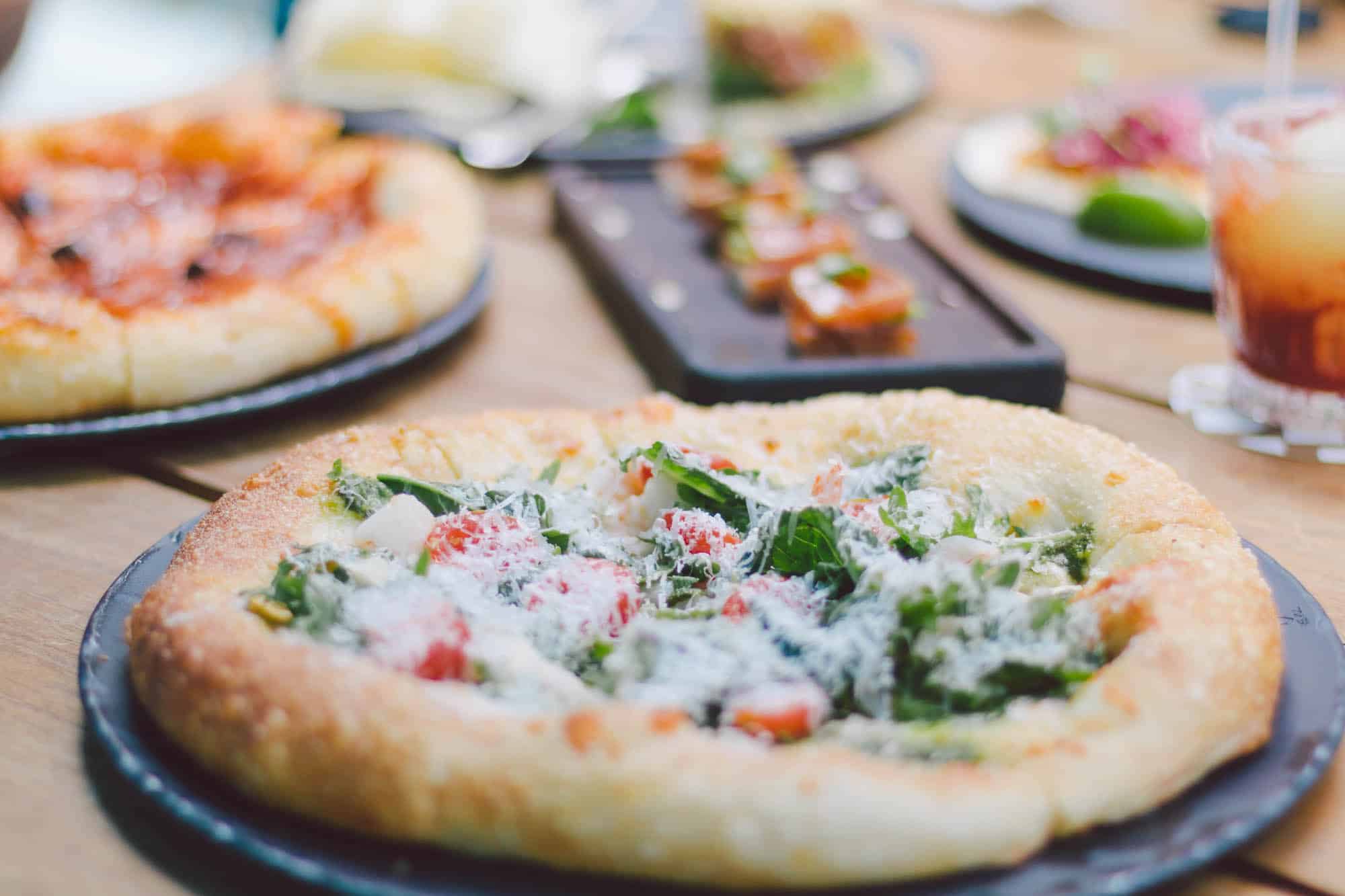 Lastly, we got the Chicken Tacos with chipotle and tomatillo-braised free run local chicken, corn salsa, and pickled red cabbage.
These were also super messy, but very delicious!
---
Everything we tried at King Taps tasted absolutely amazing.
However, the highlights of our meal were definitely the Crispy Sushi, Prawn & Pesto pizza, and Stinging Bee pizza.
As for drinks, I'd definitely go for any craft beers that float your boat, or a frozen margarita if you're not into beer!
Adam and I will definitely coming back for these faves, and to try more pizzas.
Have you guys been to King Taps in Toronto yet? What's your favourite dish on the menu? Let me know on Twitter or Instagram!
For more information, please visit King Taps' website.
P.S. if you liked this post, you might like this post on the best Toronto taco spots, or any other posts on Toronto restaurants.
Be sure to keep up with me on Instagram, TikTok, Twitter, Facebook, and Pinterest if you aren't already!
Feel free to subscribe to my weekly newsletter to get my blog posts delivered straight to your inbox.

---
Like this post? Pin it for later!