Looking for helpful tips on how to declutter your closet this season?
If you're struggling on cleaning out and downsizing your wardrobe, I completely feel you.
I have clothes even back from high school that I'm struggling to part with, because "maybe I'll wear it again someday".
And realistically, that someday is probably never going to come.
Sometimes it's just the memories associated with pieces of clothing that make them hard to part with.
Goodbye to the Paramore tank top I bought at their concert in 2013 that I haven't touched in years :'(
It may be hard to part with your memorable pieces of clothing, but if it's just sitting in the dust, you gotta get rid of it.
Now let's get to decluttering our wardrobes Marie Kondo-style.
Here are some of my tips on how to declutter your closet to help you clean out your closet!
Be sure to also follow me on Instagram and TikTok – I share a lot more content on those platforms that don't make it to the blog!
---
Benefits of decluttering your closet
---
So what are the benefits of decluttering your closet? Well…
Your clothes will fit properly in your closet
You can shop for new clothes and actually fit them in your closet
You'll actually know what you own so it'll be easier to get dressed in the morning
Aaaand yup… It just feels nice to declutter sometimes.
I mean, less stuff means less stress, right?!
---
Tips on how to declutter your closet
---
1. Find your motivation to declutter your wardrobe
So how the heck do you even get the motivation to declutter your clothes?
First off, you've got to figure out exactly why you're doing it.
Is it to downsize your wardrobe into a capsule minimal closet?
Is it because your clothes don't all fit in your closet anymore and they're sitting in an overstuffed laundry basket that you have to wake up next to every morning? *cough* me *cough*
Or is it because you'd like to revamp your wardrobe and change your style?
Whatever the reason, figure out your motivation behind the decluttering so that you'll actually want to do it and (maybe) won't tear your hair out.
If you're not motivated to do it, you're just going to be bored, and your declutter pile might just chill there for who knows how long.
---
2. Gather every item of clothing you own in one place
You can't declutter your wardrobe without using at least one Marie Kondo method.
It's easier to understand the clutter you have if you can see it all in one place, so gather it all and toss it onto your bed.
Friendly note that you will probably regret everything immediately after you've dumped every item of clothing you own on the bed, 'cause you'll probably be here all day.
However, like any sort of cleaning or decluttering, you will feel good once it's all over.
It's sort of like working out for the first time after awhile – it feels horrible in the moment, but you'll feel better once you're done.
The payoff is always worth it in the end, y'all!
Even if it takes 12 hours and results in excessive back pain… But you can do a nice, relaxing yoga sesh afterwards.
---
3. Think about whether you've worn the clothing item in the past year
If you haven't worn it in the past year, chances are you probably won't wear it in the next year.
However, sometimes you just don't know what you have in your closet, and you forget that you owned something you actually really liked.
One of my favourite sustainable fashion tips is shopping my own closet for pieces I've forgotten about!
Now, think about whether you'd wear this item in the next year if you haven't worn it in the past year.
Yes? No? Perhaps it's time to donate or sell it.
When it comes to deciding whether to keep something, I also like to think of at least 10 outfits I can (and would) wear with a specific item of clothing.
---
4. Try every item of clothing you have
Yes, I mean every piece of clothing you own.
Maybe those jeans you bought last summer won't go past your thighs anymore.
Maybe that dress you bought years ago "just in case" just isn't your style anymore.
Or maybe some of your clothes just don't fit your age anymore (goodbye to all my skimpy summer dresses from high school).
By trying on every item of clothing you have, it makes it easier to throw them into the "yes" or "no" piles.
If there's something you truly love and that realistically you can lose or gain enough weight to fit into, maybe it's okay to keep.
Sadly, that expensive 00 skirt I bought without trying on will never fit over my adult lady hips.
---
5. Separate your clothes into yes, no, and maybe piles
You've got to be ruthless when decluttering your clothes.
It's either a definite yes, a definite no, and a maybe pile if you truly cannot decide whether to keep something or not.
More often than not, if it's in the maybe pile, you probably don't want it as much as you think you do.
Ask yourself these questions when decluttering:
Do I like this?
Do I like how it looks on me?
Does it fit me properly?
Is is still my style?
Will I wear this in the next year?
Am I willing to iron/dry-clean/insert annoying task here?
Be ruthless! You've got this, dude.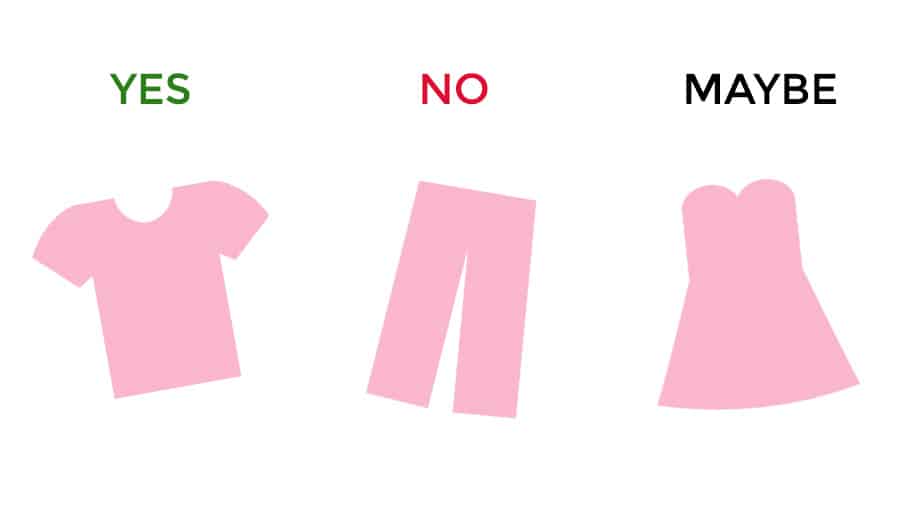 ---
6. Sort out your "no" pile
Okay, so now that you've sorted out your clothes into piles, it's time to figure out what to do with all the clothes you don't plan on keeping anymore.
There are several things you can do with your "no" pile:
Revamp
Maybe you still love the print of a dress, or you just can't bring yourself to get rid of that shirt.
Revamp your clothing items to make them into something "new"!
Crop it, cut the sleeves off, do whatever makes you happy.
Just try not to ruin it enough to the point where you have to throw it into the garbage anyway!
Toss
If your clothes are damaged beyond repair (AKA gross stains or broken zippers), toss 'em right into the garbage.
Not the recycle or compost btw, which I feel like I should say because apparently people in Toronto do throw them in places besides the garbage.
If your clothes are still in good condition, don't throw them out!!!
Donate or sell them to give them new life and keep them from the landfill.
Donate
Maybe you don't love your clothes anymore, but someone else will.
If you have the time for it, look into local charities that you can donate your clothing to.
If you don't have the time, simply drop off your donations at a local Value Village or other thrift store – it takes less than 5 minutes.
For my Toronto-based friends, here are a few charities you can donate clothing to:
Dress for Success accepts professional and workwear items.
New Circles accepts clothing items, and they even used to host prom dress "shopping" for low-income girls (I think they can't anymore due to limited resources), so donate any pretty dresses you have!
Jessie's Centre is a centre for young women, and they accept donations beyond clothing as well.
I personally separate my donations into different piles and bags ahead of time so it's easier for me to drop off later.
Sell
Looking to make a little extra cash by selling your clothing?
Try finding consignment stores in your neighbourhood or selling online through buy/sell platforms like Poshmark.
The great thing about Poshmark is that the buyer pays for shipping, and Poshmark sends you a shipping label that you just have to print out and stick onto the package you ship out!
Feel free to use my code "JESSICAILAM" to save $15 on your first Poshmark order.
Common Sort and Plato's Closet are also both great Toronto-based consignment stores – I personally love shopping at both spots myself!
---
7. Get rid of duplicate clothing pieces
Do you really need 2 navy turtlenecks in the exact same shade?
Realistically, no.
Unless it's a clothing piece you wear very regularly, or the styles are different, then you should think about getting rid of at least one of them.
For example, if you've got two white button-downs and one is fitted while one is more oversized, that's justifiable to keep.
If they're just slightly different, maybe you should get rid of one.
As much as every single pair of sneakers I own are my babies (AND THEY'RE ALL VERY DIFFERENT), I don't need multiple pairs of dad sneakers…
---
8. Fold your clothes using the KonMari method
As much as I prefer folding my own way (AKA the lazy way) over the KonMari way, Marie Kondo's method is the only reason why all my clothes fit in my closet.
Would it be better to fold my own way to have less room and force myself to declutter more? Possibly.
Anyway, Marie Kondo has a whole video tutorial all about how to fold using the KonMari method.
You get used to it after awhile, and it starts to get *gasp* fun after you get the hang of it.
---
9. Declutter every season
So that you never have to go through the torture of spending 2 full days going through your entire wardrobe, declutter on the regular.
Decluttering your wardrobe is a great habit to get into every season, especially if you do add new items to your closet every so often!
It's also good to revisit your closet and see if those pieces you kept for "just-in-case" situations ever actually got worn.
Out with the old, in with the new.
---
10. Think before buying new clothes
No more shopping sprees for you, young lady.
The last thing you want after all this wardrobe decluttering effort is to haul a whole bunch of new clothes into your closet.
Truly be mindful of any new clothing purchases you want to make.
Ask yourself these questions:
Will I regret not buying this a week from now?
Can I think of 10 outfits I can wear this with?
Is this something that will last me for years?
I'm that person who spends an hour in-store (and in the change room) debating if I want to buy something.
I'd rather put my money towards saving for my future, so I only buy new pieces that I really want.
A lot of clothes I currently own are from my shopaholic days, and I'm slowly decluttering them as the years go by (lol).
If you really want to commit to having a minimal wardrobe, try doing a no-spend challenge!
If you do want to shop for new clothes, perhaps check out some Toronto vintage clothing stores or Toronto sustainable brands – it's a more eco-friendly way to shop!
---
Tips on how to declutter your closet:
Find your motivation to declutter your wardrobe
Gather every item of clothing your own in one place
Think about whether you've worn the clothing item in the past year
Try every item of clothing you have
Separate your clothes into yes, no, and maybe piles
Sort out your "no" pile
Get rid of duplicate clothing pieces
Fold your clothes using the KonMari method
Declutter every season
Think before buying new clothes
Whether you're trying to be a minimalist or just want to have that extra closet space, decluttering your wardrobe will seriously make you feel a lot better.
It's like a weight being lifted off of your chest!
While I myself haven't fully purged my closet, I can finally at least fit everything I own into it, which is something I haven't been able to do in years. *phew*
If you find yourself in a situation in the future where you again have too many clothes, just follow these tips to declutter your closet.
Have you decluttered your wardrobe before? What are some of your tips on how to declutter your closet? Let me know on Twitter or Instagram!
If you're looking for more sustainable fashion, you might like these posts:
Be sure to keep up with me on Instagram, TikTok, Twitter, Facebook, and Pinterest if you aren't already!
Feel free to subscribe to my weekly newsletter to get my blog posts delivered straight to your inbox.

---