Looking for the best Amazon Canada products to buy to make your life easier?
Gotta make use of that Amazon Prime membership, amirite?
If you're not already an Amazon Prime member, it's definitely worth signing up for.
It gets you free same-day, 1-day, or 2-day shipping on millions of products on Amazon Canada, as well as free access to Prime Video, Prime Music, and more!
I've been a Prime member since 2017, and I truly think it's worth having the membership.
You can sign up for a free 30-day trial of Amazon Prime if you're interested in trying it out!
Here are the best products to shop on Amazon Canada that'll make your life so much easier!
Be sure to also follow me on Instagram and TikTok – I share a lot more content on those platforms that don't make it to the blog!
More things to shop on Amazon Canada
If you're looking for more cool things to shop on Amazon Canada, you might enjoy these posts:
---
Best products to shop on Amazon Canada
---
Home products on Amazon Canada
---
I'm always trying to implement more eco-friendly products into my life.
While it may seem counterintuitive to purchase products in order to reduce plastic waste, I try to invest in high-quality, long-lasting products.
Mesh produce bags are one of those things, and not only can they be used to store produce, but they can be used as a cheesecloth to make things like cheese or nut milks!
Mesh produce bags are reusable, machine washable, and lightweight, and you can leave them in your reusable grocery bag so you'll never forget them!
These mesh produce bags are made out of polyester, which isn't an environmentally-friendly material, but it's very well-made and has held up in our household for years.
---
Cotton tote bags are great to carry around literally everywhere.
I take them to the mall, to the grocery store, and even to hang out with friends.
Cotton is also a biodegradable material, and these kinds of bags last through everything!
Some stores like Roots and Urban Outfitters even give out reusable (but not cotton) bags, so you don't even have to buy them.
---
While plastic straws may not actually be that detrimental to the turtle population, they're still not great for the environment.
Stainless steel drinking straws are reusable and forever-lasting, and you can easily just throw it in the dishwasher to clean it.
I've had mine for 2 years and they're still in great condition – I use them every single day!
---
If you eat out often, one way to reduce your plastic waste is to bring your own cutlery.
Bamboo cutlery is great because it's naturally anti-bacterial and it's lightweight to carry around.
This bamboo cutlery set contains spoons, a knife, fork, chopsticks, and straw, which is basically all you need.
---
If you bake a lot, you definitely need to have a silicone pastry brush in your kitchen drawer.
I used to just use a spoon or my hands (lol) to coat pans or cover pastries in oil or butter.
This pastry brush does the job a lot better, and it saves you from wasting a lot of excess oil!
You can also toss it into your dishwasher to clean, so you don't have to waste your time handwashing it.
---
Whether you meal prep or not, food storage containers and tupperware are extremely useful in the kitchen.
I personally prefer glass tupperware as it's less likely to stain or smell.
I also mix sauces and dips directly in them so I can easily store them without having to transfer them to a new container – lazy people problems!
---
While I'm more into reusable containers and tupperware, food storage bags can be useful as well.
This reusable freezer bag is made with food-grade plastic, and you can store anything from chopped veggies to sandwiches in these bags.
---
As someone who's been drinking Brita water all their lives, there is a huge taste difference in tap vs. filtered water.
The taste of water after freshly changing the filter is *chef's kiss*.
This space saver Brita pitcher is great for condo fridges or small spaces, and it comes in white, black, and red.
---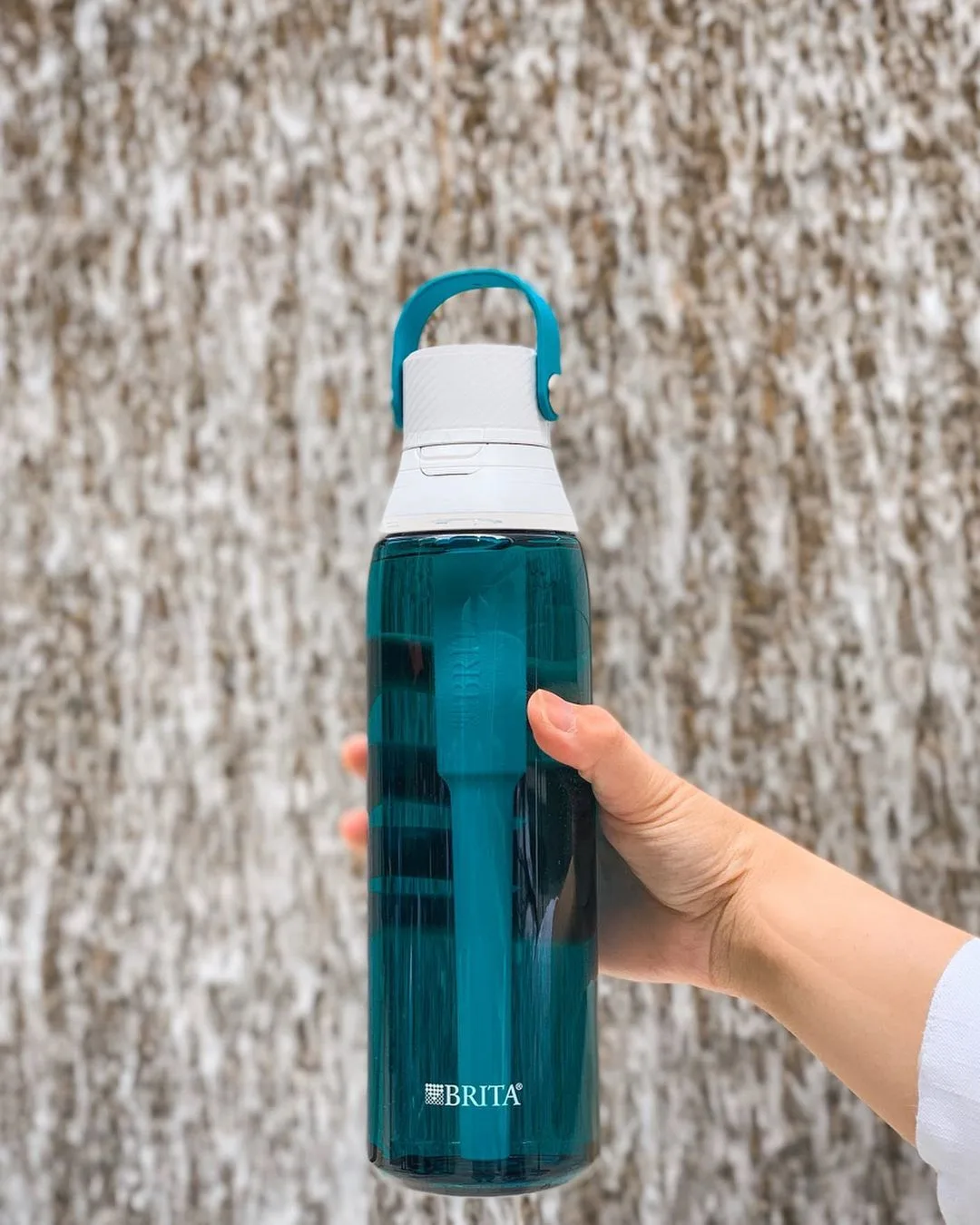 While plastic water bottles are recyclable, apparently 70% of them don't even end up getting recycled, which means reusable water bottles are the way to go!
The great thing about the Brita filtering water bottle is that you can have drinkable water almost anywhere you go.
Plus, they have a recycling program for their filters and filter packaging!
---
I never even knew there was such thing as reusable coffee pod filters until my parents began using them.
It's a little bit more work to have to fill up the filter yourself and clean it afterwards, but you'll feel a lot better knowing you're not dumping more plastic into the landfill.
While Keurig K-Cup Pods are recyclable in Vancouver and Halifax, they're sadly not anywhere else in Canada!
---
I've gone through a lot of shower curtains over the years – they often get mouldy (yuck) and difficult to clean.
This mold-resistant plastic shower curtain is the best I've used so far – I've had it for almost a year, and there's still no mould!
---
As much as I love the cute and aesthetic bath mats on Pinterest… They ain't always functional.
Trust me – it ain't fun stepping on wet mats while you're peeing when you live in a teeny tiny Toronto condo.
This AmazonBasics bath mat is amazing because it's non-slip, features a quick-drying microfibre fabric, and it's a cozy memory foam material.
I've had mine for about 4 years now, and it's still in perfect condition – I throw it in the laundry with my towels every so often to clean it.
---
Microfiber may not be the most environmentally-friendly material, but it does an incredible job of cleaning with just water, which means you don't have to use toxic chemical products.
If you choose to use chemical cleaning products with your microfiber cloths, the microfiber will soak up more than paper towels, so you can clean more surfaces with less product.
Microfiber cloths are a great alternative to paper towels because you can toss them in the laundry and reuse them.
Plus, they do a better job of cleaning!
---
Instead of buying disposable dryer sheets, use wool dryer balls instead.
Some dryer sheets contain toxic chemicals that can rub off onto your clothes and thus end up on your skin.
These wool dryer balls are made out of 100% merino wool, so they're also biodegradable.
Wool dryer balls can help cut down on drying time, and if you add a drop of essential oil on them, can make your clothes smell nice!
---
Beauty products on Amazon Canada
---
I've been using microfiber makeup remover pads for years now, and they do an incredible job of getting off my makeup.
Plus, you can apply toner from the other side of the pad!
These Garnier microfiber makeup remover pads are super soft and do a good job of getting your makeup off.
No more disposable cotton pads or makeup remover wipes!
---
Tech products on Amazon Canada
---
I know a lot of people are all about reading physical books and turning actual pages.
I'm 100% not one of those people, and I prefer the convenience of being able to have whatever book I want whenever I want.
Too heavy to carry all your books to school? Have it all on your little Kindle Paperwhite.
Just finished reading your book at the airport? Buy a new one and download it on the airport wifi.
Don't get me wrong – I love the sensation of reading physical books, but it just ain't convenient 99% of the time.
---
Some people think smart home is creepy – I also think it's creepy.
However, it's very useful, especially for lazy people like moi.
Amazon has several products with Alexa capabilities, and the Echo Dot is the most affordable and simplest one if you're not looking for anything fancy.
The Echo Spot has a screen on it if you want it, but I'm completely fine with my screen-less Echo Dot.
I ask Alexa for the weather, to set alarms, and I even ask her random life questions.
Oh, and another cool yet creepy thing: if you whisper to Alexa, she'll whisper back. *shudders*
---
As a clumsy gal, I need a good phone case that'll keep my phone safe.
I've cracked a lot of iPhones over the years (thank GOODNESS for Apple Care), and I finally decided to invest in a good-quality protective case and screen protector.
Probably would've saved a lot of money investing earlier rather than spending money on Apple Care and new iPhones, but we don't need to talk about that.
This Otterbox phone case is the best I've ever used – I've dropped my phone at least 100 times the past year, and my phone's still in perfect condition.
---
Adam and I both have this laptop stand, and it's completely changes our lives for the better.
We both sit at our desks for long hours, and having our laptops at an elevated height helps to alleviate the strain on our backs.
It's made out of aluminum, has breathing room underneath (so the laptop doesn't overheat), and it's non-slip (so the stand doesn't move).
All in all, so worth the purchase!
Not only is this ergonomic mousepad super cute – it's super functional.
I used to have really bad wrist pains from spending long hours on my laptop, and the pain has completely subsided after a whole year of using a proper mousepad with my mouse.
It has gel wrist support which is not only super comfy, but lifts up your wrist so you're not holding it at a weird angle all day!
It comes in a whole bunch of other cute and fun prints as well.
---
It's so important to have things backed up – family photos, important documents, and everything else you wouldn't wanna lose if your phone or laptop were to get lost or break.
This LaCie external hard drive is amazing because it's got a shock-proof rubber protecting the hard drive itself.
I've had many hard drives over the years, and they've all been broken or damaged from dropping – I even had one break when it fell on the table because I had it standing up.
I haven't tested out dropping my LaCie hard drive yet 'cause no thanks, but it's been great so far.
---
Whether you're a content creator or just someone who loves taking photography, a tripod is always a great tool to have.
This AmazonBasics tripod is affordable, great-quality, and it even comes in its own carrying case!
I've had mine for 2 years now, and it's still in perfect condition.
It's definitely not small enough to carry around in a backpack, but it's small enough to carry around in its own bag.
---
No need to buy a different power adapter in every international destination you travel to.
Just buy this universal one and call it a day!
---
These were some of the best products to shop on Amazon Canada!
If you love shopping on Amazon, definitely keep an eye out for the annual Amazon Prime Day Sale and Prime Big Deal Days sale so you can snag all the best deals!
You can also find more of my fave products and items on my wishlist in my Amazon Shop!
Do you have any of these products? What are some of the best products you've purchased on Amazon Canada? Let me know on Twitter or Instagram!
Don't forget to also sign up for a free 30-day trial of Amazon Prime if you're not already a member!
More things to shop on Amazon Canada
If you're looking for more cool things to shop on Amazon Canada, you might enjoy these posts:
Be sure to keep up with me on Instagram, TikTok, Twitter, Facebook, and Pinterest if you aren't already!
Feel free to subscribe to my weekly newsletter to get my blog posts delivered straight to your inbox.
---
Like this post? Pin it for later!