Searching for the best things to do in Stavanger, Norway?
We just did our first big Europe trip, and Stavanger was one of the places we visited.
The weather was a little bad during mid-October, so we weren't able to do everything we'd planned, but we still had so much fun exploring Stavanger.
Here are some of the best and most fun things to do in Stavanger, Norway!
If you're wondering about the rest of our Europe trip, we also visited London, Germany, France, and Amsterdam!
Be sure to also follow me on Instagram and TikTok – I share a lot more content on those platforms that don't make it to the blog!
More things to do in Norway
If you're planning your trip to Norway, you might enjoy these posts:
---
Best things to do in Stavanger, Norway
---
This grand monument commemorates the historic Battle of Hafrsfjord in the year 872, when King Harald Fairhair gathered all of Norway under one kingdom.
There are three large swords wedged into the rocky landscape, each with hilts inspired by viking swords that have been found around Norway.
"Sverd i fjell" directly translates to "swords in rock", and this majestic monument was made by Norwegian sculptor Fritz Røed.
It was unveiled in 1983 by the late King Olav. Yes, there's still a monarchy in Norway!
It's a very cool site to see in person, and you simply park in the parking lot and walk right over to it.
It felt very ~RuneScape~ to us, which we loved.
LOCATION: Møllebukta, 4044 Hafrsfjord, Norway
---
This scenic viewpoint in Stavanger gives you epic panoramic views of the Lysefjord fjord.
It's only a short walk from the small parking lot, which is super nice!
It was super foggy when we visited, so we sadly couldn't see very much.
We'll definitely come back someday in sunnier conditions!
LOCATION: Hølleslivegen 1, 4110 Forsand, Norway
---
See the colourful houses along Fargegaten
Fargegaten is one of the cutest and most colourful streets in Norway.
Hairdresser Tom Kjørsvik came up with the idea of painting the old wooden houses in bright colours back in the early 2000s, and it's now a lively pedestrian street.
You'll find this charming street filled with houses in vibrant hues, mostly filled with cafés, pubs, and shops.
We'd planned on grabbing a drink and possibly enjoying live music at one of the pubs here one night, but we unfortunately didn't get the chance to. Next time!
LOCATION: Øvre Holmegate 32, 4006 Stavanger, Norway
---
Gamle Stavanger literally translates to "Old Stavanger", and this historic neighbourhood is lined with 18th and 19th-century wooden houses.
You'll feel like you've stepped back in time as you stroll down the cobblestone streets of the quaint historic city centre.
The wooden houses are all meticulously painted white, and it makes for such an Instagrammable spot.
Remember that people live here, so be respectful when taking your photos!
---
We were surprised to see so many murals and so much street art in Stavanger.
Simply walk around the city, and you'll find beautiful artwork all over various walls and buildings.
All of the street art and murals really make the city feel more vibrant and alive!
There was even artwork and murals on some people's homes, which we thought was really cool.
Part of the reason why there is so much street art is because of the annual NuArt, a street art festival that's been held every Stepember since the early 2000s.
You'll find public art by both local and international artists all around Stavanger!
You can take a peep at and learn more about some of Stavanger's street art on Google Arts & Culture.
---
Wander around Kiellandshagen
Kiellandshagen is a really nice city park in the heart of Stavanger, and it circles around the picturesque Breiavatnet Lake.
You'll find some interesting statues at this relaxing and serene park!
It's also the perfect spot for bird watching, as you'll see quite a few different birds here, including swans and seagulls.
We especially enjoyed walking around the park during the evening.
LOCATION: Unnamed Road, 4005, 4005 Stavanger, Norway
---
We really enjoyed visiting museums during our time in Europe, and the Museum of Archaelogy in Stavanger was one of the coolest museums we visited.
You'll find archaeological and natural history exhibits dating back to prehistoric times, with the oldest exhibit being a polar bear skeleton from over 12,000 years ago!
Adam and I are both super fascinated with vikings, and it was cool to see viking-era artefacts.
You'll even find centuries-old skeletal remains from humans, which was a little creepy, but still cool.
The museum is located at the University of Stavanger, and admission is 100 NOK per adult (about $12 CAD).
Your ticket also grants you free access to the Iron Age Farm, a reconstructed farm on the original archaeological site, where you can see what life was like in Norway over 1,500 years ago.
We didn't have a chance to check it out, but it looks like a cool experience!
LOCATION: Peder Klows gate 30A, 4010 Stavanger, Norway
---
Get views of Stavanger from Vålandstårnet
Visit this quiet viewpoint for sweeping views of Stavanger and the fjords surrounding the city.
We visited during the day, but I'm sure it's especially nice to visit during golden hour.
You can even pack a picnic or grab takeout at a local spot to enjoy here!
There's also an old 19th century fire tower at the top of the viewpoint.
There isn't a parking lot for this spot, but you can park on the street along Jørgen Moes gate.
Another nice spot for views of Stavanger is Valberget Utsiktspunkt, which is more conveniently located in the city centre.
LOCATION: Vålandshaugen 18, 4010 Stavanger, Norway
---
Do one of the many hikes around Stavanger
The main reason why we went to Stavanger was for all of the epic hikes, and there's no shortage of them.
The weather can change very quickly in Norway, so be prepared with proper wind, rain, or snow gear.
I'd also highly recommend investing in good-quality hiking gear, in particular:
Hiking shoes or boots (waterproof is a plus)
Waterproof rain jacket or poncho
Hiking backpack
We both wore average rain jackets and non-waterproof hiking shoes, and we were soaked on the two days we went hiking.
We'd originally planned on doing most or all of the hikes I'll be mentioning below, but because of the bad weather and us being unprepared, we only ended up doing two hikes.
I've been wearing my Columbia Newtons for 5 years now, and they're still in pristine condition. They're waterproof and they provide fantastic support for hikes.
If you do a lot of hiking, a lightweight hiking backpack is essential. I've been using my Osprey Tempest for 2 years now, and Adam has the men's version (Talon 22).
Trolls are a big part of Norway's culture, and you can find a big surprise on the Trollpikken hike.
This 1-hour roundtrip hike takes you to a jutting rock that resembles something quite phallic.
Hilariously, the rock was severed in June 2017, but reattached the next month after a crowdfunding campaign.
We didn't get to do this hike, but it's on our list for our next visit to Stavanger!
LOCATION: 4373 Egersund, Norway
If you're a fan of chasing waterfalls, take the 1-hour roundtrip hike over to Månafossen, an epic waterfall that towers at 92 metres high.
About a half hour beyond the waterfall is Friluftsgarden Mån, a restored old mountain farm.
There are tent sites in the area where you can set up camp, or you can even stay inside the farmhouse.
We unfortunately didn't get the chance to hike this trail either, but it's on our list for the next time we visit!
LOCATION: V95H+MG, 4335 Frafjord, Norway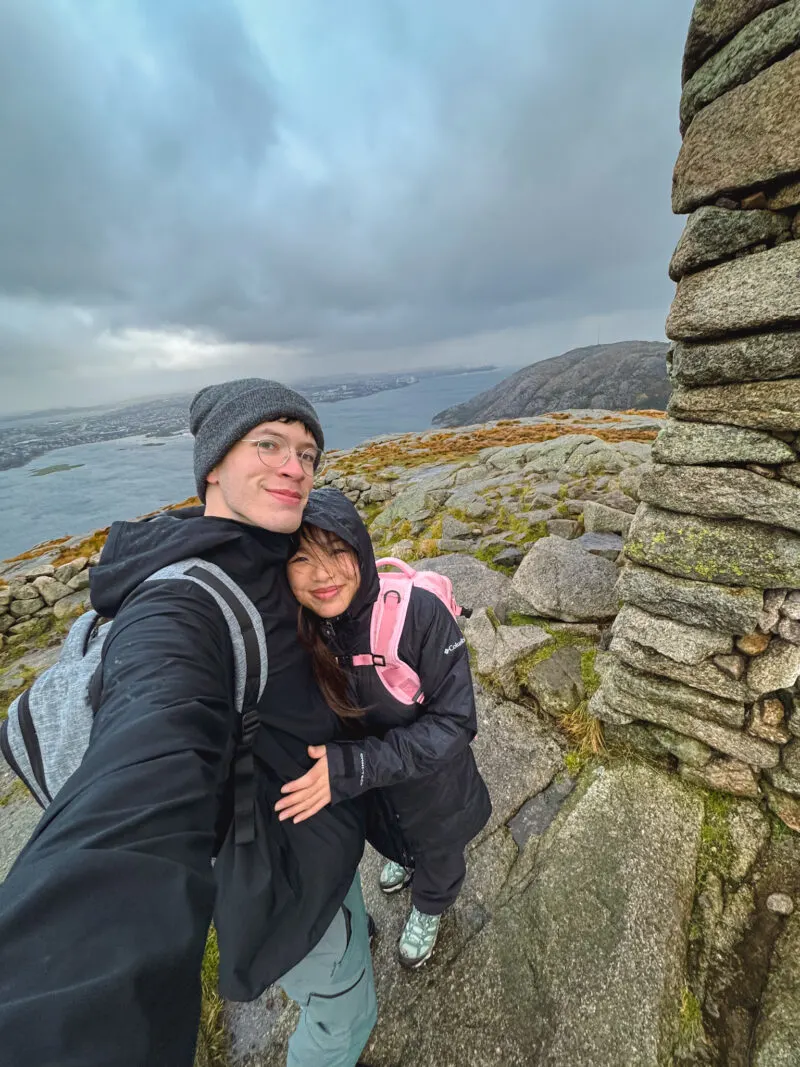 Dalsnuten sits at 324 metres high, and you get breathtaking 360 degree views of Stavanger at the peak.
This mountain hike is relatively easy, and you can expect to spend 2 to 3 hours roundtrip here.
We actually hiked up it in on-and-off pouring rain and with a wind warning, which I would highly advise against.
Luckily, we were able to enjoy a few minutes of no rain at the top to snap a few photos!
You might also see some wild sheep roaming around – sadly, we were only able to see them from far away.
LOCATION: Fjogstadveien, 4329 Sandnes, Norway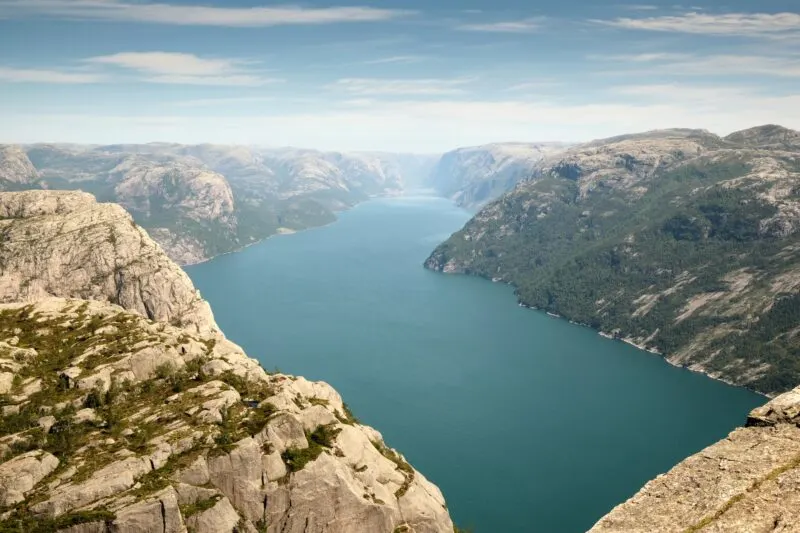 This epic 2-hour hike gives you sweeping views of Lysefjord.
The views at the top are similar to the views at Preikestolen (which I'll talk about next), but it takes half the time and is less busy.
The selling point about Preikestolen is definitely the flat top, which I think is worth the extra time!
The parking lot for Sokkaknuten is quite small and costs 30 NOK per vehicle, which is actually significantly less expensive than the parking for Preikestolen.
LOCATION: 4110 Forsand, Norway
Probably the coolest hike you can do in Stavanger is the Preikestolen hike, which is also known as Pulpit Rock.
Pulpit Rock is a steep cliff sitting 604 metres above Lysefjorden, and it's about a 4-hour trek to get to the picturesque flat top.
This famous 8-kilometre mountain hike attracts about 300,000 hikers a year!
Along the hike, you'll find a chained fence with tons of locks, so feel free to bring your own lock to stick on.
The elevation gain is about 500 metres, with some pretty steep sections, so you'll definitely need to have proper hiking footwear.
A hiking pole isn't necessary, but our Airbnb host left it for us, and it was nice to have!
Preikestolen is hike-able year-round, but you'll need special equipment (and probably a guide) if you're visiting from the winter months of November through April.
If you're not totally confident or just don't want to hike on your own, you can book a guided hiking tour to Preikestolen!
Parking is 250 NOK (~$31 CAD) for the day, or 40 NOK (~$5 CAD) if you can hike in less than 2 hour, which we saw some locals doing.
Afterwards, stop nearby into Preikestolen Kebab & Pizza for their delicious kebab pizza!
LOCATION: Preikestolvegen 521, 4105 Jørpeland, Norway
---
Taste authentic Norwegian food
Your visit to Stavanger ain't complete without tasting authentic Norwegian cuisine.
We love trying local cuisine anywhere we travel, and we had a list of a few authentic dishes we wanted to try in Norway.
Salmon
The smoked salmon we always buy comes from Norway, so we of course had to try smoked salmon at the source!
We got smoked salmon sandwiches at Godt Brød, a super cute and cozy café chain in Norway.
It honestly tasted the same as it does at home lol, but it was still nice to try it in Norway!
The bread on the sandwich was fantastic, and the sandwich was really good.
They also had a fish pizza we were really interested in trying, but we sadly didn't get the opportunity to this time.
LOCATION: Various locations
Norwegian fish soup
Norwegian fish soup, also known as "fiskesuppe", is a creamy soup with vegetables and of course, fish.
The fish soup at Fisketorget is absolutely to die for – it's perfectly creamy, flavourful, and oh-so-delicious.
Their menu is based on the catches of the day, and they focus on local and fresh ingredients.
Their fish soup features fish, shrimp, vegetables, bread chips, and chive oil, and it comes with a basket of various breads.
The soup is 160 NOK (~$20 CAD) for an appetizer portion, 260 NOK (~$32 CAD) for a regular portion, or 310 NOK (~$38 CAD) for a large portion.
The regular portion was more than enough for myself for dinner, and Adam and my brother-in-law were absolutely stuffed with their large portions.
It's a hefty price for soup, but it is honestly so worth it for your tastebuds!
LOCATION: Strandkaien 37, 4005 Stavanger, Norway
Solskinnsboller
Solskinnsboller is sort of like a cinnamon bun, but with a custard filling in the centre.
The direct translation from Norwegian to English is "sunshine buns", which is the perfect name for them!
We enjoyed this sweet pastry at a local bakery chain called Kanelsnurren, and it was delicious.
Also something funny that happened: we got a Hot Honey Latte thinking it would be a hot drink with honey, but it turned out to be spicy!
Nevertheless, it was a delicious and spicy treat to enjoy with our sunshine buns.
LOCATION: Various locations
Norwegian waffles
If you're a waffle lover, stop into No 18 Kulturkafé for their authentic Norwegian waffles.
A thin, heart-shaped waffle is topped with jam, sour cream, and icing sugar, and it's perfectly chewy and soft.
They are just regular waffles, but waffles are always a nice treat to have, especially when they're made fresh!
LOCATION: Skagen 18, 4006 Stavanger, Norway
Brown cheese
Also known as "brunost", brown cheese is made by boiling down whey until it turns into a brown, cheesy spread.
It's been made in Scandinavian countries for at least 2,500 years, which is wild!
We didn't get to try actual brown cheese while we were in Norway, but we did get to try a delicious brown cheese chocolate from a company called Fjåk.
I got it from a souvenir store called Audhild Viken avd Stavanger, which is a must-visit in Stavanger!
---
Dine at one of Stavanger's many incredible restaurants and eateries
Stavanger boasts a diverse range of restaurants, from traditional Norwegian eateries to international fine dining restaurants.
There are even three restaurants with Michelin Stars: Sabi Omakase Stavanger and K2 each have one Michelin Star, and Re-Naa has two Michelin Stars.
As much as I would've loved to have tried one of these Michelin restaurants, we ain't rollin' in the dough, so we just grabbed breakfast foods at the grocery store and ate our meals at casual spots.
Even so, food in Norway is insanely expensive, and it was especially expensive with the conversion from Canadian dollars.
You can still get your fix of Michelin-quality food at this café by Re-Naa.
It ain't cheap, but it's definitely one of the best cafés Adam and I have ever visited.
As soon as we walked into Sirkus Renaa, the employee highly recommended we try the last espresso croissant, so of course we did that.
It was one of the best croissants we've ever had – perfectly flaky and soft, with an incredibly decadent filling.
We also shared their smoked salmon eggs benedict, which was also really delicious, but the portions were very small.
They offer pizza as well, but we wanted to enjoy their breakfast and brunch dishes.
They have a few locations in Stavanger, and we went to the location attached to the library (Sølvberget).
There's a ton of seating within the café, and we sat at a shared table around a fireplace.
It was such a fantastic treat and way to warm up after a cold and wet early morning hike!
LOCATION: Various locations
Døgnvill Burger is by far the most popular restaurant in Stavanger (with almost 3,000 Google Reviews), so we absolutely had to try it.
They've got a variety of elevated burger options, including their Blåmandag with blue cheese and bacon and their Sterke Nils with sautéed habaneros, green and red chilis, and jalapenos.
Those were the two burgers Adam and I got, and the Blåmandag was definitely our favourite between the two.
The burgers aren't extremely filling, so I would recommend ordering a side to at least share.
Also, a pro-tip before you visit: check into the restaurant on Yelp to get a free small milkshake!
Blueberry seemed to be the most popular milkshake online, so we all got it, and it was delicious.
I'd recommend booking reservations ahead of time, because the restaurant fills up very quickly, especially on a weekend.
LOCATION: Skagen 13, 4006 Stavanger, Norway
If you're craving sushi, the sushi at Wanna Sushi & Thai Mat is pretty good, but we found it very pricy.
The sauces on the rolls were also different than listed on the menu, which was a little frustrating, as Adam has health restrictions and couldn't have the spicy mayo or wasabi mayo.
I would only recommend visiting if you don't have any specific dietary restrictions, as we weren't able to properly communicate with the staff at the restaurant.
The food was still good, and the staff was very nice!
LOCATION: Bakkegata 7, 4006 Stavanger, Norway
---
Check out the shops in the city centre
We got a little unlucky with bad weather during our visit to Stavanger, so we spent a lot of time just walking around the city centre and checking out all the shops.
We actually really enjoyed exploring all the local shops!
Some of the shops I especially loved in Stavanger were:
UFF: secondhand store with a lot of on-trend vintage clothing
PAST Workshop: a very curated selection of vintage clothing
Syvende Himmel: a funky and eclectic shop with vibrant women's clothing and accessories
Adam really wanted to get a made-in-Norway wool sweater from Dale of Norway, and we both also got wool sweaters from Bergans of Norway.
We both loved the idea of getting Nordic sweaters in Norway, and we loved that all the sweaters we got were 100% wool, so they'll last a very long time!
Be warned that you might even stumble across a troll or two while you stroll around the city centre.
---
Enjoy Vågen, the historic harbour of Stavanger
Stroll around this historic harbour where you'll see large boats and colourful sea houses that date back to the 11th century.
The former sea houses are now mainly restaurants, and you can enjoy delicious eats while enjoying scenic views on the patios.
LOCATION: 4005 Stavanger, Norway
---
Best things to do in Stavanger, Norway:
See the majestic Sverd i fjell
Visit Høllesli viewpoint
See the colourful houses along Fargegaten
Stroll through historic Gamle Stavanger
See all the public art
Wander around Kiellandshagen
Check out the Museum of Archaeology at the University of Stavanger
Get views of Stavanger from Vålandstårnet
Do one of the many hikes around Stavanger
Taste authentic Norwegian food
Dine at one of Stavanger's many incredible restaurants
Check out the shops in the city centre
Enjoy Vågen, the historic harbour of Stavanger
These were some of the best things to do in Stavanger!
Something to also note is that there are toll roads all around Norway, and you'll end up driving on them even if you select "no toll roads" on Google Maps.
We ended up paying around $80 CAD in tolls over the 3 days we were in Stavanger, and we didn't drive very much!
If you head north of Stavanger, you might also end up driving through the Ryfast tunnel, which is the deepest and longest underwater tunnel in the world. Pretty cool!
Have you been to Stavanger before? What are the most fun things you did in Stavanger? Let me know on Twitter or Instagram!
More things to do in Norway
If you're planning your trip to Norway, you might enjoy these posts:
Be sure to keep up with me on Instagram, TikTok, Twitter, Facebook, and Pinterest if you aren't already!
Feel free to subscribe to my weekly newsletter to get my blog posts delivered straight to your inbox.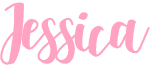 ---
Like this post? Pin it for later!