Looking for the best Gananoque restaurants to eat at during your trip to the 1000 Islands in Ontario?
While you're doing all you're adventuring in the 1000 Islands, you're definitely going to want to eat some good food.
Adam and I spent a weekend in Gananoque for the first time a few years ago, and we absolutely loved it.
From cute bakeries to craft breweries, you'll definitely enjoy one of these spots to eat at in Gananoque!
Here's your guide to the best restaurants and places to eat in Gananoque and the 1000 Islands.
If you're looking for fun things to do at the 1000 Islands, I'd highly recommend a helicopter tour or boat cruise – they're both fantastic ways to see the islands!
Be sure to also follow me on Instagram and TikTok – I share a lot more content on those platforms that don't make it to the blog!
More things to do in Ontario
---
Best restaurants in Gananoque, Ontario
---
Laverne's is a super cute spot along King Street in Gananoque serving up creative sandwiches and healthy fusion dishes.
Everything is made using local and seasonal ingredients, and they bake all their baked goods in small batches throughout the day.
Adam and I both got the Huevos Rancheros and shared an Iced Latte, all of which were fantastic.
You can either grab takeout or eat on their cute outdoor patio!
LOCATION: 21 King St E, Gananoque, ON
---
Panache offers delicious sandwiches, baked goods, and coffee with their own unique twist.
They bake their own fresh bread for their sandwiches, which is super cool!
They've also got a lot of great Asian-inspired treats like their Japanese Cheesecake and Taiwanese Mooncake.
Since they don't have a patio and the indoor seating is closed, we brought our takeout over to Confederation Park for a little picnic lunch.
We got the Roast Beef Sandwich, Breakfast Sandwich, Iced Latte, and Caramel Cheesecake, and it was all amaze.
LOCATION: 162 King St E, Gananoque, ON
---
This cozy and homey spot offers up European home-style cooking right in Gananoque.
From their handmade pierogies to their extensive schnitzel options, you'll want to try everything on the menu, which is inspired by the family's Czech origins.
They've even got signature cocktails with a European twist!
They also use local and seasonal ingredients in their dishes, which are all made from scratch.
LOCATION: 65 King St E, Gananoque, ON
---
The Old English Pub serves up classic British pub eats in Gananoque, and they've got a great patio facing the main street in town.
Their interior is also inspired by traditional English pubs, which is super cool!
Adam and I both got the Bangers and Mash, and the sausages had beer infused into them.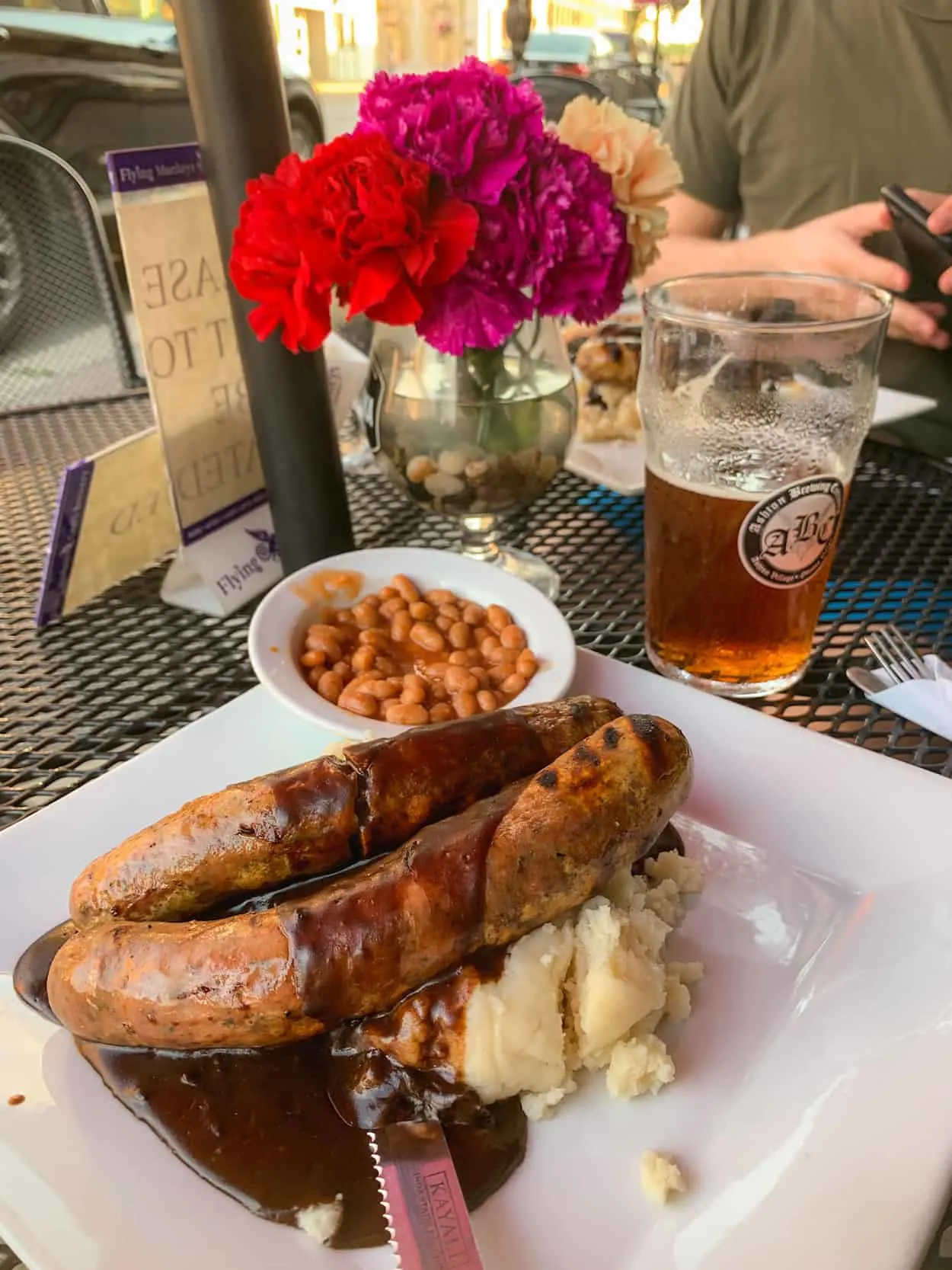 The gravy sauce was on another world – I only wish there was even more sauce to drench everything in!
I tried the seasonal Blueberry Wheat Beer from Ashton Brewing Company and Adam tried an ale from 1000 Islands Brewing Company, and we loved them both.
LOCATION: 124 King St E, Gananoque, ON
---
You'll find all kinds of fusion pub eats at Stonewater Pub, like their Irish Nachos and Butter Chicken Tacos.
I got the Shrimp Po Boy with sweet potato fries and Adam got the Whisky Burger with spicy fries.
I'm a big seafood lover, so I of course adored my sandwich.
Adam's burger was super juicy and delicious as well, and the spicy fries with dipping sauce were fantastic!
LOCATION: 490 Stone St South Lower, Gananoque, ON
---
Dinner with a view? Yes, please.
Muskie Jake's offers up probably one of the best dinner views in Gananoque, with gorgeous waterfront views from their outdoor patio.
Adam and I both got the Fish & Chips, which was beer battered and delicious.
We ordered a pint of the Naughty Otter to share, which we also enjoyed.
LOCATION: 550 Stone St South Lower, Gananoque, ON
---
If you're in the mood for some pizza, the Purple House serves up amazing wood-fired pizzas.
They use fresh, seasonal ingredients from local farmers, and they even grow some of their own ingredients on-site!
They've also got homemade desserts if you're looking for a sweet post-pizza treat.
LOCATION: 165 Main St, Gananoque, ON
---
Housed in a beautifully renovated historic building is Riva, where you'll find Italian dishes like Spaghetti Aglio Olio and Sicilian Seafood Stew.
They've also got Canadian-inspired dishes like their Lobster Roll and Steak Frites!
The interior of their restaurant is absolutely stunning, and they've also got two lovely garden patios.
LOCATION: 45 King St W, Gananoque, ON
---
Looking for more great fine dining restaurants in Gananoque?
Graydon's is a gorgeous fine dining spot in Gananoque serving up elevated Canadian cuisine.
Go for their AAA Beef Tenderloin made with Ontario beef, or their Ontario Pork Ribs finished in their house-made barbecue sauce.
They're located inside the Woodview Inn, a stunning 140-year-old mansion-turned-inn!
LOCATION: 250 King St W, Gananoque, ON
---
Gan Brewing Company doesn't actually serve any food, but they're a great microbrewery right in the heart of downtown Gananoque.
You can do a tour of the brewery, or you can just sit out on the patio and enjoy some of their local craft beer.
The tasting sampler is $8 for four of their beers, or you can order a pint for $7.
The Naughty Otter Pilsner and Naughty Otter Lager were our favourites!
The patio is also pet-friendly, if you've got any furry friends traveling with ya.
If you're into craft beer, you might enjoy this post on the best craft breweries in Toronto!
LOCATION: 9 King St E, Gananoque, ON
---
Best restaurants in Gananoque:
Laverne's Eatery
Panache Bakery & Cafe
Maple Leaf Grill & Restaurant
The Old English Pub
Stonewater Pub
Muskie Jake's Tap & Grill
The Purple House Cafe
Riva
Graydon's Restaurant
Gan Brewing Company
If you're planning a trip to the 1000 Islands, be sure to check out my 1000 Islands weekend guide!
I'd highly recommend doing a helicopter tour or boat cruise while you're there – they're both fantastic ways to see the islands.
Have you been to the 1000 Islands? What are the best Gananoque restaurants in your opinion? Let me know on Twitter or Instagram!
More things to do in Ontario
Be sure to keep up with me on Instagram, TikTok, Twitter, Facebook, and Pinterest if you aren't already!
Feel free to subscribe to my weekly newsletter to get my blog posts delivered straight to your inbox.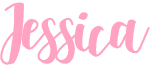 ---
Like this post? Pin it for later!