I was kindly hosted for the weekend by 1000 Islands Tourism. Some activities, meals, and accommodations were provided as part of a press trip. As always, all opinions are my own.
Gananoque is the Canadian gateway to the 1000 Islands, and it's an amazing town to spend a weekend getaway in Ontario.
There are 1864 islands (plus one manmade island) between Canada and the U.S., and it's really cool to see up close.
Adam and I have been extremely hesitant to travel or dine out, but we figured it would be pretty safe to explore somewhere further out from Toronto.
I felt very safe traveling around the 1000 Islands, especially since most people were wearing masks and social distancing.
Whether you're into adventurous or relaxing activities, there are plenty of awesome things to do at the 1000 Islands in Ontario.
Here's my weekend guide to visiting the 1000 Islands in Gananoque, Ontario!
Be sure to also follow me on Instagram and TikTok – I share a lot more content on those platforms that don't make it to the blog!
---
Toronto to Gananoque
Gananoque is around a 2 hour 45 minute drive from Toronto (287 km).
We rented a car from Enterprise in downtown Toronto, and you can rent a car anywhere using Expedia!
The majority of the drive is just driving eastbound along the 401, and there are several ONroute stops along the way for you to pee or grab snacks.
We wanted to make the most of the drive, so we stopped by Lemoine Point Conservation Area in Kingston along the way.
Stopping by Lemoine Point adds an additional half hour to the drive, but it does make for a nice little break on the way to Gananoque.
We also wanted to stop for some hikes in Prince Edward County, but it would've added too much time to the drive.
---
Best restaurants in Gananoque
Gananoque may be a small town, but they've got a lot of incredible restaurants and food spots to eat at.
Whether you're into fusion bites or classic pub eats, there's somewhere for everyone to enjoy!
Here were some of our favourite restaurants in Gananoque.
Laverne's Eatery
Laverne's is a super cute spot along King Street in Gananoque.
Adam and I both got the Huevos Rancheros and shared an Iced Latte, all of which were fantastic.
You can either grab takeout or eat on their outdoor patio!
LOCATION: 21 King St. East, Gananoque, ON | Website
---
Panache Bakery & Cafe
Panache offers sandwiches, baked goods, and coffee with their own twists.
They bake their own fresh bread for their sandwiches, which I thought was really cool!
They've also got a lot of great Asian-inspired treats like Japanese Cheesecake and Taiwanese Mooncake.
Since they don't have a patio and the indoor seating is closed, we brought our takeout over to Confederation Park for a little picnic lunch.
We got the Roast Beef Sandwich, Breakfast Sandwich, Iced Latte, and Caramel Cheesecake.
LOCATION: 162 King St. East, Gananoque, ON | Website
---
The Old English Pub
The Old English Pub serves up classic British pub eats, and they've got a great patio facing the main street in town.
Adam and I both got the Bangers and Mash, and the sausages had beer infused into them.
The gravy sauce was on another world – I only wish there was even more sauce to drench everything in!
I tried the seasonal Blueberry Wheat Beer from Ashton Brewing Company and Adam tried an ale from 1000 Islands Brewing Company.
LOCATION: 124 King St. East, Gananoque, ON | Website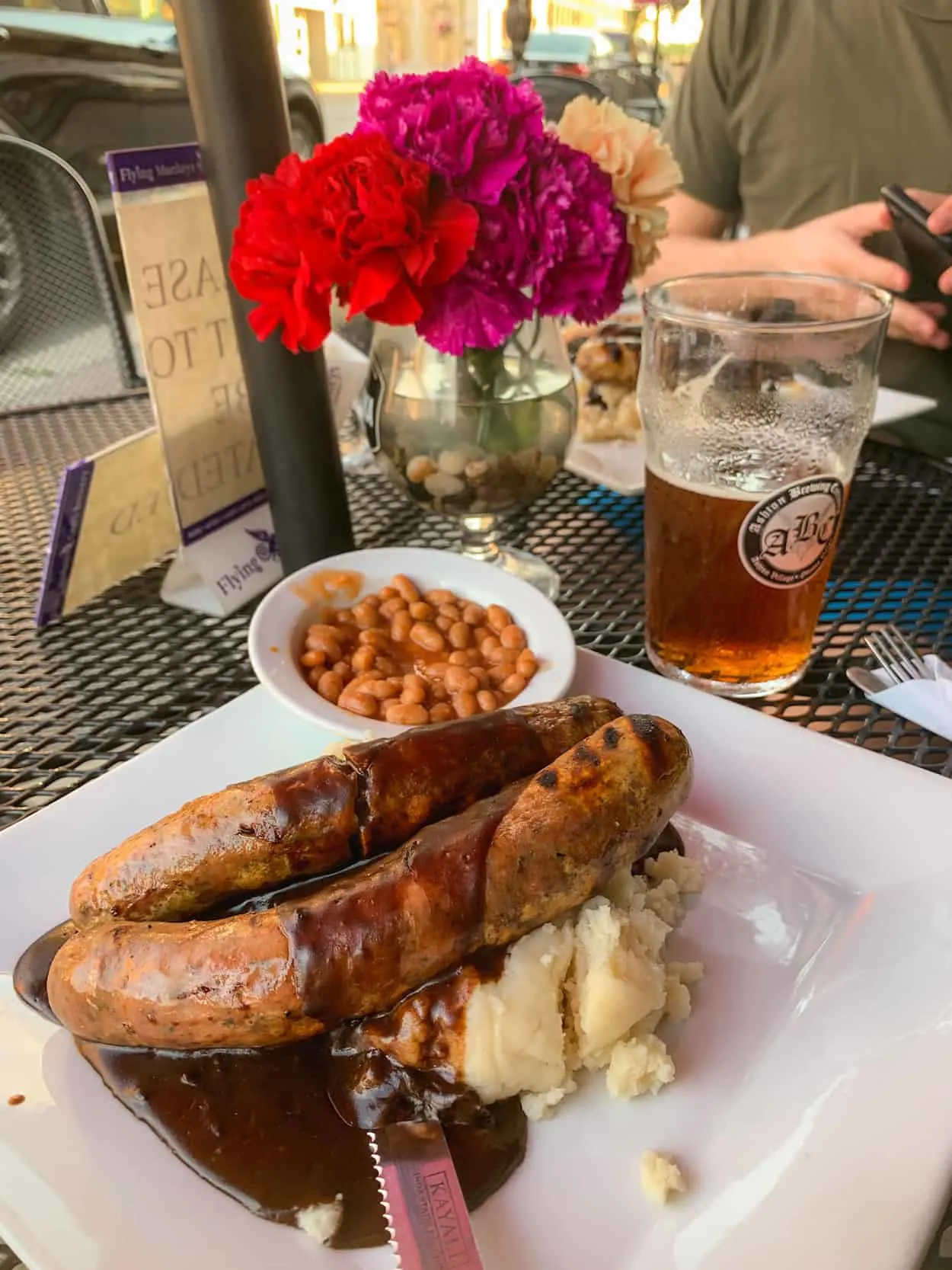 ---
Stonewater Pub
You'll have to check out Stonewater Pub's menu on their website, as they're not passing out menus at the moment.
I got the Shrimp Po Boy with sweet potato fries and Adam got the Whisky Burger with spicy fries.
I'm a big seafood lover, so I of course adored my sandwich.
Adam's burger was super juicy and delicious as well, and the spicy fries with dipping sauce were fantastic!
LOCATION: 490 Stone St. South Lower, Gananoque, ON | Website
---
Muskie Jake's Tap & Grill
Muskie Jake's offers up probably one of the best dinner views in town, with gorgeous waterfront views from their outdoor patio.
We both got the Fish & Chips, which was beer battered and delicious.
We'd also come back from sampling craft beer at the Gan Brewing Company nearby, so we ordered a pint of the Naughty Otter to share.
LOCATION: 550 Stone St. South, Gananoque, ON | Website
---
Gan Brewing Company
Gan Brewing Company doesn't serve any food, but they're a great microbrewery right in the heart of downtown Gananoque.
You can do a tour of the brewery, or you can just sit out on the patio and enjoy some of their local craft beer.
The tasting sampler is $8 for four of their beers, or you can order a pint for $7.
The Naughty Otter Pilsner and Naughty Otter Lager were our favourites!
If you're into craft beer, you might enjoy this post on the best craft breweries in Toronto!
LOCATION: 9 King St. East, Gananoque, ON | Website
---
Things to do at the 1000 Islands
The 1000 Islands offers plenty of cool touristy activities as well as hikes that range from easy to difficult!
No matter what kind of activities you enjoy, you'll find something fun to do that floats your boat.
Here are some of the best things to do at the 1000 Islands!
Do a boat cruise around the 1000 Islands
If you're interested in learning more about the history of the 1000 Islands, you'll definitely enjoy doing the boat cruise with the Gananoque Boat Line.
We explored both the Canadian and American sides of the 1000 Islands, which was really fun!
A fun fact I totally never thought about: Thousand Island dressing comes from the 1000 Islands. Who knew?
If you have Roam Like Home included on your phone plan, be sure to turn it off or you'll get charged fees once you enter American waters.
Masks are required for the entire duration of the boat cruise, and they have a mandatory hand sanitizer station as you board.
LOCATION: 280 Main St, Gananoque, ON | Website
---
Kayak around the 1000 Islands
Kayaking is a fun way to get up close and personal to the islands, and it's easy to socially distance from other people.
We did our tour with 1000 Islands Kayaking, and it was really cool learning about the history behind islands we kayaked to (and even a shipwreck!)
It was my first time kayaking, and it was surprisingly super easy to manoeuvre and not that easy to flip over!
I'd recommend bringing a pair of sunglasses, a baseball cap or sunhat, and a water bottle.
They also let you borrow dry bags to put your stuff in, which I recommend if you don't want your stuff to get soaked.
LOCATION: 110 Kate St, Gananoque, ON | Website
---
Take a helicopter ride over the 1000 Islands
Riding a helicopter over the 1000 Islands was our favourite way to see it.
You really get to see how many islands there actually are when you're up above, because they kinda all look the same from down below.
We really enjoyed seeing how clear and blue the water was as well!
Adam and I both learned our lesson from getting U.S. Roam Like Home charges on the boat cruise, so we turned Airplane Mode on right away 😛
You can book a 10, 20, or 30 minute scenic helicopter tour!
LOCATION: 88 County Rd 32, Gananoque, ON | Website
---
Shop local on King Street
King Street is the main shopping and restaurant street in Gananoque.
You'll likely be eating or walking along King Street at some point anyway, so check out some local shops while you're here!
Some notable shops worth checking out are:
Arts & Crafts Collective
Aunt Molly's Antiques
Joe's Antiques and Collectibles
Beggars Banquet Books
Arts & Crafts offers locally-made goods and vintage clothing, Aunt Molly's and Joe's offer antique items, and Beggars offers both used and new books.
---
Walk around the town of Gananoque
Gananoque is a really cute town with scenic waterfront views and lots of florals and greenery.
We spent one evening wandering around town before dinner, and spotted some cool spots along the way.
If you're looking for some Instagrammable spots in Gananoque, the town hall and St. John's the Evangelist Catholic Church are both beautiful buildings!
There are plenty of pretty spots worth seeing – just take a walk around town.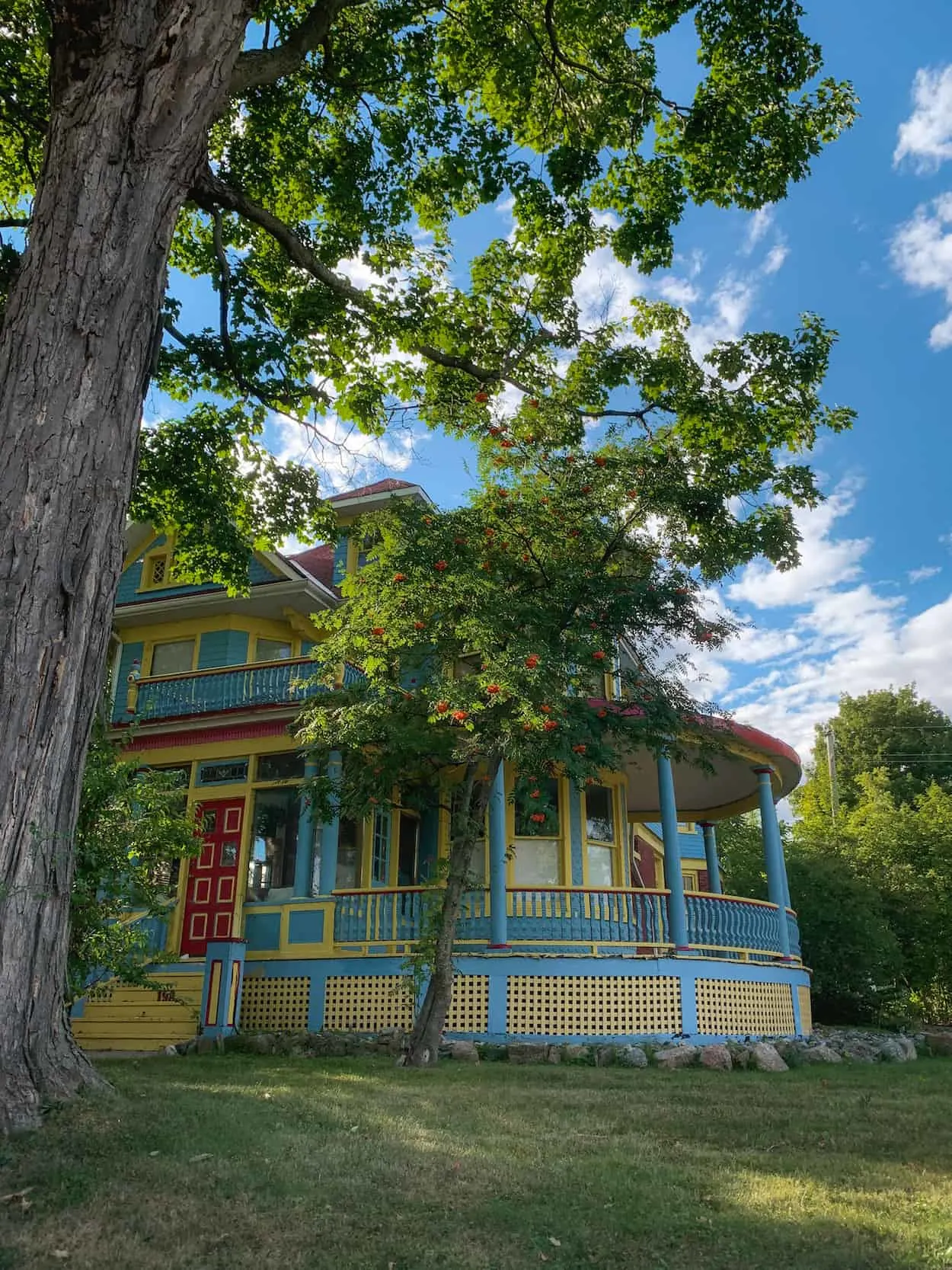 ---
Picnic at Confederation Park
Confederation Park is a gorgeous park right in the heart of Gananoque, and it's the perfect setting for a picnic.
Grab takeout at Panache Bakery & Cafe or Laverne's Eatery and sit on a picnic bench or set up a blanket on the grass!
It's a pretty large park, so it's super easy to social distance in.
LOCATION: 2 King St. East, Gananoque, ON | Website
---
Swim at Joel Stone Heritage Park
If you're up for a little swimming, Joel Stone is a lovely park and beach to spend an afternoon at.
The highlight of this park is definitely the cool lighthouse, which makes for great Instagram photos!
There were mostly families here, but we did see some couples and teenagers.
It's a cute spot for a picnic as well, if you want to grab takeout pizza from The Purple House Cafe a few minutes away!
LOCATION: 125 Water St, Gananoque, ON | Website
---
Hike at Landon Bay
Landon Bay is a family and kid-friendly hike with some cool lookout points.
I encountered my first rattlesnake ever while here, which I got excited about even though it freaked Adam out.
Make sure to follow the signs and trails – we somehow got off trail and panicked our way through bug bites and branches whipping our faces.
Luckily, we made it out safely though!
LOCATION: 302 Thousand Island Pkwy, Lansdowne, ON | Website
---
Hike at the Jones Creek Trails
Jones Creek is a fabulous hike through forested trails, and we even enjoyed hiking it in the pouring rain.
I wore a rain jacket from Point Zero (gifted) that kept me warm and dry, as well as some hiking shoes so my sneakers wouldn't get muddy.
While hiking shoes aren't essential for this one, I'd recommend wearing them if you have them!
I absolutely adore the Columbia Newton Hiking Shoes – I bring them on all of my hikes, and they're super comfortable.

LOCATION: 1231-1241 Thousand Islands Pkwy, Mallorytown, ON | Website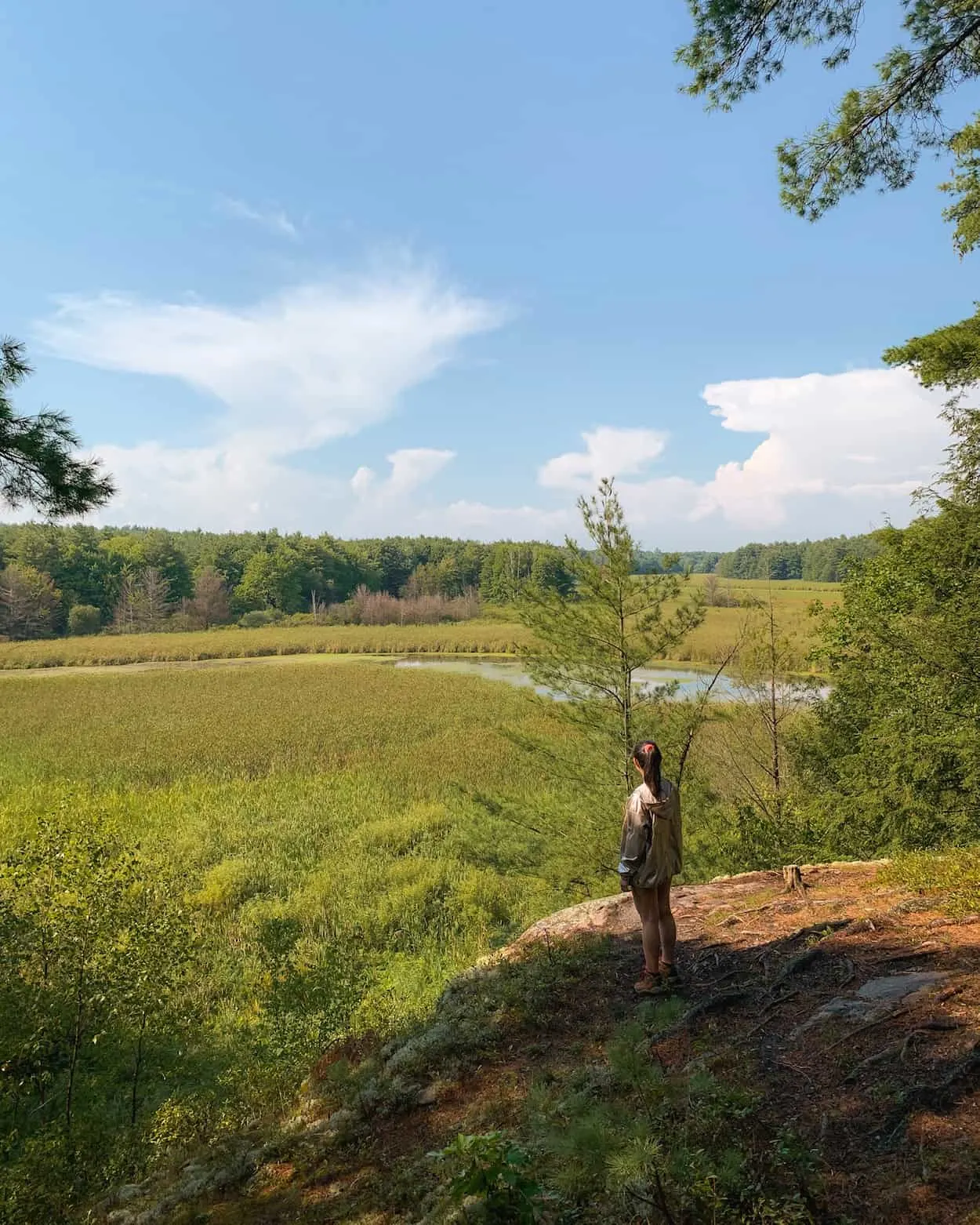 ---
Hike at the Marble Rock Conservation Area
If you're up for a big hike, the entire Marble Rock Conservation Area loop will take you 3 to 5 hours.
We just did part of the south loop, and spent around 2 hours here.
Even though we didn't hike the whole thing, it was still a lot of fun!
Be sure to bring proper hiking boots or shoes and a lot of bug spray, because you'll definitely need both of those things.

If you're not a fan of walking in tall grass or through spider webs, this one's not for ya.
Make sure to also search up "Marble Rock Conservation Area Parking" rather than the conservation area itself when you're mapping it, so you'll reach the actual parking lot.
LOCATION: Marble Rock Rd, Gananoque, ON | Website
---
Where to stay in Gananoque
Airbnb
If you prefer using Airbnb, there are some Airbnb options available in downtown Gananoque.
I typically use Airbnb when I'm traveling on a budget, and I have a separate blog post all about how to find the best Airbnbs.
Hotel
We stayed at the Ramada by Wyndham Gananoque Provincial Inn, which was newly renovated.
Each room is sort of like a mini cabin, and it's a cozy space to spend the weekend, or even just a night.
I loved the little touch of yellow Muskoka chairs in front of every cabin – if I'd brought my laptop, it would've been a great spot to work!
Plus, there's free breakfast available at the hotel!
---
We had a lot of fun exploring Gananoque for the first time, and we'll definitely be back to explore more and even check out the U.S. side (when things are safe again).
Have you been to the 1000 Islands before? What are some other great things to do in and around Gananoque? Let me know on Twitter or Instagram!
If you're looking for more weekend road trip ideas in Ontario, here are some other posts to give you some inspiration: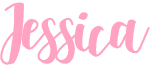 ---