Okay, so gen Z hating on skinny jeans is totally not the reason why I'm into the Levi's ribcage jeans right now.
I'm still a skinny jean lover, but lately I've just been loving the freedom of not having my legs constricted by fabric.
It's not all about what gen Z wants, okay?!
The Levi's ribcage jeans are also super flattering, even if you've got a petite body like I do!
Anyway, if you're here, you're probably into the Levi's ribcage jeans too.
Here's how to style and wear the Levi's ribcage jeans, as well as my review!
Be sure to also follow me on Instagram and TikTok – I share a lot more content on those platforms that don't make it to the blog!
---
What are ribcage jeans?
---
Ribcage jeans are the highest rises of Levi's denim, and they've got a slim fit on the hips and thighs with a straight leg.
Since they have a super high waist and cropped length, they're flattering on petite women as well!
Here are the basic features of the Levi's ribcage jeans:
Fitted through the hip and thigh
Ultra high rise with 12″ front rise
Straight leg has 17″ leg opening, bootcut leg has 19.5″ leg opening
Materials: 99% cotton and 1% elastane, heavyweight denim with light stretch
Button fly
They're also sustainably made, so you can feel good supporting eco-friendly fashion.
---
Where to buy Levi's ribcage jeans
---
Levi's
You can shop ribcage jeans on the Levi's website, and there are plus sizes available as well.
In the straight ankle fit, you can find these colourways, which I've ordered from light to dark wash:
There's also a bootcut fit, and it comes in these colourways:
Amazon Canada
Levi's is actually one of my favourite clothing brands on Amazon Canada to shop!
The ribcage jeans are also available on Amazon Canada, however the material is 85.5% cotton, 13.5% polyester, and 1% elastane, rather than just cotton and elastane.
On Amazon Canada, you can shop these colourways:
Revolve
You can also shop the Levi's ribcage on Revolve, and you can find it in these colourways:
---
Levi's ribcage jeans sizing
---
I'm normally a size 26 in bottoms, and the size 26 Levi's ribcage jeans fit me perfectly.
There's a little bit of stretch to the denim, so you don't have to be too worried if your weight fluctuates a bit (or if you stuff yourself with a few too many tacos).
Levi's wedgie jeans are actually the only ones I have to size up for – I wear a size 27!
As with all Levi's denim, I would recommend trying the ribcage jeans on before purchasing them.
---
Outfit ideas with the Levi's ribcage jeans
---
Now onto the fun part: here's how to style Levi's ribcage jeans!
1. Simple tee
Tbh you can never go wrong with a simple white tee and jeans as an outfit.
And with such a high rise, you can tuck your t-shirt into your denim without having to worry about it moving around and untucking itself.
Does anyone remember the struggle of tucking shirts into low rise jeans? Awful.
My white tee is an old one from Aritzia.
I threw on a long grey coat 'cause spring, but I'll totally rock this look jacket-free once the weather warms up.
The coat is a few seasons old from Zara.
---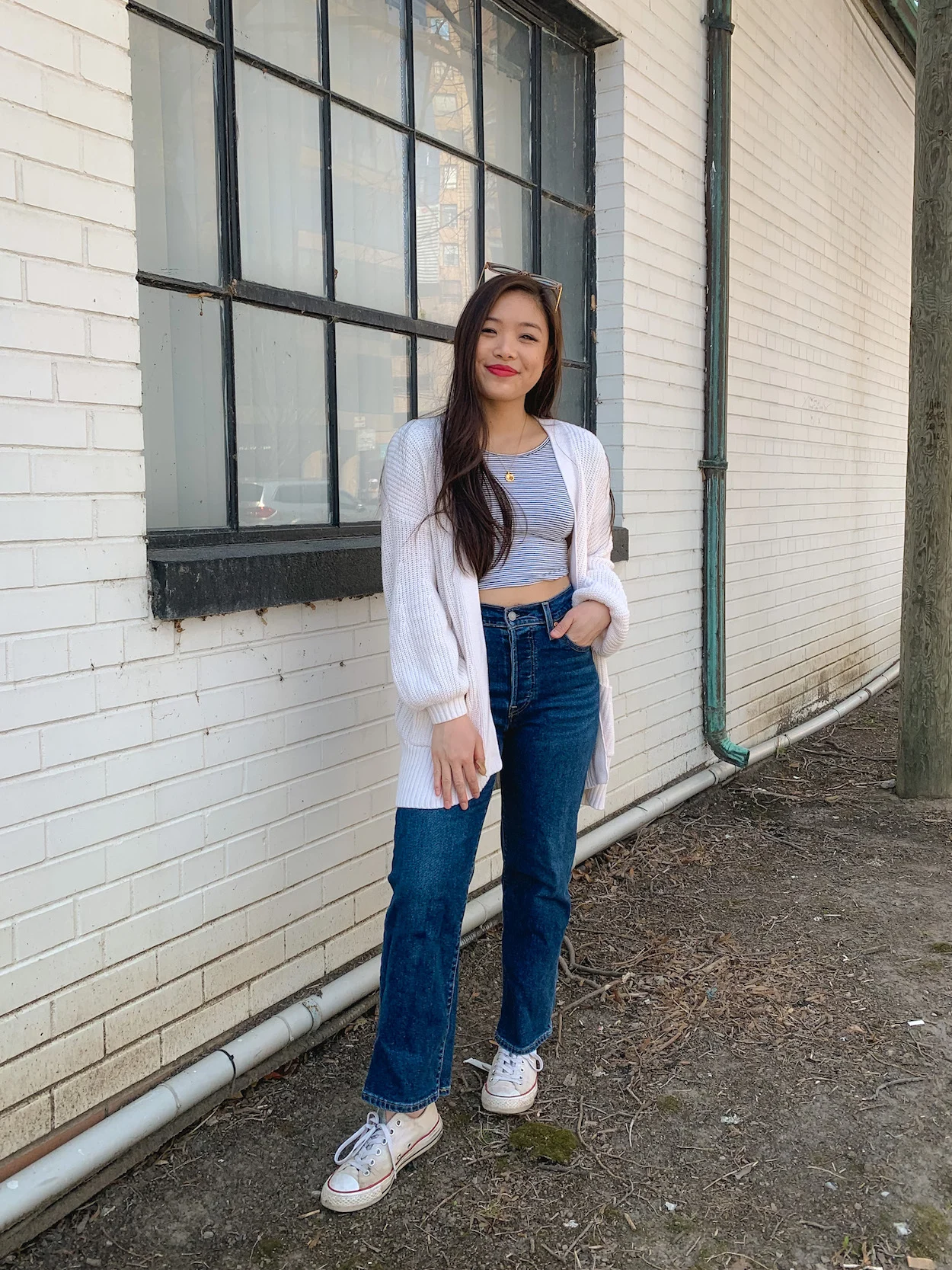 2. Crop top
Crop tops were literally made to be worn with high waisted jeans, and the ultra high rise of the ribcage jeans are perfect for even the tiniest of crop tops.
If the crop top on its own is too risqué for you, throw on an oversized and chunky cardigan to make it more conservative!
My crop top is from Brandy Melville and my cardigan is from Urban Outfitters.
I also wore my trusty white Chucks (which are more of a dirty ivory now) to match my ivory colour of my cardigan.
---
3. White button-up
White button-ups aren't just for the office.
I absolutely love pairing button-ups with denim – they look so effortless and chic!
It's the perfect brunch outfit.
---
4. Oversized sweater
Style your Levi's ribcage jeans with a slightly or oversized sweater and tuck the front into your denim.
You've gotta accentuate dat high rise, ya know?
I absolutely adore the cropped ankle, 'cause it means I can wear sneakers without having to fold the hem or worry about stepping on it.
I'm wearing my Vans Old Skool sneakers which are cute, but so not meant for walking (blisters after an hour of walking – no thanks).
My green sweater is from Amazon (sold out), and you can find similar sweaters from ASTR the Label ($$) or BOSS ($$$).

---
5. Denim jacket
I love me a good denim on denim look, and a cropped denim jacket goes super cute with the Levi's ribcage jeans.
I got my denim jacket years ago from Levi's so it isn't available anymore, and my crop top is an old one from Brandy Melville.
Mix and match the shades of denim unless you want to give off dad vibes.
I always prefer wearing the lighter denim on top and the darker denim on the bottom!
For my sneakers, I'm wearing my go-to white Converse sneakers.
---
6. Moto jacket
Moto jackets just make any outfit look instantly cooler, and they look great with the ribcage jeans.
Cropped, regular, or oversized – any moto jacket works great!
I'm wearing a moto jacket from the Canadian brand Rudsak, as well as my trusty Vans Old Skool sneakers.
Levi's actually sells jackets as well, and you can find a similar faux leather jacket from them!
---
How to wear Levi's ribcage jeans:
Simple tee
Crop top
White button-up
Oversized sweater
Denim jacket
Moto jacket
That was my little review, as well as some outfit ideas to help you out!
Would you wear the Levi's ribcage jeans? How would you style them? Let me know on Twitter or Instagram!
P.S. if you liked this post, you might like this post on how to wear high waisted jeans, or any of my other fashion posts.
Be sure to keep up with me on Instagram, TikTok, Twitter, Facebook, and Pinterest if you aren't already!
Feel free to subscribe to my weekly newsletter to get my blog posts delivered straight to your inbox.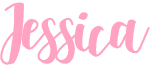 ---
Like this post? Pin it for later!
---