Planning the ultimate Arizona to Utah road trip driving from Phoenix to Salt Lake City?
Adam and I wanted to do a spontaneous road trip somewhere to end off the year, and we decided on driving from Arizona to Utah.
It was pretty random for us, but it all started when I stumbled across an itinerary for a road trip from Arizona to California while browsing Pinterest.
After realizing we couldn't really do that in a week, we decided to do an Arizona to Utah road trip instead.
We didn't get to hit up every place we wanted to, like Monument Valley or Arches National Park, but this won't be the last time we'll be visiting the American Southwest.
We were mesmerized by everything we saw and everywhere we went throughout our Arizona to Utah road trip!
Here's a look at our 5 day Arizona to Utah road trip itinerary.
Plan your trip to Arizona & Utah
Planning an Arizona to Utah road trip? You might find these posts helpful:
---
5 day Arizona to Utah road trip itinerary
While we did put our entire itinerary together for our 5 days in Arizona and Utah, we did miss out on a few things due to time or weather constraints.
We started off our road trip in Phoenix, and drove all the way to Salt Lake City.
If you haven't done too many road trips before, I've got a blog post all about road trip tips that you might find helpful.
Here's a quick day-by-day glimpse at our Arizona to Utah road trip itinerary!
Day 1
Hike Cathedral Rock
Hike Devil's Bridge
Explore Grand Canyon
Day 2
Explore Grand Canyon
Lunch at Cameron Trading Post Restaurant
Day 3
Explore Horseshoe Bend
Tour at Antelope Canyon
Explore Lake Powell
Explore Zion National Park
Day 4
Explore Bryce Canyon
Dinner in Salt Lake City
Day 5
Brunch in Salt Lake City
Explore Great Salt Lake
Explore Bonneville Salt Flats
---
Tips for your Arizona to Utah road trip
Get the America the Beautiful Pass
If you're going to visit a bunch of national parks during your trip to Arizona and Utah, I'd highly recommend getting an America the Beautiful pass.
It's $80 USD for a yearly pass, and we would've paid around $105 USD if we'd purchased all our park passes individually.
It's good for exactly a year from that month, and you can use it to visit various national parks across the USA.
Oh yeah, and if you end up buying it at the end of the month, it's only good until the beginning of that month the following year (gosh DANG us having to buy it on November 30th instead of December 1st).
Pack for cold temperatures during the winter
We visited Arizona and Utah in December, and we honestly were not prepared for how cold the weather would be.
I was expecting Arizona to be a lot warmer than it was, but most places we went to were actually cold.
The only hot place was Phoenix, but we weren't there for very long!
Even the Grand Canyon was snowy and cold, which we totally were not expecting at all.
Utah was probably just as cold as our typical winters in Toronto!
I brought a Levi's sherpa trucker jacket and Columbia fleece zip-up that I planned on wearing individually, but I had to double up on them like a marshmallow throughout our Arizona and Utah trip.
---
What to pack for your Arizona to Utah road trip
A winter jacket
If you're visiting during the winter, PACK A PROPER WINTER JACKET.
You can probably do without a Canada Goose jacket, but definitely bring some sort of down winter jacket to keep you warm.
Especially as you drive up towards Utah, you will be freezing.

A wide brim hat
An adventurous Arizona to Utah road trip warrants an adventurous look.
I pretty much wore my wide brim hat everyday of our trip.
Obviously not necessary, but it does make for some cool Instagram photos, if that's what you're into!

Hiking shoes
If you plan on doing any actual hikes, such as in Sedona, you're going to need hiking shoes.
Columbia Newton hiking shoes are my all-time favourite – they're comfortable and great for any type of hike!

---
Kicking off our road trip in Phoenix
We were actually in the USA for 7 days, but day 1 and 7 were travel days, so I'm counting it as 5 days. Okay? Okay.
We flew into Phoenix (we booked through Expedia) and headed straight to In 'N Out for lunch.
It's definitely overhyped, but for the price, it's definitely worth it. Cheap 'n good.
We'd planned on going to Goldfield Ghost Town and I even wanted to stop by Papago Park if we had time.
There are plenty of fun things to do in Phoenix if you have time to explore!
But, we were running out of daylight, so we headed straight up north to our first Airbnb of our trip.
We had an early morning in Sedona the next day, so we did the 2 hour drive and stayed overnight near Sedona.
If you're looking to rent an Airbnb as well, I have a separate blog post all about how to find the best Airbnbs!
---
Day 1: Sedona to the Grand Canyon
Day one of our Arizona to Utah road trip started off dreary and gloomy, but our spirits were high.
First up on our Arizona itinerary was Cathedral Rock near Sedona, but because we'd read online that it was a tough hike, we figured it would be best to skip it on such a rainy day.
Instead, we headed straight to the Devil's Bridge.
Devil's Bridge
If you don't have a 4×4, be prepared to have to walk at least an extra one hour round trip from the further parking lot.
It's not a very fun road to walk along, so wear hiking boots or at least something comfy so you won't be miserable.

Contrary to what TripAdvisor will tell you, the Devil's Bridge is not as dramatic and scary as it looks.
It's just the angle that photos are taken in that make it look scary!
The bridge is pretty wide and safe to walk along, as long as you don't do anything your mom wouldn't want you to do.
We hiked in the pouring rain and got lost so that was a bit scary, but we ran into a few other kind hikers and were able to find the Devil's Bridge in the end.
A kind fellow hiker even helped us to take photos and videos!
LOCATION: Sedona, AZ | Website
For lunch we visited Raising Cane's, an American chain we also don't have here in Canada!
---
Grand Canyon National Park
Next up on our Arizona itinerary, we drove 2 and a half hours to the Grand Canyon.
We had no idea what to expect of the Grand Canyon, besides that it was a very popular tourist destination.
The South Rim is the most popular rim to visit, with Mather Point, Duck On A Rock Viewpoint, and Desert View Point being some of the most popular viewpoints.
There are shuttle buses that can take you to each viewpoint, but I'd recommend driving to each viewpoint with your own car (we usually rent cars through Expedia).
It's so much quicker to drive, and you can spend as little or as much time as you want in each spot without having to wait for the shuttle bus.
If you're looking to experience the Grand Canyon through a tour, you can also do helicopter or bus tours!
LOCATION: Grand Canyon National Park, AZ | Website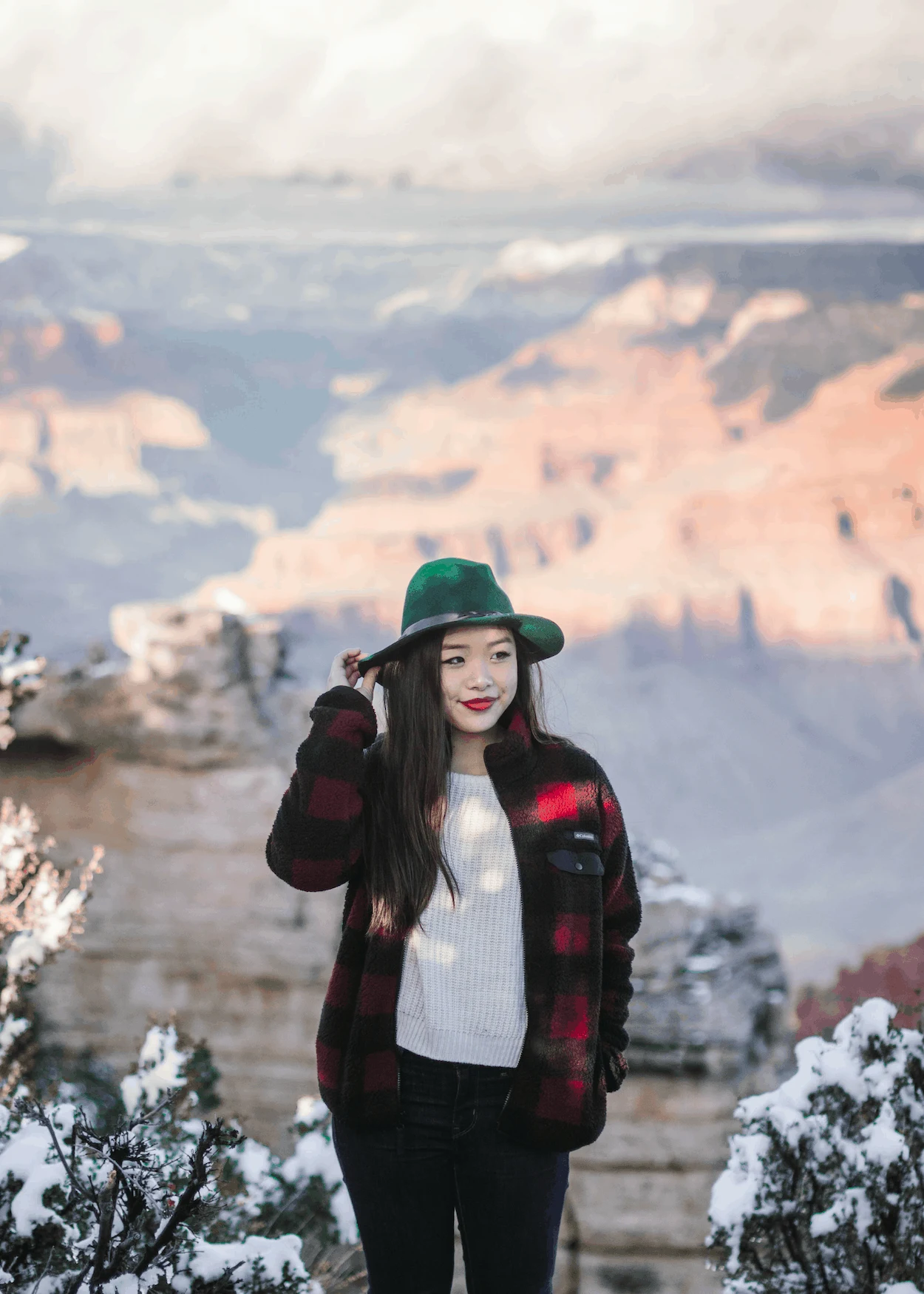 We stayed overnight at the Best Western Grand Canyon, which we booked on Expedia.
It was super close to the Grand Canyon and pretty much the same price as an Airbnb would've cost, except all the Airbnbs were further out.
It's funny that staying at any sort of hotel is a luxury for us, because we pretty much use Airbnb everywhere we travel.
Breakfast isn't complimentary at this hotel, so we just grabbed (overpriced) McDonald's breakfast next door.
---
Day 2: Navajo Nation
After our ridiculously expensive McDonald's breakfast, we spent a couple of hours exploring more of the Grand Canyon South Rim on our second day.
We then headed out to lunch at the famous Cameron Trading Post!
Cameron Trading Post
I'm not even exaggerating when I say Navajo tacos are one of the best dishes I've ever had.
It's nothing super fancy: just your typical taco fillings stacked on top of Navajo fry bread, but that fry bread is everything.
It's absolutely delicious, and so worth the stop during your Arizona to Utah road trip.
Afterwards, you can take a look around the trading post and shop local and handmade Navajo goods!
LOCATION: Hwy. 89, Cameron, AZ | Website
---
Horseshoe Bend
We arrived at Horseshoe Bend later in the afternoon, so we were able to witness the gorgeous sunset in all its glory.
It was pretty crowded, but because there are so many areas to take photos, you won't have too much trouble getting a good photo spot.
One thing I should warn you is to not stand too close to any edges.
Only the main tourist area directly facing the Horseshoe Bend is gated off, and the rest leaves it up to you to not do anything risky.
Also, be careful of anywhere you climb – we saw plenty of people struggling to get back down steep hills.
You can do helicopter tours over Horseshoe Bend as well!
LOCATION: Page, AZ | Website
---
Day 3: Antelope Canyon to Zion National Park
On day 3 of our southwestern USA road trip, we drove from Arizona to Utah!
Our day started off early with a tour at Antelope Canyon.
Lower Antelope Canyon
You can only access Antelope Canyon through a tour, and you can choose between Upper Antelope or Lower Antelope.
They're pretty much the same price, but Upper is more popular and gets booked up quicker, so we decided to do Lower Antelope Canyon.
We booked with Ken's Tours and the total was just under $100 USD for the two of us.
We had an awesome tour guide, and we were lucky enough to have been separated into a more intimate group of 4 because our original group was too large.
Antelope Canyon is absolutely phenomenal, and I would say it's a place every traveler should have on their bucket list – totally worth the price.
LOCATION: Navajo Nation Parks, AZ | Website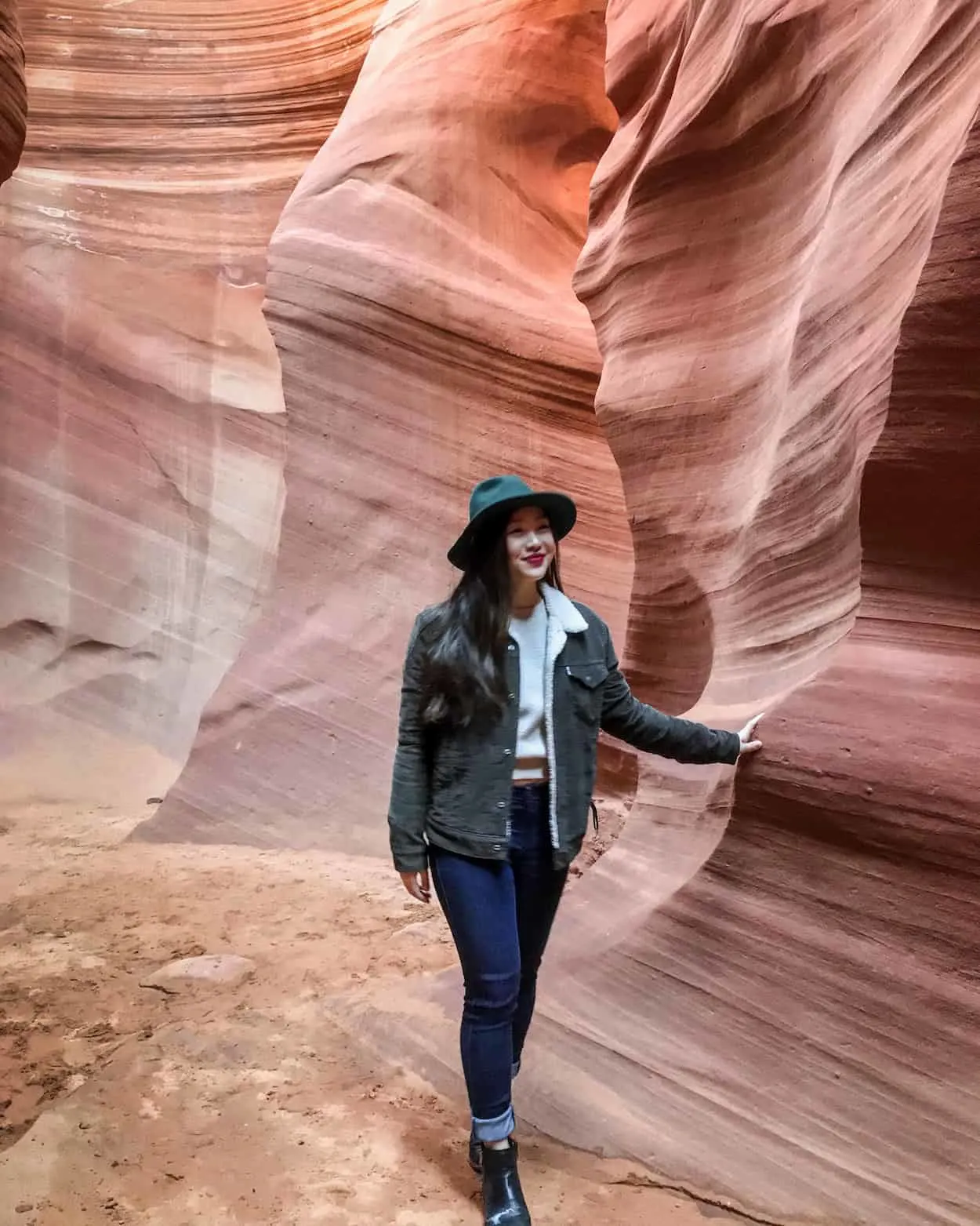 ---
Lake Powell
We stopped by Lake Powell next, which wasn't anything too fancy.
So, we headed off after a few minutes to our next epic destination: Zion National Park.
And thus begun the 2 hour drive from Arizona to Utah!
LOCATION: Page, AZ | Website
---
Zion National Park
Oh, Zion – I'll never get over how amazingly scenic the drives are here.
Zion National Park was probably one of the top highlights of our trip, even more so than the Grand Canyon.
We only had a couple of hours to explore Zion, so we did a single hike up to Lower Emerald Pool.
We definitely plan on coming back to spend even longer exploring this lovely place!
You can even stay overnight in the park's lodges, which I'd love to do someday.
If you're looking to experience the Zion National Park through a tour, you can also do ATV tours!
LOCATION: Zion National Park, UT | Website
---
Day 4: Bryce Canyon to Salt Lake City
The next two days of our road trip were dedicated to exploring Utah.
I definitely wish we'd had more time to explore the state – I stumbled across so many more cool places online after our trip!
The whole Phoenix to Salt Lake City drive was incredible, and we'll definitely do this road trip again someday.
Bryce Canyon National Park
Bryce Canyon is a super cool place, but figure out the exact viewpoints or spots you'd like to see before you explore.
Especially during the freezing winter, because it's stinking cold out there.
Adam and I took a random hike down to the bottom of the canyon, and you can bet we were huffing and puffing on the way back up.
I believe the weather was somewhere around -10 degrees celsius and it was extremely snowy, so it was not easy to hike around.
It was definitely the coldest place out of everywhere we visited during our Arizona to Utah road trip!
If you'd rather explore Bryce Canyon with a tour guide, you can do ATV and horseback riding tours.
We couldn't really explore Bryce Canyon much as the random hike took up 3 hours of our time.
So, we rushed off to do the 4 hour drive to Salt Lake City.
I'd never been to the Cheesecake Factory before, so we stopped by and had a delicious dinner.
We didn't have any cheesecake though.
LOCATION: Bryce Canyon National Park, UT | Website
---
Day 5: Salt Lake City
Our last full day of our Arizona to Utah road trip was dedicated to exploring Salt Lake City.
There are plenty of fun things to do in Salt Lake City, and we tried to make the most of our day here!
First off, we stopped by Great Salt Lake, and it was cold and pretty underwhelming in the winter snow.
We decided not to make the 1.5 hour trip to the Bonneville Salt Flats and to explore downtown Salt Lake City instead.
Next, we wandered around downtown and visited Temple Square, the Mormon headquarters.
We had a bunch of amazing food while in Salt Lake City as well: brunch at Sweet Lake, coffee at Three Pines, and fried chicken at Pretty Bird Chicken (best fried chicken ever).
We also stopped by Decades Vintage Clothing, which was really cool, but I didn't end up getting anything.
I regret not getting any of the leather western belts – it would've been so cool to potentially have a belt once owned by a cowboy!
Salt Lake City is absolutely stunning, especially during the holidays.
From the architecture to all the festive lights, it's somewhere I wouldn't mind living if Toronto wasn't an option (I really love living in Toronto).
---
We had such an incredible road trip from Phoenix to Salt Lake City, and we definitely plan on doing it again someday.
There are so many more things to see in both states, but we just couldn't fit it all into our short 5 day road trip!
Have you done an Arizona to Utah road trip before? Or have you been to any of these places? Let me know on Twitter or Instagram!
Plan your trip to Arizona & Utah
Planning an Arizona to Utah road trip? You might find these posts helpful:
Be sure to keep up with me on Instagram, TikTok, Twitter, Facebook, and Pinterest if you aren't already!
Feel free to subscribe to my weekly newsletter to get my blog posts delivered straight to your inbox.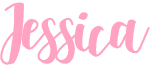 ---
Like this post? Pin it for later!