Going on a trip and wondering what travel essentials women absolutely need to pack?
Whether you're going on a solo adventure or jetting off on a girls' trip with your friends, you'll definitely need to pack these travel essentials for women.
These are some of the most important travel essentials for women to pack!
Be sure to also follow me on Instagram and TikTok – I share a lot more content on those platforms that don't make it to the blog!
More travel tips
If you're planning a trip, you might find these posts helpful:
---
Travel essentials for women
---
Essentials for your backpack or personal bag
My life has been forever changed by battery phone cases.
It is so important to always have your phone charged, especially if you're traveling as a woman.
You want to be able to contact your loved ones or even the authorities in the case of any emergencies.
It's always such a hassle having to pull out a charging cable and portable charger, and it's so much easier to just swap your phone case.
A battery phone charging case is absolutely a travel essential for women, because it's easy to slip onto your phone and have charging while walking around or doing whatever.
With a portable phone charger, you'll have to have a bulky item attached to your phone via wire, so it's a lot less functional to walk around with.
The Apple battery phone case is a bit pricy at $169, but it works great and it's probably one of the best investments I've made for traveling.
You can get it in light pink (I have this colour), white, or black!
Always have a back-up plan, my friends!
A phone charging case is important, but having a portable phone charger can be extremely useful.
If your phone charging case needs to be recharged, it'll be good to have a portable phone charger on-hand.
It's also better to use a portable phone charger while traveling by plane or train, because you're sitting down anyway and it isn't so annoying to have it attached to your phone.
Mophie makes some of the best portable phone chargers on the market, and this powerstation XXL provides 4.6 phone charges.
They also have cute pink and rose gold portable phone chargers, but they provide half the amount of charges for around the same price and we're all about function here.
A waterproof phone case is perfect for any sort of water activity, from swimming in pools, to whale watching on boats, to even hiking in the pouring rain.
It gets pretty decent quality photos, as long as you don't get any condensation inside the pouch.
Plus, you can actually use your phone normally with it on – some waterproof cases don't even let you press the home button!
You'd rather be safe than sorry on your travels, and you don't want anything to happen to your phone if you happen to get it wet.
I've even taken my waterproof phone pouch ziplining with me, so I could have it around my neck and not have to worry about it falling out of my back pocket.
I love that this waterproof phone pouch comes in a set of two, so you can either give one to a friend or have an extra one as a spare.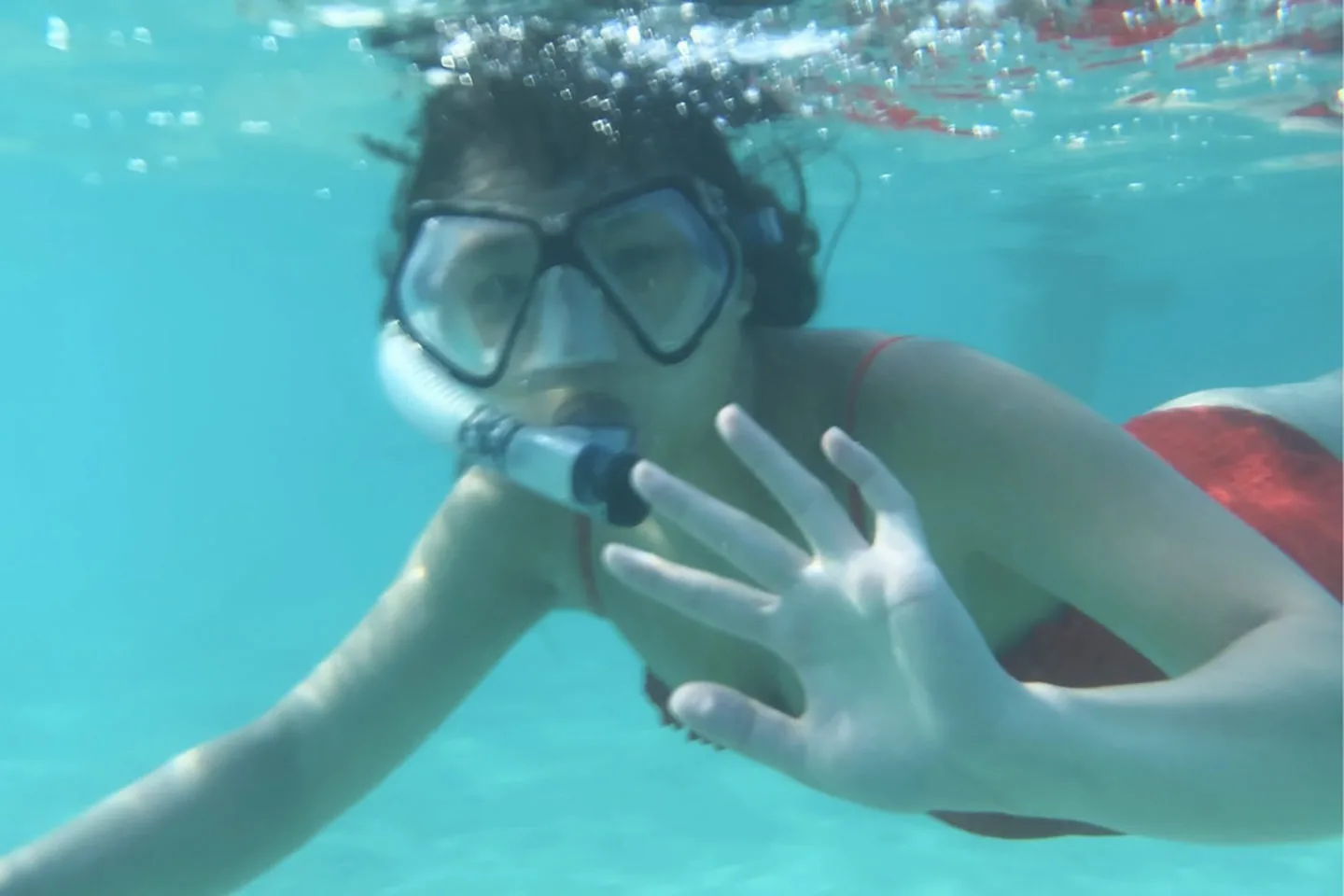 If you're traveling to another country with different outlets, you'll definitely need a travel adapter.
The nice thing about having a universal travel adapter is that you can literally use it all over the world, so you'll never have to buy another adapter to fit into a country's outlets.
There are four USB outlets and one standard outlet, so you can charge a bunch of devices all at once.
Even if you're not traveling outside of the country, it's nice to have a tool that can charge multiple devices at a time!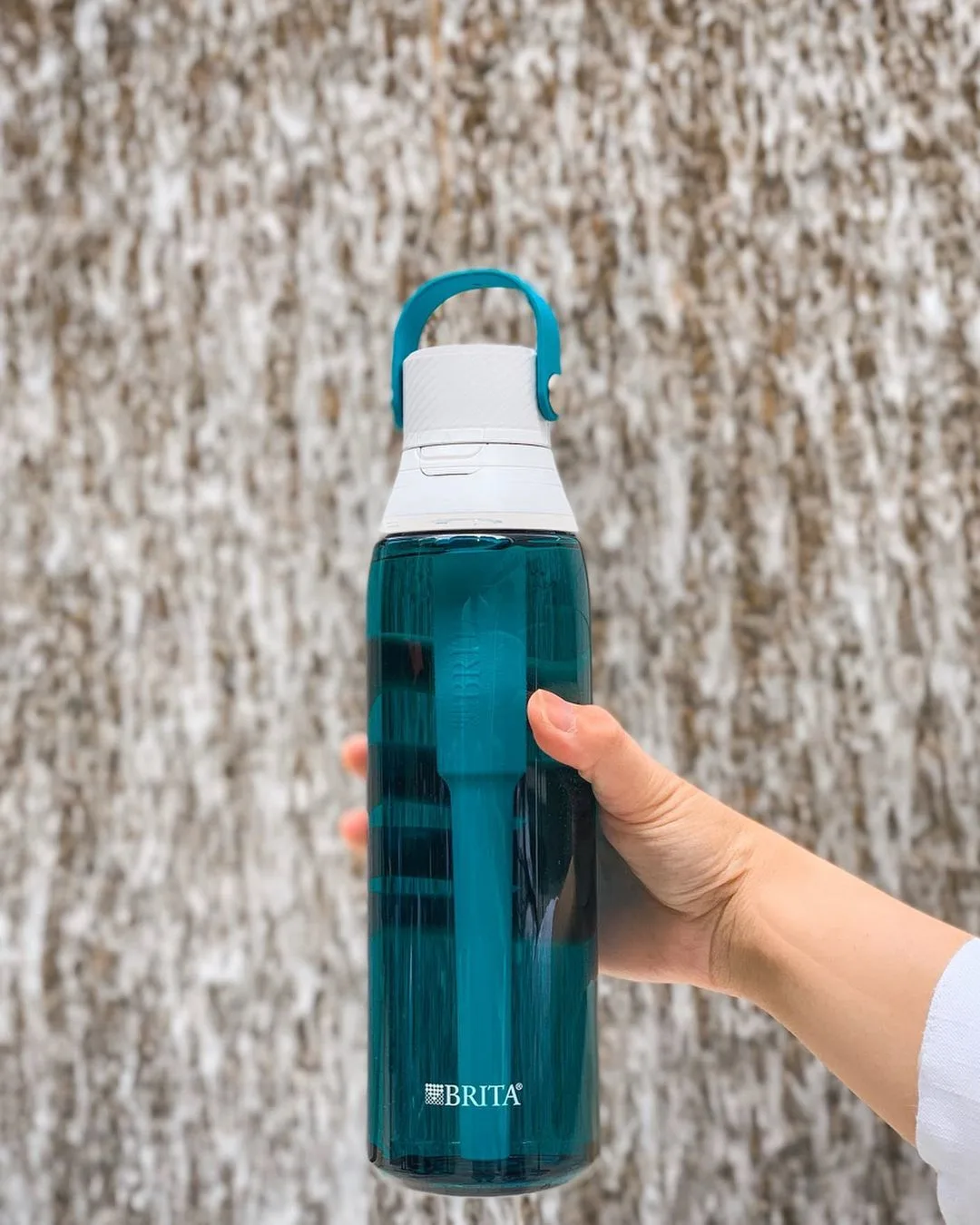 It is so important to always have water on-hand.
I saw so many people going on hikes in Banff or hikes in Oahu without carrying a single water bottle or even a bag with them?!
I bring my Brita water bottle almost everywhere I go, even when I'm not traveling.
It's so easy to fill up anywhere you go, and you can rest assured you're drinking clean water and helping the environment.
You can choose between the plastic Brita bottles or the stainless steel Brita bottles – I prefer the plastic so I can see how much water is left inside!
We do usually buy a case of plastic water bottles as well when we do longer trips, because sometimes it's difficult to fill up our Brita bottle in the middle of the day.
Also be aware of any water advisories where you travel, as it won't be safe to fill up your Brita water bottle there.
I've watched enough horror movies to know that you should always carry food and water on you when hiking.
Luckily, the few times I've gotten lost while hiking were not that bad…
CLIF Bars are great because they're packed with energizing ingredients, and they're very filling because they're protein bars.
The white chocolate macadamia CLIF Bars are my fave.
I also love the Almond Sea Salt & Dark Chocolate KIND Bars!
Even if you're not doing any hiking, it's nice to have granola or protein bars on-hand in case you don't have the opportunity to eat while traveling, or there aren't any food spots where you're visiting.
You never know when you might need to use a pen.
If you're traveling international, you'll need a pen to fill out declaration forms when you get home.
And honestly, if you're put in any dangerous situations, it might be able to be put to good use for your own safety – please be extremely careful though!
This refillable fountain pen is a great option.
I'm big on packing items for emergencies, and a headlamp is one of my travel essentials, especially for women.
It's always important to be prepared for any situation, and having a light on you at all times is so important.
Your phone flashlight should be good enough, but it's always good to be extra prepared with another light source.
A LuMee phone case, headlamp, and flashlight will all work, but a headlamp is nice because you don't have to hold it!
I have two headlamps I carry everywhere for Adam and myself, and this headlamp set (comes with two) is a great and affordable option.
If you're as big a klutz as me, you're definitely going to need to pack bandaids.
From random cuts to ankle blisters, you never know what you'll get when you're hiking around.
For ankle blisters, I love love love these Hydro Seal bandaids – they completely cushion off and soothe your blister, so it doesn't hurt while you're walking or showering.
The amount of pain my ankles were in from wearing Docs in Iceland and not having any other pairs of shoes – utterly awful.
I would've loved to have had the Hydro Seal bandaids – we were only able to find regular ones at a local store!
When mother nature calls and you're out in the wild, you gotta do what you gotta do.
You can use flushable wipes to do your business, wipe your hands after eating, and just about anything else!
Don't forget to carry plastic bags on you to store the dirty wipes.
You definitely don't want to be carrying them around in your pocket…
Of course, hand sanitizer has now become an essential in everyone's lives.
You might not have the opportunity to wash your hands with soap while traveling, especially if you're going to more remote places.
It's so important to have a bottle of hand sanitizer on you at all times – especially before eating and after touching surfaces like door handles!
This pocket-sized hand sanitizer comes in a set of 6.
---
Toiletry essentials for women
Not only are tweezers useful for cleaning up your unibrow – they're useful for things like removing splinters and ticks.
It's always good to have tweezers in your toiletry bag!
Ain't nothin' worse than having half your nail break off or a painful hangnail and not being able to do anything about it.
I always travel with nail clippers – you never know when you might need them!
Plus, for hygiene reasons, I always keep my nails short, and it's great to have nail clippers on-hand.
As much as I'm an advocate for more sustainable period products, I'm not crazy about bringing along my menstrual cup or reusable cloth pad on my travels.
Traveling is already tiring enough, and it ain't fun having to clean your period products in a hotel or Airbnb sink.
I personally prefer to wear tampons throughout the day, because you can't really feel your period (TMI? Sorry.)
I always wear pads at night, because you shouldn't be wearing tampons for more than 4 hours – read up on toxic shock syndrome!
---
Clothing essentials for women
The weather can be unpredictable in many places, so it's always helpful to at least have one outer layer anywhere you go.
A rain jacket will keep you warm and dry for any unforeseen weather circumstances!
The Columbia Arcadia Jacket is my all-time favourite rain jacket, and it comes in a bunch of fun colours like yellow, lilac, and pink.
Pro-tip: If you're visiting somewhere very cold, it helps to wear all your outerwear on the flight so you don't have to stuff them into your luggage.
Comfy sneakers
I know you might want to wear cute shoes your entire trip, but you also want to be comfortable.
Traveling usually involves a lot of hiking or walking, and you want to be wearing comfy sneakers or shoes.
As cute as it might be to roam around in stylish sandals, it ain't always practical.
I wore Doc Martens when I went to Iceland for a week, and it was an absolute nightmare walking around in rain-soaked boots with blisters all over my feet.
My go-to comfy sneakers are the Adidas Ultraboost 1.0 sneakers – they are literally the comfiest shoes I've ever worn in my life.
They are a little pricier at about $250 per pair, but they're so worth it – I've been living in mine for 6 years now!
If you do a lot of hiking on your travels, it's worth investing in a good pair of hiking boots or shoes.
When you're walking on sandy or rocky terrains, hiking boots can really help you walk easier, and they're a lot more comfortable.
I adore the Columbia Newton Hiking Boots – they're extremely comfortable and provide fantastic ankle support!
Hiking shoes are a lot less bulky to wear than hiking boots, but they don't provide as good ankle support.
In places where the weather can change in a matter of minutes, you're always better off being prepared.
The first time we went to Iceland, Adam and I got caught in the pouring rain without our car, and we spent the entire day (and rest of our trip) in soaked socks and shoes.
For Ireland, I came more prepared and brought a suitable pair of Hunter rain boots, which made for more pleasant hikes and a happier me.
Mind you, we don't typically do hardcore hikes where hiking boots are necessary!
I usually wear my rain boots on the flight because they're too bulky to pack in a carry-on.
It ain't just for fashion, ma dudes.
You'll need sunglasses when you're driving with the sun all up in your eyeballs, and you might even need it when a windstorm hits.
Adam and I were in Dublin during Storm Ali (luckily we were in the city, it definitely was worse in the countryside) and debris and leaves kept hitting our faces and exposed skin.
If you're visiting a hot weather destination, you'll want to keep the sun out of your eyes, and if you're visiting a cold weather destination, you'll want to keep from being blinded by the snow.
Even if you don't end up wearing them at all, you'll be glad to have them when you need them.
I love Ray-Bans for their amazing quality, and these round pairs and Clubmasters are both super cute!
---
Travel essentials for women:
Battery phone case
Portable phone charger
Waterproof phone pouch
Universal travel adapter
Brita water bottle
Granola or protein bars
Pen
Headlamp
Bandaids
Flushable wipes
Hand sanitizer
Tweezers
Nail clippers
Pads and tampons
Raincoat
Comfy sneakers
Hiking boots
Rain boots
Sunglasses
These were my travel essentials for women, whether you're doing a quick getaway in a carry-on or a longer international trip!
Hopefully this helped you to put together your packing list, no matter where you're traveling to.
What are other travel essentials for women to pack? Let me know on Twitter or Instagram!
More travel tips
If you're planning a trip, you might find these posts helpful:
Be sure to keep up with me on Instagram, TikTok, Twitter, Facebook, and Pinterest if you aren't already!
Feel free to subscribe to my weekly newsletter to get my blog posts delivered straight to your inbox.
---
Like this post? Pin it for later!