If you're looking for the best restaurants in Iceland, you'll be happy to hear that there's plenty of amazing food here.
While Iceland is known more for their incredible landscapes than their food scene, there are tons of fantastic Iceland restaurants worth visiting.
We didn't have a chance to try much food in Iceland the first time we visited, and we really misjudged how great the cuisine is here.
From the fresh seafood to the grass fed beef, Icelandic cuisine is definitely worth trying at least once during your trip.
You'll also find a lot of unique dishes in Iceland restaurants, like rotten shark and puffin.
We've tried both, and we weren't too crazy about either lol.
Here's where to eat and drink in Iceland, featuring all of the best restaurants and food spots we've eaten at during our two visits!
If you're looking for more posts to help plan your trip, I've got a whole bunch of Iceland blog posts!
---
Where to eat in Iceland
Here's a little map (courtesy of Google Maps) which I've labelled with each of the towns or areas that I'll be talking about in this post.
It'll also help you to determine the best Iceland restaurants depending on your itinerary!
I've listed the towns and cities in a counterclockwise direction starting from Reykjavik, since many people only do the south coast of Iceland anyways.
---
Best restaurants in Reykjavik, Iceland
Reykjavik is the capital and largest city in Iceland, which makes it a great foodie city as well.
You can find some of the best restaurants in Iceland here in Reykjavik!
You'll likely have to pay for parking anywhere you eat while you're here, but you can park at the Hallgrímskirkja Church for free.
Here are some of the best restaurants and food spots in Reykjavik.
Bergsson Mathús
Bæjarins Beztu Pylsur
101 Reykjavik Street Food
Café Loki
Café Babalú
Reykjavik Roasters
Bergsson Mathús
If you're looking to try a traditional Icelandic breakfast, definitely pay a visit to Bergsson Mathús, one of the best brunch restaurants in Reykjavik.
Come hungry, because it's a pretty big breakfast and it comes with an orange juice as well.
There's a little sauce bar where you can serve yourself dipping sauces for your bread, but I only remember there was hummus.
They're open at 7 AM every single day, which is perfect for anyone flying in or out early.
If you've got a car, there's paid street parking around the corner from the restaurant.
LOCATION: Templarasund 3, 101 Reykjavík, Iceland
---
When we first visited Iceland, we were students on a budget, and we barely ate out at any Iceland restaurants to save on costs.
We did try the hot dogs at Bæjarins, known as one of the best restaurants in Reykjavik, and it was everything we'd dreamed of.
We also came back the second time we visited Iceland because it was so good!
What makes these hot dogs so damn delicious is the toppings.
The mustard and other sauces are on another world, and the mix of raw and fried onions is perfection.
You can find this style of hot dogs all over Iceland, and we actually ate them pretty often during our second visit at gas stations around the country.
LOCATION: Various locations
---
101 Reykjavik Street Food
There are tons of amazing Reykjavik fish and chips spots, and we decided to check out 101 Reykjavik Street Food.
It was tough to fully enjoy the fish and chips here as I had to pee and they had no washrooms, but it was still really good.
The owner of the restaurant also came by and gave us a free chocolate bar, which was nice of him!
They also have a variety of hot sauces and all that jazz to top your fish and chips with.
LOCATION: Ingólfsstræti 2, 101 Reykjavík, Iceland | Website
---
Café Loki
We really wanted to try rotten shark, so we tasted a platter of different kinds of fish at Café Loki.
Everything was amazing except for the rotten shark, as you'd expect.
Adam described it as tasting like the ocean, and I just thought it burned my tastebuds.
We really enjoyed spreading butter on the dried fish – not something we thought would be so good!
The homemade brown bread here is delicious, and I'm still upset I didn't try their brown bread ice cream.
LOCATION: Lokastígur 28, 101 Reykjavík | Website
---
Café Babalú
Although we only stopped in for a coffee break, Café Babalú had a lot of good reviews online, and I'm sure their meals are just as delicious as their cakes and coffees.
We got the Blueberry Skyr Cheesecake and Swiss Mochas.
Their menu is a wee bit pricy, but still worth it!
LOCATION: Skólavörðustígur 22, 101 Reykjavík | Website
---
Reykjavik Roasters
We stopped into Reykjavik Roasters for a coffee after walking around downtown.
I got the cold brew, which is probably one of the best cold brews I've ever tasted.
If you're looking for craft coffee in Reykjavik, this is the place to go!
LOCATION: Kárastígur 1, 101 Reykjavík, Iceland | Website
---
Best Iceland restaurants near the Golden Circle
The Golden Circle is the most popular drive in the country, and there are plenty of amazing Iceland restaurants in the area.
Here's where to eat around the Golden Circle in Iceland!
Friðheimar
KFC
Gamla fjósið
Nailed It Fish and Chips
Friðheimar
If there's any one restaurant you must visit in Iceland, Friðheimar is where you need to eat.
Tomatoes are the main ingredient you'll find on almost every single item on Friðheimar's menu.
It's a greenhouse and restaurant, and what makes their tomatoes so special is that they're fed using geothermal water from the glaciers.
We had tomato soup and bread (bottomless), tomato mussels, tomato beer (didn't really taste the tomato), and tomato ice cream.
Be sure to get the olive bread – it's absolutely delicious!
Friðheimar is located right along the Golden Circle, so it's the perfect meal stop if you're visiting Thingvellir National Park, Geysir, Gulfoss Waterfall, or the Kerid Crater.
LOCATION: Friðheimar, Reykholt | Website
---
KFC
KFC is a popular spot for tourists to visit not only because they know it well, but because their Iceland locations are supposedly the best in the world.
I believe it's due to Iceland's strict poultry laws or something, but don't quote me on that.
I honestly thought it tasted the same as any other KFC, but Adam thinks it tasted different.
Y'all try it and let me know what you think!
LOCATION: Various locations
---
Gamla fjósið
They actually farm their own grass-fed cattle, which they use at their restaurant.
We both got beef burgers that were super juicy and delicious.
We really loved the beautiful vintage decor of the restaurant, but the service here was meh.
Still worth going for the food, though!
LOCATION: Hvassafell, Eyjafjöllum, 861, Iceland | Website
---
Nailed It Fish and Chips
I was not expecting to have the best fish and chips of my life at a random food truck at one of Iceland's most popular destinations.
It's right by Jökulsárlón, so it's a super convenient place to eat.
The cod is freshly caught, and you could really taste the freshness as it melted in your mouth.
We drenched our fries in Iceland's popular red salt, which you can find at pretty much every restaurant and food spot.
LOCATION: Jökulsárlón, 781 Hornafjörður, Iceland | Website
---
Best restaurants in Vestmannaeyjar, Iceland
Vestmannaeyjar is also known as the Westman Islands.
If you have the chance to visit the island, I would highly recommend doing so.
You have to take a ferry to get there, but there's tons to do in the area and it's so worth it!
Here's where to eat in Vestmannaeyjar, Iceland.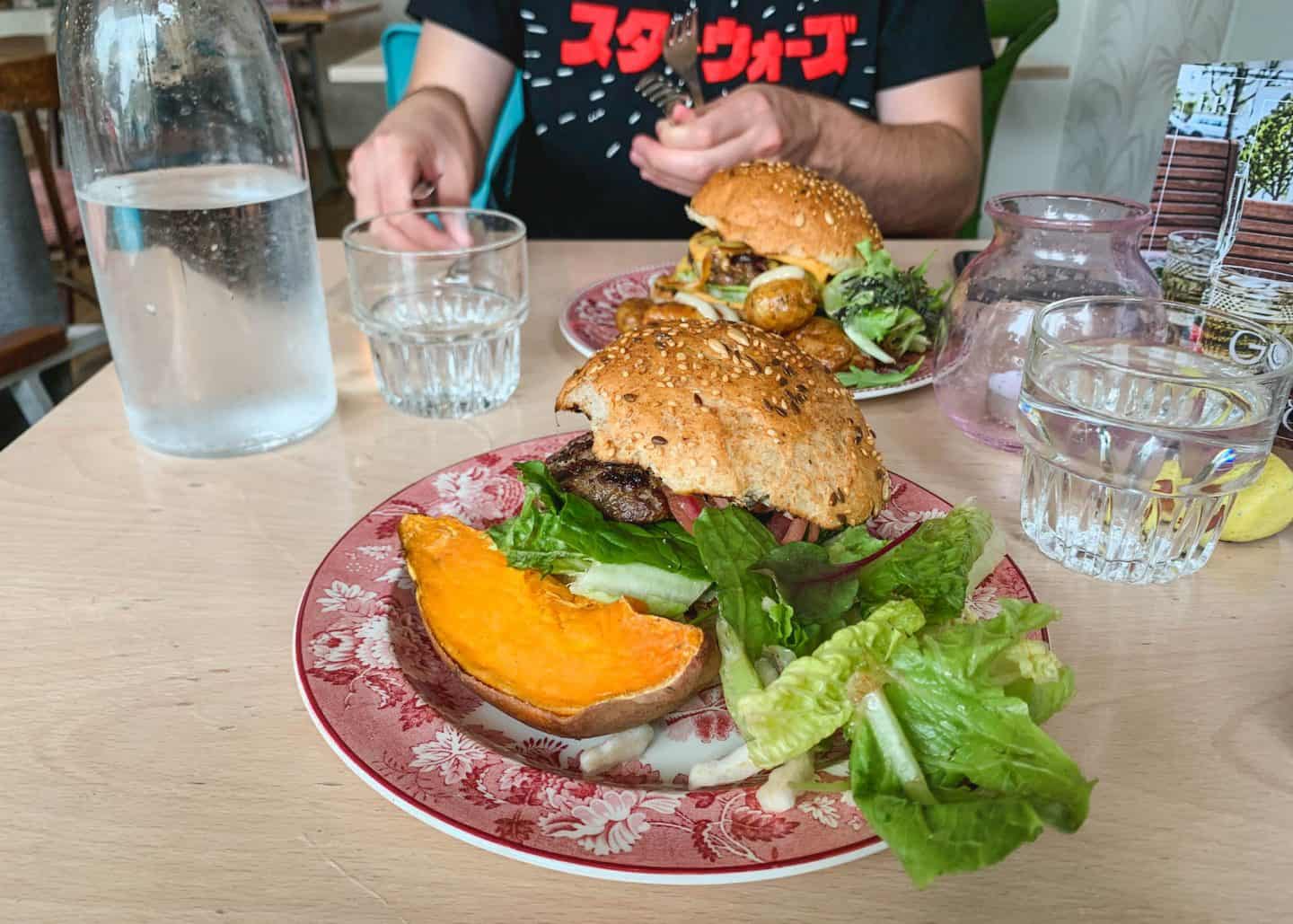 Gott
Gott is a vibrant and colourful restaurant in the heart of Vestmannaeyjar.
I got the Gott Grilled Burger and Adam got the Eldfell Burger, and they were both fantastic.
They also have a location in Reykjavik, but we only visited the Vestmannaeyjar restaurant.
LOCATION: Bárustígur 11, Vestmannaeyjabær | Website
---
Best restaurants near Höfn, Iceland
Höfn is a cool fishing town located in southeast Iceland, and it's a cute area to explore.
It's the next biggest town after Vik, so it's a popular stop along the Ring Road.
Here's where to eat in Höfn, Iceland!
Hafnarbuðin
Hafnarbuðin is a fun diner spot you wouldn't expect to find here in Iceland.
I can't remember exactly what we got, but I think my burger had blue cheese and Adam's had guac.
Both were awesome, and the service was very friendly as well.
LOCATION: Ránarslóð 12, Höfn í Hornafirði, Iceland | Website
---
Best restaurants near Egilstaddir, Iceland
Egilstaddir is one of the biggest towns in East Iceland, and you'll find a lot of great restaurants here.
Here's where to eat in Egilstaddir, Iceland!
Askur Pizzeria
We originally wanted to visit Askur Pizzeria to taste one of the beers at the craft brewery attached to it.
We didn't end up having any beer, but we did eat a lot of pizza.
I'd recommend sharing one pizza between two people – they're huge!
Adam got one of their set pizzas and I chose to build my own.
He got the wild goose one and it was just okay, but my pizza was amazing, especially because of the delicious spicy mango sauce.
They've also got vegan options for my vegan friends out there.
LOCATION: Fagradalsdraut 25, 700 Egilsstaðir, Iceland | Website
---
Best restaurants near Raufarhöfn, Iceland
Raufarhöfn is a cute town located in northeast Iceland.
We didn't have much time to explore here as we were just passing through, but I'd love to stay a bit longer next time we visit!
Here's where to eat in Raufarhöfn, Iceland!
Báran Restaurant
We came to Báran Restaurant because we were staying at the owners' guesthouse across the street.
We shared an incredible meat lover's pizza and were both stuffed by the end of it.
This also seems to be the spot for locals to grab a drink, if that's what you're looking for.
We arrived during a local festival, and Báran was actually hosting a festival event that night.
LOCATION: Eyrarvegur 3, 680 Þórshöfn, Iceland | Website
---
Best restaurants near Akureyri, Iceland
As one of Iceland's big cities, there's a number of great Akureyri restaurants.
Akureyri was actually my favourite city in all of Iceland!
We noticed it was more multicultural than other places in Iceland, and we even spotted an Indian restaurant.
Here's where to eat in Akureyri, Iceland!
Akureyri Fish & Chips
Akureyri Hot Dog Stand
Valdís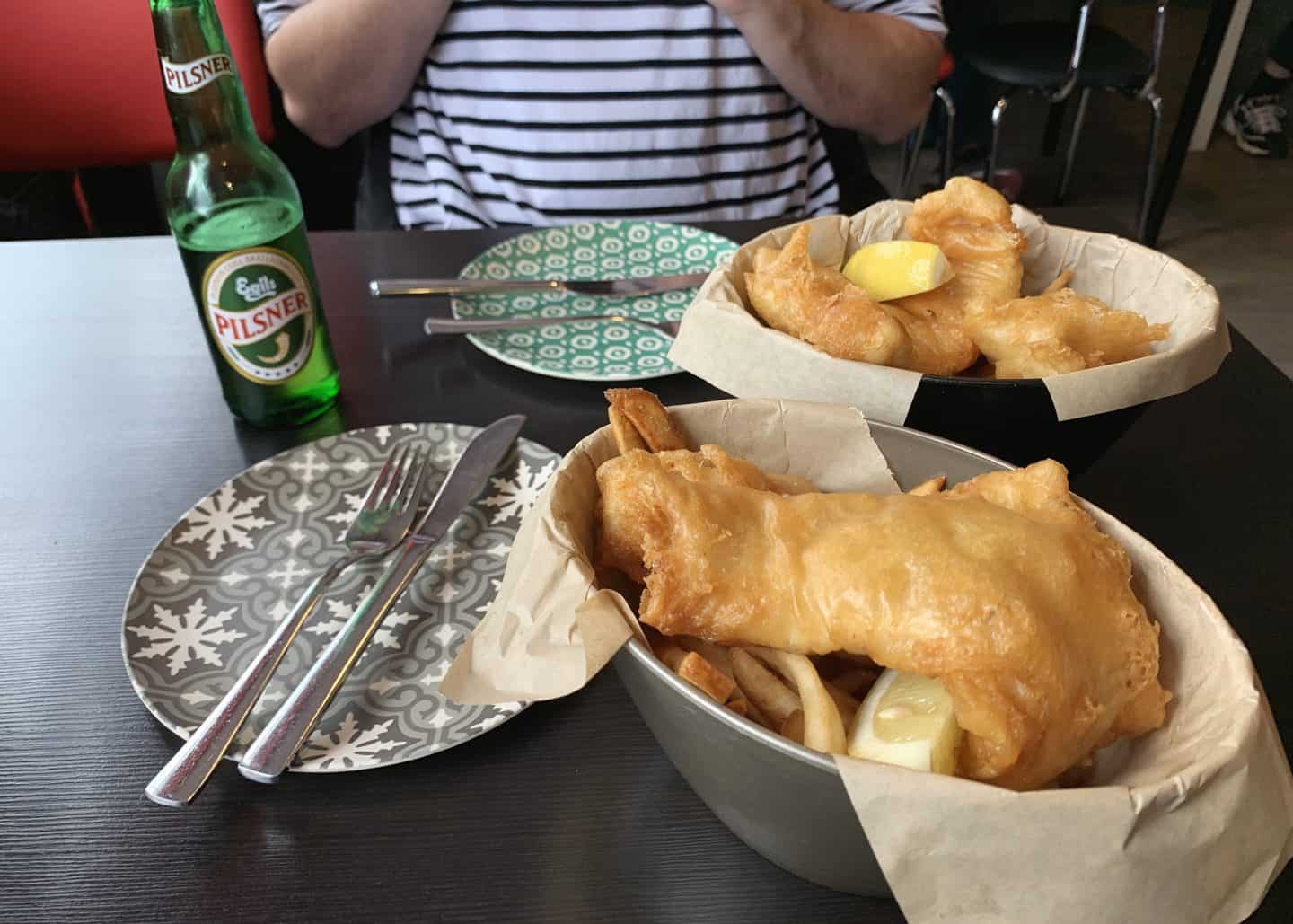 Akureyri Fish & Chips
Akureyri Fish & Chips was actually Adam's favourite fish and chip spot in Iceland.
It was really good, but it definitely couldn't top Nailed It for me!
It was pretty busy even on a weekday evening, so be sure to arrive early to get a seat.
LOCATION: Skipagata 12, 600 Akureyri, Iceland | Website
---
Akureyri Hot Dog Stand
If you like Icelandic hot dogs, you'll like the unique hot dog offerings they've got at the Akureyri Hot Dog Stand.
I got a hot dog with cheese and nuts all over it – so good!
LOCATION: Hafnarstræti, 600 Akureyri, Iceland | Website
---
Valdís
Valdís is a popular ice cream chain in Iceland, and we decided to try it after craving dessert one evening.
We had a double scoop of a liquorice flavour and a coffee flavour, and I'll just warn you to not try the liquorice one.
The coffee flavour was good, but the liquorice one ruined it for me!
LOCATION: Various locations
---
Best restaurants in the Westfjords of Iceland
The Westfjords are our favourite part of Iceland – it's just so incredibly beautiful.
We spent quite a bit of time driving through the roads here, and we'd definitely love to do the drive again someday!
Here's where to eat in the Westfjords of Iceland.
Café Riis Restaurant & Pizzeria
Franska kaffihúsið
Café Riis Restaurant & Pizzeria
We realized that eating pizza was more cost effective for us because we could share, so we stopped by Café Riis.
You can create a half and half pizza, so we chose both pepperoni and lobster.
Guys, the lobster pizza was amazing.
Café Riis is probably my favourite pizza restaurant in all of Iceland!
LOCATION: Hafnarbraut 39, 510 Hólmavík, Iceland
---
Franska kaffihúsið
Franska kaffihúsið is pretty much the only restaurant near Rauðasandur Beach.
They don't have a large menu or any filling options, but it's still a great spot for a quick bite.
We both got smoked trout toasts for lunch and shared a waffle for dessert.
The whipped cream and berry sauce was fantastic, and Adam says these were his favourite waffles of all time!
LOCATION: Rauðasandur Beach
---
Laugabol Horse Farm (one of our Airbnbs)
Although not a restaurant, I just had to share this fantastic breakfast setup by one of our lovely hosts.
She lives with her husband, and turned the 5 extra rooms in her farmhouse into guest rooms.
She woke up early and made an amazing homemade Icelandic breakfast for the entire house, which had couples in each room!
You can find the listing on Airbnb.
---
Best restaurants near Borgarnes, Iceland
Bogarnes is located an hour north of Reykjavik, which makes it a popular stop for people heading up north to Kirkjufell or to the Westfjords.
Here's where to eat in Bogarnes, Iceland!
We found Hraun on our way out of Snæfellsjökull National Park.
It's a cool spot with fusion items on their menu and tons of drink options!
I got the Surf and Turf Burger with Fries, and it was amazing. I loved the melted brie cheese inside it!
Adam got the Fish and Chips, which he said was good, but not anything amazing.
LOCATION: Grundarbraut 2, Ólafsvík, Iceland
---
Steðji Brewery
Most popularly known for their sheep-poop smoked whale sperm beer, Steðji Brewery is an Icelandic craft brewery located in Borgarnes.
Why sheep poop, you ask? Because of the lack of trees, Icelandic people have historically used sheep dung to smoke things.
As for the whale sperm – I have no answer for that.
Adam and I shared a tasting flight, and the sheep-poop smoked whale sperm beer came complimentary.
LOCATION: 515/2, Iceland | Website
---
Iceland flights & accommodations
Looking to book your flights and accommodations for Iceland?
I love booking all of my flights and hotels on Expedia and collecting points towards free rewards.
Due to our budget, we stayed in Airbnbs while in Iceland, and I have a separate blog post all about how to find the best Airbnbs.
---
If you're on a budget or don't mind where you eat, then gas station restaurants in Iceland are actually pretty good.
We ate gas station hot dogs and burgers quite a few times, and enjoyed them every single time.
Gas station food is also a lot more budget-friendly than all the expensive restaurants!
To see more of our trips to Iceland, you can check out my YouTube vlogs on 1 week in Iceland and 2 weeks in Iceland!
If you're looking for even more fun activities and things to do in Iceland, be sure to check out some local tours!
Have you been to any of these Iceland restaurants? Where are your favourite spots to eat in Iceland? Let me know on Twitter or Instagram!
If you're planning a trip to Iceland, here are some other posts to help you plan your perfect trip:
Be sure to keep up with me on Instagram, TikTok, Twitter, Facebook, and Pinterest if you aren't already!
Feel free to subscribe to my weekly newsletter to get my blog posts delivered straight to your inbox.

---