Adam and I spent 2 weeks this summer self driving around all of Iceland, and we filled our Ring Road itinerary with both new spots and places we'd already seen.
We only saw the south coast of Iceland last time we were here, and we wanted to try to see the whole country this time.
Our Iceland Ring Road itinerary ended up being 17 days, or around two and a half weeks, and you can easily take things out or add more things to fit your schedule.
Here's a detailed look at our 2 week Iceland Ring Road itinerary, including the best spots to visit and more!
If you're looking for more posts to help plan your trip, I've got a whole bunch of Iceland blog posts!
---
Your self drive 2 week Iceland Ring Road itinerary
---
Plan for plenty of stops
The length of Iceland's Ring Road is 1,332 kilometres, which you could drive in a whole day without stops if you really wanted to.
We estimated that it would take 2 to 3 weeks for us to drive along the Ring Road with stops, and it ended up being 17 days when we put our plan together.
To make the most of our trip, we planned almost every single activity and location on our 2 week Iceland Ring Road itinerary to a tee, with some leeway to add and move things around.
We also ended up driving over 4,000 kilometres because of all the extra stops we did!
Be sure to rent a car with unlimited mileage to avoid any additional fees.
Driving in Iceland in summer
The first time we did a road trip in Iceland was for a week at the end of August, and driving was pretty much the same as it was this time in July.
The weather can go from sunny to rainy real quick, and you just need to stay smart and alert on the road.
One thing you should never do is stop along the side of the road.
Not only does it risk you getting hit by another car, but it can also cause other cars to get into accidents while swerving around your car!
If you're going to make any stops, make sure there are designated areas you can pull your car into.
I've also got a blog post all about road trip tips that you might find helpful!
Driving on Iceland F roads
You need to rent a 4×4 car rental
We managed to get upgraded to a 4×4 car rental, which you need in order to drive on any of Iceland's F roads.
F roads are located in the centre of Iceland on the highlands, and are marked with an "F" in front of the road numbers on any maps.
The reason you need a 4×4 is because the mountain roads are pretty dangerous and tough to drive on, and it's not safe driving a regular rental car on them.
F roads are also only open during the summertime.
F roads aren't the worst to drive on, but they're a bit scary
The gravel roads weren't that bad, but we did have to cross over two rivers with the car, which was pretty terrifying.
If you do plan on driving on any F roads in Iceland, make sure to wear your seatbelt and sit properly.
I always wear my seatbelt, but I tend to cozy up on long drives and it wasn't fun smacking my head against the window as we crossed one of the rivers!
Visiting the Highlands is cool, but it's not essential to enjoying Iceland
While we saw some pretty epic sights in the Highlands, it's not absolutely essential to add it to your 2 week Iceland Ring Road itinerary.
There's no shortage of cool sights in Iceland!
---
Day 1: Kicking off our 2 week Iceland Ring Road itinerary
Reykjanesviti
After picking up our car rental at Keflavik Airport, we headed over to Reykjanesviti to kick off our Iceland Ring Road itinerary.
The Valahnúkamöl Cliffs were beautiful, but the weather was a lot chillier than I'd anticipated.
Summer weather in Iceland is really not summer weather at all, my friends – dress appropriately, AKA in warm clothing!
We walked along a rocky hillside to get a view from up top, and walked along the shore to watch the waves crash against the mossy lava rocks.
I'd definitely recommend wearing hiking shoes here. I had a really tough time in my Chucks and even scraped my knee on the rocks!
We also wanted to see Brimketill, a lava rock pool, but we were running behind schedule and had to skip it.
We did end up seeing it on our way back to the airport at the end of the trip, and I'll talk more about it later!
LOCATION: Reykjanes Peninsula, Iceland
---
Downtown Reykjavik
Parking ain't cheap in Reykjavik, so we parked at our go-to free parking spot last time we were here: the Hallgrímskirkja Church.
Hallgrímskirkja Church
Hallgrímskirkja is the largest church in Iceland, as well as one of the tallest structures in the entire country.
When we visited last, the entire front was being renovated, and we were stoked to see it finally completed.
It's free to walk around the church, but you have to pay a fee to go to the top of the tower.
We did that last time, and we didn't really think it was worth paying for.
Lunch at Bæjarins Beztu Pylsur
We then had lunch at Iceland's most famous hot dog stand, Bæjarins Beztu Pylsur.
It's cheap, it's delicious, and it's what we'd been dreaming about ever since we came the first time we visited Iceland.
There's just something about the sauces here in Iceland.
I'm not a fan of regular mustard, but Icelandic mustard is out of this world!
Coffee break at Café Babalú
Since we were running on lack of sleep, we had a little coffee break at Café Babalú afterwards.
The interior was fun and quirky, and Star Wars fans will love the bathroom.
We got swiss mochas (which were massive and ended up being around $7 Canadian each lol) and shared a delicious Skyr cheesecake.
---
Thingvellir National Park
Our next stop was Thingvellir National Park, which they've updated since the last time we were in Iceland.
Back then we simply wandered around random trails, and this time, there was a fenced path with a number of viewpoints.
We didn't spend too long here, but we enjoyed walking around and checking out the scenery.
---
Faxi Waterfall
The Faxi Waterfall is a real hidden gem.
There's a $7 Canadian entrance fee for each car, but it's completely worth it.
A father and son were leaving as we arrived, and we had it all to ourselves.
The only reason why we found out about this place at all is because we were going to stay at an Airbnb near here and the host mentioned it in their description.
The Airbnb ended up getting snatched up before we could book it, but we still wanted to pay a visit here.
LOCATION: Biskupstungnabraut, Iceland
---
Secret Lagoon
The Secret Lagoon is not much of a secret, as it's actually quite busy and there's an entry fee of $35 Canadian dollars per person to get in.
It's a geothermal heated swimming pool, but it really isn't anything too special.
You should definitely save your money and put it towards nicer geothermal pools like the Mývatn Nature Baths, which I'll talk about later.
Like most geothermal pools in Iceland, you have to shower before entering the pool.
There are separate change rooms and showers for men and women, but you have to shower with other people.
There are no stalls, so you have no privacy here.
LOCATION: Hvammsvegur 845, Flúðir, Iceland
---
KFC
For dinner we stopped at KFC, as we'd heard Iceland's strict animal regulations meant the chicken tasted better.
Honestly, it tasted like any other KFC to me, but it was delicious!
---
Day 2: Doing a self drive around the Golden Circle
We wanted to start our morning at the Reykjadalur Hot Springs River, but we woke up a bit late.
If you have time and are close-by, it might be nice to take a dip before starting off the day!
Gullfoss Falls
As we'd already seen Gulfoss in all its glory, we took a quick walk around before heading onto the next stop on our Golden Circle self drive tour.
It was nice visiting early in the morning before there were too many people, because last time we were stuck walking behind crowds of slow tourists!
---
Geysir & Strokkur
Although we'd seen the geysers last time we visited, we decided to actually take more time to explore the area.
We walked along the little trail behind the main area, and were treated to some picturesque views.
The trail ended at a construction site, so it'll definitely look different in another couple of years!
---
Friðheimar
If there's any one restaurant you must visit while you're doing a road trip in Iceland, it's this lovely greenhouse restaurant.
They grow their own tomatoes using Icelandic glacier water, and I never realized water quality made such a huge difference to how crops taste!
Pretty much everything on their menu is tomato-based, and we decided to get the tomato soup, tomato mussels, tomato beer, and tomato ice cream.
This ended up being the most expensive meal of our trip at around $120 Canadian, but it was definitely worth the experience.
If you're on a budget, I'd grab just the tomato soup, because it's bottomless and comes with delicious bread options (also bottomless)!
LOCATION: Reykholt, Iceland | Website
---
Hjalparfoss
After stuffing ourselves with all things tomato, we ventured off to Hjalparfoss.
It's actually two waterfalls in one, and they join at the bottom to form a horseshoe-like shape.
I read somewhere online that it isn't worth visiting unless you're already in the area, and while I can see why they'd think that, I disagree.
It's a very peaceful and underrated spot, and we found several people just enjoying their lunches here.
Not every beautiful waterfall needs to be epic and powerful!
LOCATION: Hjálparvegur 3361, Iceland
---
Þjóðveldisbærinn
Not too far from Hjalparfoss is Þjóðveldisbærinn, a farmstead from the viking era.
Walking around the outside area is free, but you have to buy tickets to actually walk around inside the little homes.
---
Háifoss
It was still pretty early in the day, and as we'd gotten lucky with the 4×4 upgrade, we spontaneously decided to visit the Highlands.
The drive from Hjalparfoss to Háifoss was only half an hour, but because of how rough the roads were and how slow the long row of cars was driving, it felt like ages.
We arrived at the same time as a bunch of other cars, so it was pretty crowded.
We were treated to an incredible view of Iceland's 4th highest waterfall, Háifoss!
There's a short trail you can walk along to get different views of the waterfall, but most people just stuck to the main viewpoint near the parking lot.
---
Sigoldufoss
We then made our way to Sigoldufoss, one of the most magical waterfalls I've ever seen in my life.
The water is a vibrant turquoise colour, and probably the only one this brightly-coloured in the entire country!
We didn't spend long exploring here, but we took plenty of photos.
We pretty much had it to ourselves, which was super nice.
LOCATION: Fjallabaksleið Nyrðri, Iceland
---
Ljótipollur
The last stop of our first full day in Iceland was this vast and incredible lake.
It's a gorgeous turquoise blue colour, surrounded by shades of red lava rock and green moss.
At this point it was getting late in the day, so we couldn't spend long here.
You can walk to the very top of the mountain, but we only walked about half of it. No matter where you see the lake from, it's still an amazing view.
There were tons of little gnats flying around here, and I definitely swallowed at least a dozen of them.
We were surprised that we came across so many bugs this trip, because we hadn't seen a single one last time we were here!
Bug spray might be your friend here.
We were staying in an Airbnb near Hvollvöllur, so we had a long drive back from the rough Highland roads.
This was pretty much the only day we made it out to the Highlands, and while we did drive through a lot of barren land, there were plenty of amazing scenic drives as well.
We stumbled across a camping site in Landmannalaugar, and it was funny to see so many people in the middle of the Highlands when we'd barely stumbled across any people on the road.
There were tons of families and kids here as well, so it felt very safe!
---
Day 3: Visiting the epic Westman Islands
Westman Islands (also known as Vestmannaeyjabær)
Westman Islands is the land of the puffins (or at least home to the largest colony of puffins in Iceland).
To get there, you have to take a ferry from Landeyjahöfn.
The ferry ride is about 30 minutes, depending on how the weather is.
We visited the Westman Islands when we drove the South Coast of Iceland two years ago, and had such an awesome time that we wanted to do it again (with better weather and a car to get around).
We took the 8:15 AM ferry there and 2:30 PM ferry back, and it still wasn't enough time to see everything, even with a car.
If you have the opportunity to stay overnight, you should definitely do it. There are spots to camp as well!
Gott
We were deciding between having lunch at either Gott or SLIPPURINN (both had great Google reviews), and we ended up visiting Gott because it opened earlier.
We were actually surprised at the number of vibrant restaurants there were, seeing as we were on a tiny island off the coast of another tiny island.
Gott was an adorable little restaurant with eclectic decor. I got the Gott Grilled Burger and Adam got the Eldfell Burger – both were delicious.
LOCATION: Bárustígur 11, Vestmannaeyjabær
Eldfell Volcano
We wanted to hike up the Eldfell Volcano last time, but the bad weather made it too dangerous.
We were blessed with good weather this time, but by the time we reached the top, it was completely foggy and we couldn't see anything.
The hike up is around 15 to 30 minutes, depending on your fitness level and where you park.
Be sure to park in the actual parking lot near the volcano, and not on the gravel parking lot on the volcano.
Unaware there was a parking lot with an easier trail, we hiked up the steep side of the volcano by the gravel parking lot.
We didn't have much time here as we had to make it back for our ferry ride, and it was just our luck that the fog cleared up as soon as we got back down to the bottom.
At least the fog made for some cool photos!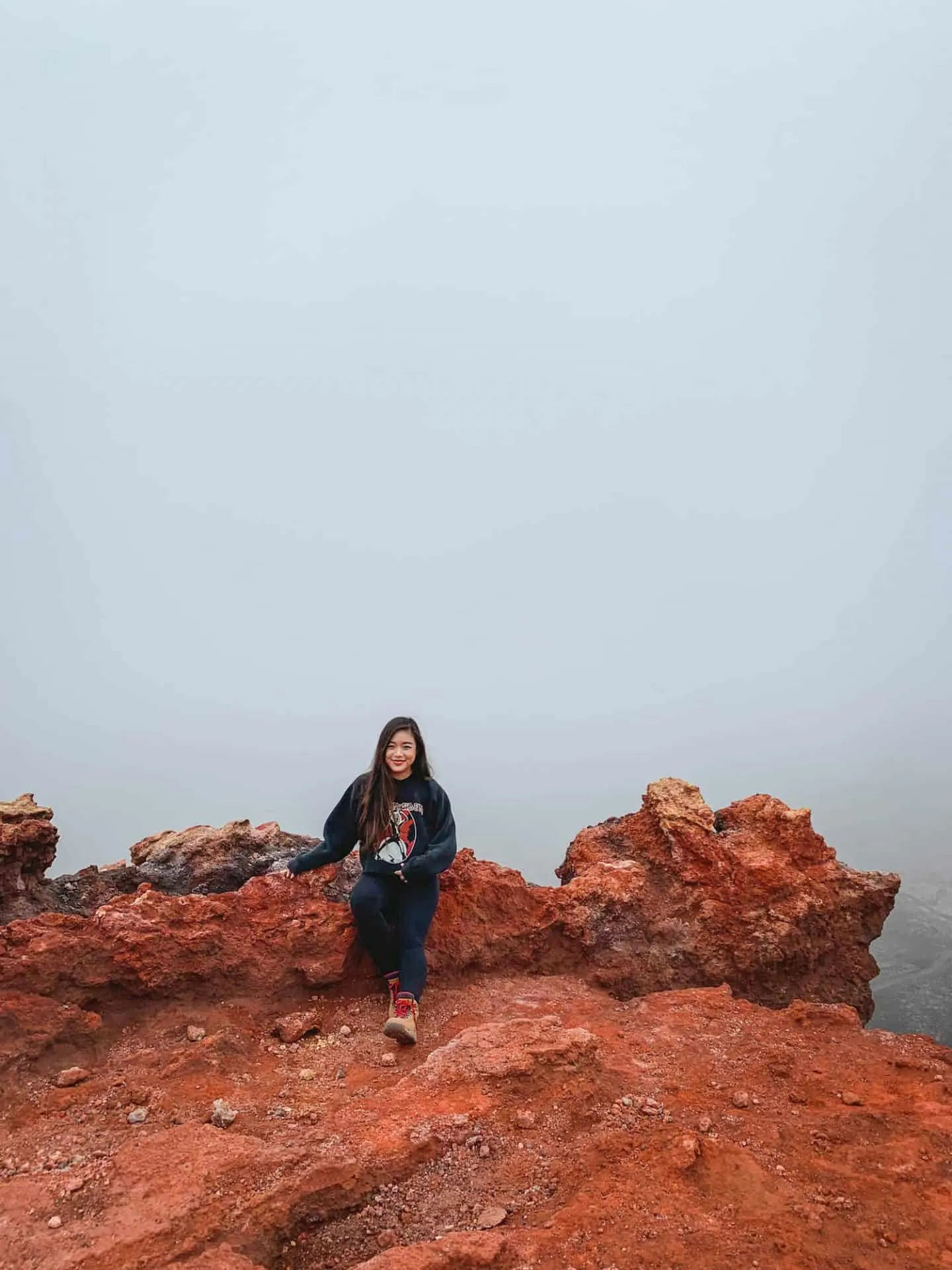 ---
Seljavallalaug Pool
After returning back to the mainland, we relaxed at the Seljavallalaug Pool, which is a very Instagrammable swimming pool.
It was built sometime in the 1920s, and today it's an "abandoned" pool run by volunteers.
The pool is a 15 to 20 minute hike one way, but it doesn't feel very long because the views there are so scenic.
We visited in the late afternoon and there were at least a dozen people there at a time while we were there.
Changeroom situation
Be aware that you may have to change in front of other people, so come in your swimsuits if that's not something you're comfortable with!
There are 3 change rooms (with no showers), but people kept hogging 2 out of 3 of them with the doors shut.
We were tired of waiting and ended up changing with everyone else in the third change room, but it really wasn't that bad.
Adam and I covered each other with his raincoat, and most people covered their friends or family with towels.
Don't bring any alcohol
Also note that consumption of alcohol at the pool is strictly forbidden.
We witnessed at least 3 groups of people bringing in cans of beer and even a bottle of rosé.
Be respectful, follow the rules, and leave places the way they were when you arrived.
LOCATION: Skogar, Vik and Myrdalsjokull
---
Gluggafoss
The last stop of our day was Gluggafoss, a lovely set of waterfalls that cascade above each other.
You can walk right up to both of them, but you'll definitely get soaked if you stand too close to the upper falls!
---
Day 4: South Iceland Waterfalls
Seljalandsfoss
We came to Seljalandsfoss for 7 AM so we could have it all to ourselves.
There were two photographers who were also there, but they eventually left because they were annoyed and wanted it completely to themselves.
If there's anything I've learned from travel photography, it's that you gotta wake up as early as possible to get people-less shots.
And if people are there, you gotta be patient and can't be greedy.
Anyway, we had a lot of fun walking around and behind Seljalandsfoss.
My jacket and sunglasses got completely soaked, but we got some pretty great shots!
Parking here is 700 ISK, but there's another waterfall nearby within walking distance, so it's basically a 2 in 1.
---
Gljúfrabúi
Not too far from Seljalandsfoss is Gljúfrabúi, and you can walk right over to it.
It's right by the camping site, but you wouldn't know it was there if you didn't already know about it.
You have to walk through a crevice and do the short walk through the rocks to walk right up to the waterfall.
Pretty epic though, huh?
---
Skógafoss
One of our favourite waterfalls in Iceland is Skógafoss.
Not only is the waterfall itself absolutely incredible, but the trail behind it is amazing as well.
The stairs up to the trail are brutal but so worth it – be sure to bring a water bottle or two.
I don't know how long the trail behind Skógafoss is, but I know it's a lot of hours.
We hiked until the trail got too muddy before we turned back.
It would be cool to do the whole hike one day, but we'll definitely save that for when we're comfortable with camping.
---
Kvernufoss
It's not really clear where Kvernufoss starts, but you have to walk behind the museum to find the trail.
Definitely wear hiking shoes, because it can get pretty slippery with all of the mud!
It's around a 20 minute hike to go behind the waterfall.
---
Sólheimasandur Plane Wreckage
Although we'd seen the plane wreck before, it was a really cool site that we wanted to revisit.
It was raining pretty hard last time, and we were hoping for better weather.
The hike is a 45 minute walk one way down a rocky path, and we had no idea they now offer shuttles to the plane wreck.
I'd definitely recommend paying the few bucks to take the shuttle instead of doing the unpleasant and uncomfortable walk!
The only thing about the shuttle is that it means groups of people are arriving at a time to take their photos, and we noticed this time people weren't as courteous to others.
One father pretty much took photos of his son at every single angle of the plane, seemingly unaware everyone else there was also trying to get photos.
---
Vik Church
You can drive to the top of this hill to get a nice view of Vik and the church.
A low fog was literally hanging right above the town so we couldn't get too many good photos.
LOCATION: Sunnubraut 7, Vík, Iceland
---
Dyrhólaey Lighthouse
We drove up to the Dyrhólaey Lighthouse, and it turned out to be way too foggy to even see anything.
It wasn't too disappointing because we'd seen it last time we were in Iceland, and the drive up was much easier with the 4×4.
LOCATION: 871 Vik, Iceland
---
Day 5: Vik to East Iceland
Reynisfjara Beach
The basalt columns and black sand is what Reynisfjara Beach is famous for.
It started pouring rain when we got here early in the morning, but it was still fun to explore.
It's also a pretty dangerous spot, and people have died from being carried away by the waves.
We made sure to stay as far away from the shore as possible.
Never turn your back to the ocean anywhere in Iceland!
---
Hjörleifshöfði
Also known as the Yoda Cave because the cave entrance is in the shape of Yoda's body.
You need a 4×4 to drive here because it's a rocky and sandy road, and you do not want to get your car stuck along here.
We tried to make our way to the beach afterwards, but the drive got too scary with the fog and the sand.
LOCATION: Vestur-Skaftafellssýsla, Southern Region, Iceland
---
Fjaðrárgljúfur Canyon
Just like the Dyrhólaey Lighthouse, Fjaðrárgljúfur Canyon was also way too foggy to see anything.
It was still cool to walk around, but we didn't get too many views.
We also drove to a parking lot at the top of the canyon, which we didn't know was possible before.
We did enjoy doing the full walk from the other parking lot last time, though!
---
Lómagnúpur Mountain
There isn't a parking lot or anything for Lómagnúpur Mountain, so you have to pull over to the side of the road to take any photos of it.
It's pretty dang photogenic and worth stopping for, but do be mindful of cars. People drive pretty fast on the Ring Road!
---
Svartifoss
This wasn't our favourite hike last time, but we decided to do it again anyways.
Our lack of fitness really caught up to us with this one.
It's a simple hike and a lot of families do it, but it's a lot of cardio. It's around 30 to 45 minutes one way.
There were tons of people relaxing at the end of the hike, and we ended up having a little snack before heading back to the car.
LOCATION: 8, Iceland
---
Fjallsárlón
Fjallsárlón is the cousin to Jökulsárlón, the more popular glacier lagoon.
It's also very beautiful and worth stopping at if you have the time.
---
Jökulsárlón
Jökulsárlón is one of my absolute favourite places in all of Iceland.
It's stunning yet sad to see icebergs breaking off and floating into the ocean.
You might be lucky enough spot some seals while you're here!
While we were here, I had the best fish and chips I've ever had in my entire life.
The cod was so fresh, it literally melted in our mouthes with every bite.
Also, I don't know what this red salt is, but you'll find it in pretty much every restaurant in Iceland and it's delicious.
---
Black Diamond Beach
We stopped by Black Diamond Beach last, where we were able to get up close and personal with the icebergs.
The main area of the beach was pretty crowded, but we walked a little bit further out to have part of it to ourselves.
The waves are insanely sneaky here, so stay away from the shore.
---
Day 6: East Iceland
Vestrahorn Mountain & Stokksness Beach
We were really looking forward to seeing Vestrahorn Mountain, but all 3 times we visited we were disappointed by the fog.
I'd definitely recommend only visiting on a clear day, because the salesperson will sell you tickets regardless of whether you'll be able to see anything. Entrance is 900 ISK per person.
On your way to the Instagram-worthy beach is this cool little museum, which actually used to be one of the first settlement farms in Iceland.
It's been restored since, so this isn't how it looked like however many hundreds of years ago.
The reason why Stokksness Beach is such a popular spot to see Vestrahorn Mountain is because of the beautiful reflections of the mountain when the water is still.
Every time we visited it was also windy, so we were out of luck for that!
But that just means we have another reason to come back to Iceland.
---
Glacier hiking at Skaftafell National Park
I'm not the most adventurous person in the world, and I was honestly a little scared to do glacier hiking.
It was actually very safe, and they gave us all the gear we needed.
The guide also stopped every few steps to make sure everyone was still okay.
The Skaftafell glacier hike started right by the Svartifoss Waterfall parking lot.
We got strapped into our gear and took a bus off to the base of the glacier.
Be sure to bring hiking boots (not shoes), waterproof pants, and a waterproof jacket.
Otherwise, they'll pester you about renting gear at around 1000 ISK a piece.
The hiking boots are important though, because the spikes won't fit onto regular hiking shoes.
We did the beginner Skaftafell glacier tour, and it was pretty easy for us.
They separated us into the "athletic" group and the "slower" group, and most of the older people got put into the slower group.
Adam and I don't workout very much, but we do a lot of walking around the city, so we're mildly fit.
We drank glacier water right from the source, and it was delicious!
As someone who's been drinking filtered water all my life, there is a huge difference between regular tap water and filtered water.
And glacier water beats it all!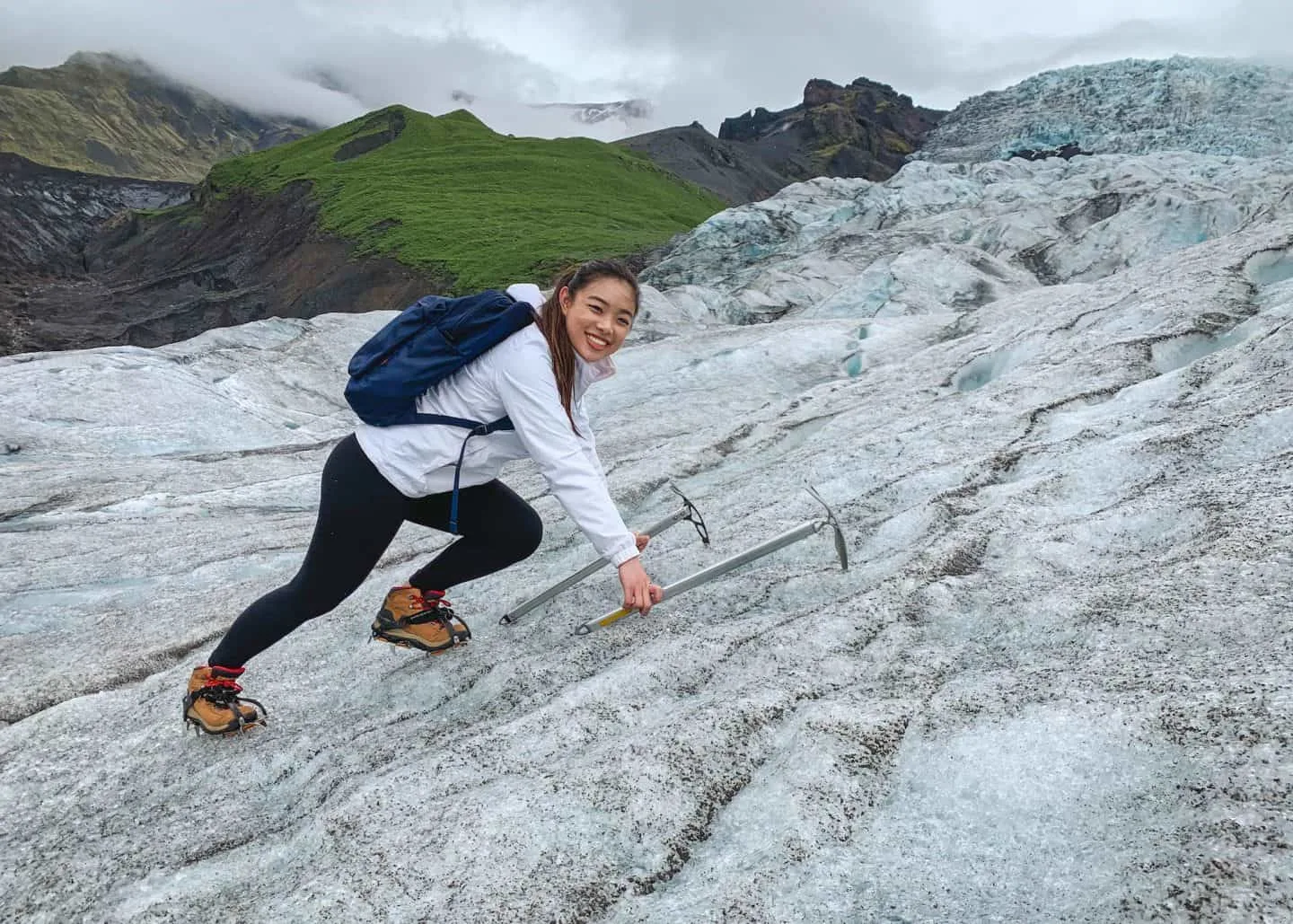 ---
Day 7: East Iceland Waterfalls
Day 7 of our Iceland road trip marked the first day we were driving on new roads we hadn't driven on and seeing completely different sights we'd never seen before.
We were ecstatic, and it felt like we were going to a completely new place!
Folaldafoss
The first stop of our day was Folaldafoss, a beautiful waterfall you can walk right up to from the parking lot in about 15 minutes.
---
Klifbrekkufossar
Next we visited Klifbrekkufossar, which appears as a series of waterfalls tiering above each other.
---
Seyðisfjörður Church
Seyðisfjörður Church is popular for the pretty rainbow road leading up to it.
On a clear day, you can see the mountains behind the church as well.
I love how unique the churches are here in Iceland!
It was crazy busy when we visited in the afternoon and it was difficult to get photos, so we came back the next morning as well.
LOCATION: Bjólfsgötu 10, 710, Seydisfjordur, Iceland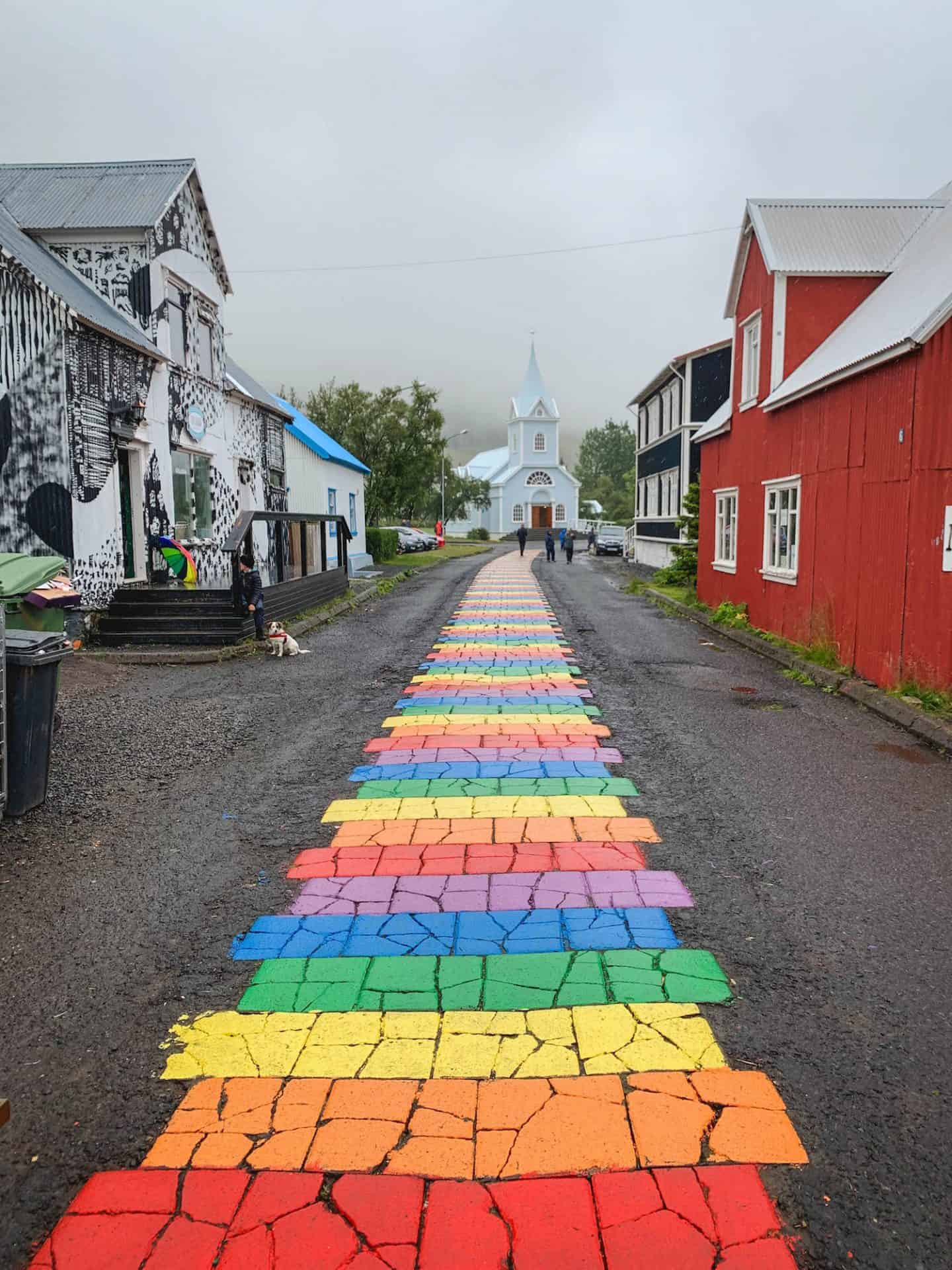 ---
Gufufoss Waterfall
Our last waterfall of the day was Gufufoss, a pretty waterfall that reminds me of Skogafoss.
You can walk down pretty close to it as well.
---
Day 8: A hiking day in East Iceland
We didn't plan much for this day because we had two long and (seemingly) strenuous hikes planned.
Hengifoss
Hiking to Hengifoss is a toughie because of all the uphill walking.
I believe it's an hour one way to hike all the way to the waterfall, but part of the trail was closed off, so it only ended up being around a half hour for us.
What makes this waterfall unique is that it's surrounded by layers of red rock.
Although we didn't get to see it up close, it was still beautiful.
---
Studlagil Canyon
Man, oh man. Okay, so you can drive and park straight up to the east viewpoint here, but it ain't for you if you're afraid of heights.
There's a sign (like at many other cliffs in Iceland) that warns you to stay far from the edge or you can fall off and die, which really freaked me out.
Especially since you have to make your way down a muddy cliff using just a rope and walking around people who are also holding onto that rope with their dear lives!
What you're actually going to want to do is park at the parking lot past Klaustursel Farm, cross the bridge, and do the one hour walk over to the opposite side of the east view point.
You'll pass a cool waterfall and walk through grass along the way, but just make your way straight until you find the canyon.
The cliffs on this side are a lot lower, so it's not as frightening.
You also get to walk down to the bottom of the canyon and see the basalt columns in all their glory.
The only downside is having to make the one hour walk back to the parking lot, but it's so worth it!
---
Day 9: Exploring Mývatn
---
We spent this day exploring the Mývatn area.
There's a ton to do here, so if you're short on time, definitely add this area to your 2 week Iceland road trip itinerary!
The Arctic Henge
The Arctic Henge is a group of stone structures inspired by Stonehenge.
If you've ever played Runescape, this might remind you of it.
It was really cool to see, but tough to get any good photos because it was pouring rain out!
LOCATION: Raufarhöfn, Iceland
---
Dettifoss Waterfall
Dettifoss is the most powerful in Europe, and it's insane that you can walk right up to it.
Do be careful, because you could easily make the wrong step and fall right into it!
Be sure to go to east side because the views are much nicer.
---
Selfoss Waterfall
After seeing Dettifoss, you can do the short hike over to Selfoss.
It's very rocky, so you should wear hiking boots.
You'll be treated to an amazing view of waterfalls falling all over the place!
Funny story: last time we were in Iceland we tried to see Selfoss (not knowing it was in East Iceland), and we mapped ourselves to the middle of the town of Selfoss lol.
I'm sure we're not the only ones who've done that though!
---
Grjótagjá Cave
This was the cave where Jon Snow and Ygritte first did you-know-what.
There are two entrances to the cave and there isn't a ton of space, so just be mindful of people who are also waiting to go inside.
There are signs saying not to go in the water because it's dangerously hot, but there were people who were literally dipping their feet into it lol.
LOCATION: North Island Drive Northwest, Atlanta, Iceland
---
Mývatn Nature Baths
We'd visited the Blue Lagoon before, so we wanted to do something new and visit the Mývatn Nature Baths.
They kindly hosted us, and it was a great way to relax after so much hiking and exploring over the course of the week.
The alkaline water is filled with minerals, which feels so silky smooth on your skin. It's like a mini spa session!
Adam and I spent the afternoon floating around the lagoon and enjoying the views.
The robes are also a nice touch, especially since you freeze the second you step out of the lagoon.
It's an extra fee to rent them, but I'd definitely recommend them, especially if you choose to visit during the winter!
You can also bring your own towel so you don't have to rent one.
LOCATION: Jarðbaðshólar, 660 Mývatn, Iceland | Website
---
Viti Crater
The Viti Crater is similar to the popular Kerið Crater Lake along the Golden Circle, but a lot less colourful.
The lake is a beautiful turquoise colour, but the crater doesn't have the shades of red rock and green moss surrounding it.
Nevertheless, it's still a gorgeous sight to see!
---
Namaskardh
The geysers here were so much cooler than the ones in the Golden Circle.
The sand here was all sorts of different shades of colours, and the geysers were insane!
We stayed in Akureyri this night, but I would not recommend doing so if you plan on going back east again.
There's a toll road that charges you 1500 ISK each time you go through it, and we ended up paying it 3 times.
You can pay the toll online up to 3 hours before or after you pass through it before your car rental charges you a fine.
At least it's the only paid toll road in Iceland!
---
Day 10: Wandering around North Iceland
Godafoss
We passed Godafoss on the way to Akureyri the night before and it was packed.
It was still a bit busy early in the morning, but at least we could properly enjoy it.
---
Aldeyjarfoss
Aldeyjarfoss was the waterfall I was most excited to see on this trip.
You need a 4×4 to drive up to it, or you can park at a farm nearby (I can't remember which) and walk an hour to get there.
While it was amazing, I don't think it's worth a 2 hour roundtrip of walking.
You can make your way down to the bottom of the cliff, but it seemed a little too dangerous for me.
There were a couple of other people who were there at the same time that went down to the bottom.
That's also where a lot of people take their photos!
LOCATION: Sprengisandsleið, Iceland
---
Húsavík
When we did our glacier hike in Skaftafell, our tour guide (from Czech Republic) told us that whale watching in Húsavík was one of her highlights of Iceland.
So, we decided to book a whale watching tour!
We explored a bit of the town of Húsavík before our whale watching tour.
The harbour is really lovely to see, and the wooden church, Húsavíkurkirkja, was built in the early 1900s.
Whale watching tour
We booked our whale watching tour with Gentle Giants, and strapped ourselves into our spunky protective suits.
I'd recommend having your phone strapped around your neck in a waterproof phone case, because the boat is very rocky and anything can happen.
You should also wear a tuque, because it gets really cold in the middle of the ocean.
As someone who couldn't swim, the rockiness of the boat was terrifying.
Dolphins and whales popped out of the water on each side of the boat, so people were running back and forth over boating equipment to get a glimpse of them.
Eventually I just stayed in one spot, because I was getting seasick.
I also gave up on getting any photos because it was way too difficult!
While we were heading back to shore, they gave us kleinur (Icelandic donuts – so delicious) and hot chocolate, a nice treat after being out in the cold.
---
Akureyri
Akureyri is my favourite city in all of Iceland.
It feels more friendly and less touristy than Reykjavik, and it's a big city with plenty of places to eat and things to see.
Although we stayed here for 2 nights, we didn't explore too much of the city, and I'd love to do that more next time!
I'd recommend adding a full day here on your 2 week Iceland Ring Road itinerary to explore the city.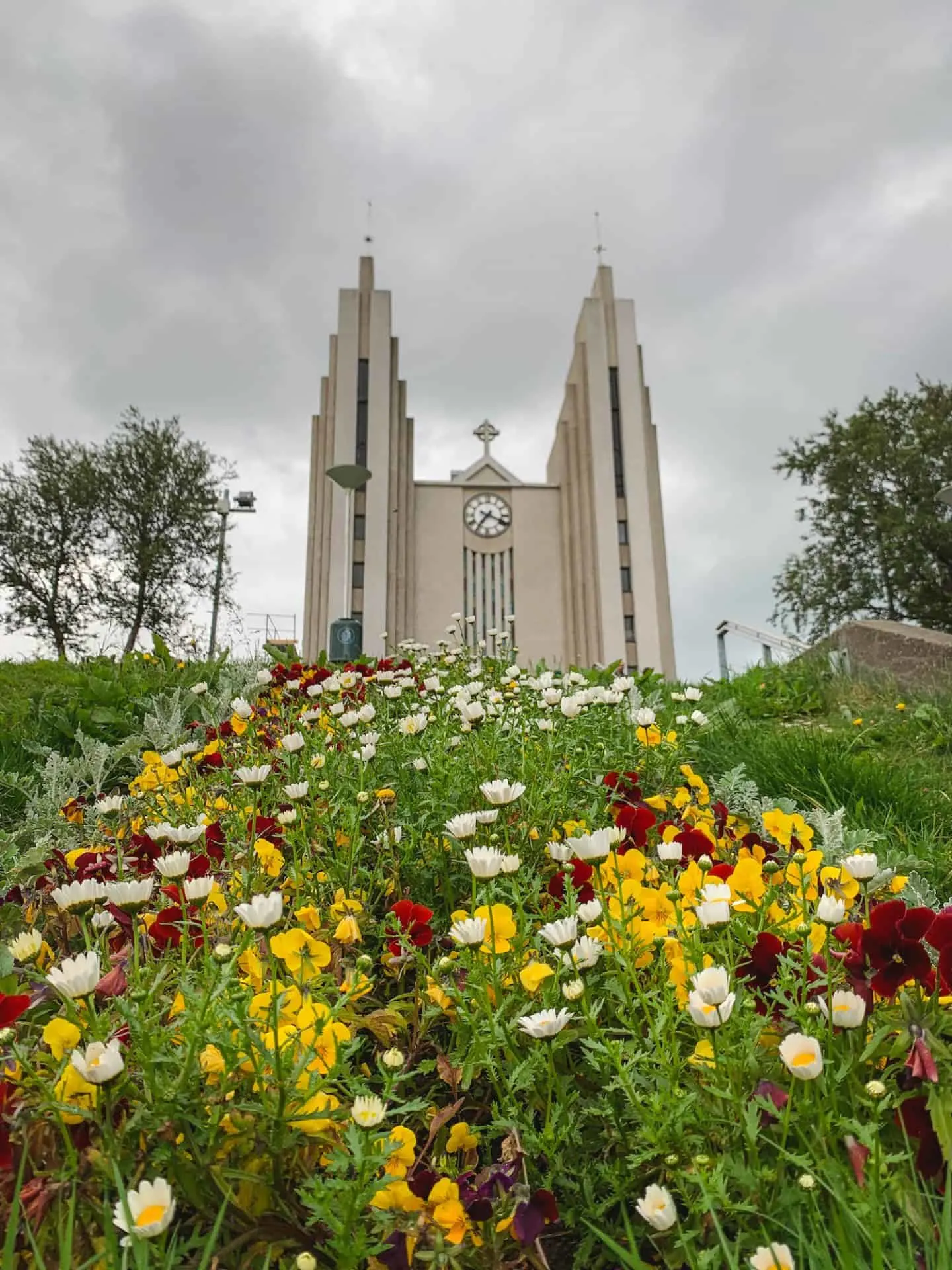 ---
Day 11: More of North Iceland
Glaumbær
We arrived at Glaumbær at the same time as a tour bus, so it was pretty crowded.
It's a neat little area with a bunch of preserved grass covered houses.
Each house has old tools inside them, which you're allowed to look at from outside.
I think there was a sign saying they'll be charging fees to come here soon, but we didn't have to pay anything when we came.
---
Kolugljufur Waterfall
Kolugljufur Waterfall is a beautiful area to explore, and you can walk along the canyon up to the waterfall.
We saw one family and a few couples walking around, but it was fairly quiet.
It's a stunning site to see, and definitely a hidden gem that's worth stopping at along your 2 week Iceland road trip itinerary.
---
Hvitserkur
Hvitserkur is also known as elephant rock, because it looks like an elephant drinking water.
It's made up of basalt rocks, which is pretty darn cool.
The beach it's on is also great for shell hunting, and I brought a bunch home with me.
LOCATION: Vatnsnesvegur, Iceland
---
Day 12: To the Westfjords
This day began our drive through the Westfjords of Iceland, probably our favourite part of the entire country.
The scenic drives through the mountains and along the coast of the ocean are jaw dropping.
We made plenty of stops along the way, of course!
Be sure to allot plenty of time for the Westfjords on your 2 week Iceland Ring Road itinerary, because you'll be doing long zig zag drives through the mountains.
Bolungarvík
Bolungarvík is a small fishing village in Iceland.
As the sun was setting, we didn't have too much time to explore, but we did get to have a little taste of it.
Driving up Bolafjall Mountain was pretty scary, because it's a very steep zig zag drive with little space for cars to pass one another.
It was worth it, because the views from up top were insane!
On Instagram we mostly saw photos with clouds and fog, which would've been cool as well, but we were blessed with clear skies.
The mountain is 636 metres above sea level, but somehow this was one set of heights I wasn't afraid of.
---
Ísafjörður
Ísafjörður is another one of my favourite towns in Iceland.
It's just so fascinating to me that there's such a large and established community in the middle of the mountains.
The views in the town weren't too shabby, either!
If I had to move to any remote-ish place in the world, this would probably be it.
But don't tell Adam that – he really wants us to move to Iceland 😛
We also stumbled across a Thai restaurant (complete with all sorts of Asian dipping sauces) and had to eat there.
It's owned by a couple, and I believe the wife is from Thailand. So cool!
There aren't too many Asian restaurants in Iceland, and it was nice to have a little taste of home.
---
Day 13: Exploring the Westfjords
Dynjandi Waterfall
Dynjandi is one of the most incredible waterfalls in all of Iceland.
Its massiveness will make you feel so small, especially if you walk right up to it.
Prepare to get soaked if you do go right up to the waterfall!
We came early in the morning and had it mostly to ourselves, which was really nice.
There's a very safe rocky path you can take straight up to the waterfall, which I think was put in place by local volunteers.
It's an epic waterfall worth adding to your 2 week Iceland road trip itinerary.
---
Garðar BA 64
The Garðar BA 64 is the oldest steel ship in Iceland.
It was built in Norway in 1912 and beached here in 1981, and has been there ever since.
There's also a cool museum nearby that houses other abandoned things (I think we saw a US military aircraft), but we didn't have a chance to stop by it.
---
Rauðisandur Beach
Rauðisandur Beach is known for having red sand, but it looks more like a brown.
The small grassy patches make the beach look pretty unique, and the stillness of the water makes for cool reflections.
We had a serene walk around the scenic beach before heading back to the car to our next stop on our 2 week Iceland Ring Road itinerary.
Along our drive to the next destination, we saw some other cool beach views.
There are so many stunning views in the Westfjords, and pictures don't even do it any justice!
The Westfjords are an absolute must-add to your 2 week Iceland road trip itinerary.
---
Látrabjarg Cliffs
The Látrabjarg Cliffs are puffin heaven.
If you're lucky, they'll come up pretty close to the fence, but you're more likely going to have to lie on your stomach at the edge of the cliff to get any good photos.
There are tons and tons of birds of all kinds here, and it sounds like a mixture of screaming children and cackling witches. The sounds are pretty eerie to be honest.
Anyway, if you want to see these cuties up close for yourself, add the Látrabjarg Cliffs to your 2 week Iceland Ring Road itinerary!
You can also eat puffin at some restaurants in Iceland.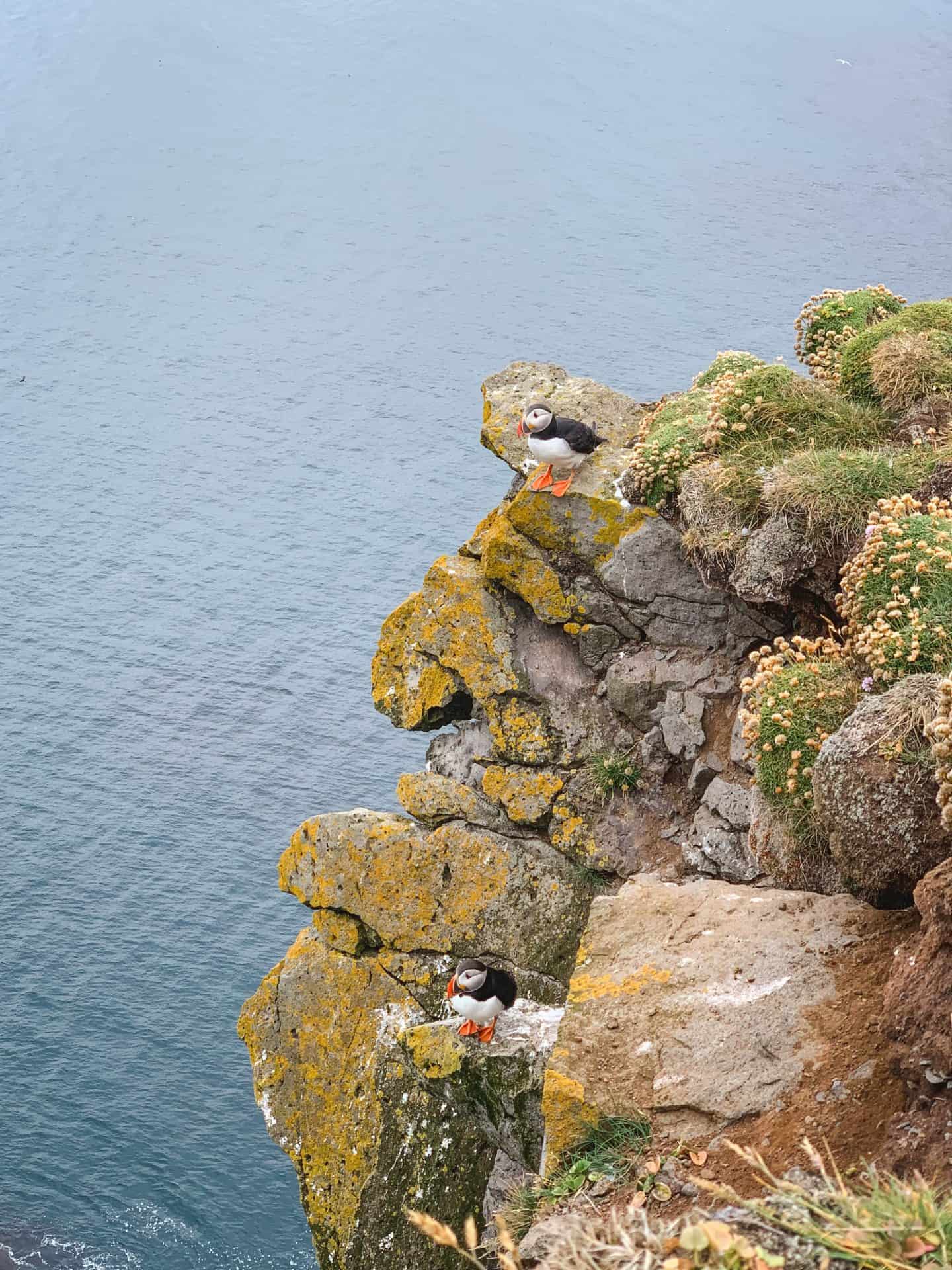 ---
Day 14: Making my way downtown (to Reykjavik)
---
This day was just a driving day, but we tried to make the most of it by stopping anywhere we cool we saw along the drive.
Our destination was Bogarnes, where our Airbnb was for the night.
Steðji Brewery
I stumbled across the Steðji Brewery online, which was fairly close to Bogarnes, so we decided to stop there as well.
Steðji Brewery is an Icelandic craft brewery probably most well-known for their sheep-poop smoked whale sperm beer.
Did you just read that right? Yup.
Because of the lack of trees in Iceland, people have historically used sheep dung to smoke things. As for the whale sperm?
Not sure, but it does add a salty taste to the beer. Lol.
We ordered a tasting flight to share, and the sheep-poop smoked whale sperm beer was complimentary.
Honestly, it pretty much tasted like regular beer. But we did prefer the ones on our tasting flight 😉
---
Day 15: Driving through West Iceland
Kirkjufell
You can't miss having Kirkjufell on your 2 week Iceland Ring Road itinerary!
Kirkjufell is famously known for being in Game of Thrones.
We wanted to beat the rush, so we came early in the morning and had it all to ourselves.
We were expecting for it to be a hike, but it turned out to just be a viewpoint designed for tourists.
Nevertheless, it was still an awesome spot, and we took our time taking photos.
The prettiest view is near the back end of the tourist trail, where you can have the mini waterfalls in view.
---
Arnarstapi
Arnarstapi is a small village on the Snæfellsnes Peninsula, popular for its Instagrammable arches and unique rock structures.
You can park at the same place to see the Gatklettur Arch Rock and Midgja Arch, but the Hellnar Viewpoint is in a different spot.
---
Snæfellsjökull National Park
We drove through Snæfellsjökull National Park and stopped at Þúfubjarg, a basalt formation that looks like castle ruins.
Although we would've loved to have explored more of the national park, we didn't budget much time for it, so it's definitely something I'd love to see more of next time!
If you're able to, you should add it to your 2 week Iceland Ring Road itinerary.
---
Búðakirkja
Búðakirkja is another one of Iceland's popular and Instagram-worthy churches.
The black church against the mountainous backdrop and green foreground makes for some pretty cool shots.
I'd just seen Ari Aster's Midsommar, and I really wanted to create a photo inspired by it while in Iceland.
It may not be Sweden, but it's as close as I could get. How'd I do?
---
Day 16: Back to Reykjavik
Hraunfossar & Barnafoss Waterfalls
Hraunfossar and Barnafoss are located right by each other, and you can view them from fenced lookouts.
They're nothing too crazy, especially since you can only view them from the touristy lookouts, but it's worth adding to your 2 week Iceland Ring Road itinerary if you have the extra time.
You only have to park at one parking lot to see them both anyways, and it's close to Reykjavik!
LOCATION: Reykholt, Iceland
---
Glymur
We couldn't do the Glymur hike last time because the log was submerged under water.
This time, crossing it was a piece of cake!
The rest of the trail was tough though, and involved a lot of uphill climbing on rocks and holding onto ropes.
We didn't make it all the way to the end because we were exhausted and it felt a little too dangerous, but we got close enough to keep us happy.
The trail loops around, but we turned back the way we came because we didn't go all the way to the end.
---
Downtown Reykjavik
We headed off to Reykjavik afterwards and enjoyed the beautiful sunny weather in the city.
We visited a café and checked out a few shops.
---
Day 17: Last day in Reykjavik
Bergsson Mathús
We kicked off our last day with some local brunch in downtown Reykjavik before doing some last minute adventuring.
Reykjavik has such a great food scene, and we really wanted to add some brunch to our 2 week Iceland Ring Road itinerary!
We had a traditional Icelandic breakfast at Bergsson Mathús and it was delicious! It's nice that they're open at 7 AM daily, especially for anyone flying in or out early.
The one thing I've noticed about Icelandic breakfasts is that there's usually ham and cheese slices involved.
One of our Airbnb hosts cooked breakfast for the entire guesthouse, and there was plenty of ham and cheese for us!
LOCATION: Templarasund 3, 101 Reykjavík, Iceland
---
The Sun Voyager
Afterwards, we walked around downtown and did some sightseeing.
We visited the Sun Voyager, which we'd seen before, but thought we'd make a quick stop again.
It's one of the most iconic sights of Reykjavik!
LOCATION: Sæbraut, 101 Reykjavík, Iceland
---
Kolaportid Flea Market
This is Reykjavik's only flea market, and it's only open on weekends.
It was pouring rain outside and we were soaking wet, so we took our time walking through it.
The first thing I noticed was that most of the stuff looked like random products that just got shipped in from China.
Second thing I noticed was that this was the largest concentration of Asian people I'd seen in Iceland who weren't tourists.
It was a little disappointing that there weren't more items unique to Iceland, but we still enjoyed walking through it.
We did see some Icelandic wool sweaters and Icelandic books.
There was also a food section where you could sample rotten shark, but we tried it at a restaurant last time and didn't enjoy it.
If you're short on time, you can definitely skip adding this on your Iceland Ring Road itinerary.
LOCATION: Tryggvagötu 19, Old Harbour Grófin Reykjavik Kvosin, Iceland
---
Nordurgardi
The Nordurgardi is a cool yellow lighthouse behind Harpa Concert Hall.
The mountains in the background made it look even cooler than it already did, and I was surprised we were the only ones here.
I didn't plan on matching my outfit with the lighthouse, but it worked out perfectly!
I love all of the unique and colourful lighthouses and churches in Iceland.
LOCATION: Austurbakki 2, 101 Reykjavík, Iceland
---
Brimketill
The second last stop of our 2 week Iceland itinerary was the Brimketill lava rock pool, which we'd missed on the first day.
It was insanely windy so we only spent a couple minutes here, but it was beautiful!
---
Brú Milli Heimsálfa
The last stop on our 2 week Iceland Ring Road itinerary was Brú Milli Heimsálfa.
Translated as the "bridge between continents", it's literally a bridge separating the North American and Eurasian tectonic plates.
You can walk down beneath the bridge, but there isn't much else around here.
It's encouraged to take a photo of yourself "holding" each tectonic plate, but there were several people waiting in line and we didn't want to wait.
LOCATION: Reykjanes Peninsula, Iceland
---
So that was our 2 week Iceland Ring Road itinerary.
It took almost 2 and a half weeks to drive the entire country, and there were definitely more stops and days we could've added.
While we've satisfied our craving for the beauties of Iceland for now, we'll definitely be back someday to explore more of the Highlands and Westfjords, as well as come back during the wintertime.
To see more of our trips to Iceland, you can check out my YouTube vlogs on 1 week in Iceland and 2 weeks in Iceland!
If you're looking for even more fun activities and things to do in Iceland, be sure to check out some local tours!
Have you visited Iceland before? What was on your Iceland Ring Road itinerary? Let me know on Twitter or Instagram!
If you're planning a trip to Iceland, here are some other posts to help you plan your perfect trip:
Be sure to keep up with me on Instagram, TikTok, Twitter, Facebook, and Pinterest if you aren't already!
Feel free to subscribe to my weekly newsletter to get my blog posts delivered straight to your inbox.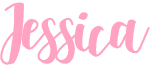 ---
Like this post? Pin it for later!