If you're looking for a guide on how to do the Plain of the Six Glaciers hike at Lake Louise, you've come to the right place.
Adam and I are not very active people, but we managed to do the Plain of Six Glaciers in one piece.
Our legs were utterly exhausted afterwards (on top of hiking Johnston Canyon and the Ink Pots the day before), but it was totally worth it.
Here's what you need to know about hiking the Plain of the Six Glaciers in Lake Louise!
Be sure to also follow me on Instagram and TikTok – I share a lot more content on those platforms that don't make it to the blog!
Plan your Banff trip
If you're planning a trip to Alberta, here are some other posts to help you plan your perfect trip:
Tours & activities in Banff
Looking for actual tours and activities in Banff? You might enjoy these ones:
---
Plain of the Six Glaciers hike
---
What to bring to the Plain of the Six Glaciers hike
Clothing layers
We started our hike in the early morning, so it was a bit chilly at Lake Louise.
Obviously we warmed up as we hiked up the trail, though it was also a bit chilly when we were sitting down at the teahouse.
The glacier viewpoint was pretty darn cold, and I'd highly recommend having a tuque and jacket to keep you warm!
On the way back it was super hot, and we were glad to take off all our layers.
Hiking shoes or boots
I've learned over the years that it's always better to wear hiking shoes no matter how easy the trail is.
They're more comfortable to hike in than running shoes, and they provide good traction for slippery trails.
I've had the Columbia Newton Hiking Boots since my Arizona/Utah trip in 2018, and they're amazing for hiking in.
I personally prefer hiking boots over shoes – they provide more support, especially if you tend to twist your ankle a lot like I do!
Hiking daypack
Although not totally necessary, I would highly recommend also investing in a good-quality hiking daypack.
Adam and I both bought Osprey backpacks for this trip (known as one of the best daypack brands), and it's one of the best investments we've made.
We were able to carry plenty on our backs without any back pain at all, and the webbed nylon and foam back helped air our backs out and kept them from getting too sweaty.
I have the Tempest 20L and Adam has the Talon 22L, which are the female and male versions of the same backpack, and even come in different sizes depending on your height.
Hiking poles
Hiking poles are definitely helpful, especially when it comes to reducing the impact on your knees when hiking downhill.
We didn't have any during our trip, but it's now on our shopping list for anymore intense hikes we do in the future.
Water bottles
Doing any hike without any water is probably one of the worst ideas you can do.
We were shocked by the number of people on the trail who didn't even have backpacks with them!
It's always better to be over-prepared than underprepared, and I believe we packed 4-6 water bottles between the two of us.
We always have our Brita water bottles on us, but we also always buy a case of water bottles at our destination.
Snacks
You probably won't need any snacks if you plan on eating a meal at the teahouse, but it doesn't hurt to bring some anyways.
I kept a stash of granola bars and pork jerky in my bag the entire trip, just in case!
Bear protection
When you're hiking in the Canadian Rockies, you absolutely need bear spray, and possibly a bear bell.
There are plenty of bears in Banff, and you'll want to have bear spray on you in case you run into an aggressive one on a trail.
You'll have to buy them while in Alberta as you can't bring them onto planes, and they cost around $40-$50 each.
We bought a 2-for-1 pack at Canadian Tire for $83.99, which you can order for in-store pickup.
If you just want one, you can get the same brand in a one-pack at Canadian Tire for $54.99.
Oh, and make sure the safety is always clipped on, because I may or may not have accidentally sprayed Adam by accident…
It's argued that bear bells aren't actually useful, but I'm happy to have them if they do anything at all, and they only cost a couple of bucks.
---
How long is the Plain of Six Glaciers hike?
It takes the average person 4-6 hours to hike the Plain of the Six Glaciers.
Here's a breakdown of how long it took us to do the hike:
2 hours hiking to the Plain of Six Glaciers Teahouse
1 hour of having lunch at the teahouse
30 minutes hiking to the glacier viewpoint
1 hour hiking back to Lake Louise
All in all, it took us about 4.5 hours with just hiking and 5.5 hours with our stop at the teahouse.
---
How to get to the Plain of the Six Glaciers trailhead
The Plain of the Six Glaciers trailhead starts at Lake Louise, and it costs $11.70 for day parking.
They actually just introduced paid parking this year, so if you've been before and don't remember paying, that's why!
Make sure to enjoy the views of Lake Louise before heading off on your day hike.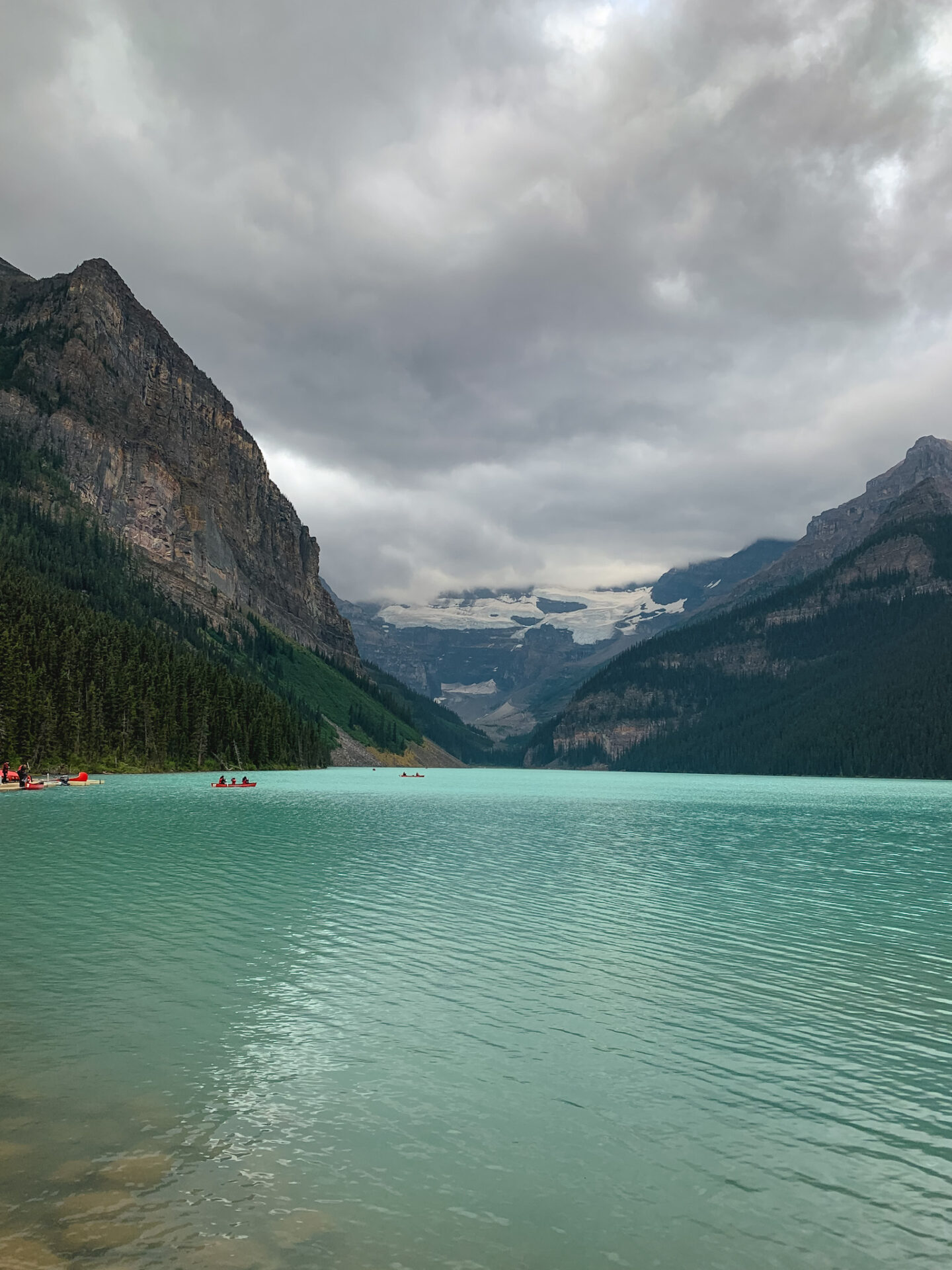 You'll have to walk around Lake Louise to get to the Plain of the Six Glaciers trailhead, and the views aren't too shabby.
Eventually you'll reach this sandy area at the back of the lake, where you get gorgeous views of the Fairmont Château Lake Louise.
After a little bit you'll come across this waterfall, which is a little muddy but still very cool to see.
As you get higher up on the trail, you'll be able to see the stunning turquoise waters of Lake Louise.
Plain of Six Glaciers Teahouse
There are actually two teahouses near Lake Louise that you can hike to: the Plain of Six Glaciers Teahouse and the Lake Agnes Teahouse.
Lake Agnes Teahouse seems to be the more popular one, but we wanted to do the Plain of Six Glaciers trail.
It took us about 2 hours to get just to the Plain of Six Glaciers Teahouse, where we had lunch and where most people turn back from.
If you're ordering food, the only options are the set menus, unless you grab takeout.
We shared the Option A (drink, soup, sandwich, dessert) for $25, which included Italian Soup, PB&J, Chocolate Mousse, and Lemonade.
Everything is made in-house which is very cool, and the only thing that was disappointing was the lemonade, which just tasted like lemon water.
2 out of 3 sandwiches on the menu were also not available because they'd sold out of ingredients, which is why we went with the PB&J (which was great because of the homemade bread).
Be sure to bring cash, as they charge $4 extra if you use credit card (because they don't have electricity).
Since the teahouse menu was (understandably) expensive, we shared one meal between the two of us.
We supplemented the rest of our bellies with granola bars and this amazing pork jerky we picked up at Costco!
We even saw someone eating her own sandwich on the picnic benches, though I'd definitely recommend at least trying something on the menu for the experience (and to support them).
Glacier viewpoint
From the teahouse, it's about an hour roundtrip to and from the glacier viewpoint.
Most people seem to turn back at the teahouse, and I would only recommend continuing on to the glacier viewpoint if you feel comfortable hiking against extreme winds.
As we got closer to the glacier, it got extremely windy, and we had to sit ourselves down many times to keep ourselves from falling off the mountain.
The end part of the trail is scarily narrow, and it's especially scary when people are trying to pass from the opposite direction.
We didn't actually realize when we reached the very end until we saw people sitting down on the rocks.
We sat down and enjoyed the glacier views for a little bit, before heading back because it was so windy.
As cool as the glacier was to see, I probably wouldn't hike to it ever again because it was so scary.
I'd definitely hike to the teahouse again, though!
---
Have you done the Plain of the Six Glaciers hike in Lake Louise? Let me know on Twitter or Instagram!
If you're planning a trip to Alberta, here are some other posts to help you plan your perfect trip:
Be sure to keep up with me on Instagram, TikTok, Twitter, Facebook, and Pinterest if you aren't already!
Feel free to subscribe to my weekly newsletter to get my blog posts delivered straight to your inbox.

---
Like this post? Pin it for later!
---
How long is the Plain of Six Glaciers hike?
It takes the average person 4-6 hours to do the entire Plain of Six Glaciers hike.