If you're planning your Canadian Rockies itinerary, you'll definitely want to see both Banff and Jasper National Parks, and 6 days is the perfect amount of time to explore both!
I've been to Banff and Jasper three times now: once during the spring, once during the winter, and now once during the summer.
While our winter trip was technically during fall (late October to early November), it was quite snowy and a lot of things were closed because of it.
Next on my list is visiting Banff and Jasper during the actual fall, when we can see all the beautiful fall foliage!
We actually intended on making this a 7 day trip, though the wildfires made it pretty smoky outside on our last day, so it ended up just being a driving day from Jasper to Calgary (about 6.5 hours).
If it's clear outside, I'd definitely recommend making stops on the way back to Calgary, even if it's just scenic viewpoints on the side of the highway!
Keep on readin' for my 6 day Banff & Jasper road trip itinerary.
If you're visiting Banff and Jasper without a car, you can also get a hop-on and hop-off bus ticket that takes you to a bunch of hotspots in Banff.
Be sure to also follow me on Instagram and TikTok – I share a lot more content on those platforms that don't make it to the blog!
Plan your Banff trip
If you're looking for more fun things to do in Banff, you might enjoy these posts:
Disclaimer: Pursuit Collection was kind enough to hook us up with complimentary media experiences to the Banff Gondola and Columbia Icefield Glacier Adventure. As always, all opinions are my own, and I would never recommend anything to you guys that I wouldn't pay for myself.
---
6 day Banff & Jasper itinerary
---
Day 1: Banff Gondola, Johnston Canyon & Ink Pots, Morant's Curve
The Banff Gondola is one of the coolest activities you can do in Banff, and it takes you to the summit of Sulphur Mountain.
The gondola cars are pretty small and fit around 4 people, and Adam and I had ours all to ourselves!
You get gorgeous scenic views of Banff while you're riding up the gondola, then you get to explore all the viewpoints along the boardwalk.
There are quite a few stairs along the boardwalk, so get ready to get your leg workout on and bring along a water bottle as well!
We spent around an hour here – it was plenty of time to explore, take photos, and take a peek at the gift shop.
I visited the Banff Gondola several years ago, and since we visited close to when they were closing, we pretty much had it to ourselves.
This time we visited pretty much right when they opened, and while it was a little busy, we managed to take plenty of photos without people in the background.
You can also hike up Sulphur Mountain yourself (which takes around 2 hours) and hike back down or buy a ticket for a one-way gondola ride down.
Tickets are around $40-$50 per person, depending on what time you visit!
LOCATION: 100 Mountain Ave, Banff, AB
We ate at mostly cafés during our Banff & Jasper trip, and Wild Flour Bakery was one of our favourites.
It's a friendly and adorable café, and they've got all kinds of delicious sandwiches, pastries, and drinks.
The Meat Sandwich is probably one of the best sandwiches I've ever had in my life, and their Caramel Slice is to die for.
If you have time to explore the town of Banff afterwards, it's super cute and there are plenty of nice gift shops and stores to shop at!
LOCATION: 211 Bear St #101, Banff, AB
Johnston Canyon is an extremely popular hike in Banff, and you'll see plenty of families and kids on the trail.
It's relatively easy (with lots of inclines) and very safe, with plenty of fencing along the trail.
You'll get to see both the Lower Falls and Upper Falls, with plenty of gorgeous views along the canyon.
Some parts of the trail are extremely narrow though, which makes it kinda difficult to social distance if you're nervous about that!
Once you get to the Upper Falls, you have the option of turning back, or making your way over to the Ink Pots.
Please remember to exercise caution and keep yourself safe on any hikes you do – any accidents can happen!
LOCATION: Bow Valley Pkwy, AB
Ink Pots
It's a tough uphill ride from the Upper Falls to the Ink Pots, and since it was our first hike of the entire trip, we had a pretty difficult time.
It takes about 2.5 to 4 hours roundtrip for the average person to do both Johnston Canyon and Ink Pots, and it took us around 3.5 hours, including stopping for photos.
We actually had no idea what we were in for when we reached the end of the Ink Pots trail, and it was well worth the hike.
There are 5 cold water mineral spring pools here, each coloured in different shades of blue and green (I believe due to the algae)!
After a long and treacherous hike, we spent quite a bit of time here enjoying the views and dipping our toes in the river next door.
I would highly recommend investing in a good-quality hiking daypack and hiking shoes or boots, as well as packing plenty of water bottles (we brought 4-6).
Adam and I both bought Osprey backpacks for this trip (known as one of the best daypack brands), and it's one of the best investments we've made.
We were able to carry plenty on our backs without any back pain at all, and the webbed nylon and foam back helped air our backs out and kept them from getting too sweaty.
I have the Tempest 20L and Adam has the Talon 22L, which are the female and male versions of the same backpack, and even come in different sizes depending on your height.
I've had the Columbia Newton Hiking Boots since my Arizona/Utah trip in 2018, and they're amazing for hiking in.
I personally prefer hiking boots over shoes – they provide more support, especially if you tend to twist your ankle a lot like I do!
LOCATION: Bow Valley Pkwy, AB
Morant's Curve
Morant's Curve is just a nice and quick photo spot right off the Bow Valley Parkway.
You get a gorgeous view of the Bow River, the mountains, and the train (if it's passing).
It's lovely during the summer, though I do think it would look more magical during the winter with snow all around!
You also have to cross the road from the parking lot, so be super careful as cars drive really fast by here.
LOCATION: Bow Valley Pkwy, AB
Stay overnight in Banff, Lake Louise, Canmore, Field, or Golden
If you have the means to, I would highly recommend staying in Banff or Lake Louise during your trip to make your life a lot easier.
Hotels are a bit pricier in Banff and Lake Louise and can set you back $200-$400 CAD a night, especially during the summer months.
If it's within your budget, the ease of getting around without having to drive too far is worth it!
Lake Louise Inn is a cozy 3-star hotel located right around the corner from the incredible Lake Louise.
The Moose Hotel and Suites is a beautiful 3-star hotel right in the heart of Banff that serves up all of the cottage feels.
Fairmont Banff Springs is a historic and luxury 4-star hotel located right in Banff, and it's perfect for honeymoons.
The hotels in Canmore are slightly cheaper, and it's less than a 30 minute drive to Banff.
Basecamp Resorts Canmore is an amazing and modern 3-star condo building right in the heart of Canmore. It's got a rooftop spa tub and laundry facilities, and there's even free parking.
Basecamp Lodge Canmore is another nice property by Basecamp Resorts that serves up all the lodge feels.
If you're staying overnight in Banff or Canmore, you'll probably want to save Morant's Curve for the next day, as it's just a couple minutes away from Lake Louise.
And if you're really looking to save on your accommodations, you'll find more affordable options on Airbnb in Field (1 hour from Banff) or Golden (1.5 hours from Banff).
Field is a really cute tiny town, and Golden is a cozy mountain town.
We paid around $600 CAD for 4 nights in a Golden Airbnb, which averaged out to about $150 a night.
There are also hotels in Golden, which are more affordable than staying in Banff and Canmore.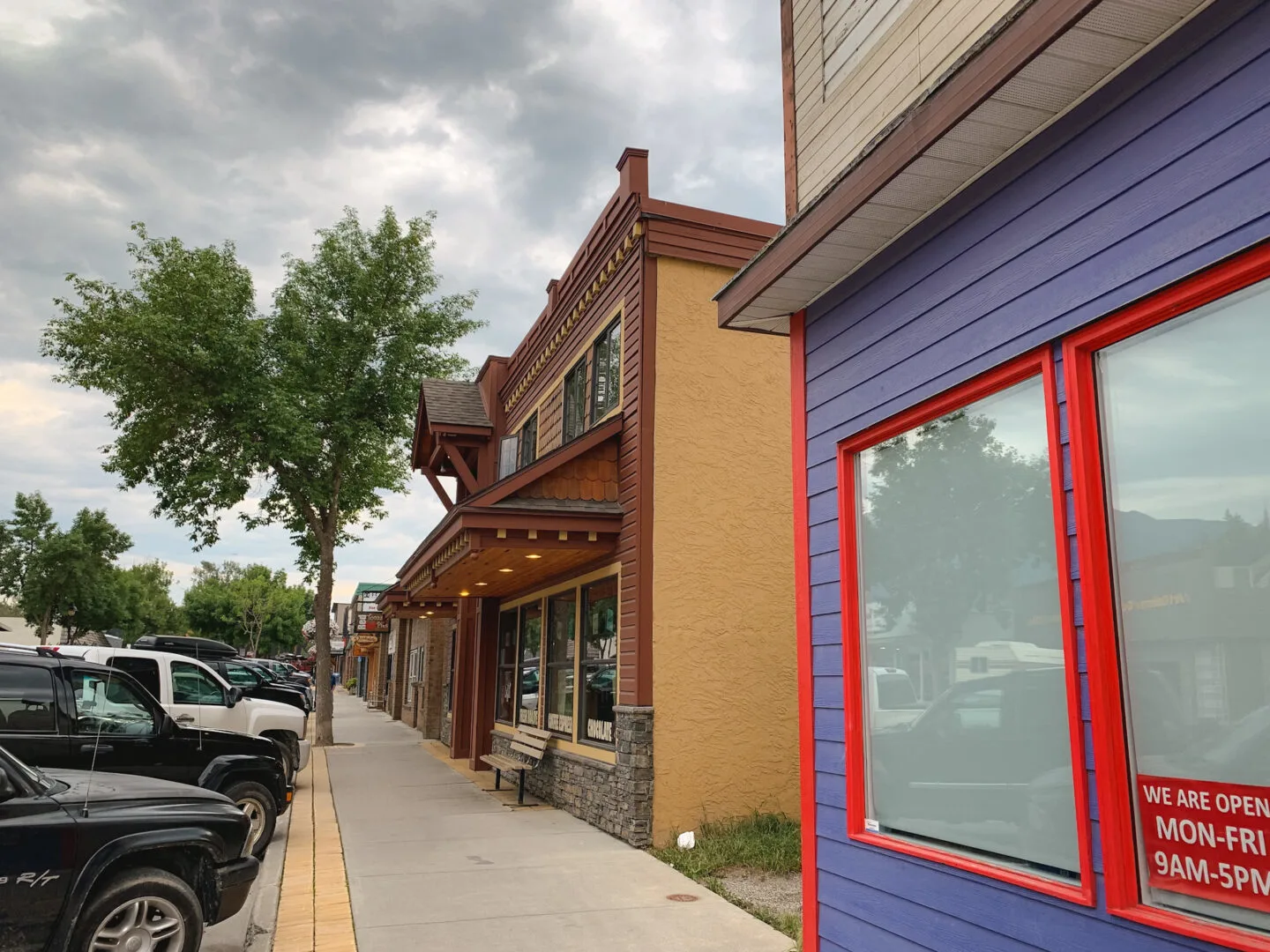 Honestly, it was not a fun time driving all the way to and from Golden, and we definitely plan on spending a bit more for closer accommodations in the future.
The main highway out of town from Golden also does not open until 7 AM (due to construction), which spoils any early morning plans you might have.
If you do stay in Golden, I'd highly recommend grabbing takeout from Red Tomato Pies – they have all kinds of amazing pizzas, and it's an affordable dinner for two people!
We grabbed takeout here almost every night in Golden, and the 12″ pizza was perfect for us to share.
---
Day 2: Lake Louise, Plain of the Six Glaciers, Takkakaw Falls
Since Adam and I had both been to Lake Louise before, we didn't spend too much time walking around.
It's definitely still one of my absolute favourite spots to visit around Banff – the turquoise waters and picturesque mountain backdrop are absolutely stunning to see in person!
Besides lot and street parking in downtown Banff, Lake Louise is the only place I know of in Banff with paid parking, and it's $11.70 CAD for the day.
Initially we'd planned on stand up paddle boarding at Lake Louise after hiking the Plain of the Six Glaciers, but we were super tired by the end of our hike.
LOCATION: 111 Lake Louise Dr, Lake Louise, AB
The Plain of the Six Glaciers actually starts at Lake Louise, so you can stay in the same parking lot (and make use of dat $11.70 parking fee).
The trail connects to the path that lines Lake Louise, so you get to enjoy walking along it before starting your adventure.
I've got a blog post all about the Plain of the Six Glaciers hike, including what to bring and tips for hiking the trail!
It took us about 2 hours to get just to the Plain of Six Glaciers Teahouse, where we had lunch and where most people turn back from.
Be sure to bring cash, as they charge $4 extra if you use credit card (because they don't have electricity).
You can hike another hour to get to the glacier viewpoint, which is very windy and somewhat dangerous (think climbing along the side of a narrow mountain trail while people are trying to pass from the opposite direction).
It's definitely something I never plan on doing again in my life, but it was pretty epic to see in person.
While the Plain of the Six Glaciers was a tough hike, we definitely found the Ink Pots hike more difficult due to the inclines.
It takes people 4-6 hours on average, and it took us 4.5 hours with just hiking and 5.5 hours with our stop at the teahouse.
When you're hiking in the Canadian Rockies, you absolutely need bear spray, and possibly a bear bell.
There are plenty of bears in Banff, and you'll want to have bear spray on you in case you run into an aggressive one on a trail.
You'll have to buy them while in Alberta as you can't bring them onto planes, and they cost around $40-$50 each.
We bought a 2-for-1 pack at Canadian Tire for $83.99, which you can order for in-store pickup.
If you just want one, you can get the same brand in a one-pack at Canadian Tire for $54.99.
Oh, and make sure the safety is always clipped on, because I may or may not have accidentally sprayed Adam by accident…
It's argued that bear bells aren't actually useful, but I'm happy to have them if they do anything at all, and they only cost a couple of bucks.
LOCATION: 111 Lake Louise Dr, Lake Louise, AB
Takakkaw Falls was a lovely way to end off a long day, and it was about a 10 minute walk up to it with plenty of nice viewpoints along the way.
You can walk right up beside the falls, though it looked quite slippery and dangerous, so we didn't do it.
The closer you get to the falls, the more soaked you'll get!
It's actually also the second tallest waterfall in Canada, next to Della Falls in British Columbia.
Oh, and it's also located in Yoho National Park, which is in BC!
You'll likely cross provinces once or twice during your Canadian Rockies trip between Alberta and BC.
The road to get to Takakkaw Falls was long and had a few switchbacks, so definitely take care while driving up to it.
Fun fact: "takkakaw" means "wonderful" in Cree!
LOCATION: Yoho National Park, BC
---
Day 3: Moraine Lake & Consolation Lakes, Emerald Lake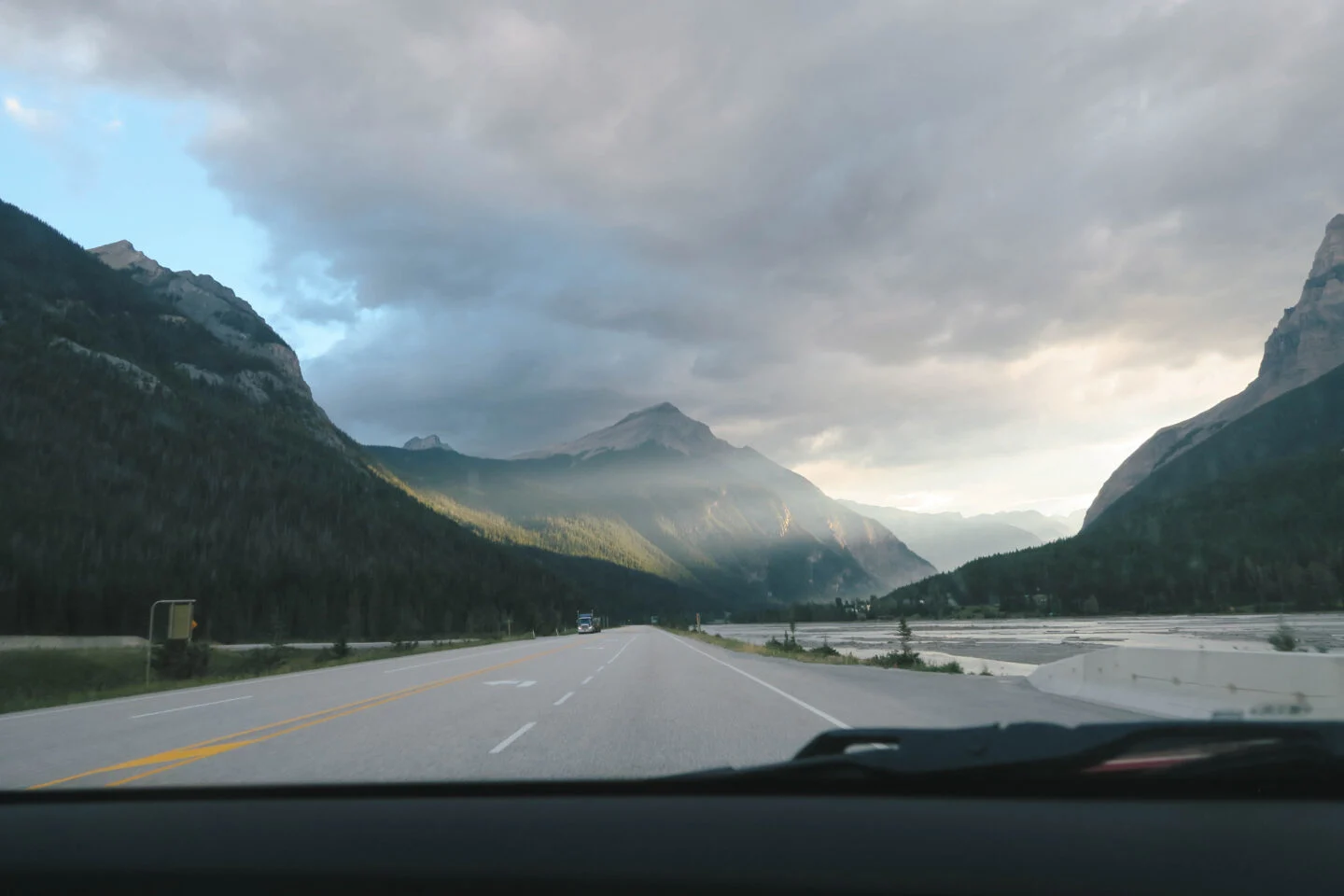 Moraine Lake is another one of my most favourite spots in Banff.
It's absolutely marvellous to see in person, and it's only open during the summer months.
It's super easy to get to the top of the rocks and enjoy the view – just walk up all the stairs and get your leg workout on!
Many people arrive at Moraine Lake for 5 AM to catch the sunrise over the mountain peaks, so it'll be pretty difficult to get any early morning parking.
We planned to arrive for 7:30 AM so we'd take the parking spots of early risers who would've left, though the highway closure in Golden foiled our plans (since it opens at 7 AM).
We ended up arriving for 8:30 AM, and managed to get parking from one of the many cars who were leaving!
When we left at 12 PM, there were plenty of parking spaces (probably people leaving for lunch), so I don't think it's difficult to get parking at anytime if you're patient enough to wait for someone to leave.
It's a gorgeous spot, though not somewhere people spend a crazy amount of time in unless they're canoeing, hiking the Consolation Lakes trail, or taking their wedding photos.
LOCATION: 622 Moraine Lake Rd, Field, AB
Consolation Lakes
The Consolation Lakes trail actually starts at Moraine Lake, which makes it super easy in terms of parking.
While it's not the most epic hike on this itinerary, it was a very nice and relaxing hike, and we really enjoyed it.
The end of the trail leads you to a clear lake surrounded by large rocks, so you can plop yourself down and enjoy a post-hike treat with some views.
Be super careful while walking on the rocks, because I actually twisted my ankle here!
Expect to spend around 2-3 hours on the trail.
LOCATION: 622 Moraine Lake Rd, Field, AB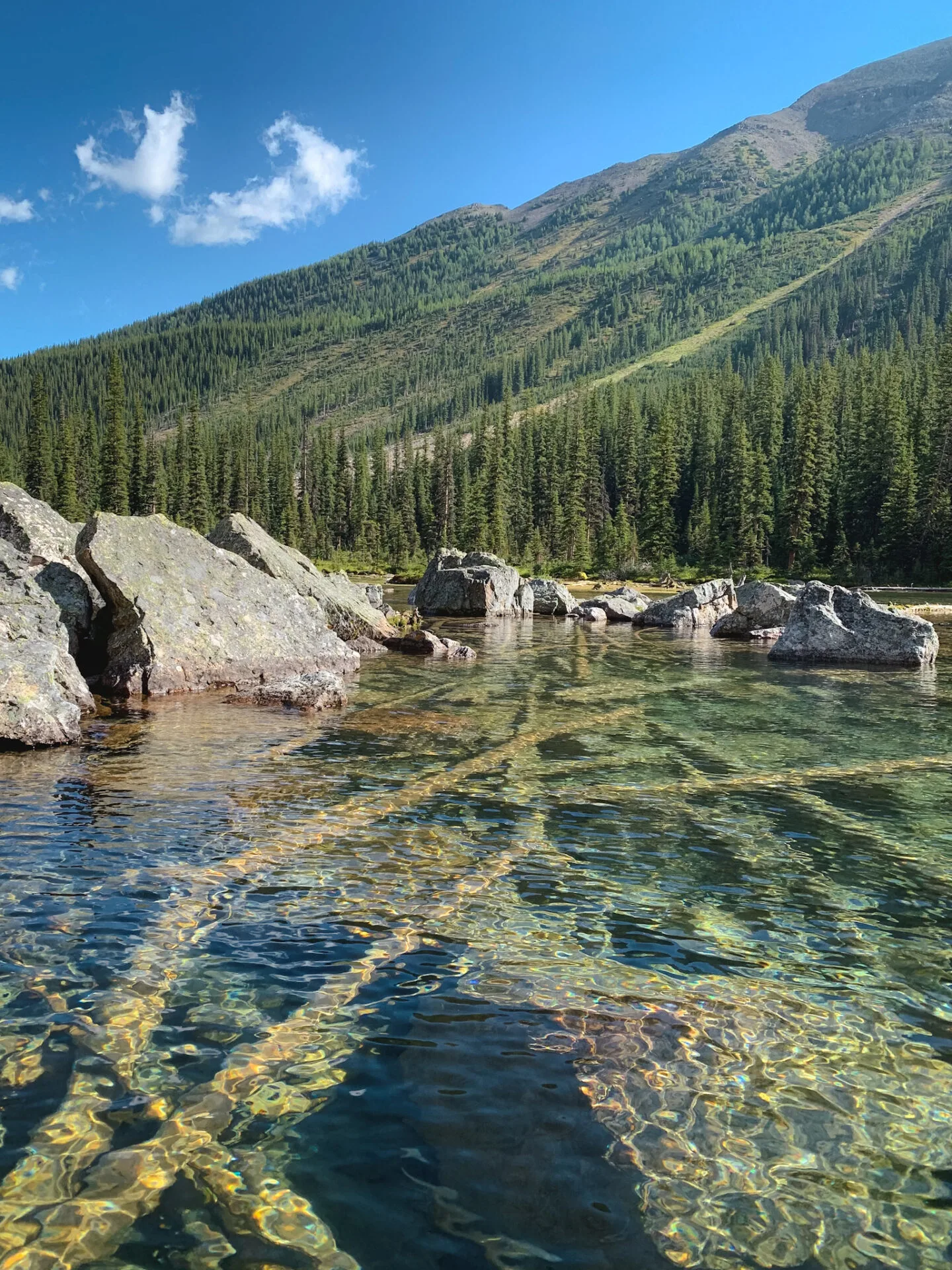 Emerald Lake
Emerald Lake is a super popular spot to visit during the summer months, and it's also located in Yoho National Park in BC!
The water is an incredible turquoise colour, and the Emerald Lake Lodge sitting at the edge of the lake makes for a super nice photo subject.
You can swim, rent canoes, or bring your own canoe/kayak/SUP board.
The water is extremely cold though (like most lakes around the area), so I definitely think it'd be more fun to canoe or SUP board than swim 😛
We brought our own SUP boards from my brother-in-law's company, EVT Bikes, which is based out of Calgary!
It was definitely very nice to do water activities here during the summer, but I think it's a lot prettier during the winter with all the snow.
LOCATION: 1 Emerald Lake Rd, Field, BC
---
Day 4: Wapta Falls, Bow Lake, Mistaya Canyon, Bridal Veil Falls & Panther Falls
We made our way to Jasper on this day, and we checked out some attractions along the way.
If you're looking for even more fun activities and tours in Banff, you might enjoy these ones:
We arrived at Wapta Falls around 8 AM to a completely empty parking lot.
As we were about to leave, two cars pulled in, and we decided it would be safe to do the hike after all.
Only one car ended up doing the hike, and the couple did it so quick, they were on their way back by the time we were almost at the very end.
They informed us that they'd seen a bear about halfway through the hike, sooo we decided to follow them back and not go to the very end of the trail.
At least we did manage to make it to Wapta Falls!
Anyway, lesson learnt was to never be the first on the trail, which we were very glad that we weren't.
On our way back, we did come across quite a few people on the trail which was a relief!
It was a pretty simple hike and took us about an hour and a half roundtrip.
LOCATION: Unnamed Road, Parson, BC
We picked up some takeout at Trailhead Café in Lake Louise and brought it over to Bow Lake for a little picnic.
They make fantastic sandwiches and specialty coffee drinks (brewed with coffee from local Calgary-based roaster Caffè Monte!)
I got a bug bite above my lip that heavily swelled the next day, so definitely keep on the lookout for any nasty little buggers (and wear plenty of bug spray).
Bow Lake is a stunning lake that's also perfect for canoeing or stand up paddle boarding if you have your own equipment!
Otherwise, it's a lovely area to walk around and take photos at.
LOCATION: Banff, AB
Mistaya Canyon
Mistaya Canyon is a really cool canyon that you can walk along – be super careful though, because you can easily fall over the edge if you're not careful!
It's not a far walk from the parking lot, and you can expect to spend around 30 minutes to an hour exploring there.
LOCATION: Saskatchewan River Crossing, AB
Bridal Veil Falls & Panther Falls
This is sort of just a stop right off the highway, and it didn't seem super popular when we arrived.
You can actually see Bridal Veil Falls from the parking lot, while you'll have to go on the trail to see Panther Falls.
You can walk right up to Panther Falls, which we really enjoyed, especially since it was so hot out that day.
We even caught a rainbow at the base of it!
I'm not sure if you can walk close to Bridal Veil Falls, but we decided to just enjoy it from afar.
We noticed many people driving up to the car park and leaving after snapping photos – they probably didn't even realize they could hike down to see the waterfalls!
I think it took us about 30 to 45 minutes roundtrip to hike over to Panther Falls.
The trail is kind of narrow and goes downhill for a lot of the way, so I probably wouldn't do this on a rainy day!
LOCATION: Banff, AB
Stay overnight in Jasper or Hinton
If you've got the budget, I'd definitely recommend staying in Jasper to enjoy the town (and minimal driving) as much as possible.
You can check out all of the gift shops and hit up some amazing food spots in Jasper!
Pyramid Lake Resort is an adorable 3-star chalet-style hotel located right on Pyramid Lake, with beautiful and modern rooms.
Fairmont Jasper Park Lodge is a posh 4-star lodge that was built in the early 1900s, and you can stay in one of the cozy log cabins.
We noticed the food was actually pretty expensive in Jasper – it could be because ingredients cost more to ship here, or just because it's a tourist hotspot.
I'd say Banff is more of a hotspot than Jasper is, and it definitely wasn't as expensive as the food spots in Jasper.
We spent $30 on two sandwiches at The Spice Joint that still left us hungry, and they refused to give us tap water (to wash down the spicy food) – we were only allowed to purchase bottled water, and we weren't allowed to bring in our own water.
The food was fantastic and the service was very nice, but I don't think we'd ever go back because of the prices and strange water restrictions.
A double scoop cone at Grandma's Place was $9, and $1 extra for every house-made (vs. store-bought) ice cream flavour, so we ended up paying $11.
If Jasper is out of your price range, you'll find budget-friendly Airbnb options in Hinton, which is where we stayed.
While you're there, definitely grab dinner at Rojo Marrón – they serve up amazing Mexican food!
I believe we paid around $30 for our meal, and it was definitely a lot more filling than the sandwiches at The Spice Joint.
---
Day 5: Columbia Icefield Glacier Adventure, Sunwapta Falls, Athabasca Falls
I really wanted to do the Columbia Icefield Glacier Adventure when I was in Jasper several years ago, but it was sold out when we arrived.
We had the opportunity to do it this time around, and it was definitely one of the coolest experiences we had during our Banff and Jasper itinerary!
It starts off at the Columbia Icefield Discovery Centre, where you get transported via bus to the base of the mountain.
You then hop onto an epic Ice Explorer, which takes you up the Athabasca Glacier.
We snapped some cool photos, drank some fresh glacier water, and soaked in the incredible glacier views!
I'd highly recommend packing a jacket and tuque for this experience – there were quite a few people freezing in t-shirts and shorts.
I decided to not wear my tuque (which was in my bag), and I ended up with a headache from the cold 🙃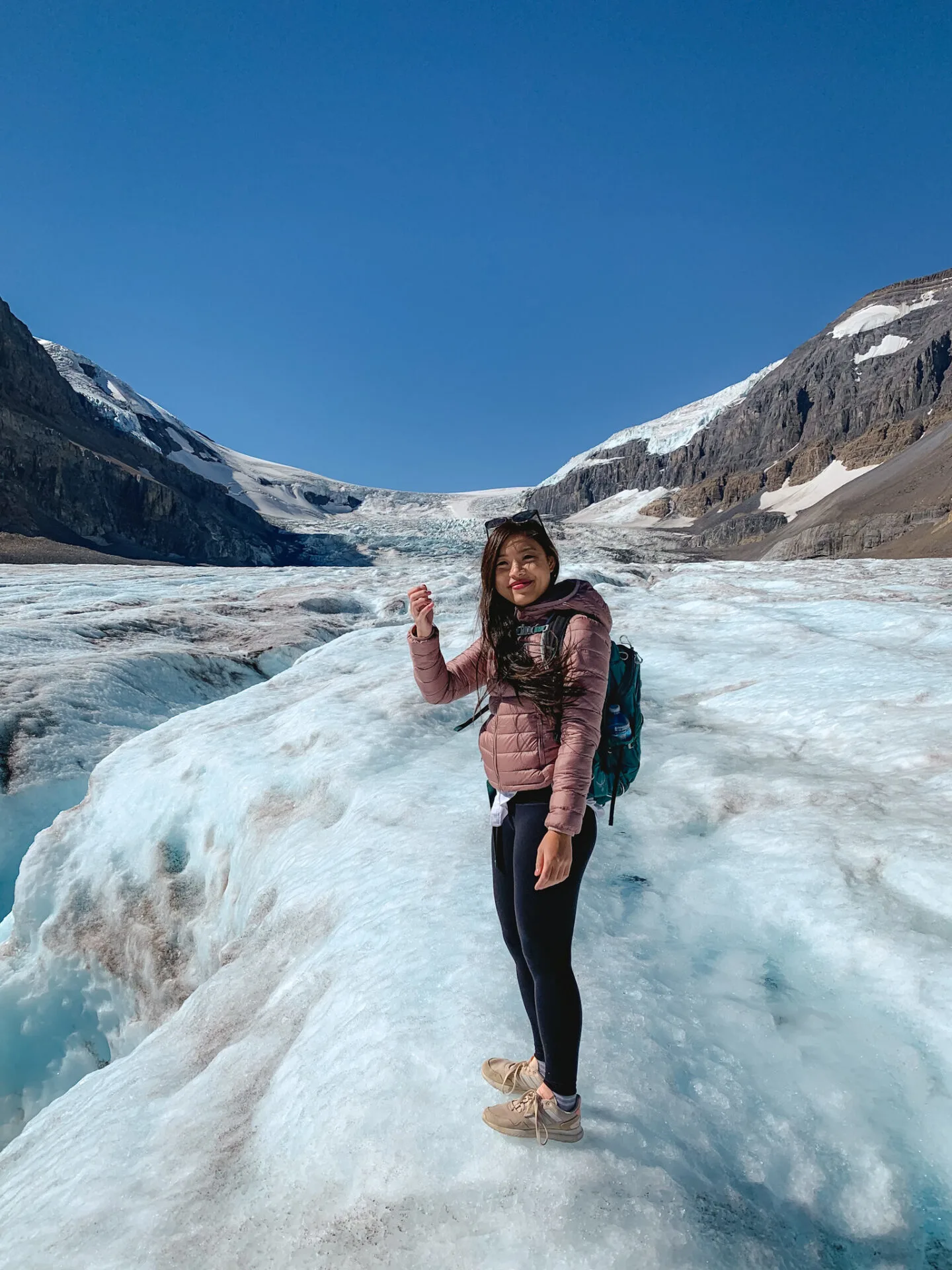 After about 20-30 minutes of free time exploring the glacier, you get taken back down to the base and transported via bus to the SkyWalk.
The SkyWalk is an exhilarating experience that takes you along the side of a cliff while walking along a glass floor.
Once you're done at the SkyWalk, you can take any of the shuttles back to the visitor centre, and they come every 15 minutes.
The whole experience takes around 2.5 to 3 hours, depending on how long you choose to spend at the SkyWalk.
You can also do a full-service tour that includes roundtrip travel from Banff, a picnic lunch, the Glacier SkyWalk, and riding on the Ice Explorer!
If you don't want to do the whole experience, you can also just get tickets to the Glacier SkyWalk on its own.
LOCATION: AB-93, Jasper, AB
Upper Sunwapta Falls is an incredible waterfall and one of my favourite spots in Jasper.
It's a short walk from the parking lot, and you can peep it out from the bridge.
If you're up for a little hike, you can also hike over to Lower Sunwapta Falls, which I think took us about an hour roundtrip.
There are plenty of viewpoints along the trail where you can see the rushing river.
You can also do a guided 4-hour rafting experience on the Sunwapta River if you really want to get your feet wet!
LOCATION: Alberta 93A, Jasper, AB
Athabasca Falls is another cool spot in Jasper, and it sits on top of the Upper Athabasca River.
It's much more of a touristy area with lots of viewpoints than an actual hike, and there are plenty of nice viewpoints along the way.
You can even walk down to the water (which is super clear), but we didn't because it was too busy for us.
It gets super busy as it's a popular spot to visit in Jasper, but you probably won't spend more than an hour exploring here!
If you want to really experience Athabasca River in all its glory, you can do a family-friendly 3.5 hour rafting excursion through Athabasca Canyon, and you can choose between the morning or afternoon.
LOCATION: Alberta 93A, Jasper, AB
---
Day 6: Pyramid Lake, Maligne Canyon, Valley of Five Lakes
We saw quite a bit of wildlife during our Banff & Jasper itinerary, including these caribou we were able to get pretty close to on the highway.
It was really nice seeing all the cars slowing down and also enjoying the view of the wildlife.
Pyramid Island is a small forested island with plenty of nice picnic spots.
The bridge to get to the island is one of the most Instagrammable photo opps in Jasper.
There are only 5 parking spots there, so I'd highly recommend going as early as possible to ensure you get a spot!
We arrived around 8:30 AM and were one of 3 cars parked, and it was very easy for us to get photos without people in them.
LOCATION: Jasper, AB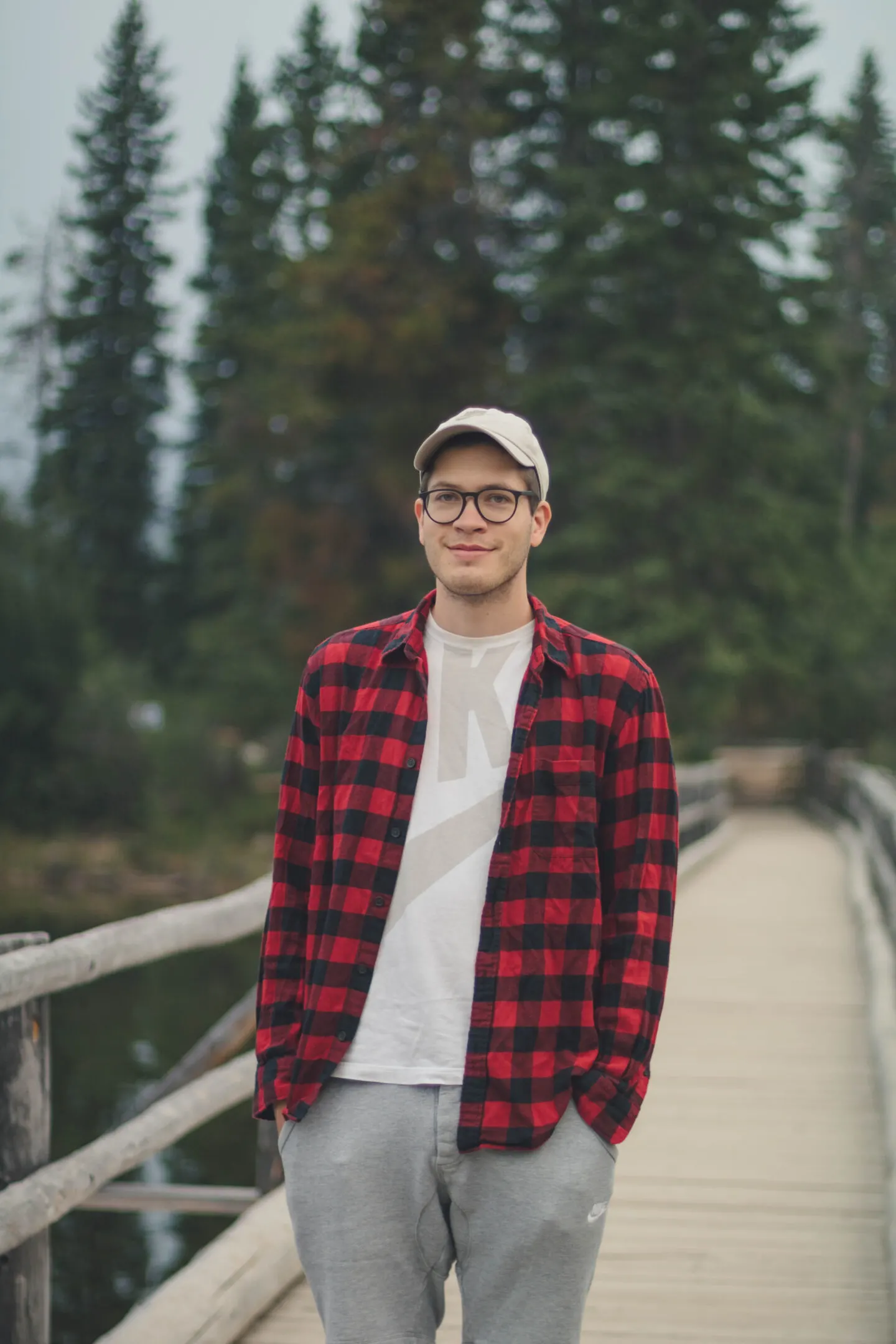 Maligne Canyon is a pretty easy and family-friendly hike, and it's mostly fenced around to make it a lot safer.
There are 6 different bridges you can see along the hike, but we decided to just see 5 of them.
The first 5 bridges are somewhat close to one another, but the 6th takes an extra hour or two to hike.
It takes about 2 to 3 hours to hike the whole thing!
If you're visiting during winter, you can also do an epic Maligne Canyon Icewalk Tour, where you can see frozen waterfalls and ice caves.
LOCATION: Jasper, AB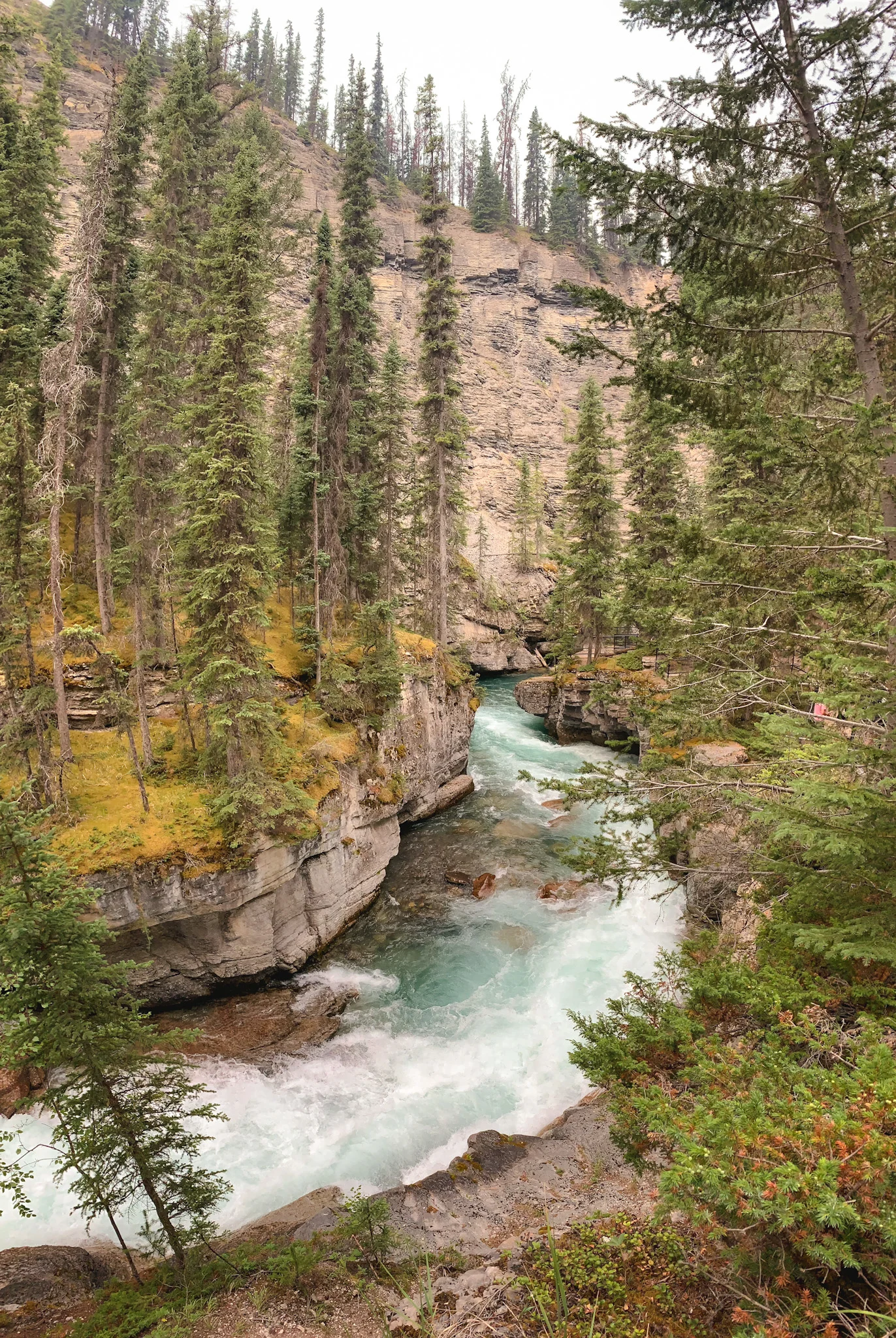 We stopped in Jasper for lunch, and had amazing flatbreads at WickedCup.
Adam had one with a lot of meat and I had one with chicken, apple, and arugula, and mine was definitely more unique.
It was around $30 for our food, but it was delicious and super filling.
We also shared a tasty banana peanut butter smoothie!
LOCATION: 912 Connaught Drive, Jasper, AB
The beginning of the Valley of the Five Lakes is a tough uphill hike, but it's definitely worth it.
There are 5 lakes (duh) you can see along the trail, and they're all pretty much right next to each other.
We actually saw many families and young kids also hiking on the trail, and many people without actual hiking attire.
While you'll be totally fine with just running shoes, hiking shoes always give you better traction, especially going uphill or downhill!
You can swim in all of the lakes, though the 5th lake has a dock and is the most popular to swim in.
I really wish I'd brought my swimsuit, but I at least wore Nike Dri-Fit shorts that dry super quickly.
You can really bring your swimsuit (or swim in whatever) to any lakes in the Canadian Rockies, but Valley of Five Lakes is the one I'd say you must bring it to completely enjoy it.
We also visited on an extremely hot day, so it was nice to cool off in the freezing cold water!
Oh, and there are no change rooms, so you'll either have to wear a swimsuit under your clothes or change in the woods like we did.
If you're in need of a new bather, check out my posts on the best swimsuits on Amazon or the best Canadian swimwear brands (support local!)
LOCATION: Jasper, AB
Drive back to Calgary
The drive back from Jasper to Calgary is about 6.5 hours, so it's quite a long one.
You can either drive back after your day full of activities, or stay a night in Jasper and drive back the next day.
Another fun thing you can do in Jasper if you have time is taking the Jasper SkyTram, which takes you up Whistlers Mountain and is the longest and highest guided aerial tramway in Canada.
We drove back to Calgary the next day with plans to make stops along the way, though the smoke from the BC and Canmore wildfires made it impossible for us.
At least we got to see some bighorn sheep, which was really cool!
There were actually quite a few on this little stretch of the drive, and we had to slow down and drive around them as they were crossing.
If you're driving back on a clear day, I'd highly recommend making stops at different viewpoints, visiting stops you didn't get to spend enough time in, or even just grabbing a nice meal at a restaurant in Banff!
We went back to Wild Flour Bakery in Banff for their amazing sandwiches and coffee.
---
I think 6 days is the perfect amount of time to spend exploring Banff and Jasper National Parks – there's so much to see and do on your itinerary during the summer months!
However, if you also want to explore Canmore and the Kananaskis, you'll definitely want to add more days to your Banff and Jasper road trip itinerary.
I'll be doing separate posts on Canmore and the Kananaskis, so keep a lookout for that if you're planning a visit!
Hopefully this 6 day Banff & Jasper itinerary helped you in planning your own road trip through the Canadian Rockies!
Have you been to Banff or Jasper National Park? Is there anything else you'd add to this 6 day itinerary? Let me know on Twitter or Instagram!
Plan your Banff trip
If you're looking for more fun things to do in Banff, you might enjoy these posts:
Be sure to keep up with me on Instagram, TikTok, Twitter, Facebook, and Pinterest if you aren't already!
Feel free to subscribe to my weekly newsletter to get my blog posts delivered straight to your inbox.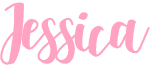 ---
Like this post? Pin it for later!