If you're searching for the best casual sneakers for women, you've come to the right place.
I literally live in sneakers, even with a closet full of heels and sandals and all kinds of other shoes.
As y'all know, I'm all about a simple jeans and tee, and of course sneakers are the easiest and comfiest pairing with a casual outfit.
Sneakers are super versatile, and you can wear them with everything from jeans to dresses.
I'm not a sneakerhead, but I do love me some classic sneakers that go with every outfit and will never go out of style.
Here are some of the best casual sneakers for women to shop, whether you're looking for comfy walking shoes or stylish everyday kicks to wear!
I've ranked them from the least to most expensive, so you can choose a pair that fits within your budget.
Be sure to also follow me on Instagram and TikTok – I share a lot more content on those platforms that don't make it to the blog!
More outfit inspiration
If you're looking for even more outfit inspo, you might enjoy these posts:
---
Best casual sneakers for women
---
You can never go wrong with an iconic pair of the Converse Chuck Taylor Low Top Sneakers.
At around $65 per pair, they're super affordable, plus they're fantastic quality and very long-lasting!
I had a high top black pair during my emo days (completely drawn on with black sharpie), but I think low tops are the easiest to slip on, and are much easier to wear with any outfit.
A classic pair of white low top Chucks are one of my go-to sneakers, and I think I've now gone through at least 3 pairs over the years (soon to be 4).
They don't stay white for very long if you wear them often, but I think a little bit of dirt gives them character!
Each pair lasts me at least several years of wearing them almost everyday, and I think throwing them in the wash and wearing socks might help them last even longer.
I've never really worn socks with sneakers lol, but I do now because I realize how gross it makes the insides of your shoes 🥲
Honestly, these could probably last you forever, but I toss them when they get a little too gross for my liking.
If you're looking for some outfit inspo, peep out my post on how to style Chuck Taylors for summer!
---
Vans Old Skools are another classic sneaker I love, though I will admit they're not the comfiest walking shoes.
I'd only wear these to run errands or do short walks because I always get blisters behind my foot, even after breaking them in!
P.S. If you tend to get blisters from shoes, I would highly recommend getting specific Bandaids for blisters – they cushion your blister and actually stay on in the shower.
I have a classic black pair of Vans Old Skool sneakers that Adam got me years ago, as well as this checkered pair I was gifted a few years ago.
Both are super cute and would pretty much pair with any outfit!
They're also quite affordable at around $80 per pair.
---
If you're into the whole dad sneakers trend, you'll love Skechers D'Lites.
They're super chic, and they're pretty affordable at around $90!
Though they might seem a little out there if you're not used to chunkier shoes, I promise you that they pair easily with tons of different outfits.
I think a classic white pair will never go out of style, but a black pair is also a great option.
---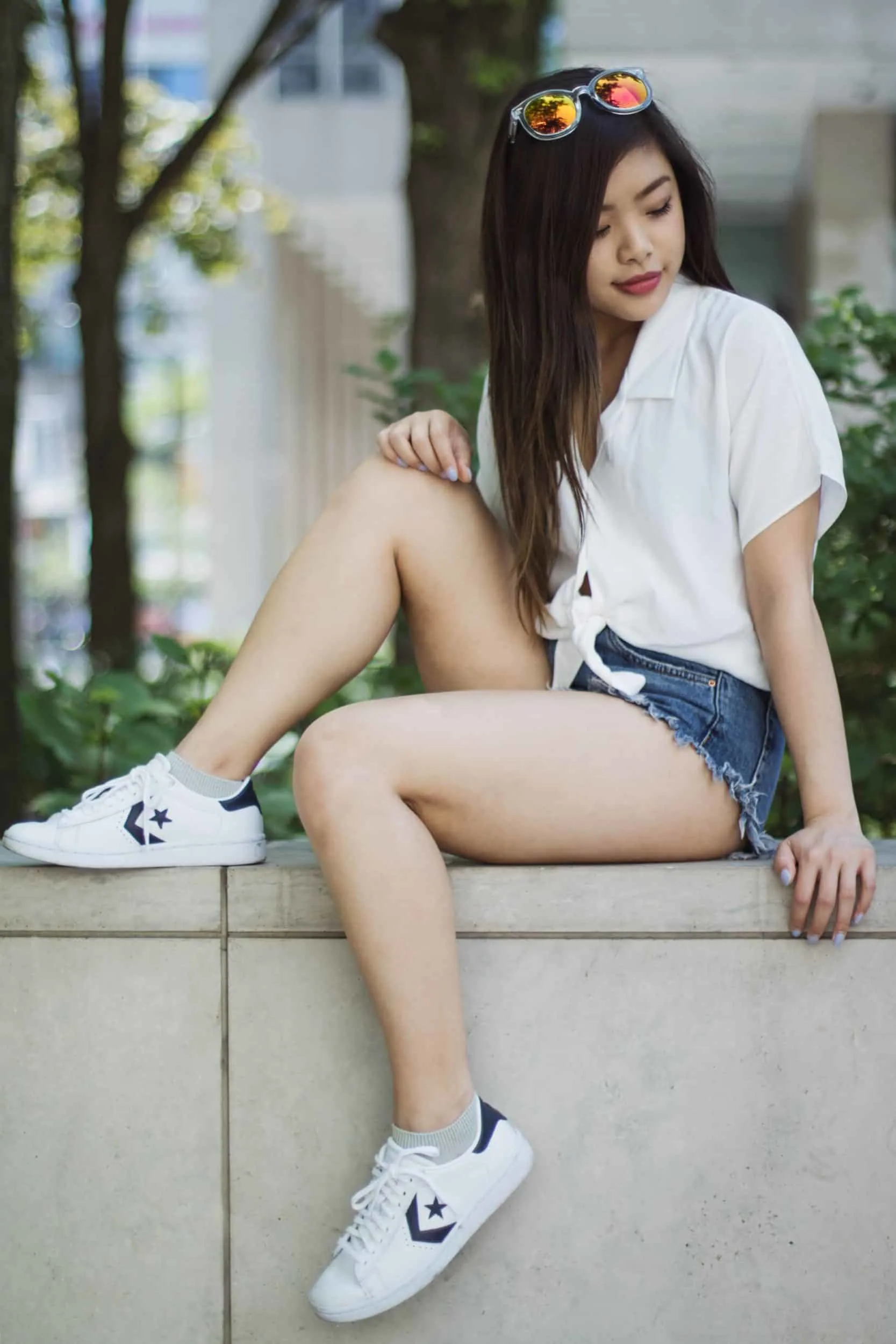 The Pro Leather sneakers were made as a basketball shoe back in the 70's, and they're the perfect casual everyday shoe.
You can get them in white and black, all white, white and teal, or white and orange, and they retail for $90.
I'm definitely more into low top sneakers than high top ones because they can pair with any pant and look a lot more casual.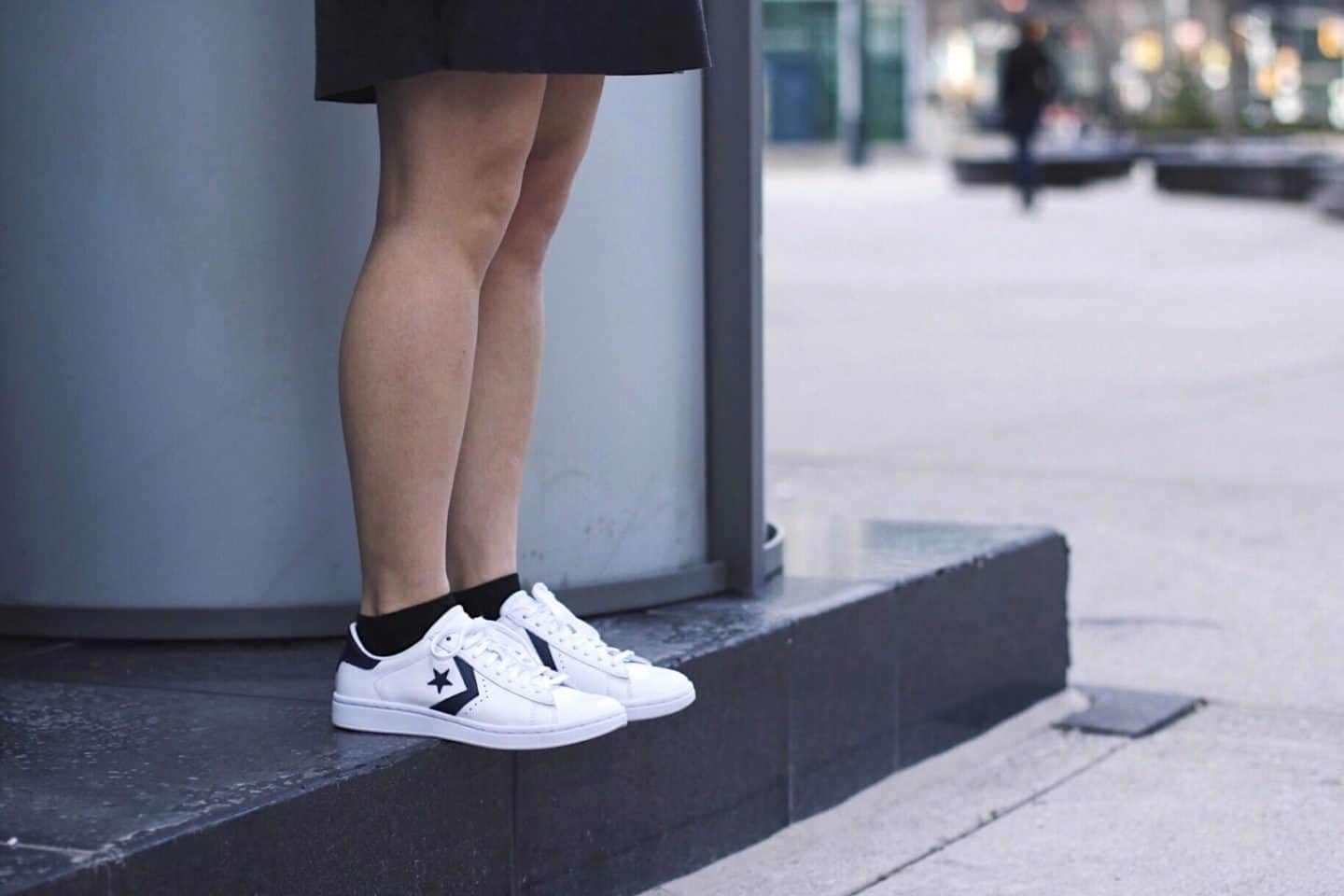 ---
Converse One Stars debuted in the 70's as a low-top suede version of the Chuck Taylors, and I like that they're a bit heavier than the Chuck Taylors.
They also feature a star on the side, which is why they're called the One Stars.
They retail for $100, and you can get it in a vintage-style suede or checkerboard print.
---
Nike Air Force 1s are another cult favourite sneaker, and they come in so many different colourways.
AF1s debuted back in the 80's, and they're still iconic 40 years later.
I personally think white is a classic (or even black), but you can always rock your fave colour.
They retail for around $120 a pair, but since they're so popular, you'll usually only be able to get resale value on them on places like Kijiji, Ebay, or Facebook.
Reselling is a huge market for hyped up sneakers – I think I sold two pairs of Yeezys for around $900 and $1600 that I bought for around $350 each.
---
NMDs are one of my fave lightweight sneakers, and they're super comfy to walk in.
You can't go wrong with white or black, and they retail for around $190.
The sneakers I'm wearing are actually part of a collaboration with a Swiss sneaker boutique, and they're a men's sneaker.
Honestly, a lot of men's sneakers can be worn by women as well – you usually just have to size down one to two sizes.
Since I'm a size 7 women's, I'm usually a size 5.5 or 6 men's.
---
I am literally obsessed with my Adidas Ultraboost 1.0 Sneakers. OBSESSED.
So much so, that I'm on my second pair – I re-bought them after I wore my previous ones to death for 7 years.
They are probably the comfiest sneakers I've ever owned, and I love that they're casual enough to wear with pretty much any and every outfit.
They are a bit pricier than your typical sneaker at around $260 a pair, but I think they're so worth it for the quality and comfort.
I can literally walk in them all day without my feet getting sore – it's like walking on a cloud!
If you're looking for some styling inspiration, check out my post on how to style Adidas Ultraboosts!
---
Best casual sneakers for women:
Converse Chuck Taylor Low Top Sneakers
Vans Old Skool Sneakers
Skechers D'Lites Sneakers
Converse Pro Leather Sneakers
Converse One Star Sneakers
Nike Air Force 1 Sneakers
Adidas NMD Sneakers
Adidas Ultraboost Sneakers
These were some of the best casual sneakers for women, in my own personal opinion!
One pair of good sneakers is more than enough, but obvs I have way too many because I'm a shoe addict.
Do you have any of these casual women's sneakers? Which would you wear? Let me know on Twitter or Instagram!
You can find more of my fave products and items on my wishlist in my Amazon Shop.
More outfit inspiration
If you're looking for even more outfit inspo, you might enjoy these posts:
Be sure to keep up with me on Instagram, TikTok, Twitter, Facebook, and Pinterest if you aren't already!
Feel free to subscribe to my weekly newsletter to get my blog posts delivered straight to your inbox.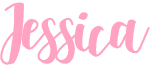 ---
Like this post? Pin it for later!