Looking for the best restaurants in Calgary to visit during your visit?
I actually never realized how many ethnic restaurants there are in Calgary – the food scene is super diverse, and you'll find amazing foods from all kinds of different cultures.
Whether you're looking for casual eateries or upscale restaurants, here are some of the best restaurants and places to eat at in Calgary, Alberta!
Be sure to also follow me on Instagram and TikTok – I share a lot more content on those platforms that don't make it to the blog!
If you're looking for somewhere to stay during your trip to Calgary, here are some of the best hotels to stay at:
The Alt Hotel is an eco-friendly 3 star hotel located right in the middle of downtown Calgary, in the East Village neighbourhood. It's a quick walk over to the Bow River, where you can do all kinds of fun activities during the warmer months.
Hotel Arts is a beautiful and modern 4 star hotel in Calgary's trendy Beltline neighbourhood, and there's an indoor pool, outdoor pool, and fitness centre.
The Fairmont Palliser is a 4 star hotel located right in the heart of downtown Calgary, right beside the Calgary Tower. The rooms are a little more traditional, but the indoor pool is absolutely incredible.
Plan your Calgary trip
If you're planning a trip to Alberta, here are some other posts to help you plan your perfect trip:
Tours & activities in Calgary
Spending all your time in downtown Calgary? You might enjoy these tours and activities:
Looking to explore the Canadian Rocky Mountains while in Calgary? Try one of these guided day tours:
---
Best restaurants in Calgary
---
You'll find plenty of banh mi shops in Calgary, and Thi Thi makes some of the best Vietnamese subs in town.
They have a bunch of different sub options ranging from $5 to $9, so it's a pretty affordable spot to eat in Calgary.
They've been around for over 30 years, and you can find them in Chinatown!
The shop itself is super tiny, so expect to wait in line to order your subs.
LOCATION: 209 1 St SE, Calgary, AB
---
Not only is Tokyo Street Market super affordable, but their food is absolutely delicious.
They serve up authentic Japanese ramen, alongside other popular street foods from Japan.
From Gyoza, to Chicken Karaage, to Takoyaki, you'll find all your fave Japanese street eats – and they're only $5 per plate!
They also have a selection of different ramen flavours you can choose from, ranging from $6 to $9 depending on if you get the regular or deluxe (which has a bit more toppings – I personally would have been fine with just the regular size).
If you're feeling a drank, you can also choose from a small selection of Japanese beers and cocktails.
They have two locations in Beltline and on Center Street.
LOCATION: Various locations
---
Ramen Ichinen is another awesome ramen spot in Calgary, and they make theirs completely MSG-free.
The Tonkotsu Red Ramen is absolutely amazing, and they've also got vegetarian and vegan ramen.
You can choose the cut of meat (pork belly or shoulder), veggies (green onion or mixed greens), and noodles (thin or thick).
They get pretty busy, so be sure to arrive early for lunch or dinner if you want a table!
LOCATION: 3132 26 St NE #349, Calgary, AB
---
The thing I love about FOO Asian Street Food is that they have dishes from all over Asia, so everyone in your party can get their fill of whatever they're craving.
It's a casual spot where you order at the counter, and there is some seating inside the restaurant.
We loved the Sweet + Sour Pork Belly and the Seafood Laksa!
The portions are a little on the smaller side, so I'd order an appetizer to share if you're super hungry.
They also have another location in Victoria, BC.
LOCATION: 2015 4 St SW Unit 5, Calgary, AB
---
Spicy Amigos is your spot for authentic Latin American food, all made completely from scratch without any canned or pre-made ingredients.
Literally everything on their menu sounds amazing, but we went for the Birria Tacos, which have been all the rage lately in the foodie world.
Of course, they didn't disappoint, and we'll probably be dreaming about them for days.
They've also got an extensive drink menu, and their spicy margaritas are fantastic (we loved the Passionfruit Margarita).
They also have daily specials and "Spicy Hour" everyday from 2-5 PM with food and drink specials!
LOCATION: 821 4 Ave SW, Calgary, AB
---
The Himalayan serves up authentic Nepalese food in Calgary, and the food is absolutely incredible.
I'd definitely recommend getting the Dal Bhat, which is a traditional plate popular across India.
It includes your choice of protein, lentils and curry, pickled veggies, rice, and bread!
I'd also recommend the Butter Chicken and the Pork Momos (Nepalese dumplings).
They also have some vegan and gluten-free options on the menu if you have dietary restrictions!
LOCATION: 3218 17 Avenue SW Calgary, AB
---
Alumni serves up amazing sandwiches in a vintage-inspired diner space.
Their Hot Chicken sandwich is incredible, and I would definitely go for the half spice (coming from someone who loves spicy foods).
The Rosemary Beef Dip is also very good – though it's quite messy to eat!
A lot of their sandwiches can be made dairy-free, gluten-free, or vegetarian if you have any dietary restrictions.
They don't have a patio space, but they do have a small island bar table out front if you're in a party of one or two people.
LOCATION: 725 17 Ave SW, Calgary, AB
---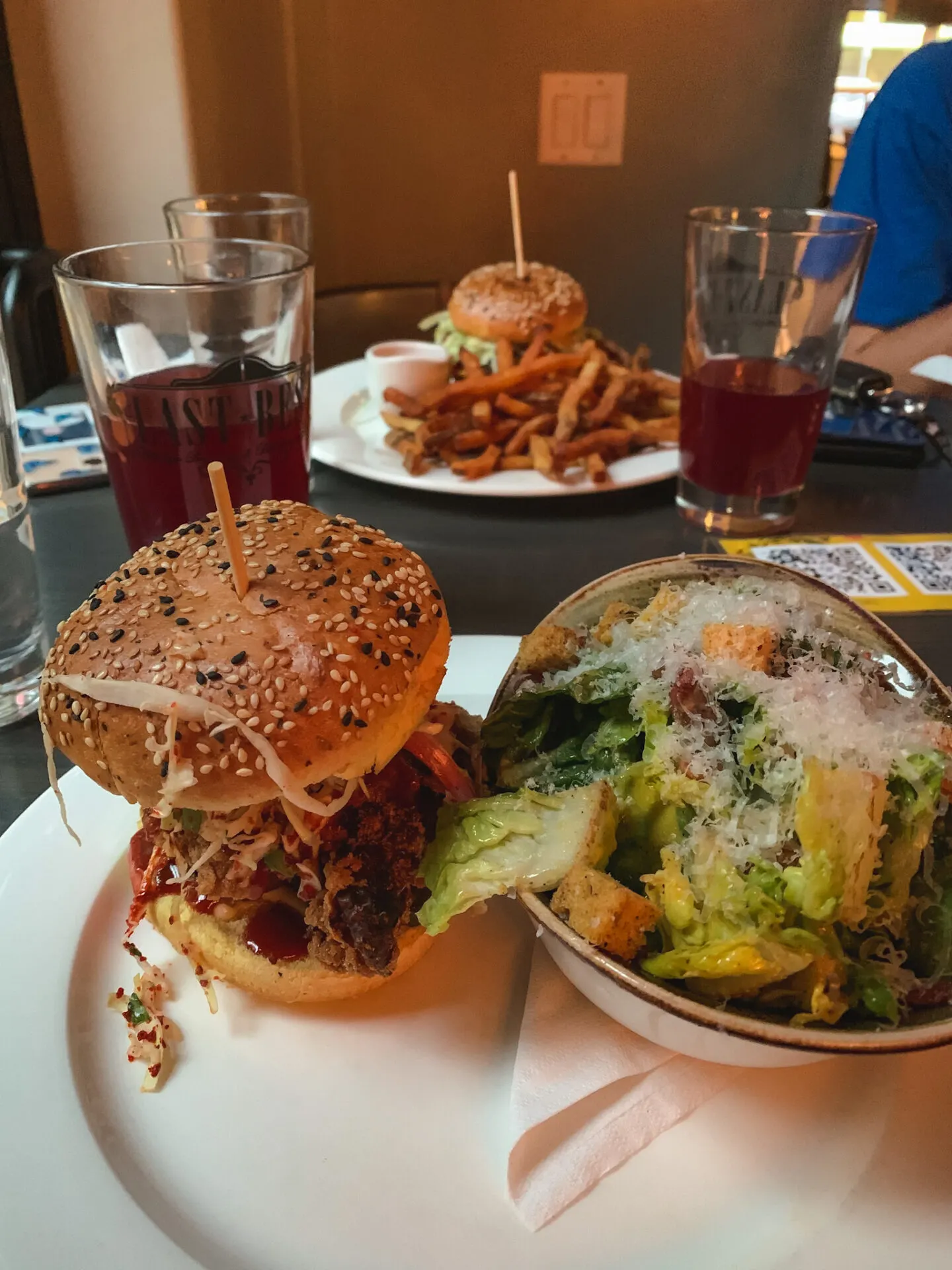 Last Best is a poppin' brewpub that serves up amazing beer and food.
The Korean Fried Chicken Sandwich is fantastic, and definitely one of the best KFC dishes I've ever had.
They offer both in-house made craft beer and gin, and they've got plenty of fruity stuff if that's what you're into (I'm into it).
If you're a cocktail lover, they've got a small selection of cocktails made using their batch-distilled gin!
LOCATION: 607 11 Ave SW, Calgary, AB
---
If you're looking for a more upscale restaurant to visit while you're in Calgary, Ten Foot Henry is the perfect spot.
Their menu is vegetable-focused, but it's not all just about veggies – they've got amazing dishes like Tuna Crudo, Jerk Chicken, and Flat Iron Steak.
The aesthetic of their restaurant is also beautiful with Scandinavian elements and plenty of greenery, and they've got a lovely patio!
LOCATION: 1209 1st Street SW Calgary, AB
---
Shokunin is another upscale restaurant in Calgary, and I actually discovered it through Final Table on Netflix, a reality series where top chefs around the world compete to get a seat at the Final Table.
Darren MacLean is the mind behind Shokunin, and he was actually my favourite chef on the show.
His Japanese gastropub offers up yakitori (skewers), shareable plates, and craft cocktails, all using fresh and seasonal ingredients alongside traditional Japanese techniques and flavour profiles.
The chickens they use for their skewers are butchered daily, so they're super fresh and very limited!
It's also right across the street from FOO Asian Street Food, which I mentioned earlier!
LOCATION: 2016 4 St SW, Calgary, AB
---
Best restaurants in Calgary:
Thi Thi Vietnamese Subs
Tokyo Street Market
Ramen Ichinen
FOO Asian Street Food
Spicy Amigos
The Himalayan
Alumni Sandwich & Liquor Bar
Last Best Brewing & Distilling
Ten Foot Henry
Shokunin
These were some of the best restaurants and places to eat at in Calgary!
What are the best Calgary restaurants you've tried? Let me know on Twitter or Instagram!
If you're planning a trip to Alberta, here are some other posts to help you plan your perfect trip: