If you're looking for the best restaurants in Montreal, I've got ya covered.
Montreal's food scene is pretty dang great, and they've got so many incredible restaurants across the city.
When Adam and I visited for a week last summer, we pretty much just ate our way through Montreal.
We managed to hit up a ton of awesome food spots and cool restaurants in Montreal, but I've listed our absolute faves.
Here's my guide on where to eat and drink in Montreal!
---
Best breakfast & brunch restaurants in Montreal
There are plenty of amazing places to eat breakfast and brunch in Montreal.
Here are some of my favourite restaurants to hit up when I'm in Montreal!
Chez José Café
This tiny little café is probably my most favourite brunch restaurant in all of Montreal.
I first discovered Chez José when I stayed at an Airbnb nearby for Osheaga.
Their incredible Mexican omelette is worth going out of your way for if you're not staying in the area!
It comes with a side of salad and guac, and it's oh-so-delicious.
A forewarning that they don't have air conditioning in the restaurant, but at least they keep all the windows open so you can breathe just a little.
LOCATION: 173 Avenue Duluth E, Montréal, QC | Website
---
Restaurant L'Avenue
If hip decor and cool street art are your thing, L'Avenue is the quirky little brunch spot for you.
Expect to wait in long lineups out the door because it's just that good.
If there's one thing you must try on their menu, it's their guava pancakes – they're as divine as they sound.
A tropical escape in the heart of downtown Montreal? Count me in!
LOCATION: Various locations | Website
---
Le Passé Composé
Le Passé Composé is actually Adam's fave brunch restaurant in Montreal, and he visits every time he comes to the city.
Their duck confit poached eggs are amazing.
I also love the touch of the teeny tiny smoothies with every meal – so adorable!
LOCATION: 1310 Boul de Maisonneuve E, Montréal, QC | Website
---
Best lunch & dinner restaurants in Montreal
From smoked meat sandwiches to poutine, there are just some things Montreal does best.
Here are some of the best restaurants to visit in Montreal for lunch and dinner!
Schwartz's Deli
Schwartz's is famous for their smoked meat sandwiches.
They're the oldest deli in Canada, and they've been around for over 90 years!
And you can't visit Montreal without trying some authentic smoked meat sandwiches.
Pro-tip: order takeout, or you'll be waiting ages to get a table.
Even if you order takeout, there's limited seating inside, so you're better off eating outside on a bench.
LOCATION: 3895 St Laurent Blvd, Montreal, QC | Website
---
Poutine Centrale
Poutine Centrale is heaven for poutine lovers.
They've got all kinds of unique and drool-worthy poutines, from General Tao to Buffalo Chicken.
I think we got the Sloppy Joe poutine, which came with ground beef, tex-mex seasoning, and cheddar!
We happened upon this spot after visiting the Montreal Botanical Garden because it was the closest restaurant with good reviews.
It was definitely worth a visit!
LOCATION: 3971 Rue Hochelaga, Montréal, QC | Website
---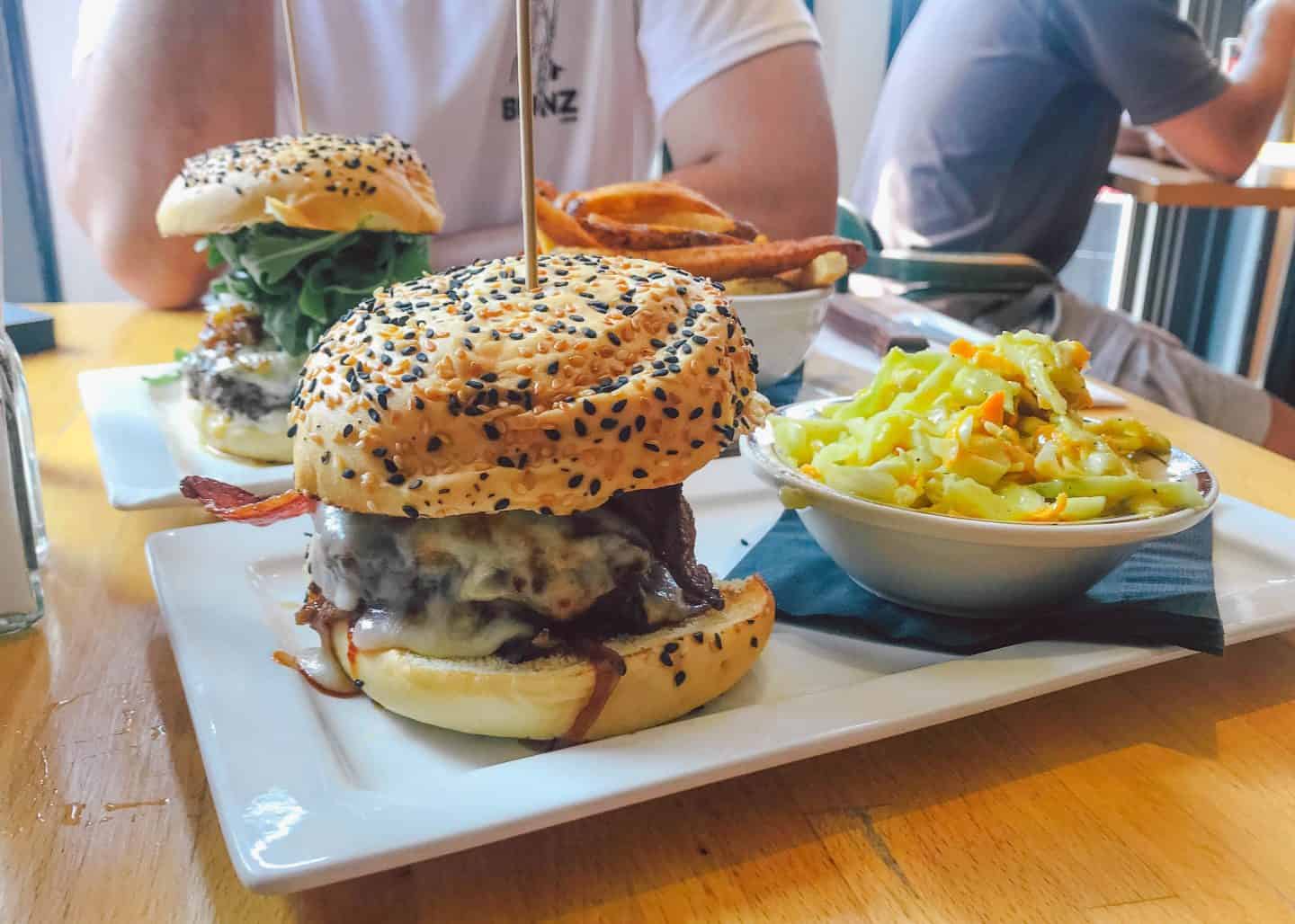 Burger Bar Crescent
Burger Bar is probably one of the best burger spots I've ever visited in my entire life.
If you're a burger lover, you have to come by here!
This is another spot Adam frequents when he goes to Montreal.
It's definitely one of the best restaurants in Montreal, period.
LOCATION: 1465 Crescent St, Montréal, QC | Website
---
Deville Dinerbar
Deville Dinerbar is a fun retro spot serving up delicious burgers and milkshakes.
While the burgers didn't beat Burger Bar for us, we still really loved the food here!
As you can tell, it's also got some pretty Instagram-worthy decor.
In case you're also looking for Instagrammable places in Montreal 😉
LOCATION: 1425 Stanley St, Montréal, QC | Website
---
Kinka Izakaya
Originally start off in Toronto in 2009, Kinka now has locations even in Japan and Korea.
Kinka Izakaya is one of my fave restaurants here in Toronto, and it's just as amazing in Montreal.
Grab some Sapporos, order some Japanese tapas, and enjoy the summer patio!
I love ordering the Kakimayo (cheesy baked oysters) and Chicken Karaage every time I visit Kinka.
LOCATION: 1624 Saint-Catherine St. W, Montréal, QC | Website
---
Kazu
Located just down the street from Kinka is Kazu, another great Japanese restaurant in Montreal.
They were on vacation (for 2 months!) when we tried to visit so I didn't get to try it.
Adam comes here every time he visits Montreal – it's one of his top places to eat!
LOCATION: 1844 Saint-Catherine St W, Montréal, Quebec | Website
---
Where to drink coffee & tea in Montreal
Montreal has an abundance of cute (and Instagrammable) cafés.
Here are some of my top places to grab a coffee in Montreal!
Tommy
A combo of modern design, mid-century furniture, and Victorian architecture makes Tommy a super unique café to visit.
Adam and I shared the smoked salmon bagel at their Old Montreal location and it was delicious!
LOCATION: Various locations | Website
---
Darling
Darling is a café by day and a bar by night.
This ~darling~ spot features gorgeous vintage decor and tons of greenery.
They keep their napkins and cutlery in maple syrup cans, which is absolutely adorable!
It's a cute work or meeting spot as well!
LOCATION: 4328 St Laurent Blvd, Montréal, QC | Website
---
Pikolo Espresso Bar
Pikolo is a cozy coffee shop in Montreal inspired by Australian coffee culture.
With soaring ceilings and industrial decor, it's a nice spot to catch up with a friend or get some work done.
LOCATION: 3418b Park Ave, Montréal, QC | Website
---
Where to eat desserts & snacks in Montreal
Got a craving for something sweet?
Check out one of these awesome dessert places in Montreal to eat a sweet treat!
Chocolats Favoris
Chocolats Favoris is Adam's favourite chocolate shop.
Their dipped chocolate cones are absolutely delicious, and a great way to cool down on a hot summer day.
They've also got a huge selection of chocolates you can take home as souvenirs (or eat on the spot).
Born in Quebec City, they've been around for over 40 years!
They've also got two locations in Toronto, or rather the Greater Toronto Area if you wanna be specific.
LOCATION: Various locations | Website
---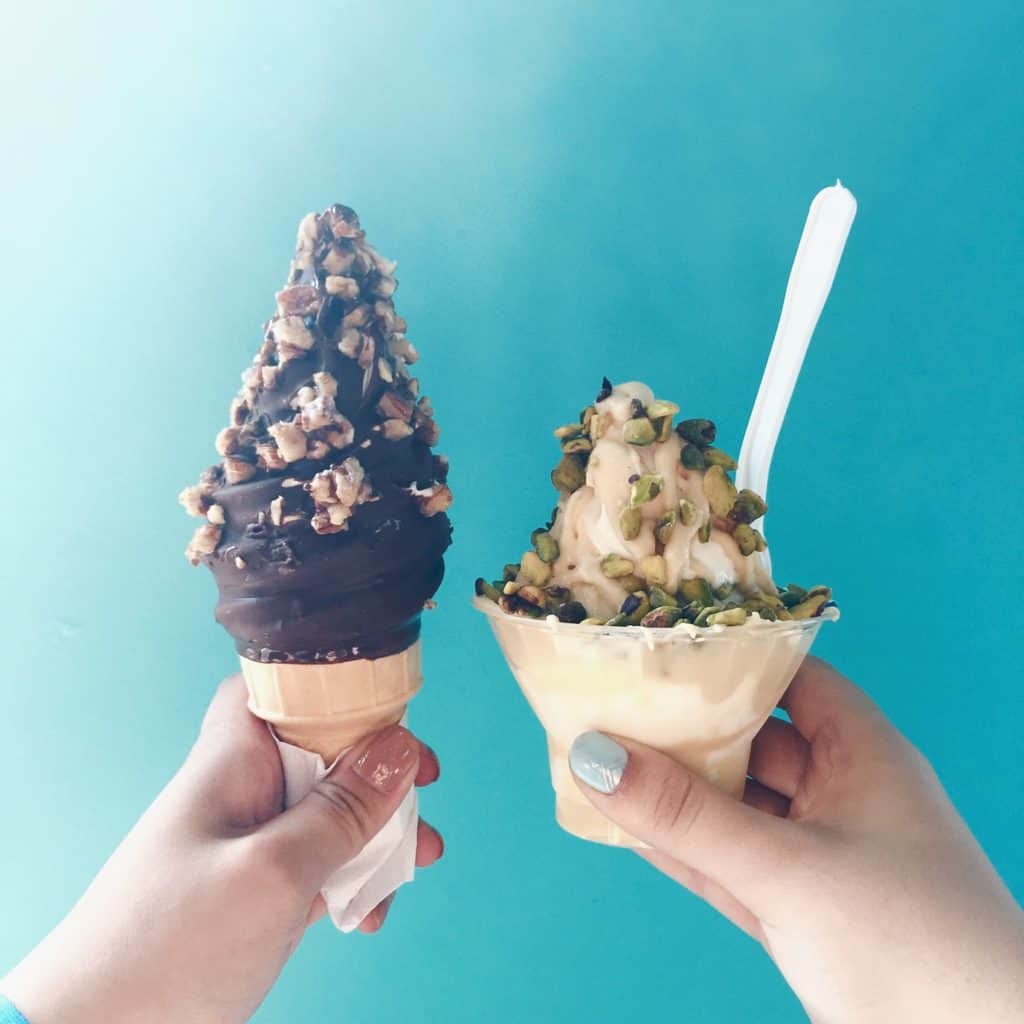 La Diperie
Similar to Chocolats Favoris, La Diperie serves up dipped cones in over 30 different Belgian chocolate flavours.
You can also find other desserts such as milkshakes, cakes, and more!
They're native to Montreal, but they've now got four locations across Toronto.
LOCATION: Various locations | Website
---
Montreal flights & accommodations
Looking to book your flights and accommodations for Montreal?
I love booking all of my flights and hotels on Expedia and collecting points towards free rewards.
FYI Montreal is a very walkable city, so you won't need to rent a car!
I use Airbnb when I'm traveling on a budget, and I have a separate blog post all about how to find the best Airbnbs.
During Osheaga I stayed in leQube Apartments, and their prices are super fair for such a great stay and location.
---
Montreal has an incredible food scene, and it's one of my favourite cities to visit in Canada.
I love visiting the city just to try new restaurants and eat at my old fave spots!
If you're looking for activities to do in the city, there are plenty of awesome things to do in Montreal.
Have you tried any of these Montreal food spots? Where are some of the best restaurants in Montreal in your opinion? I'd love to know in the comments!
If you're planning a trip to Montreal, here are some other posts to help you plan your perfect trip:
Be sure to keep up with me on Instagram, Facebook, Twitter, and Pinterest if you aren't already!

---