Looking for outfit ideas to wear to Osheaga?
I love dressing up for music festivals, and it's probably my favourite part of even attending them.
I planned all my Osheaga outfits months ahead of time (of course), and I was super excited to wear them to the festival.
It was both my and Shay's first time at Osheaga, as well as my first time in Montreal.
I fell in love with the city, and with Osheaga.
We had such a breathtaking experience, and this definitely won't be the last time I visit the festival!
Here are some Osheaga outfit ideas in case you need inspiration on what to wear.
---
What to wear to Osheaga
Light clothing
You're going to be hot and sweaty from being out in the sun all day, so wear light and airy clothing.
Crop tops, shorts, and all that good stuff.
You should probably take this literally too, because wearing all black ain't fun when the sun's beating down on ya.
Closed toe footwear
Cute sandals are fun and all, but it ain't nice when you get stepped on all over by other festival-goers.
Sneakers are probably the best option because they're light and comfortable.
I wore my classic white Chucks everyday of the festival.
Doc Martens would make for some cool festival outfits, but your feet will get really sweaty!

Sunglasses
Sunglasses can make for cute festival outfits, but they can also help to keep the sun from burning your eyeballs off.
Bonus points if you wear different sunnies to match each outfit you wear to Osheaga!

---
Osheaga outfit ideas
Day one of Osheaga
Adam calls me Yung Lam (my "rapper name") on a daily basis so I thought this top was hilarious lol.
I paired it with these badass denim shorts from Bitchin' and Junkfood, some colourful sunnies, and my staple white Chucks.
Shay and I spent all day on Friday at the festival, and since we arrived early, we were able to avoid the extremely long lines and get a lot of free goodies.
We saw Half Moon Run, The Lumineers, and the Red Hot Chili Peppers.

---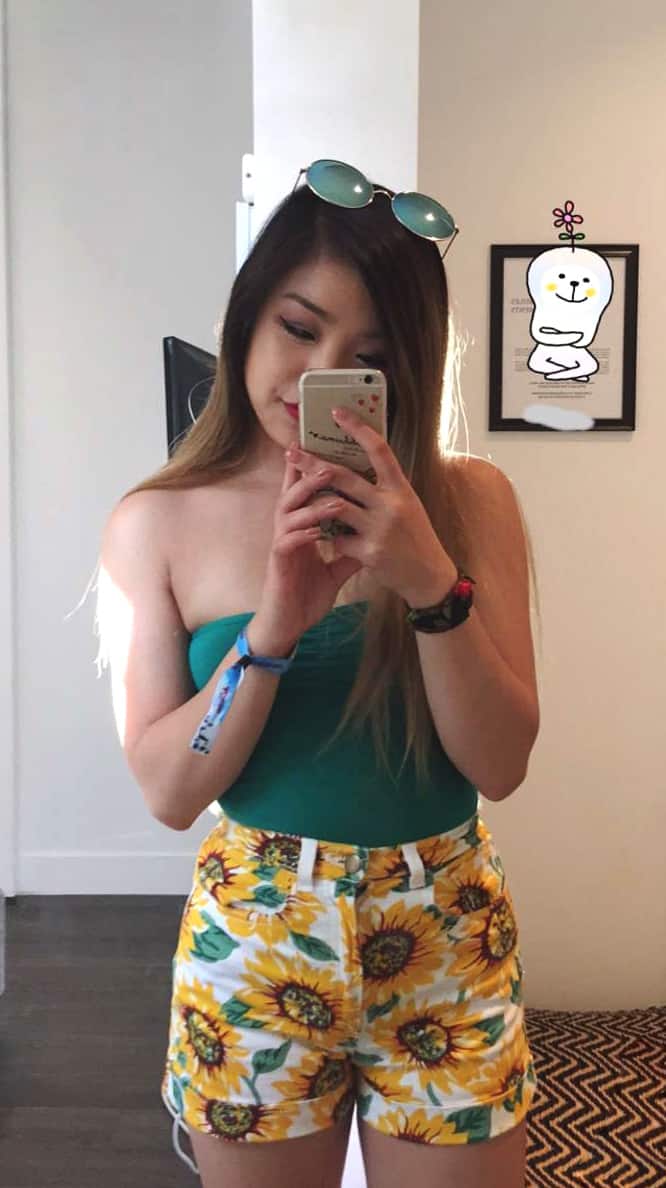 Day two of Osheaga
I bought this outfit combination probably over a year ago.
I knew I wanted to wear it to a music festival, but I never had the chance until Osheaga.
Shay said this outfit was very Lana Del Rey.
We decided to explore Montreal during the day and go to the festival in the evening, and we saw Bastille, Death Cab for Cutie, and Lana Del Rey.

---
Day three of Osheaga
I don't keep up with baseball at all, but I always thought the white Blue Jays jersey looked really cool.
Adam actually got the jersey for me for my birthday!
I paired it with a white tank top and light wash denim shorts to go with the whole light-coloured theme.
We went to the festival in the late afternoon and saw The Strumbellas, M83, and Radiohead.

---
Osheaga flights & accommodations
Looking to book your flights and accommodations for Montreal?
I love booking all of my flights and hotels on Expedia and collecting points towards free rewards.
FYI Montreal is a very walkable city, so you won't need to rent a car!
I use Airbnb when I'm traveling on a budget, and I have a separate blog post all about how to find the best Airbnbs.
We stayed in leQube Apartments during Osheaga, and their prices are super fair for such a great stay and location.
---
I'd never gone to a 3-day music festival before Osheaga, and it was actually pretty exhausting.
We also explored Montreal – mostly walking and biking everywhere – so it was a pretty tiring long weekend.
Despite the weather app telling us it was going to rain, it was sunny all weekend long at Osheaga.
I'll definitely come back to the festival again if they have a really good lineup in the future, and I made a quick little vlog on our Osheaga experience!
If you're looking for activities to do in the city, there are plenty of awesome things to do in Montreal.
Have you been to the Osheaga music festival before? Which of these Osheaga outfit ideas would you wear? I'd love to know in the comments!
If you're planning a trip to Montreal, here are some other posts to help you plan your perfect trip:
Be sure to keep up with me on Instagram, Facebook, Twitter, and Pinterest if you aren't already!

---