Thank you to The Rec Room Toronto for sponsoring this post. As always, all opinions are my own.
The Rec Room is one of my new favourite spots to visit in Toronto.
Many of you have probably been already, and if not, you've definitely heard of it!
The Rec Room is a huge adult playground filled with great food and entertainment.
There's everything from pop culture-themed arcade games to virtual reality to concerts and special events, and it's all under one big roof.
Be sure to also follow me on Instagram and TikTok – I share a lot more content on those platforms that don't make it to the blog!
---
What to eat at The Rec Room Toronto
---
There are two restaurants inside The Rec Room Toronto: The Shed and Three10 Restaurant.
The Shed is more of a fast-food spot while Three10 is an actual dine-in restaurant.
Whatever the occasion, either one of these restaurants is perfect for your day or night out at The Rec Room Toronto!
Three10 has a weekend brunch menu, and we tried a bit of the brunch alongside some of the regular menu items.
We got the Hot Smoked Salmon Benedict ($16), Buffalo Popcorn Chicken ($15), and Butter-Poached Lobster on Skillet Mac + Cheese ($29), and Skillet Bumbleberry Cobbler ($8).
Everything was so delicious – Adam and I absolutely loved the Buffalo Popcorn Chicken.
---
How much does it cost to play games at The Rec Room?
---
Entering The Rec Room is free, but you have to purchase game tags in order to play any games.
Game tags
The way it works at The Rec Room Toronto is that you purchase a game tag which you can load with game credits.
The game tag has a $2 activation fee, but it comes with $2 worth of credits.
You can wear it around your wrist or put it in your pocket while you're there, and bring the same game tag next time you come to The Rec Room!
Game credits and reward points never expire, so you can save them up until you have enough for a prize you want.
Here's how much it costs to load game credits:
$10 for 40 credits
$15 for 80 credits
$20 for 120 credits
$25 for 160 credits
$30 for 200 credits
Most games cost around 6 credits to play, but there are some that cost more.
It all depends on the games you're playing, but the prices aren't too bad for all the games you can play!
Redeem SCENE points
Another awesome thing about The Rec Room is that you can redeem SCENE points on your purchases!
Every 1,000 SCENE points gets you $10 off, and you can use up to $350 worth of points.
---
What games are at The Rec Room Toronto?
---
The arcade games are perhaps what The Rec Room is most known for, and they are of course a heck load of fun.
There are even a few pop culture-themed games including The Walking Dead (my favourite), Kung Fu Panda, and Candy Crush Saga.
There are also the standard games you'd expect at an arcade like racing games, basketball hoop games, and air hockey.
There's even a pool table at the back if you feel like doing something a little more chill!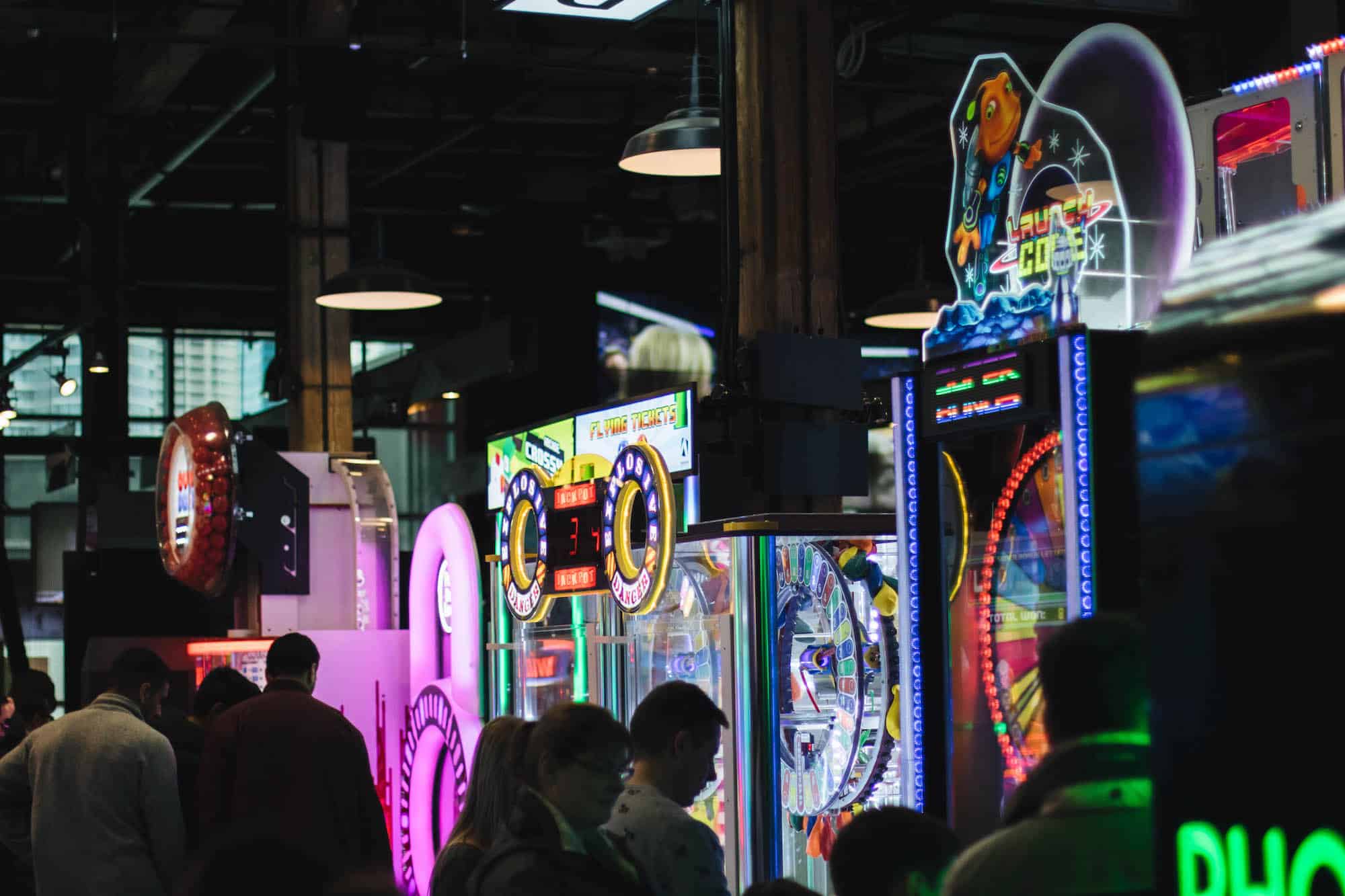 ---
THE VOID VR experience
---
2022 update: THE VOID is temporarily closed.
Another awesome thing inside The Rec Room is THE VOID, which is definitely the best virtual reality spot you'll find in Toronto.
Right now there's a Ghostbusters experience, and it is extremely immersive.
It's only about 12 minutes long and costs $24 per person, but trust me, it is so worth it.
I won't spoil anything for ya – you gotta experience it yourself!
They'll be switching up the VR experiences every now and then as well, so there's always something new and fun to try out.
---
The Rec Room is a great winter date spot as well as a fun place to visit in Toronto all year round!
Have you been to The Rec Room Toronto yet? Let me know on Twitter or Instagram!
P.S. if you liked this post, you might like this post on the most Instagram-worthy walls and street art in Toronto, or any of my other posts on things to do in Toronto.
Be sure to keep up with me on Instagram, TikTok, Twitter, Facebook, and Pinterest if you aren't already!
Feel free to subscribe to my weekly newsletter to get my blog posts delivered straight to your inbox.

---
Like this post? Pin it for later!