Although the weather can be miserable, there are tons of cute and romantic winter date ideas in Toronto worth going out in the cold for.
From cozy indoor activities to lit-up outdoor affairs, there's always something fun going on in the city.
Obviously the easiest winter date idea is watching Netflix shows at home, but sometimes you just gotta get out and do something different and fun.
Here are some unique winter date ideas in Toronto to keep you warmed up!
Be sure to also follow me on Instagram and TikTok – I share a lot more content on those platforms that don't make it to the blog!
---
Winter date ideas in Toronto
---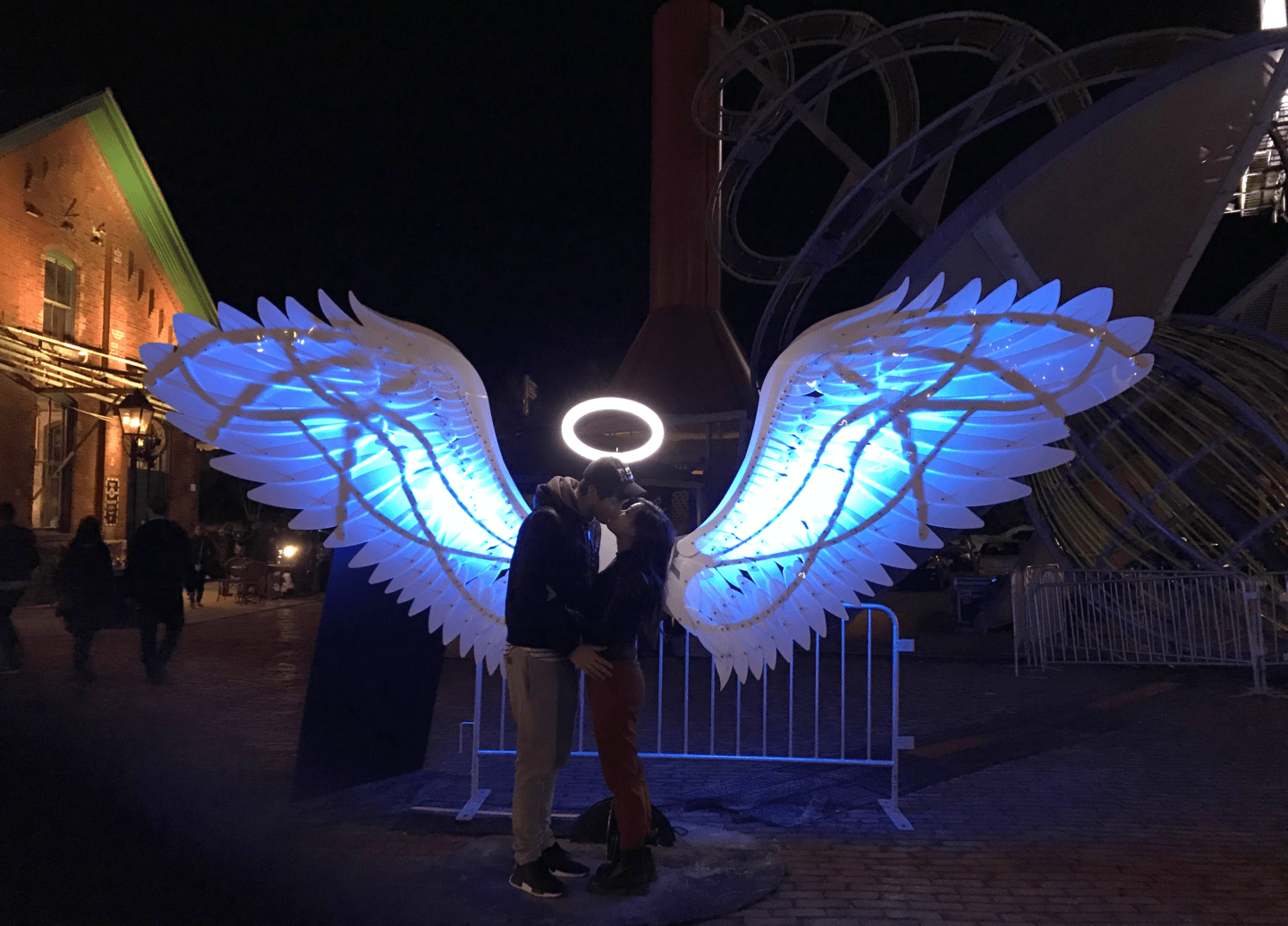 The Toronto Light Festival lights up the Distillery District every year from January to March, and it's always an adorable winter date idea in Toronto.
Take a peek at artwork and installations from Toronto and around the world, and even interact with some of them.
It's definitely a nice activity to do even when it's cold outside – just be sure to dress warm!
If you're looking for more things to do in the neighbourhood, I've got blog posts on things to do in the Distillery District and the best Distillery District restaurants.
If you plan on visiting the Distillery District during the day instead, you can also do a fun guided walking tour or a 30-minute segway tour!
LOCATION: Distillery District, Toronto, ON
---
2. Do a paint date night at Paint Cabin
Paint Cabin is a cute little art bar located in Leslieville.
It's always fun being able to let loose and be creative, and a paint date night is a great way to show off your artistic side to your partner.
You can choose all sorts of artistic activities like watercolour and acrylic painting.
Plus, you can enjoy beer or coffee while you get your art on!
LOCATION: 723 Gerrard St. East, Toronto, ON
---
Snakes & Lattes is one of the most fun winter date ideas in Toronto, and definitely one of my favourite things to do in the city.
You forget how fun board games are until you play them again!
While it's fun playing games with a group of friends, it's also fun playing games as a couple – Adam and I have done so quite a few times.
There are tons of fun games meant for two players, and the employees at Snakes are always happy to suggest and teach you new ones.
They've raised the prices to $8 per person, which is pretty pricy if you're planning on getting food and drink as well.
But, it's still a fun date night activity every so often!
And you have unlimited board game options at Snakes, which you probably don't have at home.
Scrabble is my fave date board game to play (I always win lolz).
LOCATION: Various locations
---
You can either grab tickets to a guided group food tasting tour around St. Lawrence Market, or you can meander around and explore yourselves.
Spend a whole morning (or afternoon, if you're not morning people) sampling everything from cheeses, to wines, to mustards.
Then, grab an authentic Montreal bagel at St. Urbain Bagel and fresh perogies at European Delight!
St. Lawrence Market is open everyday except for Sundays and Mondays.
It's also definitely a lot less busy during the week than on the weekends!
LOCATION: 95 Front St. East, Toronto, ON
---
Looking for a fun day date activity to do during the winter?
Check out some of the ice sculptures at the annual Bloor-Yorkville Icefest!
Afterwards, grab some hot drinks together at Sorry Coffee Co.
LOCATION: Bloor-Yorkville, Toronto, ON
---
The Power Plant Contemporary Art Gallery is a really underrated spot to visit in Toronto.
They always have cool and unique exhibitions going on, and it's rarely very busy.
It's also completely free to visit!
The gallery is right by the Harbourfront, so you can skate at the Natrel Rink or even do a romantic walk along the docks after.
If it's too cold, grab a hot cup of joe at Boxcar Social, one of my favourite Toronto coffee shops.
If you're looking for more fun things to do in the area, I've got a blog post all about the best things to do at the Harbourfront.
I've also got a blog post all about the best Harbourfront restaurants!
LOCATION: 231 Queens Quay West, Toronto, ON
---
If you're looking to spend a couple of hours out somewhere, pay a visit to the Art Gallery of Ontario instead.
There's so much to see at the AGO, and their special exhibitions are always amazing.
Entrance is free for everyone 25 and under, and everyone on Wednesday evenings (though you have to book a time slot on Monday mornings).
Otherwise, you can snag tickets to the AGO online!
LOCATION: 317 Dundas St. West, Toronto, ON
---
Come from Away is my all-time favourite theatre show, and it's definitely worth seeing even if you're not much of a theatre buff.
It's based on true events, and it tells the stories of fictional characters and their experience of being stranded in Newfoundland during 9/11.
The performance is absolutely beautiful, and it will leave you feeling all sorts of emotions.
Maybe it'll even inspire you to visit Newfoundland together!
You can catch the show at the Royal Alexandra Theatre.
LOCATION: 260 King St. West, Toronto, ON
---
9. Try a tasting menu during Winterlicious
Feeling something a little fancy?
Go out for a romantic tasting menu dinner at one of Toronto's many amazing restaurants during Winterlicious.
Tasting menus are great because you get to sample a bunch of different dishes for a set price.
Outside of Winterlicious, a lot of other Toronto restaurants have tasting menus on the regular, and they switch up the menus every now and then.
Here are a few of my faves:
---
From karaoke nights to lego fun, the Gladstone Hotel always has fun events happening.
Stay warm, grab a pint of beer, and enjoy a fun night with your S/O!
It's also one of the best boutique hotels in Toronto, so it's perfect for a staycation!
LOCATION: 1214 Queen St. West, Toronto, ON
---
If you and your S/O are both car people, pay a visit to the Canadian International AutoShow.
It happens every year at the Metro Toronto Convention Centre, and it's always fun to explore and see all the new cars on display!
LOCATION: 255 Front St. West, Toronto, ON
---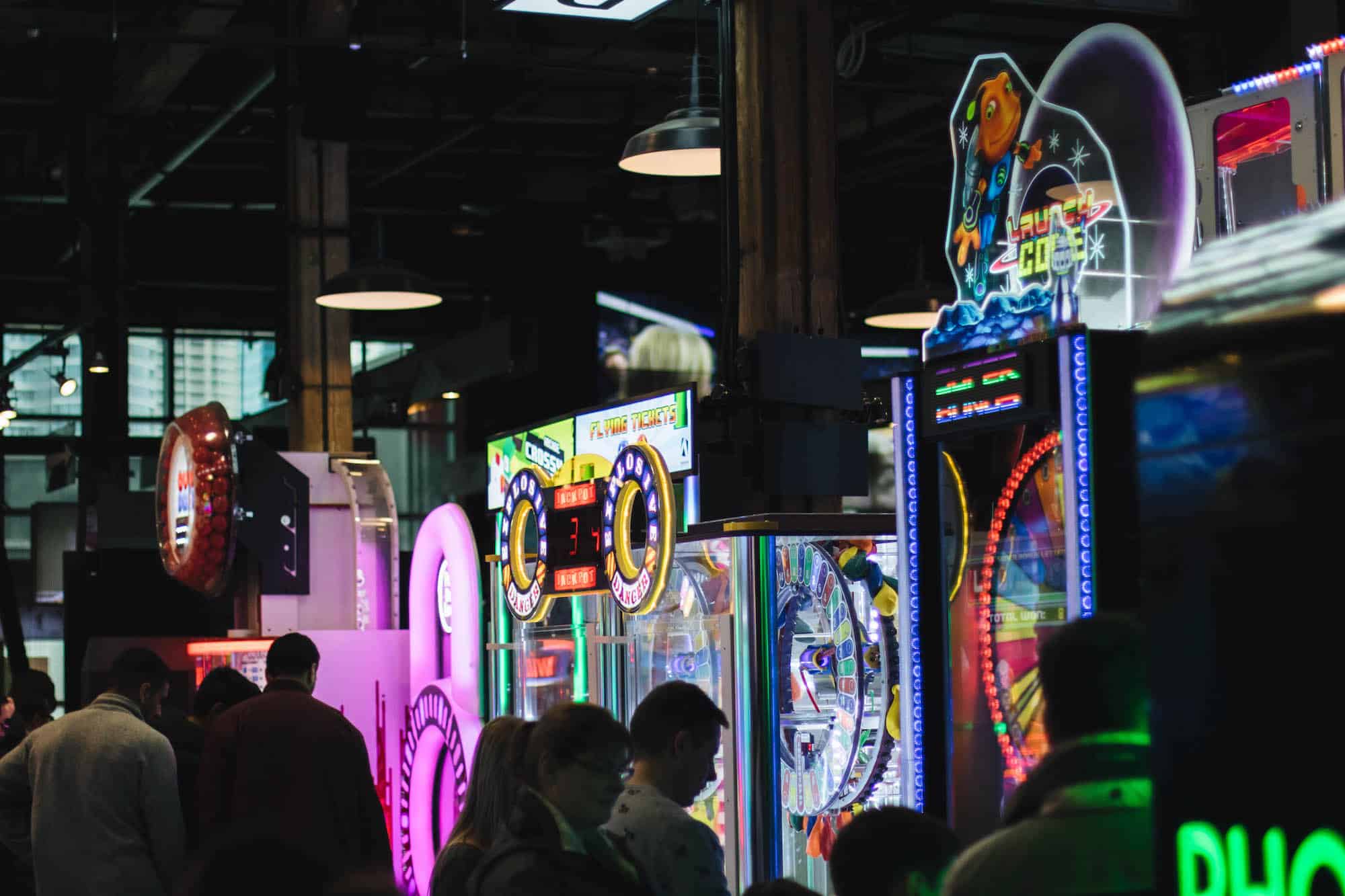 You can't not have fun while at the Rec Room.
It's warm, there's an arcade full of games, and the food and drinks are pretty good.
The VOID VR experiences are also a lot of fun and worth trying.
They have a really interactive Jumanji VR experience going on right now that's really cool!
There's also a Rec Room Square One location in Mississauga.
LOCATION: 255 Bremner Blvd, Toronto, ON
---
13. Go through obstacles together at Pursuit OCR
Are you both more into fitness activities?
Try going through the massive obstacle course and jumping into the ball pit together at Pursuit OCR.
Warning: not for the faint of heart (or people who get tired easily from being out of shape AKA me).
Their location used to be at Queen and Dufferin, but they've moved to a ginormous space in Etobicoke!
I've got a post all about my experience at Pursuit OCR – we went for my birthday several years ago!
LOCATION: 75 Westmore Dr, Etobicoke, ON
---
Best winter date ideas in Toronto:
Check out the Toronto Light Festival
Do a paint date night at Paint Cabin
Get competitive at Snakes & Lattes
Do a tasting tour around the St. Lawrence Market
Wander around Bloor-Yorkville Icefest
Wander around the Power Plant Gallery
Explore the Art Gallery of Ontario
See Come from Away
Try a tasting menu during Winterlicious
Stop by an event at the Gladstone Hotel
Admire cars at the Canadian International AutoShow
Play games at the Rec Room Toronto
Go through obstacles together at Pursuit OCR
There are plenty of fun and romantic date ideas you can do in Toronto during the winter to make the cold weather a little less miserable.
These winter date ideas are totally different than your classic dinner and movie or Netflix and chill dates, and they'll surely impress your S/O.
Have you done any of these winter date ideas? What are the best dates you've gone on in Toronto? Let me know on Twitter or Instagram!
If you're planning a trip to Toronto, be sure to check out my posts on the most fun things to do in Toronto and what to wear in Toronto.
Be sure to check out some local tours as well, if you're looking to do some fun and unique activities.
If you're looking for even more fun things to do in Toronto, you might enjoy these posts:
Be sure to keep up with me on Instagram, TikTok, Twitter, Facebook, and Pinterest if you aren't already!
Feel free to subscribe to my weekly newsletter to get my blog posts delivered straight to your inbox.

---