Searching for the best shopping spots in Toronto to visit during your trip?
If you're in the mood to do a lil' shopping, there are plenty of awesome neighbourhoods and streets to shop in and around Toronto.
While it's nice and easy to hit up a mall, sometimes you just want to meander through cute neighbourhoods.
You'll also typically find more independent boutiques and stores outside of the mall, and it's always nice to support local business owners.
Here are some of the best Toronto shopping spots, whether you're looking to shop for unique souvenirs or luxury goods!
Be sure to also follow me on Instagram and TikTok – I share a lot more content on those platforms that don't make it to the blog!
More shopping in Toronto
If you're looking for more shopping in Toronto, you might enjoy these posts:
---
Best shopping neighbourhoods in Toronto
---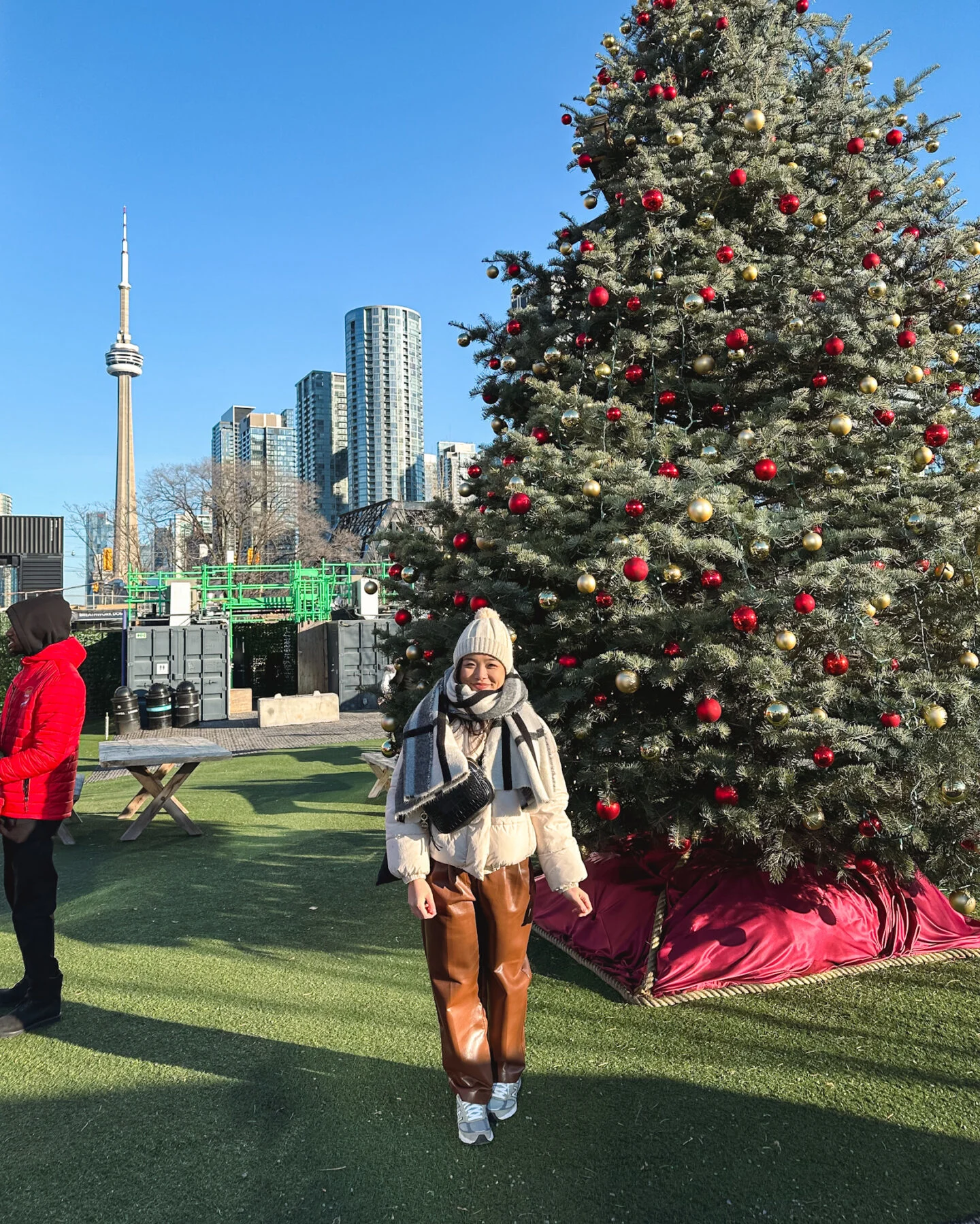 If you're looking for a really unique shopping experience in Toronto, hit up Stackt Market.
Stackt is North America's largest shipping container market, and you'll find all kinds of cool shops here.
I love Auntie's Supply for their unique selection of nostalgic and modern Asian grocery products.
They've got everything from chilli oil, to authentic Vietnamese coffee, to locally-made frozen dumplings!
I also love Our Haru for their adorable pet products made by independent South Korean designers, including 'lil hats, scarves, and sunglasses for your doggo.
You'll also find a few food vendors (bao or tacos, anyone?) alongside a small-batch microbrewery offering Stackt-exclusive beers.
They even host a lot of fun and cool events throughout the year, including during the holidays!
LOCATION: 28 Bathurst St, Toronto, ON
---
Kensington Market is one of the coolest and most eclectic neighbourhoods in Toronto.
It's a neighbourhood that's been home to many different ethnic groups over the decades, so you'll find a lot of small ethnic grocery stores and shops here!
They have a lot of great multicultural food spots in Kensington, so you can do a little food crawl or cafe crawl.
Stop into Seven Lives for their amazing tacos, Little Pebbles for their epic croissants, and FIKA Cafe for their delicious coffee.
If you're looking for a nicer restaurant, hit up Sunny's Chinese for modern and upscale Chinese cuisine.
Kensington Market is also a fantastic spot for vintage shopping, and I especially love Sub Rosa Vintage and Space Vintage.
Cocktail Emporium is a really fun cocktail supplies shop in Kensington Market, and they're housed in an adorable and Instagrammable pink building!
---
The Distillery District is probably one of the most popular tourist spots in Toronto outside of the CN Tower, but it's still well-loved by locals.
This historic area used to be home to a spirits distillery, and it's now a trendy neighbourhood filled with great restaurants, shops, and cultural centres like theatres and galleries.
Take a walk around and peep out all the cute shops in the area, including Hoi Bo for sustainable, Toronto-made clothing and Yummi for fancy candles.
Wildly Delicious is a unique specialty food shop that makes everything from jams to sauces, and you'll literally want to take everything home.
Plus, they have some fantastic sandwiches in their mini restaurant if you're feeling hungry!
And if you're in the mood to hit up a restaurant, visit one of the Distillery District's best restaurants.
---
Rosedale
Rosedale is one of the wealthiest neighbourhoods in Toronto, and you'll find plenty of trendy shops and restaurants to explore.
Located just north of Yorkville, you can hop off the subway at Rosedale or Summerhill Station and take a walk around the chic neighbourhood.
Coco Market is a super cute wellness and specialty food shop where you can find everything from yoga accessories to locally-made food products.
You can also shop European-style home decor at Putti Fine Furnishings, which has an especially amazing selection during the holidays!
If you're looking to grab a bite in the middle of shopping, Pantry is a gorgeous quick-serve lunch spot and Terroni offers up Italian eats on their stunning rooftop patio.
For dessert, grab some macarons at Nadège Patisserie, one of Toronto's best bakeries.
---
Best shopping streets in Toronto
---
Queen Street West
Probably the first spot that pops into my head when I think of shopping streets in Toronto is Queen West.
You'll find tons of cute boutiques and cool vintage shops along Queen West, especially once you go west of Spadina.
Some of my fave vintage shops on Queen West are Mama Loves You, House of Vintage, and Public Butter!
Queen West is also a super ~hip~ area, so you'll find plenty of amazing restaurants and fun street art around the neighbourhood to explore.
Stop into North of Brooklyn for amazing pizza, Smoque N' Bones for fantastic BBQ, or Matty's Patty's for delicious burgers.
---
Ossington
Ossington is actually known as one of the coolest streets in the world, and you'll find plenty of trendy restaurants, bars, and boutiques in the neighbourhood.
Most of the action is between Queen and Dundas, so just take a walk down Ossington and stop into whatever piques your interest.
You can stop into The Latest Scoop for women's clothing or Reigning Champ for Vancouver-made clothing.
Fuel up with some coffee at one of the many trendy coffee shops in the neighbourhood, including Pilot Coffee Roasters, Sam James Coffee Bar, and 135 Ossington.
If you're feelin' hungry, dine at Favorites Thai BBQ for amazing Thai cuisine, Mamakas Taverna for delicious Greek food, or Té for modern Korean eats.
And of course, you can't make a stop to the Ossington neighbourhood without grabbing a scoop of ice cream at Bang Bang, though expect to wait in long lines during the summer months.
---
Dubbed as the "Mink Mile" of Toronto, the Bloor-Yorkville area is the place to go if you're looking to shop luxury and designer goods downtown.
Though there are primarily luxury stores like Chanel and Moncler in the neighbourhood, they do have mid-range stores like Aritzia, Reformation, and Roots!
Aritzia even has an A-OK Cafe at their Yorkville store, which is a super cute in-house coffee shop they have in a few of their stores.
There are plenty of other awesome cafes in Yorkville worth visiting as well if you're in the mood for a cup of joe.
Yorkville Village has been home to Toronto Fashion Week in recent years, so you'll also find some cool independent designer stores around the area.
While you're here, stop into Eataly to shop imported Italian groceries and eat freshly-made Italian pizzas and pastas.
If you're hungry, there are also tons of fantastic restaurants worth visiting, whether you're in the mood for Mediterranean cuisine or upscale Italian eats!
Pay a visit to Planta for elevated vegan eats, Aburi Hana for upscale Japanese cuisine, or Alobar Yorkville for Michelin-Star dining.
---
Toronto's East End
The East End of Toronto is really underrated, and there are a lot of great restaurants and shops in the area!
When I say the East End, I'm referring to Corktown, Riverside, East Chinatown, and Leslieville.
The Apartment Life is a really cool vintage furniture shop in Corktown, and it's actually right by the store where they filmed Kim's Convenience (which you can watch on Netflix).
Common Sort is an awesome consignment shop in Riverside where you can buy or sell gently-used clothing, and it's very curated with a lot of trendy stuff.
You can also walk along Gerrard East to peep out a bunch of cute stores.
If you're looking for spots to eat, hit up O'SOMAE for brunch, Reyna on King for Mediterranean eats, or Oji Seichi for authentic ramen.
Just pay a visit and you'll see how charming the east end of Toronto is!
---
Best shopping centres & malls in Toronto
---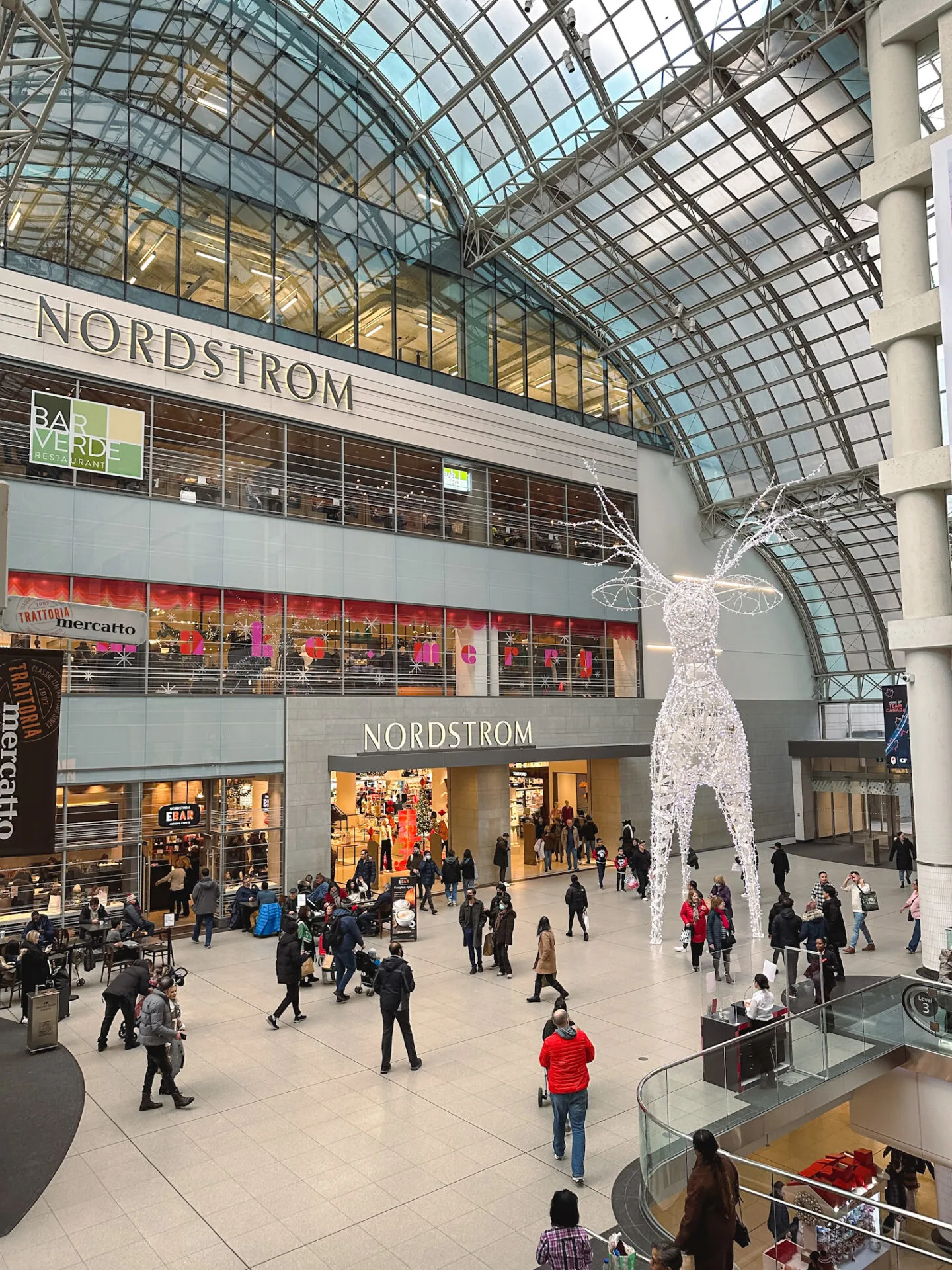 Of course, the most obvious spot to go shopping in Toronto is the Toronto Eaton Centre.
I went to Toronto Metropolitan University next-door for 4 years, so I frequented the mall almost every single day (mostly for the food court).
They've got all the popular stores you'll typically find in large Toronto malls, like Aritzia and UNIQLO.
The Eaton Centre is also connected to the PATH, which is the largest underground shopping complex in the world.
To get there, make your way to the Hudson's Bay and Pusateri's (a high-end grocery store in Toronto), then shop around/get lost while wanderin' around.
Since most of the shops and restaurants in the PATH cater to the 9-5 crowd, it's best to explore during the day and on a weekday!
LOCATION: 220 Yonge St, Toronto, ON
---
Yorkdale is a well-known Toronto mall for luxury shopping, and it's about a half hour subway ride from downtown.
Technically it's located in North York, but North York is considered part of Toronto.
They have designer stores like Alexander McQueen, Balenciaga, and Saint Laurent, as well as affordable and mid-range brands like H&M, Aritzia, and Reformation.
The main thing I get excited about when coming to Yorkdale is the food – they've got so many incredible restaurants and food spots inside the mall!
You can visit TORA (sister restaurant to Miku, one of Toronto's best sushi restaurants), Konjiki Ramen (Michelin Star-accoladed ramen from Tokyo), or Restoration Hardware (which makes a mean burger).
If you're looking for more casual eats, you can visit Chick-fil-A's first Toronto location here, and Bingz Crispy Burger will also be opening soon.
Yorkdale is a massive mall with plenty of shops worth checking out, so expect to spend a whole day shopping here!
LOCATION: 3401 Dufferin St, Toronto, ON
---
Best shopping in Toronto:
Stackt Market
Kensington Market
Distillery District
Rosedale
Queen Street West
Ossington
Bloor-Yorkville
Toronto's East End
Toronto Eaton Centre
Yorkdale Mall
These were some of the best neighbourhoods and streets to go shopping in Toronto!
Whether you're shopping for fun souvenirs or luxury goods, there are plenty of awesome shopping spots you can visit in the city.
If you're looking for more things to do in the city, check out my posts on the most fun things to do in Toronto or free things to do in Toronto.
Have you shopped at any of these spots? What are your favourite places to go shopping in Toronto? Let me know on Twitter or Instagram!
More shopping in Toronto
If you're looking for more shopping in Toronto, you might enjoy these posts:
Be sure to keep up with me on Instagram, TikTok, Twitter, Facebook, and Pinterest if you aren't already!
Feel free to subscribe to my weekly newsletter to get my blog posts delivered straight to your inbox.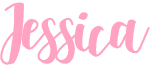 ---
Like this post? Pin it for later!