Looking for some great ethical and sustainable fashion and clothing brands in Toronto to shop?
Sustainability ain't just a fad, y'all.
We all need to do our part in helping the environment, and buying clothing from more eco-friendly fashion brands is a great way to contribute to the sustainable fashion movement!
Sustainable fashion and clothing brands are showing up more and more in Toronto and around Canada, and it's amazing to see.
Part of being more sustainable is buying less, and I'm in no way encouraging going on any shopping sprees.
Buying high-quality, well-made pieces that'll last you for years (or even forever) is the goal!
Here are some incredible sustainable fashion and clothing brands you can shop in Toronto.
Be sure to also follow me on Instagram and TikTok – I share a lot more content on those platforms that don't make it to the blog!
More shopping in Toronto
If you're looking for more shopping in Toronto, you might enjoy these posts:
---
Sustainable fashion brands in Toronto
---
Kotn is one of my favourite sustainable fashion brands in Toronto.
They make everyday basics using ethically produced Egyptian cotton, perfect for keeping in your capsule wardrobe.
The Kotn team is very involved and transparent in the entire process of production, and they're working to get 100% of their cotton to be certified organic in the next 5 years.
They also work with a local NGO to help fund schools in the communities where their farmers work, so their children can have access to safe and quality education.
Kotn is just such a great brand with a great story, and I had the pleasure of meeting one of the founders several years ago!
My picks: Band Tee ($35 CAD), Terry Crew ($75 CAD), Terry Sweatshorts ($60 CAD), Culotte Trousers ($98 CAD)
LOCATION: 754 Queen St. West, Toronto, ON
---
You may have heard of Uncle Studios before, but this sustainable fashion brand is co-founded by one of my fave Toronto influencers, Allegra Shaw.
If you like Allegra's style, you'll definitely like the pieces they have on their website.
All their clothes are made with sustainable, recycled, or deadstock fabrics.
If you don't know what deadstock fabric is, it's leftover fabric from other brands that typically would have gone into the landfill.
Uncle also has a cool feature on their site that shows their total environmental impact!
My picks: Cropped Tank ($42 USD), Muscle Tank ($48 USD)
---
Horses Atelier makes gorgeous feminine pieces that are handmade in Toronto using natural fabrics sourced from family-owned mills in Italy and Japan.
Their jumpsuits are absolutely amazing, but all their pieces are stunning.
Their flagship store is located around the corner from Trinity Bellwoods Park!
My picks: Belted Field Suit ($415 CAD)
LOCATION: 198 Walnut Ave, Toronto, ON
---
La Leur makes gorgeous and sustainable clothing here in Toronto, and if you're a fan of brands like Aritzia, you'll love La Leur's pieces.
They source their eco-friendly fabrics from around the world, and their clothing is handmade in Toronto.
Since they're a bit newer, they don't have a large selection of pieces yet, but their current selection is stunning!
Their packaging is 100% compostable and zero-waste, which is really nice!
They also donate 2% of their profits each year to charitable causes, which I think is amazing.
My picks: Mimi Bustier ($145 CAD), Juliette Skirt ($129 CAD), Ella Pant ($259 CAD)
---
Hoi Bo makes basics with a unique twist, and I love the modest and oversized style of their pieces.
They use timeless colours that you can literally wear forever without them ever going out of style.
They have clothing, bags, and jewelry that are all handmade in their studio and retail store in the Distillery District.
If you're looking for more cool spots in the neighbourhood, I've got blog posts on things to do in the Distillery District and the best Distillery District restaurants!
My picks: Cotton Gathered Slacks ($198 CAD), Supima Cotton Structured Slim Slacks ($228 CAD), Linen Mini Dress ($268 CAD)
LOCATION: 15 Trinity St, Toronto, ON
---
Elegant and elevated WFH-inspired style is what you'll find at Soft Focus.
They use natural and plant-based fabrics to create their cozy Zoom-meeting-appropriate pieces!
Their pieces are a little on the pricier side, but you can get 15% off your first order if you sign up for their newsletter.
---
Encircled is another sustainable and ethical fashion brand in Toronto that makes basics with a twist.
Their pieces are cozy enough for home, yet dressy enough for the office.
Is it appropriate to roll out of bed and go to work in your sleep clothes? Maybe.
Their clothes are also made in Toronto using eco-friendly fabrics, and they're a Certified B Corporation!
My picks: Dressy Mock Neck Top ($98 CAD), Dressy Legging ($138 CAD), Dressy Sweatpant ($162 CAD)
LOCATION: 201-300 Campbell Ave, Toronto, ON
---
For even more simple basics for your capsule wardrobe, Franc is another great Toronto-based fashion brand.
Their clothing is ethically-made in Canada, and they're working towards using more eco-friendly fabrics.
They also offer a range of sizes from XS through 4X, which is amazing!
I adore this classic Babe tee, this striped cropped sweatshirt, and these lightweight trouser sweatpants.
They're also a Certified B Corporation, which is another awesome thing.
You can use my discount code "JESSICALAM" for 10% off select collections!
---
Mani Jassal is a Toronto-based luxury designer who makes the most incredible dresses, mostly inspired by South Asian silhouettes.
A lot of her pieces are made-to-order in Canada, and some pieces are made using eco-friendly fabrics.
Her Chez Moi collection is to die for, and each piece is made-to-order.
She's also a fellow Ryerson University grad, which is awesome!
My picks: Hedwig Joggers ($210 CAD), Diagon Joggers ($250 CAD)
LOCATION: 133 Milani Blvd Unit 101, Woodbridge, ON
---
If you're a lover of bodysuits, you'll love La Reyna.
It's another sustainable Toronto fashion brand by local influencer Kristina Pittam!
They design and create their pieces in Toronto and Hamilton, and they source their fabrics from Montreal.
40% of their fabrics are made out of recycled materials, but they're working towards becoming more sustainable.
My picks: The Moss ($138 CAD), The Crawford ($138 CAD), The Lawson ($92 CAD)
LOCATION: Toronto, ON
---
Ūnika offers both custom and pre-made swimwear pieces that are ethically made in Toronto using sustainable fabrics.
They have a lot of unique styles with ruffles, cutouts, and all sorts of fun stuff.
Their swimsuits are made from a fabric called ECONYL, a nylon yarn made from fishing nets, plastic scraps, and fabric scraps from landfills and oceans.
An awesome thing about ECONYL is that it can be recycled infinitely without losing its quality, so it can constantly be recycled and reused!
You can find Ūnika's storefront in Toronto's Leslieville neighbourhood.
If you're looking for even more awesome swimwear brands in Canada, I've got a blog post all about the best Canadian bathing suit companies!
LOCATION: 260 Carlaw Ave Unit 210, Toronto, ON
---
The Saltwater Collective ethically makes their swimsuits here in Toronto, also exclusively using ECONYL as a fabric.
They create elevated basics that you can mix and match to highlight your fave parts of your body.
You can shop by colour on their website and see all the styles they have for each one!
While sustainable swimwear can be a bit more expensive, they're pieces you can wear forever, so it's worth investing in good quality pieces.
My picks: Christina One Piece ($190 CAD), Paulina One Piece ($190 CAD)
LOCATION: Toronto, ON
---
Mary Young is a Toronto-based lingerie and loungewear brand that's all about celebrating body positivity and self-love.
Their products are ethically made in Montreal, and they have moderately affordable pieces for all genders!
They also use a lot of sustainable materials like bamboo for their pieces, and they even create limited edition collections using deadstock fabric.
Intimates are mostly what you'll find, with comfy pieces like their Eden bra and Cainan tank.
They also have really nice bodysuits, like their one shoulder Del bodysuit, mesh Nalini bodysuit, and long sleeve Arlin bodysuit.
You can use my code "JESSICALAM" for 15% off your entire order!
---
If you're all about the cozy pieces, OkayOK is perfect for you.
OkayOK is another Toronto-based loungewear brand, and they do all their operations completely in Canada!
They source cotton from Ontario and Quebec, and design and make their products here in Toronto.
My picks: Everyday Bike Shorts ($49 CAD)
LOCATION: 40 Sousa Mendes St, Toronto, ON
---
If you're looking for chic and sustainable shoes, Thesus is an outdoor footwear brand based out of Toronto.
90% of their materials are sustainable and traceable, but they're aiming to be 100%.
All their shoes are virgin plastic-free, and their rubber is sourced from sustainably managed forests!
I adore the minimalist look of their footwear – all their shoes are amazing!
You might also know them by their former name, Alice + Whittles.
LOCATION: Toronto, ON
---
Brave Soles transforms discarded tires from landfills into handmade shoes.
They actually now have a collection completely made out of upcycled plane seat leather!
Despite being ethically and sustainably produced by a small team of artisans, their shoes are actually pretty affordable.
While the company itself is actually based in the Dominican Republic, both founders are Canadian and one of them lives in both Toronto and the Dominican.
Brave Soles mainly offers women's shoes, but they have accessories as well as men's and kids' shoes.
My picks: Linda Slide Sandal ($65 CAD), Florence Leather Tote ($229 CAD), Camino Backpack ($299.99 CAD)
LOCATION: Unit 426, 1401 Dupont St, Toronto, ON
---
Ela is a Toronto-based fashion brand that designs vegan and sustainable handbags.
They actually started out with leather goods, but they shifted to vegan leather to reduce their environmental impact.
Vegan leather doesn't necessarily mean better for the environment, but they also use 100% recycled plastic water bottles for the lining in their bags!
Their pieces are quality-made and timeless, and absolutely gorgeous.
My picks: Belt Bag ($95 CAD), Bloom Bag ($98)
---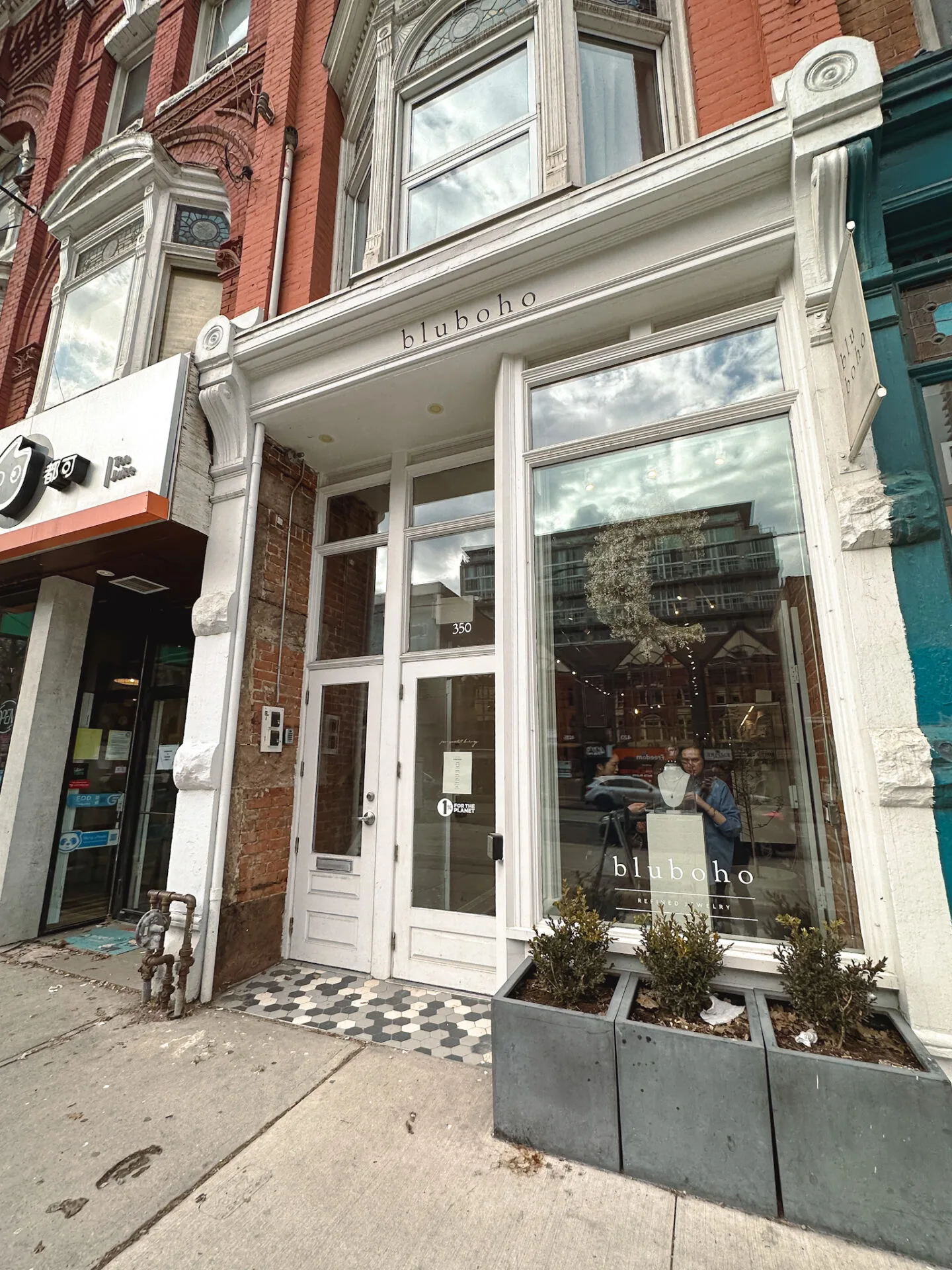 Looking to shop sustainable and ethical Toronto jewelry brands?
Bluboho uses conflict-free diamonds and gemstones and recycled gold to create their jewelry.
They have a lot of fun and creative jewelry, many of which are meant to be stacked and layered with other pieces.
Their sustainable jewelry is handmade in Toronto, but they also offer some other ethical jewelry brands on their site.
If you're looking to shop in-person, you can visit their store on Queen West!
My picks: Dainty Little Crescent Moon Necklace ($348 CAD), Everyday Love Lineage Pair Heart Earring ($172 CAD)
LOCATION: Various locations
---
Kim Drosdick makes her own jewelry in-studio here in Toronto, and her pieces are absolutely stunning.
She uses recycled metals and conflict free gemstones in her jewelry, and she even makes custom pieces if you're looking for something extra special!
Kim's engagement and wedding rings are especially gorgeous, if you wanted to hint someone something 😉
My picks: Rose Gold Hammered Disc Earrings ($95 CAD), The Love Necklace ($155 CAD), The Heart Centered Ring ($250 CAD)
LOCATION: 116 1/2 Sherbourne St, Toronto, ON
---
Best sustainable Toronto fashion & clothing brands:
Kotn
Uncle Studios
Horses Atelier
La Leur
Hoi Bo
Soft Focus
Encircled
Franc
Mani Jassal
La Reyna
Ūnika
The Saltwater Collective
Mary Young
OkayOK
Thesus
Brave Soles
Ela Handbags
Bluboho
Kim Drosdick Jewelry
These are some of the best sustainable fashion and clothing brands based in Toronto to shop at!
It's awesome that there are so many ethical Canadian brands popping up everywhere, and I'm looking forward to discovering more.
What are some of your favourite sustainable Toronto fashion and clothing brands? Let me know on Twitter or Instagram!
You can find more of my fave products and items on my wishlist in my Amazon Shop.
More shopping in Toronto
If you're looking for more shopping in Toronto, you might enjoy these posts:
Be sure to keep up with me on Instagram, TikTok, Twitter, Facebook, and Pinterest if you aren't already!
Feel free to subscribe to my weekly newsletter to get my blog posts delivered straight to your inbox.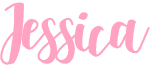 ---
Like this post? Pin it for later!