Putting together essentials for your ultimate capsule wardrobe for 2023 and beyond?
I'm a big fan of the capsule wardrobe for several reasons:
Easier to get dressed in the morning
Saves you money
Better for the environment
Whether you're looking to implement sustainable fashion into your lifestyle, or you're just looking to make your life easier, you'll definitely love having a year-round capsule wardrobe.
I'm in no ways a minimalist myself, but I'm working towards building my own timeless capsule wardrobe.
Here's how to build the perfect capsule wardrobe that you can keep for winter, spring, summer, and fall!
Be sure to also follow me on Instagram and TikTok – I share a lot more content on those platforms that don't make it to the blog!
More sustainable fashion
If you're looking for more sustainable fashion, you might enjoy these posts:
---
How to create a capsule wardrobe for 2023
---
1. Declutter your wardrobe
The first thing you need to do when building your capsule wardrobe is decluttering your closet of all the things you don't wear or need anymore.
If you have a lot of clothes, it's a very long process to declutter, but it's important to keep your closet as minimal as possible!
I'm totally guilty of hoarding clothes I *might* wear someday, and I've slowly been decluttering my own wardrobe over the years.
Use the Marie Kondo method
Probably the best way to declutter your clothes is by using the Marie Kondo method of gathering all your clothing in one place (like your bed), because it's easier to understand the clutter you have if you can see it all in one place.
Friendly note that you will probably regret everything immediately after you've dumped every item of clothing you own on the bed, 'cause you'll probably be here all day.
However, like any sort of cleaning or decluttering, you will feel good once it's all over.
It's sort of like working out for the first time after awhile – it feels horrible in the moment, but you'll feel better once you're done.
How to decide what to declutter
You've also got to be ruthless when decluttering your clothes.
It's either a definite yes, a definite no, and a maybe pile if you truly cannot decide whether to keep something or not.
More often than not, if it's in the maybe pile, you probably don't want it as much as you think you do.
Ask yourself these questions when decluttering:
Do I like this?
Do I like how it looks on me?
Does it fit me properly?
Is is still my style?
Will I wear this in the next year?
Am I willing to iron/dry-clean/insert annoying task here?
What to do with your decluttered clothing
So, you've decluttered your closet – now what?
Donating is probably the easiest and quickest option, but definitely check out local charities that accept clothing donations before donating to for-profit places like Value Village.
You can also sell your clothing at a consignment store (like Common Sort or Plato's Closet) or on Poshmark to earn extra cash to put towards your 2023 capsule wardrobe!
I love Poshmark because they provide a pre-paid shipping label (which the buyer pays for), and you can reuse things like Amazon boxes or sleeves to package your clothing in (and the buyer might even reuse it to ship out their own packages).
I've actually made a few thousand dollars in sales on Poshmark over the years (obviously peanuts in comparison to what I spent on the clothes :P), some of which I've put towards buying a few essential pieces I've been wanting for years.
Feel free to use my code "JESSICAILAM" to save $15 on your first Poshmark order – it's also a great place to buy pre-loved essentials for your closet.
Declutter your wardrobe often
So that you never have to go through the torture of spending 2 full days going through your entire wardrobe, declutter on the regular.
Decluttering your wardrobe is a great habit to get into every season, especially if you do add new items to your closet every so often!
It's also good to revisit your closet and see if those pieces you kept for "just-in-case" situations ever actually got worn.
Out with the old, in with the new.
2. Pick out your most-worn clothes
Everyone has their own unique sense of style, so everyone will have their own version of a 2023 capsule wardrobe.
Trousers might be a closet staple for you if you work in a professional setting, but it might not be for someone who works in a more casual setting.
Pick out your most-worn clothes in your closet to be part of your capsule wardrobe – if you wear it a lot, it's most likely an essential in your closet!
3. Create a colour palette
Neutral colours are the best for a capsule wardrobe, because they're easiest to pair with other pieces.
That's typically the main appeal of having a capsule wardrobe – being able to easily mix and match your clothing.
If you do tend to wear more colour, you can have it in your colour palette as an accent colour.
I love the colours pink and red, and I tend to wear a lot of both, so both are included in my own capsule wardrobe staples!
4. Put together your capsule wardrobe
Put together your ideal capsule wardrobe, including your most-worn clothes and clothes you have on your wishlist.
When putting this together, think about versatile and basic pieces that will pair well with each other.
You can write this out in the Notes app on your phone or even make a PowerPoint if you want!
5. Buy clothes with intention
Don't just go shopping and buy pretty clothes all the time because you feel like it.
The last thing you want after all this wardrobe decluttering effort is to haul a whole bunch of new clothes into your closet.
Ask yourself these questions when buying a new piece for your wardrobe:
Will I regret not buying this a week from now?
Can I think of 10 outfits I can wear this with?
Is this something that will last me for years?
It's okay every once in awhile if you love a certain trend that doesn't specifically fit into your capsule wardrobe.
If you are purchasing new clothes, consider buying second-hand or buying from sustainable brands!
I have blog posts all about sustainable fashion options you can shop:
Sustainable or ethical clothing tends to be more expensive and isn't feasible for everyone, so it's totally understandable if you don't buy from those brands.
The most important thing is buying quality pieces that will last you for years, so you don't toss them into the landfill.
When it comes to buying a new piece for my wardrobe, I like to think of at least 10 outfits I would wear with that specific piece of clothing.
Another great option if you like to wear newer pieces is to rent them from Canadian clothing rental companies!
---
2023 capsule wardrobe essentials
---
Tops
Camisole
The key to a capsule wardrobe is investing in versatile pieces that pair with everything else in your closet.
A simple camisole can be worn on its own or layered under other pieces!
A basic white camisole is probably my most-worn, but you can totally have a black camisole that pairs with everything as well.
Basic tee
Plain, solid colour t-shirts are probably the top I wear the most all year-round.
They can be worn on their own or layered under other pieces, just like camisoles!
White, grey, and black are all staple tees I love having in my capsule wardrobe, but you can go with just a single colour you wear the most.
Kotn makes amazing and affordable basic tees, and they're a sustainable Toronto clothing brand!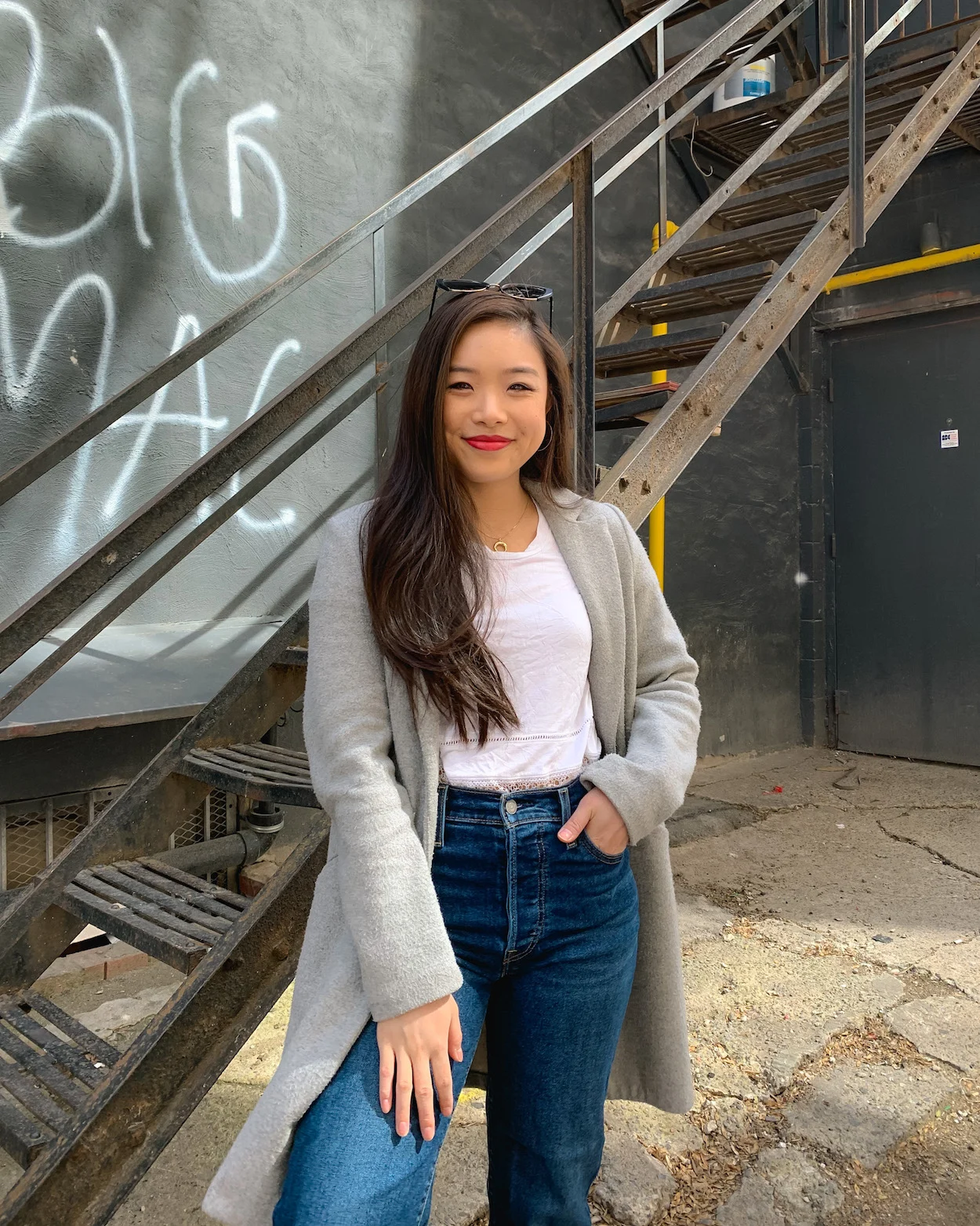 White button-up
White button-ups can be worn to the office with trousers or to brunch dates with blue jeans!
They're super versatile, and can be worn as a top or even as a layer over a camisole or plain tee.
You can get white button-ups in all kinds of different styles, whether you prefer something fitted, a boyfriend fit, or even something in a silky material.
Go with a white button-up you'd wear the most!
Plaid shirt
Plaid shirts are mostly a fall or winter staple, but I also love wearing them during the summer on chilly evenings.
Go with something fitted or a boyfriend fit – whatever floats your boat!
I personally love the boyfriend fit because you can easily wear it on its own or layered over other pieces.
I also love wearing plaid shirts tied around my waist – it looks stylish, and it's an extra layer you can throw on if it gets chilly.
Knit sweater
Sweaters are an absolute essential here in Canada, with the weather being cold for most of the year.
A neutral-coloured knit sweater is best for your capsule wardrobe because it goes with everything.
I would go with white or beige because you can wear it year-round and have it match all your winter, spring, summer, and fall outfits.
If you're looking to invest in a few sweaters, I've got a blog post all about capsule sweaters!
Turtleneck
Turtlenecks aren't for everyone, but I absolutely love wearing them during the fall and winter.
Like knit sweaters, neutral colours would be best for a capsule wardrobe.
I probably wear black turtlenecks the most, although a beige one would be nice for lighter outfits!
If you're not a fan of actual turtlenecks, you can wear mock necks instead.
Essential tops for your capsule wardrobe:
Camisole
Basic tee
White button-up
Plaid shirt
Knit sweater
Turtleneck
---
Bottoms
Denim
A good pair of jeans will go with every single outfit, and it can take you from casual Fridays at the office to happy hours after work.
I pretty much live in jeans year-round – they're just so easy to wear with literally everything.
Plus, fun fact: you're not actually supposed to wash jeans every time you wear them, so you're saving water and energy if you don't wash them as much as you wash your other pants!
Denim shorts
High-waisted denim shorts were one of the best 90's trends to come back in style.
A staple pair of blue jean shorts can be worn with literally every outfit during the summer.
You could also have a pair of white denim shorts and a pair of black denim shorts in your capsule wardrobe, but a single pair of blue denim shorts will do you just fine.
Blue denim
If there's any one single pair of jeans to invest in, it's a pair of classic blue jeans.
Skinny jean, straight leg, wide leg – the capsule style you choose depends on what you like to wear.
Two jean fits I'd recommend are the Levi's wedgie jeans and the Levi's 721 jeans, both of which are super flattering on everyone and have a high waist!
I also love the Levi's ribcage jeans, but the super high waist might not be for everyone.
If you're a petite gal, I've got a blog post all about how to wear high waisted jeans for petite peeps.
White denim
If you're a big wearer of jeans, it definitely is worth the investment to have a pair of white jeans in your capsule wardrobe.
White jeans also pair easily with a lot of different outfits, so they can definitely be a wardrobe staple.
Trousers
If you don't work in an office setting, trousers aren't totally essential to your capsule wardrobe.
However, they can totally be worn outside of the office – wear them to weekend brunch or to your next coffee date!
Essential bottoms for your capsule wardrobe:
Denim shorts
Blue denim
White denim
Trousers
---
Dresses
Summer dress
A simple summer dress is an absolute essential in your capsule wardrobe.
You can wear it with a denim jacket during the spring, on its own during the summer, and with a leather jacket during the fall.
The perfect one is just a dress that you absolutely love and would wear for years to come.
Mini dress, midi dress, maxi dress – whatever style you love to wear!
I have blog posts all about the best dresses on Amazon Canada and where to buy summer dresses in Toronto.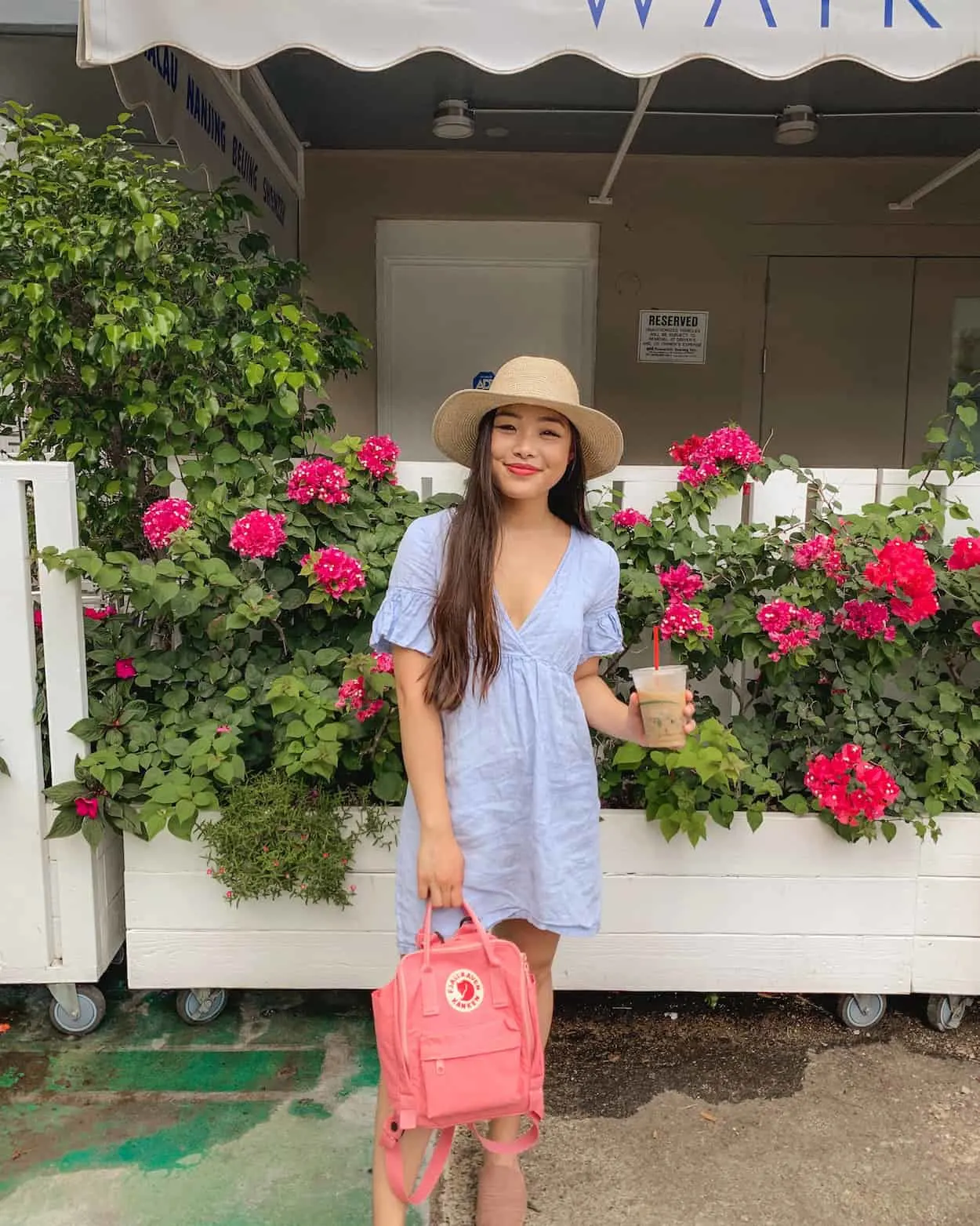 Sweater dress
Sweater dresses are one of my favourite pieces to wear during the fall and winter because they're so easy to wear.
Simply throw on a leather jacket, beanie, and black booties, and it's a cool-girl look!
I would go with any neutral or plain colours so they're more versatile.
If you're looking for a timeless dress you can wear to all your holiday gatherings, a chic sweater dress is one of my go-to holiday dresses!
Essential dresses for your capsule wardrobe:
Summer dress
Sweater dress
---
Coats & jackets
Denim jacket
Denim jackets are the perfect spring layer – they look adorable paired with summer dresses, or even with jeans.
Cropped, fitted, oversized – there are plenty of different denim jacket fits you can choose from!
I'm personally a big fan of the Levi's trucker jacket, and I have it in both a light and dark wash.
If there was one shade I'd recommend for a capsule wardrobe, it would definitely be the dark wash denim jacket – it can literally pair with everything!
Of course, it all depends on your preference and what you would wear the most.
Leather jacket
Leather jackets are another layer I absolutely love wearing during both spring and fall.
They're a bit more warm than denim jackets, and they make any outfit look instantly cooler.
Mackage and Rudsak are two of my favourite leather jacket brands!
Trench coat
Trench coats are another spring and fall staple that are perfect for days where it's a bit chilly but not super cold.
A classic beige or tan trench coat is the easiest to style, but black is also nice.
Wool overcoat
Wool overcoats keep your outfit chic on days where it's cold but not freezing cold outside.
On super cold days, you can also just layer up a leather jacket underneath and throw a heavy blanket scarf on top!
Winter parka
If you're Canadian (or live anywhere that gets weather below 0), you need a winter parka.
Even with all the layers and a thick wool coat, it just ain't enough if it feels like -20 outside.
Canada Goose is my all-time favourite winter wear brand, and I've been wearing their jackets every winter for over a decade now.
The quality of their jackets is impeccable, and they make all their coats here in Canada!
Essential coats & jackets for your capsule wardrobe:
Denim jacket
Leather jacket
Trench coat
Wool overcoat
Winter parka
---
Footwear
You can really just have a few staple pairs of shoes in your wardrobe that will go with literally every outfit.
If you're a shoe lover, you can definitely put together a collection of capsule summer shoes and capsule fall boots that can also be part of your capsule wardrobe.
White sneakers
I'm guilty of having way more sneakers than I need, as well as being guilty of having too many white pairs of sneakers.
White sneakers pair with every outfit, which is why I'm such a big fan of them.
Wear them with dainty summer dresses or tom-boy outfits!
The Adidas Ultra Boosts are my all-time favourite sneaker because they're so dang comfy.
Converse Chuck Taylors are another favourite, and they're a lot more affordable.
Black booties
I literally live in black booties for most of the year, especially because the weather is cold for so much of it.
You can also wear them during the summer with sumemr dresses or high waisted denim shorts!
Essential footwear for your capsule wardrobe:
White sneakers
Black booties
---
Accessories
Beanie
I grew up calling it a tuque, but now I call them beanies.
Anyway, not only do they keep your head warm on cold days, but they're so good for bad hair days.
They also just make any fall or winter outfit instantly cuter – I lived in them everyday back in university!
Wide brim hat
Not everyone is crazy about hats, but I think wide brim hats look fabulous on everyone.
Invest in a tan or black one to pair with all of your outfits!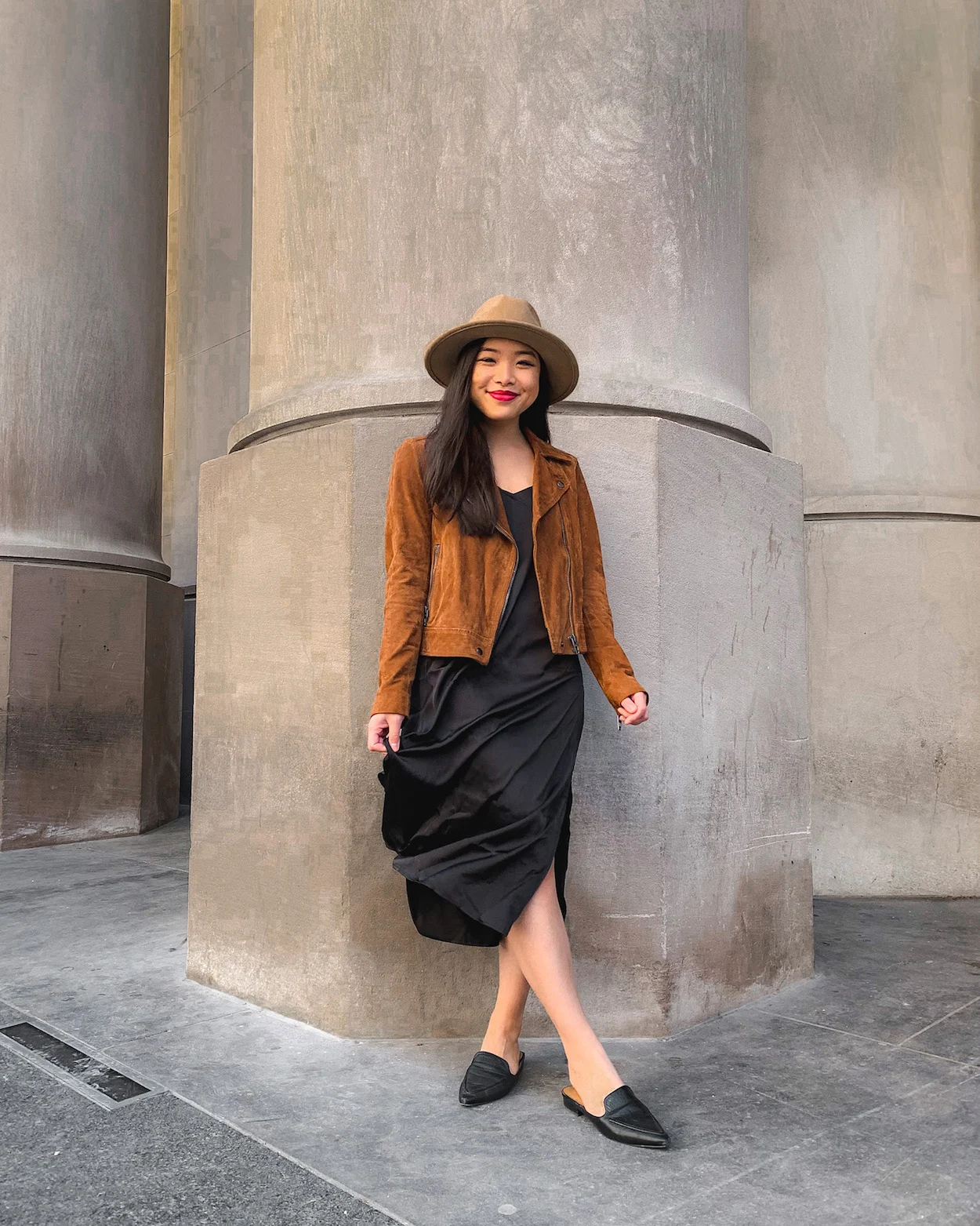 Essential accessories for your capsule wardrobe:
---
These were my capsule wardrobe essentials for 2023 and beyond!
The whole point of having a capsule wardrobe is being able to wear it for years to come, so definitely put together a timeless wardrobe you'll never get tired of wearing.
Are you a fan of the capsule closet? What are essentials in your 2023 capsule wardrobe? Let me know on Twitter or Instagram!
More sustainable fashion
If you're looking for more sustainable fashion, you might enjoy these posts:
Be sure to keep up with me on Instagram, TikTok, Twitter, Facebook, and Pinterest if you aren't already!
Feel free to subscribe to my weekly newsletter to get my blog posts delivered straight to your inbox.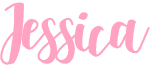 ---
Like this post? Pin it for later!
---
How many clothes should be in a capsule wardrobe for 2023?
There isn't a set amount of clothing required in a capsule wardrobe, but it should only include the absolute basics.
What should be in a capsule wardrobe for 2023?
Basic and versatile tops, bottoms, dresses, coats, footwear, and accessories should be in your capsule wardrobe.