I'm all about having a capsule wardrobe, and today I'll be sharing pieces in my spring capsule wardrobe.
I tend to navigate towards darker colours during the winter, so spring is the time to start adding colour into my wardrobe.
Since it's also pretty cold even during the spring here in Toronto (that's life in Toronto for ya), I'm also all about the layers.
Here are essentials in my spring capsule wardrobe!
Be sure to also follow me on Instagram and TikTok – I share a lot more content on those platforms that don't make it to the blog!
---
What is a spring capsule wardrobe?
---
A spring capsule wardrobe is basically a collection of versatile and staple clothing pieces that you can mix and match with each other.
They include timeless pieces that won't go out of style even 10 years from now!
Instead of buying an entire new wardrobe every season, why not invest in a capsule wardrobe that'll last you for years, if not forever?
It'll save you money in the long run, and it'll cause less harm to the planet.
We all gotta do our part in helping fashion become more sustainable, my friends.
What items should be included in your capsule wardrobe?
Basic tops, bottoms, dresses, and shoes should be included in your capsule wardrobe.
These should be staple items in your wardrobe that can be mixed and matched together.
How do you build a capsule wardrobe on a budget?
A lot of sustainable fashion brands tend to be on the pricier side, but you don't have to shop at expensive stores in order to build a capsule wardrobe.
The key is to invest in high-quality and well-made pieces, and there are plenty of affordable brands that you can shop for your capsule wardrobe.
What are the benefits of having a capsule wardrobe?
Having a capsule wardrobe is beneficial for many reasons, including:
Making it quicker to get dressed in the morning
Saving you money in the long run
Better for the planet
It's just so much easier to rely on a capsule wardrobe, rather than rummaging through your closet each morning and not knowing what to wear!
Plus, with a capsule wardrobe, you can occasionally add trendy pieces that will still go with everything you have in your closet.
---
How to build a spring capsule wardrobe
I've separated this spring capsule wardrobe guide into a few different sections to make it easier:
Tops
Outerwear
Bottoms
Footwear
Keep on reading to see my spring capsule essentials!
---
Spring capsule tops
---
Simple white tank
A simple white tank or camisole goes with pretty much any outfit, and it's great for layering under cardigans, shirts, and jackets.
It's best to invest in a higher quality material like silk rather than a cheaper cotton one!
Not only will it last a lot longer, but the material looks a lot nicer.
Plain white tee
A plain white tee and some simple blue jeans = the perfect spring look.
Of course you'll have to layer a jacket over if you live somewhere cold like Canada, and you can pretty much throw on any jacket – denim, moto, trench, you name it!
Grey and black tees are also a nice staple to have, but just a white one is enough for the spring and summer seasons.

Graphic tee
Layer up a cool band tee with a moto jacket and jeans for that cool girl look!
You don't need a whole collection of graphic tees in your wardrobe – a classic vintage band tee will do the trick and go with any item in your spring capsule wardrobe.
Go casual with a pair of high waisted jeans, or dress it up a bit with a high waisted skirt.

Button-up shirt
A classic white blouse is perfect for work, school, and even going out for brunch on the weekend.
You can pair it with so many different spring outfits, and it'll never go out of style!
One of my go-to spring outfits is a button-up shirt with a pair of ripped denim.
Another classic button-up shirt I love is the striped blouse!
Knit sweater
Knit sweaters aren't just for fall/winter – they're a great spring essential as well!
Layer them under denim jackets on chillier days or wear them on their own on warmer days.
---
Spring capsule outerwear
---
There are three essential outerwear pieces everyone needs in their spring capsule wardrobe: the denim jacket, moto jacket, and trench coat.
Denim jacket
There are so many different styles of denim jackets you can wear, but if you're just looking for that one staple, go for an oversized trucker jacket.
One of my go-to spring outfits is denim on denim because it's so easy to throw on!
I adore Levi's denim jackets, and you can always find them at vintage clothing stores as well.
Moto jacket
Whether you like it suede, leather, or vegan, a moto jacket is a classic piece that never goes out of style.
Throw it on over a simple tee and jeans and that's a chic spring look!
Go with a classic black moto jacket, or go with a fun coloured moto jacket.
As a lover of moto jackets, I have them in multiple colours, but all you really need is just one good one!
Trench coat
For spring days where you just need a light layer, trench coats are perfect.
You can't go wrong with a classic tan trench coat, but white or pink also pair with many different spring outfits!
---
Spring capsule bottoms
---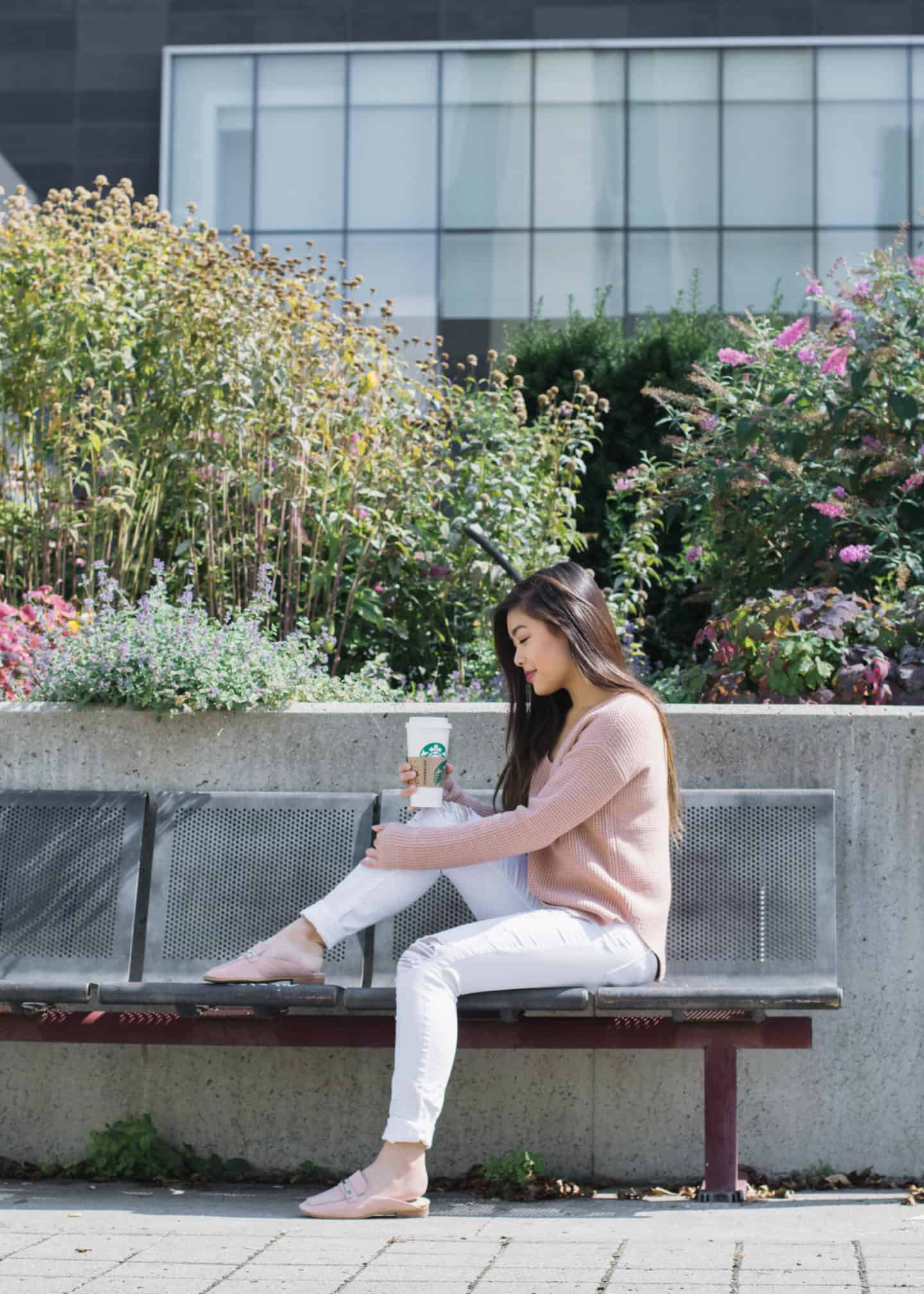 Blue denim
A good pair of blue jeans are an essential in everyone's spring capsule wardrobe.
Invest in a high-quality pair of denim that'll last you forever, like Levi's or Citizens of Humanity!
White denim
White jeans are another essential in my spring capsule wardrobe, especially because I'm all about the lighter colours as the weather warms up.
Skinny white denim, mom jeans, wide leg jeans – go with whatever style floats your boat!
While they tend to look a bit dressier, you can totally wear white jeans with pretty much anything in your capsule wardrobe.
Trousers
While I don't work in a professional setting, I still love wearing trousers.
Whether it's for an important event or just a coffee date, trousers elevate any look.
---
Spring capsule footwear
---
Sneakers
Any sneaker works for your spring capsule wardrobe, as long as it's a timeless and versatile piece that works with any outfit.
I'm all about white sneakers, because they literally pair with anything and everything.
In fact, I probably wear white sneakers more than I wear any other shoes.
Go for a classic pair of Chucks, or a comfy pair of Adidas Ultra Boost sneakers.
Mules
On days where I have to dress up a little more, I love wearing mules or flats.
They look more elegant than sneakers, so they're great for even more professional settings.
Spring booties
You can wear black booties well into spring, but a nice beige or brown pair doesn't hurt to have as well!
I'm all about the lighter colours for spring because it's a great transition into my summer wardrobe.
---
Essentials for your spring capsule wardrobe:
Simple white tank
Plain white tee
Graphic tee
Button-up shirt
Knit sweater
Denim jacket
Moto jacket
Trench coat
Blue Denim
White denim
Trousers
Sneakers
Mules
Spring booties
What are some essentials in your spring capsule wardrobe? Let me know on Twitter or Instagram!
If you're looking to build the ultimate capsule wardrobe, check out my other posts:
If you're looking for more sustainable fashion, you might like these posts:
Be sure to keep up with me on Instagram, TikTok, Twitter, Facebook, and Pinterest if you aren't already!
Feel free to subscribe to my weekly newsletter to get my blog posts delivered straight to your inbox.

---