On the hunt for some cool and unique vintage clothing stores in Toronto to update your wardrobe?
Shopping vintage is something I'm making more of an effort to do nowadays, and Toronto has plenty of amazing vintage clothing stores worth checking out.
Shopping pre-loved and vintage is one of the best sustainable fashion choices you can make!
There's something about visiting vintage shops that's just so captivating, from imagining the stories behind a piece of clothing to finding one-of-a-kind items you won't find anywhere else.
I remember the excitement of seeing a rack of western belts in a Salt Lake City vintage store and wondering who all the people were whose names were engraved on the leather.
Were any of the former owners cowboys? Are any of these belts haunted?
There are tons of awesome vintage stores in Toronto, but Queen West and Kensington Market are my favourite neighbourhoods for shopping vintage.
Here are my favourite vintage clothing stores in Toronto to shop at!
---
The best vintage clothing stores in Toronto
---
House of Vintage
House of Vintage is a little pricier than other vintage stores in Toronto, but they've got a very curated selection of really cool picks.
Whenever I stop in, I always have to dig and look through every single piece they have in-store.
My fave part about House of Vintage is the denim section – they've got a huge selection of vintage Levi's denim cutoffs and jeans for $30 to $40!
Regular Levi's cost 3 times that, so I definitely think it's worth it.
They also have a pretty great selection of vintage graphic tees, and I'm still regretting not getting a Harley tee I really loved just because it was a size large.
If you're looking for vintage leather or suede jackets in Toronto, you'll also find a good selection at House of Vintage.
It's one of the best vintage stores on Queen Street West – definitely worth checking out!
Pieces I've found: Levi's jeans ($48)
LOCATION: 1239 Queen St. West | Website
---
Public Butter Vintage
Public Butter is a tad bit crazy to navigate, but you just have to get right into it.
They have a massive graphic t-shirt section full of some great stuff, including vintage sports tees and band tees.
I found an amazing old school Raptors tee for like $10 before they got in the 2019 playoffs, and you can bet I was disappointed I didn't get it after they won the championships…
Public Butter is right across the street from House of Vintage on Queen Street West, so it's always worth making a stop if you're going there anyways.
LOCATION: 1290 Queen St. West | Website
---
People's Champ Vintage
People's Champ is a great spot in Toronto's west end for vintage graphic tees, sweatshirts, and jackets.
You'll especially love this vintage shop if you're into vintage sportswear!
You can shop their pieces in-store or online on Etsy.

LOCATION: 1696 Queen St. West | Website
---
347 Vintage Clothing
Black Market is one of the most iconic vintage stores in Toronto, and you can find plenty of great deals on clothes.
It was the first place I ever did any thrift or vintage shopping, and it really intimidated me.
I bought an ugly holiday sweater several years ago, and I still have it in my closet!
Their new location down the street is called 347 Vintage Clothing.
They're a lot different with a more curated selection, so it's easier to find cute things.
But, because of this, the prices are a little higher than they used to be!
However, the sales are really good, and I think I saw winter jackets going for under $10 during the beginning of spring.
The atmosphere of the new space also seems a lot different, with actual daylight pouring in and more space to walk around.
Pieces I've found: ugly holiday sweater ($10)
LOCATION: 347 Queen St. West | Website
---
Mama Loves You Vintage
Mama Loves You is a mother-daughter owned vintage shop just west of Queen and Spadina.
Although my style is a lot more modern, seeing their stuff makes me want to dress like I'm in the 70s!
They have actual vintage pieces from different decades, and the prices are pretty fair.
I creep their Instagram pretty much every single day because they're always posting amazing new pieces.
If you're looking for the best vintage dresses in Toronto, Mama Loves You is the store of your dreams.
You can even find prom or graduation dresses here if you want something a little more unique!
Pieces I've found: denim overalls ($60)
LOCATION: 541 Queen St. West | Website
---
Throwback Vault
Throwback Vault is the vintage clothing store for streetwear lovers in Toronto.
They've got all kinds of cool graphics t-shirts and crewnecks!
LOCATION: 550 Queen St. West | Website
---
Expo Vintage
If you're into cool vintage shirts, you'll also adore the selection at Expo Vintage.
They've even got an online shop with different stuff than they have inside their brick and mortar store!
LOCATION: 1450 Dundas St. West | Website
---
217 Vintage
I adore 217 Vintage's highly-curated selection of trendy vintage pieces.
They also have their whole collection online, so you can simply shop on their website!
If you're into vintage designer pieces, they also have a good amount.
LOCATION: 719 Queen St. West | Website
---
Siberia Vintage
Find this dreamy vintage clothing store in Toronto's Dufferin Grove neighbourhood, right by Ossington Station.
While their pieces are a little on the pricier side, they have the most gorgeous and unique vintage finds!
LOCATION: 955 Bloor St. West | Website
---
Chosen Vintage
Chosen Vintage has all kinds of gorgeous modern pieces at affordable prices.
They're located in the Dundas West neighbourhood and you can shop them online or in-store!
LOCATION: 1599 Dundas St. West | Website
---
Sub Rosa Vintage
Sub Rosa has a pretty large selection of amazing vintage pieces, and it's so hard to resist trying on everything they have in-store.
Their store is very curated with a lot of great selections, which I love!
Be sure to check out every single rack because they have so many incredible vintage finds.
Pieces I've found: red leather skirt ($40)
LOCATION: 16 Kensington Ave. | Website
---
Space Vintage
Space Vintage is another Kensington Market gem filled with gorgeous pieces.
From lacy corsets to floral skirts, you'll find tons of feminine and pretty vintage pieces here.
It's a super tiny little shop, but they've got a lot of cute things!
Be sure to dig through the racks to get a peek at everything so you don't miss any good stuff.
LOCATION: 34 Kensington Ave. | Website
---
Courage My Love
Courage My Love is the oldest vintage store in Kensington Market.
They have tons of unique clothing and accessories, with a lot of retro stuff if that's what you're into!
They also have an incredible selection of vintage cowboy/western boots, as you can see in the photo above.
If you're looking for Halloween costumes, definitely come by here in October to take a look.
LOCATION: 14 Kensington Ave. | Website
---
Hi Vintage
My friends and I stumbled across Hi during the Toronto Vintage Crawl, and we were pleasantly surprised.
They don't have a huge selection of stuff, but it's very curated.
They had both American Apparel disco shorts and pants – the holy essentials of Lookbook fashion bloggers back in the day.
LOCATION: 4 Kensington Ave.
---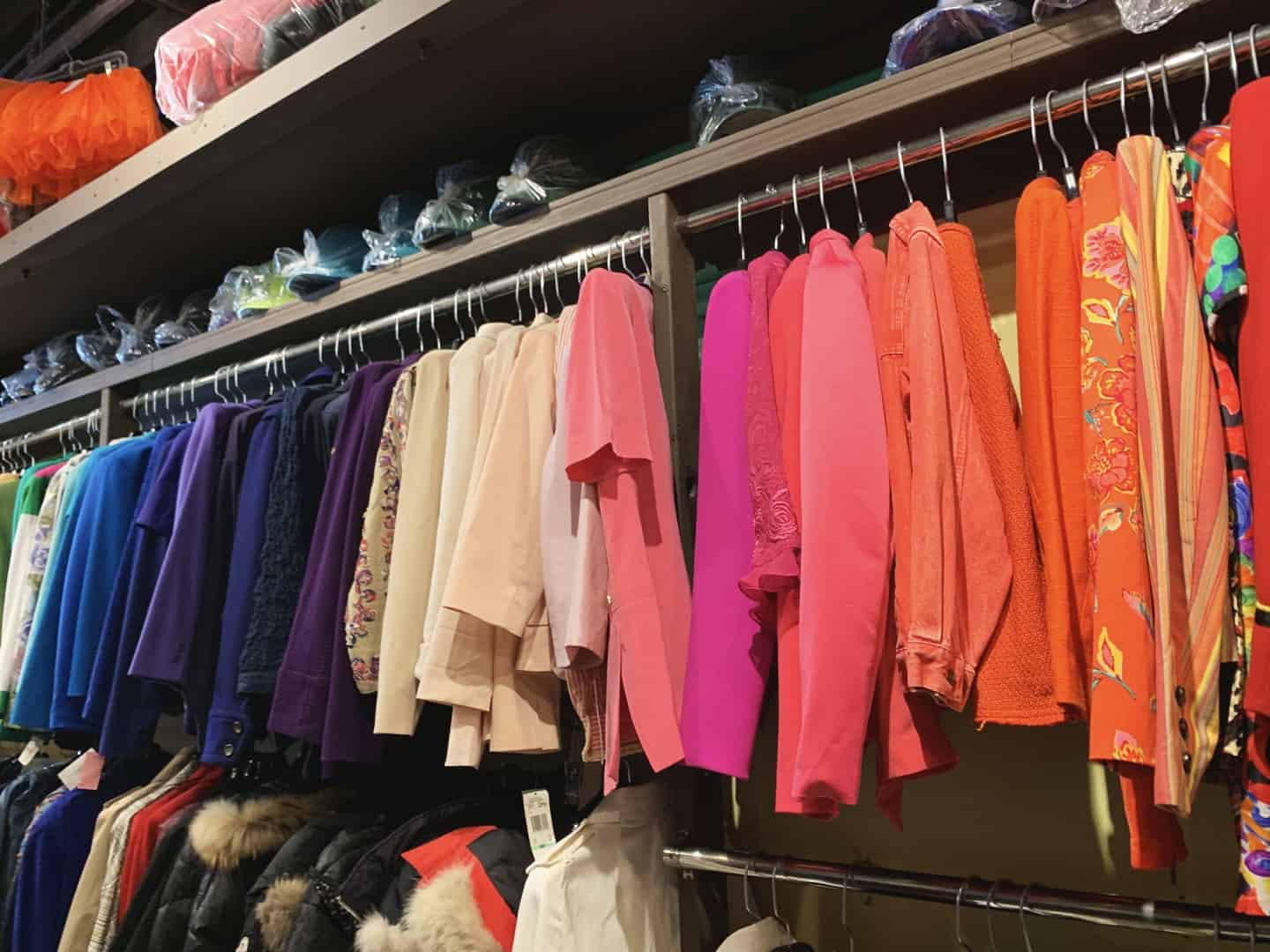 Vintage Depot
Vintage Depot has a few locations around the GTA, but I've only been to the Kensington Market one.
From outside it doesn't look like much, but you'll find tons of awesome pieces here, and it's all colour-coordinated.
I found an Aritzia dress I already own for a fraction of the price!
I've found that the best way to go about shopping here is heading to a colour you like and sifting through any pieces that catch your eye.
LOCATION: 70 Kensington Ave. | Website
---
F as in Frank
If vintage streetwear is your thing, F as in Frank is your place.
From vintage sports jackets to old school sweatshirts, you'll find all kinds of streetwear goodies here.
They also have locations in both Toronto and Vancouver!
LOCATION: 418 Queen St. West | Website
---
Common Sort
Common Sort is known for both buying and selling clothing, so they're more like a consignment shop.
Nevertheless, some people still consider it thrifting!
Common Sort always has a curated selection of really cute things, and they're very picky about what they buy from people.
They have pieces from trendier brands like Zara and Aritzia, but they also have a mix of vintage pieces.
You can sell your clothes to them and receive 50% of what they value your clothing in store credit, or receive 25% of what they value in cash.
It's worth bringing in seasonal stuff to sell so you can get credit towards any purchases you want to make!
They do take a few hours to price your items though, so take that into account.
I've only been to their Annex and Riverside locations, but they have a location in Parkdale as well!
Pieces I've found: Aritzia cropped cardigan ($42)
LOCATION: Various locations | Website
---
The best vintage clothing stores in Toronto:
House of Vintage
Public Butter Vintage
People's Champ Vintage
347 Vintage Clothing
Mama Loves You Vintage
Throwback Vault
Expo Vintage
217 Vintage
Siberia Vintage
Chosen Vintage
Sub Rosa Vintage
Space Vintage
Courage My Love
Hi Vintage
Vintage Depot
F as in Frank
Common Sort
When it comes to shopping for vintage clothing in Toronto, I'm definitely into stores that have more curated options.
It's fun to dig through racks and go hunting at thrift stores, but I sometimes prefer just being able to find good things right away!
If you're looking for a great thrift store in Toronto, I really like Talize – their Mississauga location has a lot of awesome stuff, including brand new clothing with tags from brands like Missguided and PrettyLittleThing!
If I had to pick my top three vintage clothing stores in Toronto, it would probably be House of Vintage, Sub Rosa Vintage, then Mama Loves You.
Also, if you live in or around the city, definitely stop by the Toronto Vintage Crawl, which happens twice a year.
Participating stores open late and offer special deals, and it's just a fun thing to do with any of your vintage-loving friends.
Have you shopped at any of these vintage shops? What are some of your favourite Toronto vintage clothing stores? Let me know on Twitter or Instagram!
If you're interested in more Canadian companies, you might enjoy these posts as well:
If you're looking for more sustainable fashion, you might like these posts:
Be sure to keep up with me on Instagram, Facebook, Twitter, and Pinterest if you aren't already!

---