There are so many unique Toronto gift and souvenir stores around the city.
A lot of times, I actually prefer to shop at these small stores over more well-known spots!
Gotta support local, y'all.
Whether you're looking for cute handmade goods or funky accessories, you're guaranteed to find something unique for that special someone in your life.
Here are some of my favourite unique Toronto stores to shop at, perfect for doing any gift shopping!
Be sure to also follow me on Instagram and TikTok – I share a lot more content on those platforms that don't make it to the blog!
---
1. Sukoshi Mart
This adorable Asian store carries Japanese snacks and stationery, Korean beauty and skincare products, and all kinds of other kawaii bits and bobs.
Sukoshi Mart has all kinds of unique items like wine bottle-shaped lipsticks and Pusheen-shaped lamps.
If the person you're shopping for is into cute and quirky things, this is where you should get their gift!
They have locations in Kensington Market, Scarborough Town Centre, and Square One.
LOCATION: Various locations | Website
---
2. Drake General Store
The Drake General Store is where you'll find all things cheeky and fun.
They always have cool pins, patches, and kitchenware, a lot of them usually related to Toronto or Canada.
You'll find their flagship store just east of Queen and Dufferin, but they also have locations in Hudson's Bay at the Eaton Centre and at Sherway Gardens.
LOCATION: Various locations | Website
---
3. Art Gallery of Ontario
The AGO's gift shop is massive, and there's actually so much to see in there.
There's more than just art books and souvenirs – you'll find some cool gadgets and Canadian-made goodies.
I've also seen them collaborate with Pluck Teas (a Toronto-based tea company, one of my favourites) to create special AGO-exclusive loose-leaf teas.
If your person enjoys visiting galleries, an AGO Annual Pass is also a great holiday gift idea.
It's $35 for the whole year and it gets them entrance to both the gallery and any special exhibitions!
LOCATION: 317 Dundas St. West | Website
---
4. Wildly Delicious
Wildly Delicious is a specialty food shop in the Distillery District, and they've even got a small restaurant inside their store.
They've got everything from unique house-made spreads, to jams, to vinegars that you can purchase for your favourite foodie (or for yourself).
Grab some of their chimichurri steak rub, French onion & goat cheese dip, or spiced whiskey marmalade to take home!
If you're looking for more cool spots in the neighbourhood, I've got blog posts on things to do in the Distillery District and the best Distillery District restaurants!
LOCATION: 11 Tank House Lane | Website
---
5. Pusateri's Fine Foods
Pusateri's has one of the largest selections of gourmet products in the city, and they've got a lot of local offerings as well!
Grab your giftee some gourmet cheese from Prince Edward County-based Fifth Town Artisan Cheese Co., or some luxe chocolates from Toronto-based David H. Chow.
LOCATION: Various locations | Website
---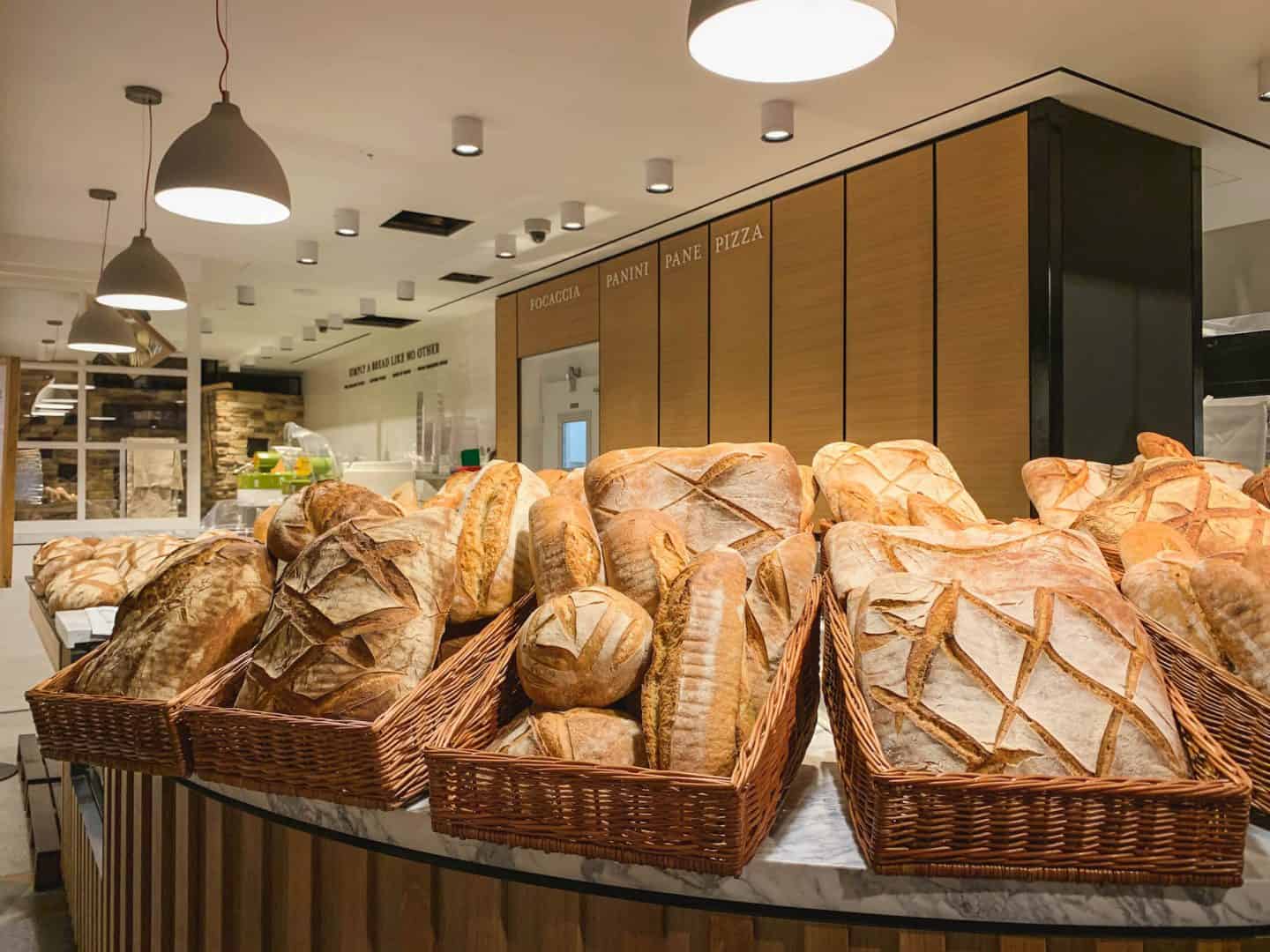 6. Eataly Toronto
The foodie in your life will definitely appreciate you.
Treat them to a holiday dinner at one of Eataly's in-house restaurants, take them to an Italian cooking class, or find them some gourmet Italian ingredients at the market.
If you're looking to splurge, the White Sturgeon Caviar by Calvisius Caviar is around $300 for the smallest jar and it is life-changing.
Otherwise, authentic Italian pasta ingredients are always a good idea 😉
LOCATION: 55 Bloor St. West | Website
---
7. Cocktail Emporium
You might've seen this pretty pink spot on your Instagram feed before.
Cocktail Emporium is a palace of cocktail lovers' dreams, with everything from cocktail shakers to flavoured syrups.
Stop by this cute Toronto store in Kensington Market, on Queen West, and at Union Station.
LOCATION: Various locations | Website
---
8. Indigo
While Indigo may be a chain store, they definitely have some of the best gifts and souvenirs.
From reading socks to pretty notebooks, you can definitely find a great gift for anyone at Indigo!
They also have cards, so it's pretty much a one stop shop for everything you need.
LOCATION: Various locations | Website
---
9. One of a Kind Show
Okay, so the One of a Kind Show isn't actually a store, but it's a whole building filled with locally made artisan goods.
Makers from all over Canada come to this show twice a year to showcase their labours of love.
You'll find everything from homemade sauces, to sustainable fashion, to unique lighting fixtures.
Check it out at the Enercare Centre every spring and winter season!
LOCATION: 100 Princes' Blvd | Website
---
Unique Toronto stores for gifts and souvenirs:
Sukoshi Mart
Drake General Store
Art Gallery of Ontario
Wildly Delicious
Pusateri's Fine Foods
Eataly Toronto
Cocktail Emporium
Chapters Indigo
One of a Kind Show
There are plenty of awesome and unique Toronto stores to shop for gifts, but these were just a couple of my favourite ones to visit!
Have you visited any of these shops? What are some of your favourite unique Toronto stores to shop for gifts? Let me know on Twitter or Instagram!
P.S. if you liked this post, you might like this post on unique winter date ideas in Toronto, or any of my other posts on things to do in Toronto.
Be sure to keep up with me on Instagram, TikTok, Twitter, Facebook, and Pinterest if you aren't already!
Feel free to subscribe to my weekly newsletter to get my blog posts delivered straight to your inbox.

---
Like this post? Pin it for later!