I'm all about basics and capsule pieces, and today I'll be sharing my fall capsule wardrobe essentials for 2022.
The great thing about capsule wardrobe pieces is that you probably even have many of these things in your closet already!
Fall is my fave season of the year – from the fashion, to the milder weather, to the pumpkin spice lattes.
There are just so many great things about the fall season, even though it's oh-so-short here in Toronto (one of the few sad things about life in Toronto).
Without further ado, here are my fall capsule wardrobe essentials!
Be sure to also follow me on Instagram and TikTok – I share a lot more content on those platforms that don't make it to the blog!
More capsule wardrobe tips
Planning out your capsule wardrobe? You might find these posts helpful:
---
What is a capsule wardrobe?
---
A fall capsule wardrobe is basically a collection of versatile and staple clothing pieces that you can mix and match with each other to create endless outfit combinations.
They include timeless pieces that won't go out of style even 10 or 20 years from now!
Instead of buying an entire new wardrobe every season, why not invest in a capsule wardrobe that'll last you for years, if not forever?
It'll save you money in the long run, plus it'll cause less harm to the planet.
We all gotta do our part in making more sustainable fashion choices, my friends.
What items should be included in your fall capsule wardrobe?
Basic tops, outerwear, bottoms, dresses, and shoes should be included in your capsule wardrobe.
These should be staple items in your wardrobe that can be mixed and matched together.
You can put together your ultimate capsule wardrobe essentials for the whole year, or split it up by the seasons to make it easier.
If you live somewhere like Toronto where the weather changes drastically by the seasons, it's definitely easier to create individual capsule wardrobes for each season that you can put together into the ultimate capsule wardrobe!
How do you build a fall capsule wardrobe on a budget?
When you think capsule wardrobe, you probably also think sustainability and sustainable fashion brands.
You actually don't have to shop at expensive stores in order to build a capsule wardrobe.
The key is to invest in high-quality and well-made pieces, and there are plenty of affordable brands that you can shop for your capsule wardrobe.
I don't exclusively shop from sustainable brands myself – I just buy high-quality pieces from brands I like.
What are the benefits of having a fall capsule wardrobe?
Having a fall capsule wardrobe is beneficial for many reasons, including:
Making it quicker to get dressed in the morning
Saving you money in the long run
Better for the planet
It's just so much easier to rely on a capsule wardrobe, rather than rummaging through your closet each morning and not knowing what to wear!
Plus, with a capsule wardrobe, you can occasionally add trendy pieces that will still go with everything you have in your closet.
---
How to build a fall capsule wardrobe
---
Now, what pieces are essential in your fall capsule wardrobe?
I've separated this fall capsule wardrobe guide into a few different sections to make it easier:
Tops
Bottoms
Dresses
Outerwear
Footwear
Accessories
Keep on reading to see my fall capsule essentials!
---
Fall capsule tops
---
Basic tee
For me, basic tees are an absolute essential in my year-round capsule wardrobe.
Basic tees go with pretty much any and every outfit, no matter what season you're in!
Black and white tees are definitely essentials, but it is nice to have other neutral and coloured tees if you want more options.
You can easily throw on a basic tee with a pair of jeans and a leather jacket for a classic fall outfit.
Layering basics is the best part of dressing up for fall!
Kotn is one of my fave Toronto-based sustainable fashion brands, and they make the perfect basic tee for just $35.

White button-up shirt
While I don't work in a business casual setting, I still love wearing button-up shirts.
They just look so chic, especially when paired with a good pair of jeans!
They're a great layering piece to make any boring outfit a little more interesting.
You can't go wrong with a classic white button-up shirt, and I love this crisp cotton shirt from UNIQLO.
Knit sweater
Knits are just so easy just to throw on with anything – they're also a fantastic layering piece, and can be worn over button-ups!
I'd definitely go for a neutral knit sweater for your capsule fall wardrobe, but any colour you love and frequently wear would work as well.
I love this BP. sweater made with recycled polyester and this cashmere ribbed sweater from Banana Republic.

Plaid shirt
I absolutely adore plaid shirts during the fall and winter seasons.
You can wear them as an outer layer, tie them around your waist, or layer them under denim or leather jackets.
This BP. cotton flannel is super cute and affordable!

---
Fall capsule bottoms
---
Blue denim
Denim is always a good idea for any season, and you can't go wrong with some classic blue jeans.
You can pair it with knit sweaters for a casual fall look!
Levi's wedgies are one of my fave denim fits as a petite girl, and I love these wedgie straight jeans.
Guess also makes incredibly high-quality denim that lasts forever, and I love these sustainably-made mom jeans!
Pretty much any mom jeans are a classic, no matter what colour.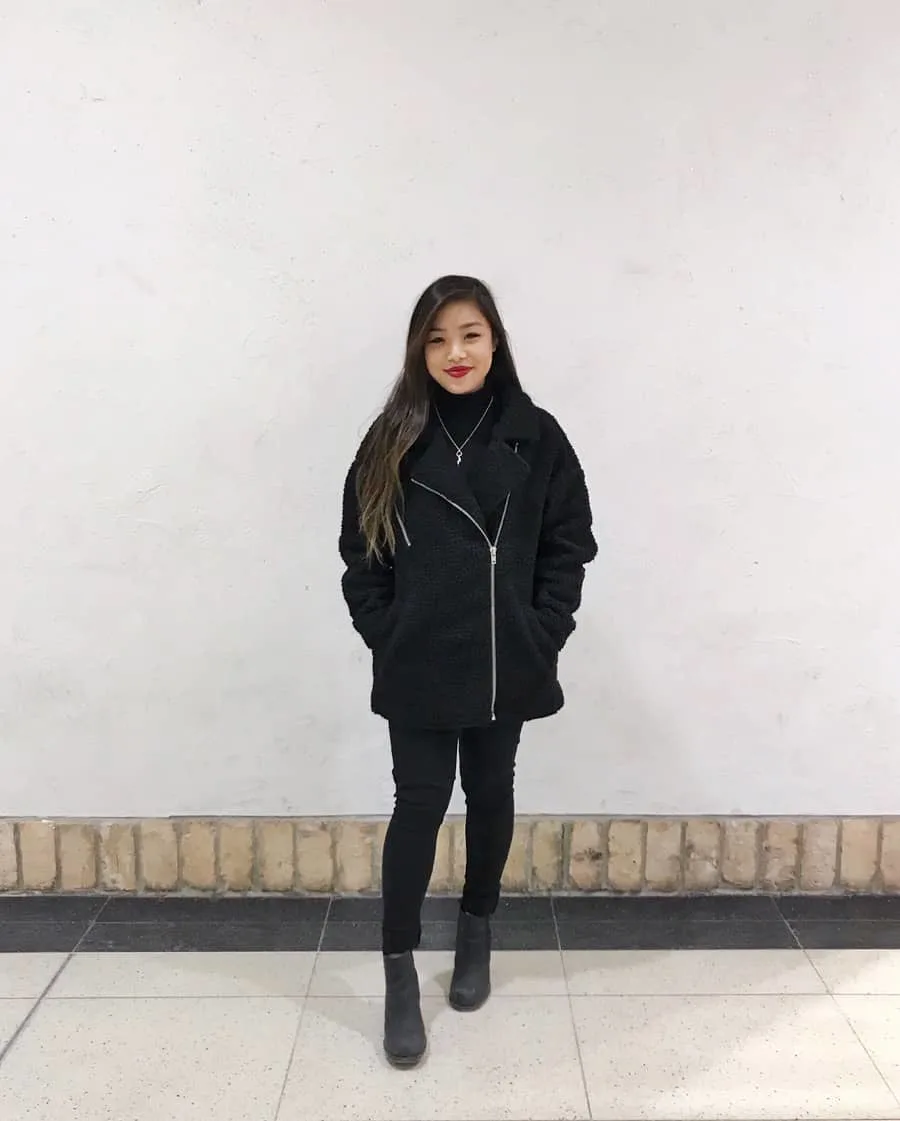 Black denim
Blue jeans are a great staple for your year-round capsule wardrobe, but black jeans are also a great piece to have throughout the fall and winter seasons.
These high-waisted black ribcage jeans from Levi's are a fantastic option!

Leather pants
I absolutely adore leather during the fall and winter seasons, and a good pair of leather (or vegan leather) pants is an absolute essential in your fall capsule wardrobe.
I'm wearing the cult-classic Melina pants from Aritzia!
---
Fall capsule dresses
---
Sweater dress
Dresses can be worn into the colder months, too!
Sweater dresses are so easy to wear for fall – simply throw on a leather jacket and booties and you're set!
I think they look even more chic with a pair of sheer tights underneath (I love the unbreakable Sheertex tights).
On warmer days, you can just rock 'em with a chic pair of black booties and cool accessories.
I love this cozy turtleneck dress from Kotn and this sleek cashmere sweater dress from Reformation – both are incredible sustainable fashion brands!

---
Fall capsule outerwear
---
Denim jacket
Sherpa-lined, fitted, oversized denim jackets – there are so many different kinds of fits to choose from.
I love layering denim jackets with plaid shirts and throwing beanies on during the fall!
The classic Levi's Trucker Jacket is an essential if you love oversized fits.

Moto jacket
You'll pretty much catch me wearing the same exact leather moto jacket everyday during the fall.
It just gives any outfit you wear that classic cool-girl look.
I love this faux leather jacket from BLANKNYC.

Trench coat
I finally got myself the perfect trench coat from Aritzia (thrifted on Poshmark!), and I'm obsessed.
Trench coats dress up any outfit and make you look a little more elegant.
Perfect if you're going to nicer events or even if you want to look a little more professional!
This classic trench coat from sustainable brand Everlane is a super cute option.

---
Fall capsule footwear
---
Black booties
I think booties are the perfect everyday fall shoe, and they literally go with everything.
Black booties are an absolute must, but brown ones are also nice to have!
There are all kinds of classic black bootie styles you can go for, but my faves are Chelsea boots and combat boots.
Marc Fisher makes great Chelsea boots, and you can also find budget-friendly ones from brands like Steve Madden.

As for combat boots, you can't go wrong with the classics from Dr. Martens, and they even have an amazing platform combat boot called the Jadon!

Knee high boots
Knee high boots make any outfit a little more fancier and a little more chic.
One of my fave easy fall outfits is a pair of black knee high leather boots with an oversized top and leggings!
I adore these tall waterproof boots from La Canadienne and these black Hunter rain boots.

---
Fall capsule accessories
---
Beanie
Beanies are one of my go-to items for the fall season.
They keep your head warm, and they can add a fun little pop of colour to your outfit.
Especially if you tend to navigate towards more dark colours during the colder months!
I love these cozy wool beanies from Rag & Bone and Acne Studios.

Wide brim hat
Wide brim hats are also super cute for fall, and they can be worn all-year round as well!
They just make any outfit look a little more interesting.
I love these wide brim hats from Brixton and Treasure & Bond!

---
Essentials for your fall capsule wardrobe:
Basic tee
Knit sweater
White button-up shirt
Plaid shirt
Blue denim
Black denim
Leather pants
Sweater dress
Denim jacket
Moto jacket
Trench coat
Black booties
Knee high boots
Beanie
Wide brim hat
These were my capsule wardrobe pieces for fall!
Besides wardrobe pieces, I also love red and berry lipsticks for the fall season – I have a blog post all about my fave MAC lipsticks for fall/winter!
What are your fall capsule wardrobe essentials? Let me know on Twitter or Instagram!
You can find more of my fave products and items on my wishlist in my Amazon Shop.
More capsule wardrobe tips
Planning out your capsule wardrobe? You might find these posts helpful:
Be sure to keep up with me on Instagram, TikTok, Twitter, Facebook, and Pinterest if you aren't already!
Feel free to subscribe to my weekly newsletter to get my blog posts delivered straight to your inbox.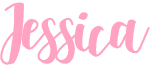 ---
Like this post? Pin it for later!