There are plenty of cute and Instagram-worthy spots in North York if you know where to look.
I worked in North York at my previous full-time job (Yonge & Sheppard, specifically) and I was surprised once I got to know the area how many cool spots there were!
As someone who grew up in the suburbs of the GTA, it was definitely a trek to have to go all the way downtown to find any cool spots that weren't the mall or the movie theatre.
Thankfully with the boom of Instagram, photo-worthy places have popped up everywhere around the GTA.
North York is a hotspot for some of the best Asian food spots, which a lot of this list will be comprised of.
Let me know in the comments if you guys have any other recommendations for Instagrammable places in North York!
Here are some of the best places to take Instagram pictures in North York.
Be sure to also follow me on Instagram and TikTok – I share a lot more content on those platforms that don't make it to the blog!
---
Instagram-worthy spots in North York
---
1. Short and Sweet Bakeshop
I actually haven't been to their new location (they moved from their old spot at Yonge & Eglinton) as it's a bit far out, but if you get the chance to, definitely make the visit!
They've got the most delicious milkshakes I've ever had, and they'll obvs look good on your Instagram feed.
I mean, that neon sign? Gorg.
LOCATION: 1945 Avenue Rd, North York, ON | Website
---
2. Mymy Chicken
Mymy Chicken is hands down one of the best restaurants in North York.
The Korean fried chicken wings are just so darn good!
It's way too dark inside the actual restaurant for any photos, but there's a random little Instagrammable area in the foyer, which I of course took advantage of while we were there.
LOCATION: 9 Spring Garden Ave, North York, ON | Website
---
3. The Alley
When it comes to bubble tea, The Alley has aesthetic down pat.
Also, any drink I've ever tried from here has been amazing!
The Morning Dawn and Northern Lights Aurora Series drinks look great for photos and taste as wonderful as they look.
They've actually got locations all across the GTA, including one in Richmond Hill.
LOCATION: 5431 Yonge St, North York, ON | Website
---
4. MeNami
Although I've been to MeNami a few times now, I unfortunately don't have any photos from there.
Take my word for it though – it's the best udon I've ever had, and you'll be craving the potato cream curry udon for the rest of your life!
The interior is absolutely beautiful and filled with natural light during the day, and the actual doors to the restaurant are amazing.
LOCATION: 5469 Yonge St, North York, ON | Website
---
5. Cheese Garden
If you're in the mood for some sweet, sweet pastries, you'll want to stop into Cheese Garden, one of the best cake shops in Toronto.
Their space is bright and aesthetically pleasing, and their cakes are fluffy and decadent.
They have all kinds of delish and modern takes on classic Japanese cheesecakes, including their Uji Matcha Cheesecake and Double Fromage Cheesecake!
LOCATION: 5291 Yonge St, North York, ON | Website
---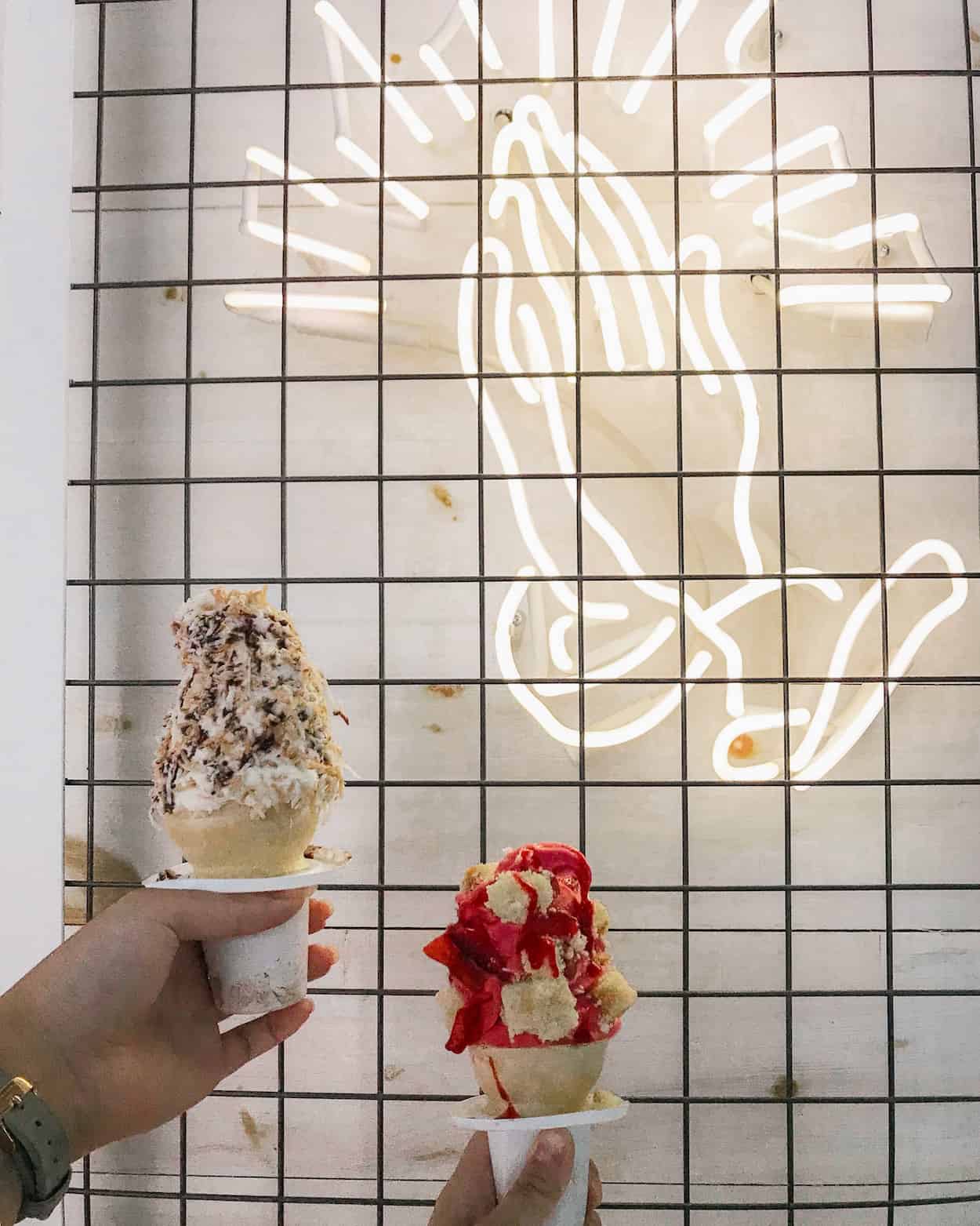 6. Sweet Jesus
Got a craving for some jazzed up soft serve cones?
Sweet Jesus serves up some of the most Instagrammable ice cream in Toronto.
Find their North York location inside the Yonge Sheppard Centre.
LOCATION: 4841 Yonge St, North York, ON | Website
---
8. Ladurée Yorkdale
Pink and teal dreams at the Yorkdale location of Ladurée.
Ladurée may be inside a mall, but it's still one of the most Instagrammable restaurants in North York.
Pro-tip: if you come in while there's a lineup, you can sneak in some photos without having to buy anything.
LOCATION: 3401 Dufferin St, North York, ON | Website
---
9. Restoration Hardware
I wish this space could be my home, but I'll take it on my Instagram feed.
Every floor of Restoration Hardware is stunning, but the top floor is definitely my favourite!
You're not allowed to shoot here with a camera, but you can take photos with your smartphone.
The restaurant is gorgeous as well, and the food is amazing (and Insta-worthy, of course).
Their burgers are *chef's kiss*.
LOCATION: 3401 Dufferin St, North York, ON | Website
---
10. Aga Khan Museum
You've probably seen the aesthetic white walls and pool reflections on your Instagram feed.
The Aga Khan Museum is a museum of Islamic art, Iranian art, and Muslim culture, and it's gorgeous both inside and out.
You won't be able to take photos inside the museum itself, but the exterior of the museum and the Ismaili Centre next door are super Instagrammable!
LOCATION: 77 Wynford Dr, North York, ON | Website
---
11. Black Creek Pioneer Village
Anyone else remember churning butter during their field trip here in grade 3?
While Black Creek Pioneer Village might not sound exciting to you as an adult, they actually have a lot of cool stuff going on.
From escape games to haunted walks, it's a fun spot to try a new activity with your friends.
Plus, the historical buildings make for some cool Instagram photos 😉
LOCATION: 1000 Murray Ross Pkwy, North York, ON | Website
---
12. IKEA North York
Who would've thought IKEA would be a great shooting location?
Coloured walls may be rare to find in North York, but you'll find an abundance of yellow and blue at IKEA.
You can also fake the showrooms inside as real homes if ya manage to hide all the sale tags…
LOCATION: 15 Provost Dr, North York, ON | Website
---
Instagram-worthy spots in North York:
Short and Sweet Bakeshop
Mymy Chicken
The Alley
MeNami
Cheese Garden
Sweet Jesus
Ladurée Yorkdale
Restoration Hardware
Aga Khan Museum
Black Creek Pioneer Village
IKEA North York
You don't always have to go downtown to find all the good places.
There are tons of great Instagram-worthy spots you can visit in North York!
Have you guys been to any of these photo spots in North York? What are some other Instagram-worthy spots in North York? Let me know on Twitter or Instagram!
If you're looking for even more of the best spots in Toronto, here are some other posts you might enjoy:
Be sure to keep up with me on Instagram, TikTok, Twitter, Facebook, and Pinterest if you aren't already!
Feel free to subscribe to my weekly newsletter to get my blog posts delivered straight to your inbox.

---
Like this post? Pin it for later!