Looking for the best takeout spots in Vaughan to eat at?
If you're not familiar with Vaughan, you might only know of Canada's Wonderland, but the amazing food is definitely worth coming to the city for.
Vaughan has an incredibly diverse food scene, no matter what kind of cuisine you're into!
With the subway going up to Vaughan now, it's even easier to get around if you're coming from Toronto.
Here are some of the best takeout restaurants to visit in Vaughan, Ontario!
Be sure to also follow me on Instagram and TikTok – I share a lot more content on those platforms that don't make it to the blog!
More things to do in Vaughan
If you're looking for more fun things to do in Vaughan, you might enjoy these posts:
---
Best takeout spots in Vaughan
---
Banh Mi Nguyen Huong
You'll find delicious and authentic Vietnamese banh mi sandwiches for around $3 to $5 at Nguyen Huong.
Banh mi (pronounced bun-mee) is typically filled with meat, pickled veggies, pâté, and a butter/mayo spread, and served on a French baguette.
Their cold cut banh mi is my absolute fave, but I also love their BBQ pork banh mi.
I've been coming to Nguyen Huong since I was a kid, and my grandma even used to make rice cakes for their Chinatown shop!
Their Vaughan location is located just outside of Vaughan Mills, in the plaza next door.
If you've heard of the other popular Toronto banh mi chain, Banh Mi Boys, you'll be excited to hear that it's owned by the sons of Nguyen Huong's owners.
LOCATION: 3255 Rutherford Rd, Concord, ON
---
Mr & Mrs Bao is an Asian fusion takeout shop serving up delicious baos and bowls.
Try their Gangnam Style Bao with bulgogi beef or go for their Jerk Chicken bao!
They've also got a larger selection of bowl options, and you can also build your own bowl if you'd prefer.
LOCATION: 9200 Weston Rd Unit 12, Vaughan, ON
---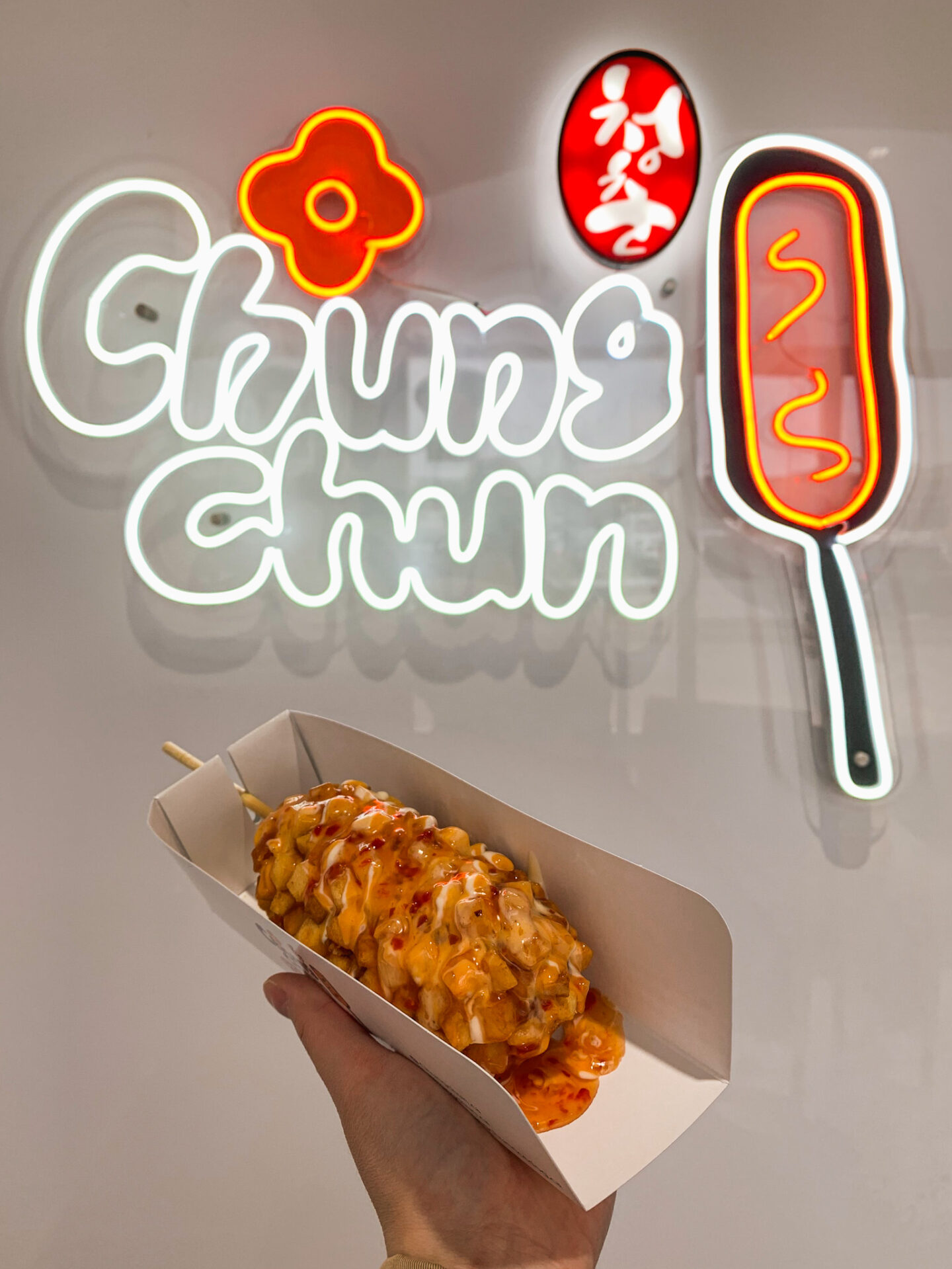 If you haven't had Korean-style hot dogs before, they are truly heaven on earth.
Picture this: hot dogs coated in glutinous rice flour batter, fried to perfection, coated in toppings, and drizzled with sauces.
Toppings include potato and ramen chips, and my fave sauces are their spicy mayo and honey butter.
They make their batter fresh each morning, which goes through a 2-hour fermentation!
I would definitely recommend getting the Half Mozzarella, which is half cheese and half beef sausage, AKA the best of both worlds.
This South Korean-based chain has tons of locations across the GTA and around the world!
If you're looking for even more Korean eats, check out my post on the best Korean restaurants in Toronto.
LOCATION: 3175 Rutherford Rd #16, Woodbridge, ON
---
Poke Guys is one of my fave poke bowl chains in Toronto, and they now have a location in Vaughan, under a condo near Vaughan Metropolitan Centre Station.
You can choose between their signature bowls or build your own, and they have a nice selection of marinated raw tuna and salmon to choose from.
I pretty much always grab the Mauna Loa Poke Bowl, which is perfect for anyone who loves spice!
They're super generous with their sashimi, and they have some of the best sauces for poke bowls!
They've also got a cute little "poke me" sign that's a cute backdrop for your poke photos.
You can also visit them in downtown Toronto (near the Eaton Centre) or in Markham.
LOCATION: 2904 Hwy 7 #107, Concord, ON
---
Ain't nothin' more satisfying than a delicious plate of shawarma.
Anoush serves up some of the best shawarma in the GTA, and their Chicken Shawarma Plate is my absolute fave.
They've even got homemade baklava available for dessert if you're craving a sweet treat!
You can order ahead online to make things easier, and you get 10% off if you order for pickup.
They also have 4 other locations downtown and one in North York.
LOCATION: 90 Edgeley Blvd #5, Concord, ON
---
This sandwich shop is all about combining Southeast Asian flavours with Western fast food.
How it works is that you choose your base, protein, sauces, and toppings.
For the base, you can choose between a bun, brioche, salad bowl, taco, or fry bowl!
All of their buns are baked fresh daily, and their sauces are all made in-house.
We loved their Big Belly Nelly Sandwich and Bok Bok Sandwich, and we got all of the toppings available.
If you're looking to up it to a combo, you can pair your sandwich with one of their milk teas, fruit teas, or slushies!
The taro milk tea just tasted like powdered bubble tea to us, but it was still satisfying to have with our sandwiches.
LOCATION: 21-9200 Weston Rd, Woodbridge, ON
---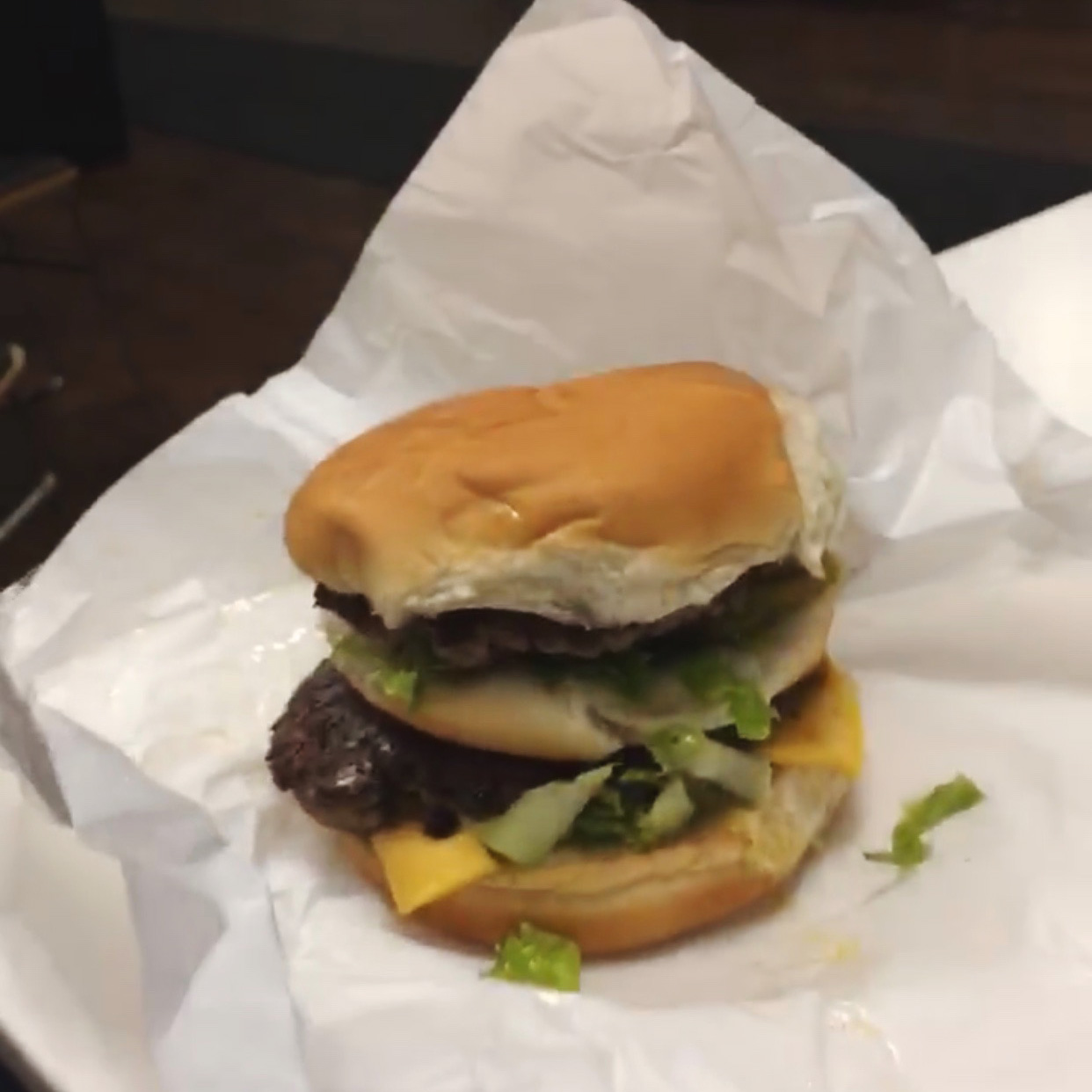 Skip McDonald's and pay a visit to Burger's Priest instead for some delish and juicy burgers.
They make their patties fresh every morning using grass-fed Canadian ground beef, and they're absolutely amazing.
The burgers are kinda greasy, but they are very delicious!
If you're craving hot dogs instead, their hot dogs are all-beef and Kosher-friendly!
You can find their Vaughan location at Highway 7 & Weston, and they've got tons of locations across Ontario.
LOCATION: 7887 Weston Rd, Vaughan, ON
---
Fresh Burger is another fantastic burger chain in the GTA, and I love that their burgers aren't greasy.
Their patties are made using 100% Canadian Angus beef, which they grind fresh daily.
All of their burgers are cooked to order, and you can choose all of your toppings!
Be sure to grab their Cali-style fries as well, which are absolutely amazing.
Fun fact: the founder of Fresh Burger formerly worked on Bay Street, and he opened their very first location in Richmond Hill!
They now have locations across the GTA, including in North York.
LOCATION: 3300 Rutherford Rd unit a6, Concord, ON
---
Hit up this authentic Mexican taqueria in Vaughan for all your taco cravings.
Go for their Chorizo or Fish Tacos, or try something more unique like their Potato Power Taco made with sautéed potatoes.
They've also got nachos, chilaquinachos, and quesadillas!
The inside of their restaurant is also super cute, with hanging industrial lightbulbs and wood pallets as decor.
There is minimal seating inside, though it's definitely more of a takeout spot.
LOCATION: 3540 Rutherford Rd #65, Vaughan, ON
---
This one's for all my fellow pizza lovers out there.
This unassuming and well-loved pizzeria in Vaughan serves up authentic and delicious Napolitano pizza made using fresh dough and house-made sauce.
They've got a simple menu of Round, Square, or Garlic Pizza, with just over a dozen toppings to add on if you choose (including pineapple).
You can even grab panzerottis if you're craving those!
LOCATION: 3530 Rutherford Rd, Woodbridge, ON
---
Pollo Loco Churrasqueria
This churrasqueria in Vaughan serves up delicious Portugese dishes infused with Chilean flavours.
Churrasco chicken with rice and potatoes is the specialty here, and the sauce they top it with is amaze.
It's located right across from Canada's Wonderland, so it's the perfect spot to grab a takeout meal before or after your visit!
LOCATION: 9661 Jane St, Vaughan, ON
---
Toro Toro is your spot for fast-casual sushi in Vaughan, and they've got aburi (torched) sushi as well!
The quality of their fish is incredible, and the pricing is actually quite decent.
Go for their Tasting Box for Two ($70), which comes with 40 pieces of sashimi, sushi rolls, and sushi tacos!
They've also got a 50-piece Signature Platter ($83) that feeds 3 to 4 people, as well as a 75-piece Toro Toro Platter ($115) that feeds 4-6, which are both awesome deals.
They've also got poke bowls, sushi burritos, and sushi tacos if you're looking for something a bit different.
You should definitely order ahead as it gets super busy, and you can order for pickup on their website.
The restaurant is takeout-style, but there is a good amount of seating if you're looking to dine in!
LOCATION: 3175 Rutherford Rd Unit 40, Concord, ON
---
Best takeout restaurants in Vaughan:
Banh Mi Nguyen Huong
Mr & Mrs Bao
Chungchun Rice Dog
Poke Guys
Anoush Shawarma
Southeast Sandwiches
The Burger's Priest
Fresh Burger
Ay Caramba, Eh
Taste of Naples Pizzeria
Pollo Loco Churrasqueria
Toro Toro
These were some of the best takeout spots to visit in Vaughan, no matter what kind of cuisine you're in the mood for!
Have you eaten at any of these takeout spots in Vaughan? What are some other great takeout places to visit in Vaughan? Let me know on Twitter or Instagram!
More things to do in Vaughan
If you're looking for more fun things to do in Vaughan, you might enjoy these posts:
Be sure to keep up with me on Instagram, TikTok, Twitter, Facebook, and Pinterest if you aren't already!
Feel free to subscribe to my weekly newsletter to get my blog posts delivered straight to your inbox.

---
Like this post? Pin it for later!