On the hunt for the best restaurants in the Toronto Financial District to eat at?
There are tons of great spots to eat at in the Financial District, whether you're in the mood for upscale fusion eats or drool-worthy pizza.
While a lot of the restaurants in the neighbourhood cater towards the 9-5 crowd, a lot of them are also great for everyday visiting!
Here are some of the best restaurants to eat in the Financial District in Toronto!
Be sure to also follow me on Instagram and TikTok – I share a lot more content on those platforms that don't make it to the blog!
---
Best restaurants in the Toronto Financial District
---
If you're looking for elevated pub food and an endless selection of craft beers on tap, King Taps in the Financial District is the place to go.
Their food and cocktails are absolutely delicious, and they have happy hour deals every single day!
The restaurant itself is also huge, with plenty of seating inside the restaurant or on the massive two-storey patio (partially covered if you're visiting on a rainy day)!
Believe me when I say they have some of the best pizzas in Toronto, and you can't go wrong with the Stinging Bee or BBQ Chicken pizzas.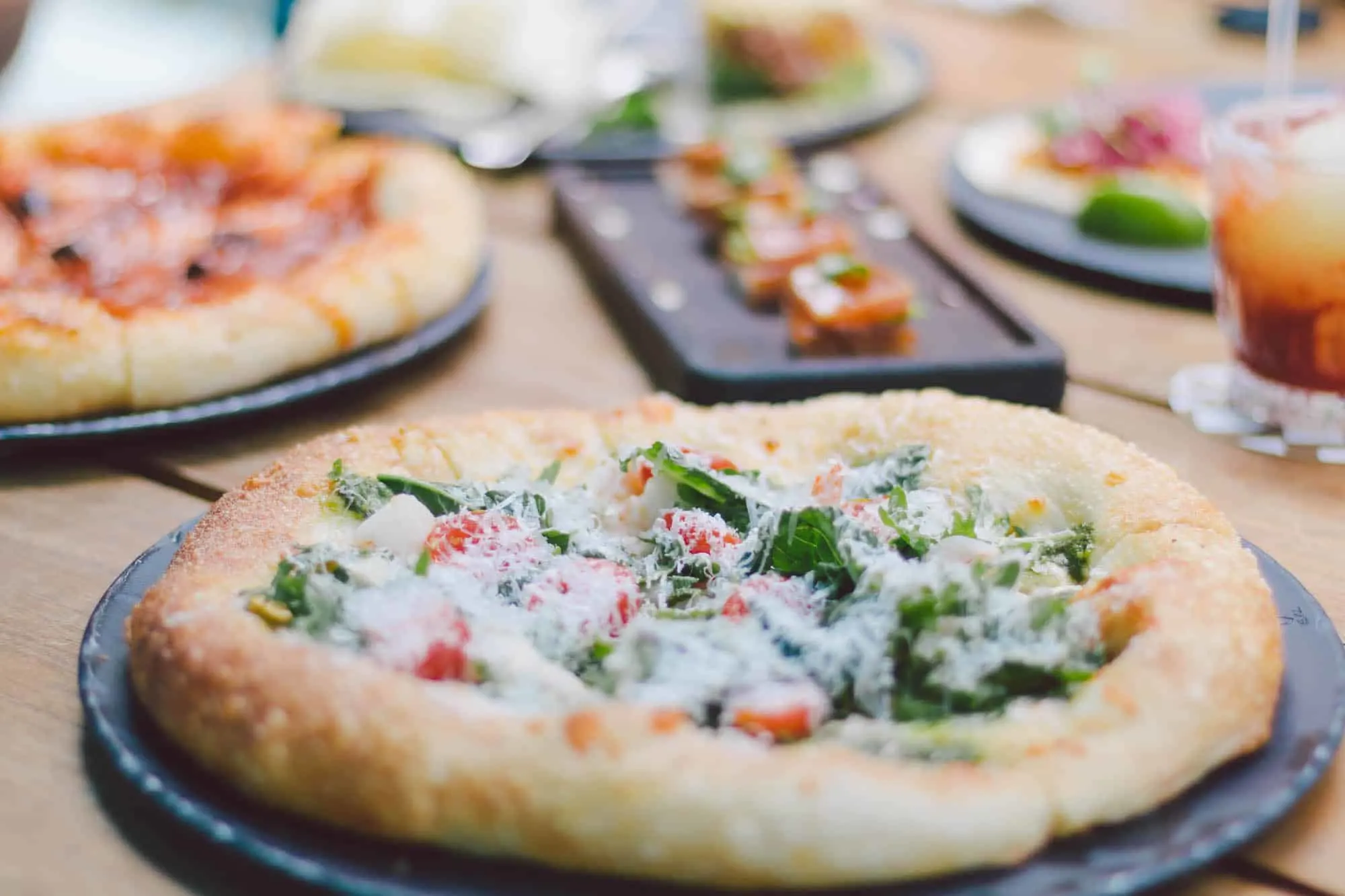 The Prawn & Pesto Pizza is also really good if you're a big shrimp lover.
We also really love their appetizers, and they switch up the menu every so often!
King Taps is located at First Canadian Place (with its own outdoor entrance on King Street), so it's super easy to get to whether you work in the area or just want to have a taste of the awesome food and drinks.
They also now have a location out on the west coast if you find yourself in Kelowna!
LOCATION: 100 King St W, Toronto, ON
---
Enjoy lattes and baked bites at this cute little café, which is part of the Terroni restaurant group!
Both the interior and exterior of the café are super Instagrammable, and they've got delicious Italian eats available as well.
Freshly-baked pizzas? Cannolis? Yes please.
This Sud Forno location is more of a café and restaurant, and they've also got a bakery location on Queen Street!
LOCATION: 132 Yonge St, Toronto, ON
---
You'll find wood-fired Neapolitan-style pizzas at this local Toronto-based pizza restaurant.
You can't go wrong with their classic Margherita pizza!
Feel free to order multiple pizzas and share with whoever you're with.
Their chilli oil is also *chef's kiss*.
LOCATION: 155 University Ave, Toronto, ON
---
I've never been much of an Italian food person, but Terroni makes some pretty darn great pasta.
If you're a seafood lover, order their Spaghetti in Canna a Mare – it's v delicious.
Terroni has been around for 30 years now, and they've got a bunch of restaurants and other concepts across Toronto!
LOCATION: 57 Adelaide St E, Toronto, ON
---
Cactus Club may be a chain restaurant, but the food is actually very delicious.
I absolutely adore their Butternut Squash Ravioli with Prawns, and they've got some pretty great cocktails as well.
You also can't go wrong with their Truffle Fries as an appetizer.
They're originally based out of Vancouver, so you'll find a lot of their restaurants across British Columbia!
Their only Toronto locations are at First Canadian Place in the Financial District and at Sherway Gardens in Etobicoke.
LOCATION: 77 Adelaide St W, Toronto, ON
---
Leña is a gorgeous and very Instagram-worthy Argentinean restaurant that serves up South American-inspired dishes.
It's located right at the corner of Yonge & Richmond in the Financial District!
If you watch MasterChef Canada on Crave TV, you might recognize Leña from the restaurant takeover episode in season 6!
LOCATION: 176 Yonge St, Toronto, ON
---
This chic fine-dining spot on Temperance serves up seafood-focused small plates and craft cocktails, and everything is absolutely delicious.
They've also got seafood platters, which are perfect for sharing!
The bright interior of their rooftop restaurant is stunning, and they've even got a beautiful outdoor patio that offers up gorgeous views of the city during the warmer months.
It's definitely a romantic spot if you're looking to impress someone!
LOCATION: 10 Temperance St Fl 5, Toronto, ON
---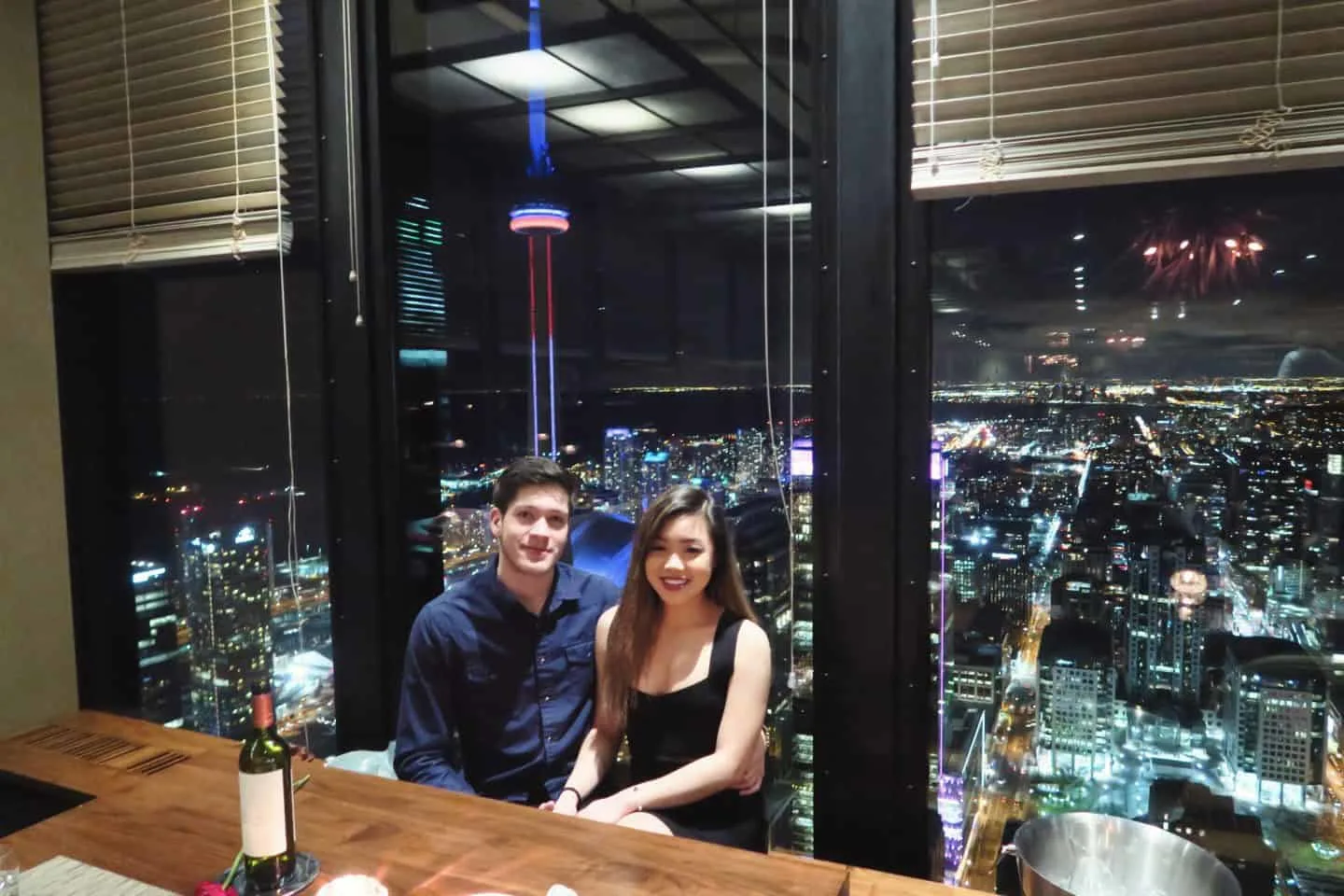 While I personally don't think Canoe is worth the price, it's definitely worth visiting for the view if you're looking for a romantic restaurant in the Financial District.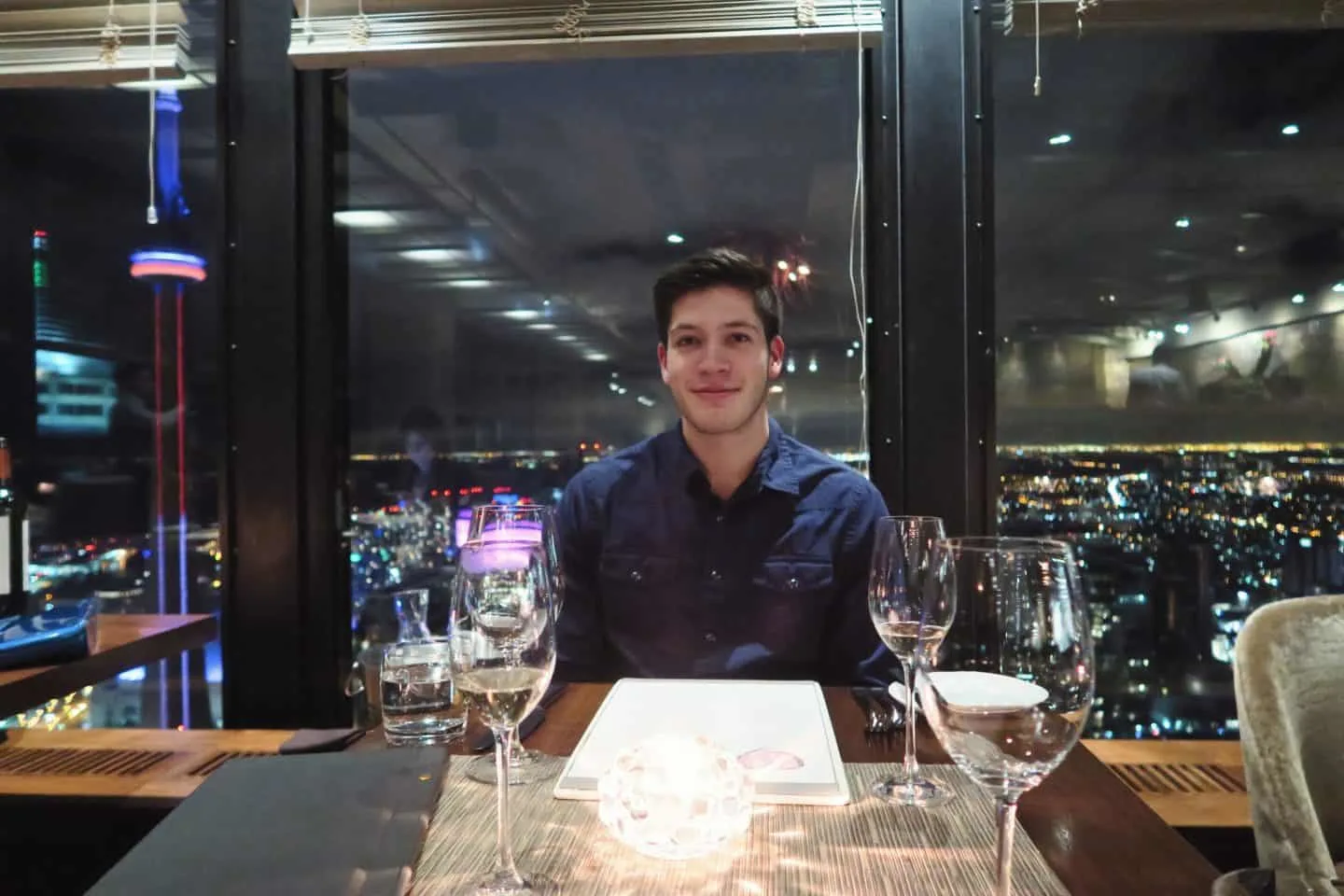 The atmosphere is really nice, and the panoramic skyline views from the 54th floor are fantastic!
Definitely make a reservation ahead of time and ask for a window seat table with CN Tower views so you can get all the good photos for the 'Gram.
I'd definitely recommend visiting during Summerlicious or Winterlicious for the more affordable tasting menus!
If you're interested in seeing more, I've also got a detailed review all about Canoe.
LOCATION: 66 Wellington St W 54th floor, Toronto, ON
---
This iconic fine dining restaurant in the Financial District serves up amazing Canadian-inspired dishes.
They offer a $120 tasting menu that changes up bi-weekly, and it features dishes made using local and seasonal ingredients!
Beverage pairings are also available for an additional $75 per person.
They can also accommodate vegetarian, vegan, and gluten-free dietary restrictions with their Chef's Menu.
One of the most interesting things about Richmond Station is that all their menu prices include cost of service, so they're a totally tip-free restaurant!
LOCATION: 1 Richmond St W, Toronto, ON
---
Best restaurants in the Toronto Financial District:
King Taps
Sud Forno
Pizzeria Libretto
Terroni
Cactus Club Cafe
Leña
The Chase Fish and Oyster
Canoe Restaurant
Richmond Station
There are tons of awesome restaurants to eat in the Toronto Financial District, but these were just some of my favourites!
Have you visited any of these Toronto restaurants? What are some of your favourite spots to eat in the Financial District? Let me know on Twitter or Instagram!
Be sure to keep up with me on Instagram, TikTok, Twitter, Facebook, and Pinterest if you aren't already!
Feel free to subscribe to my weekly newsletter to get my blog posts delivered straight to your inbox.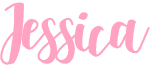 ---
Like this post? Pin it for later!