It ain't fun eating in the pouring rain, but luckily you'll find plenty of covered patios in Toronto to shelter you from the doom and gloom.
You can't always predict the weather, but if it looks gloomy out, maybe it's best to book your reso at a covered patio in Toronto just in case!
Here are some of the best covered patios in Toronto to visit on rainy days.
And if you're looking for some fun things to do to get over the doom and gloom, try these rainy day activities in Toronto.
Be sure to also follow me on Instagram and TikTok – I share a lot more content on those platforms that don't make it to the blog!
More Toronto restaurants
Looking for more cool Toronto restaurants to visit? You might enjoy these posts:
---
Best covered patios in Toronto
---
Wish is located in the chic Yorkville neighbourhood, and you can rest assured that you'll stay safe and dry from the rain with their covered patio.
Their super cute patio is actually open year-round, even in the winter – they just add heaters!
Their menu is all about elevated comfort foods, and they've also got some amazing brunch (and burgers).
LOCATION: 3 Charles St. East, Toronto, ON
---
Enjoy Spanish tapas and craft cocktails at this swanky restaurant by Chef Grant van Gameron, which also has an enclosed patio perfect for rainy day dining.
They've got a menu full of classic and house cocktails, as well as local beers and ciders and local and imported European wines.
The interior of Bar Raval is also super unique and romantic, and you can find them right by College & Bathurst!
Interesting thing about this spot: they have extremely limited seating, and you're meant to stand while enjoying your tapas and drinks!
They also received Bib Gourmand designation on this year's Toronto Michelin Guide, which is pretty cool!
LOCATION: 505 College St, Toronto, ON
---
King Taps is in the heart of Toronto's Financial District, and I kid you not, they serve up some of the best pizza in Toronto.
They occupy a huge two-storey space at First Canadian Place, and both their upstairs and downstairs patios feature huge umbrellas, while the lower level is also partially covered.
Craft beer and pizza are the specialties here – the BBQ Chicken and Stinging Bee pizzas are my favourites!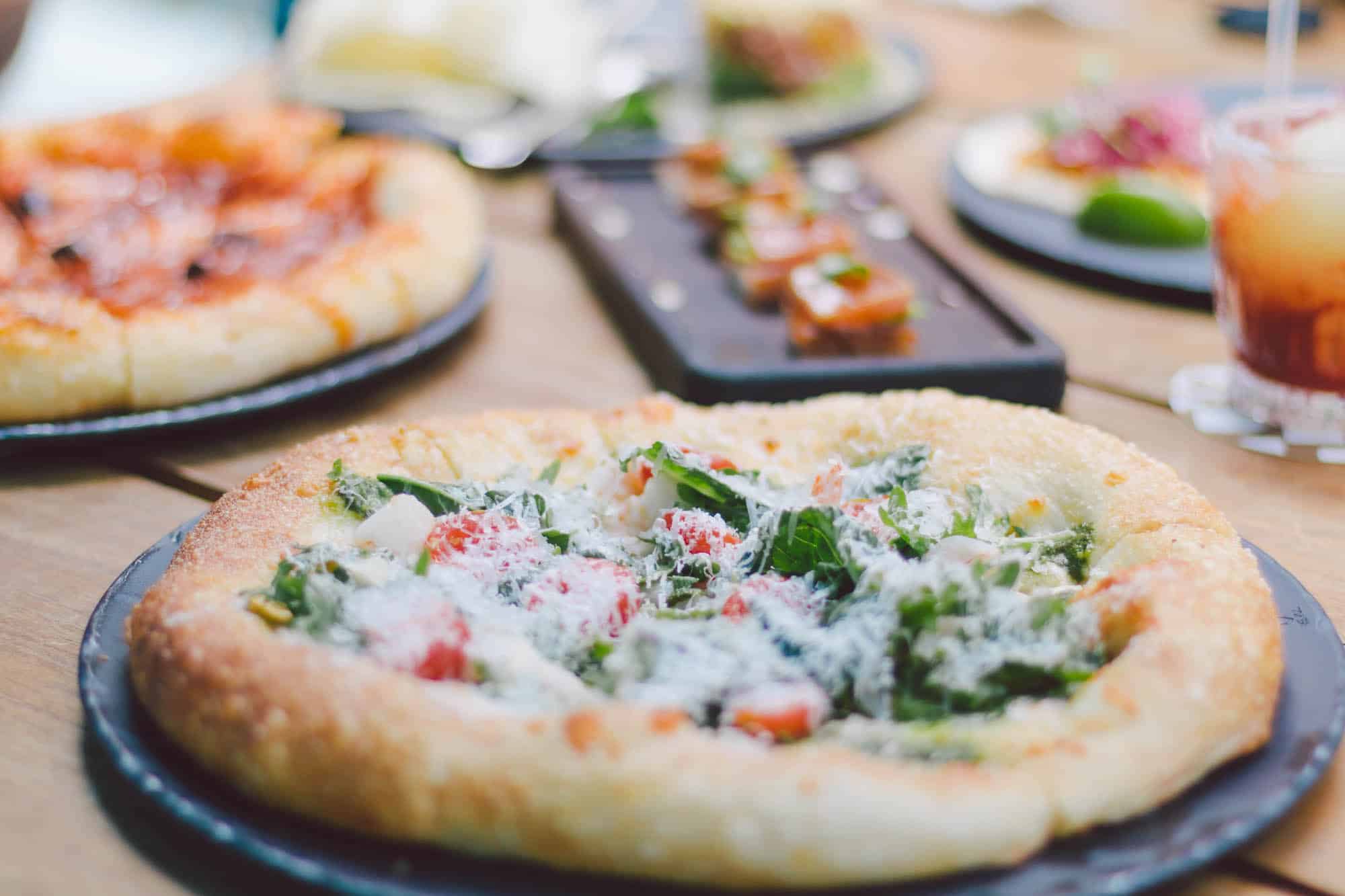 We also really love their appetizers, and they switch up the menu every so often!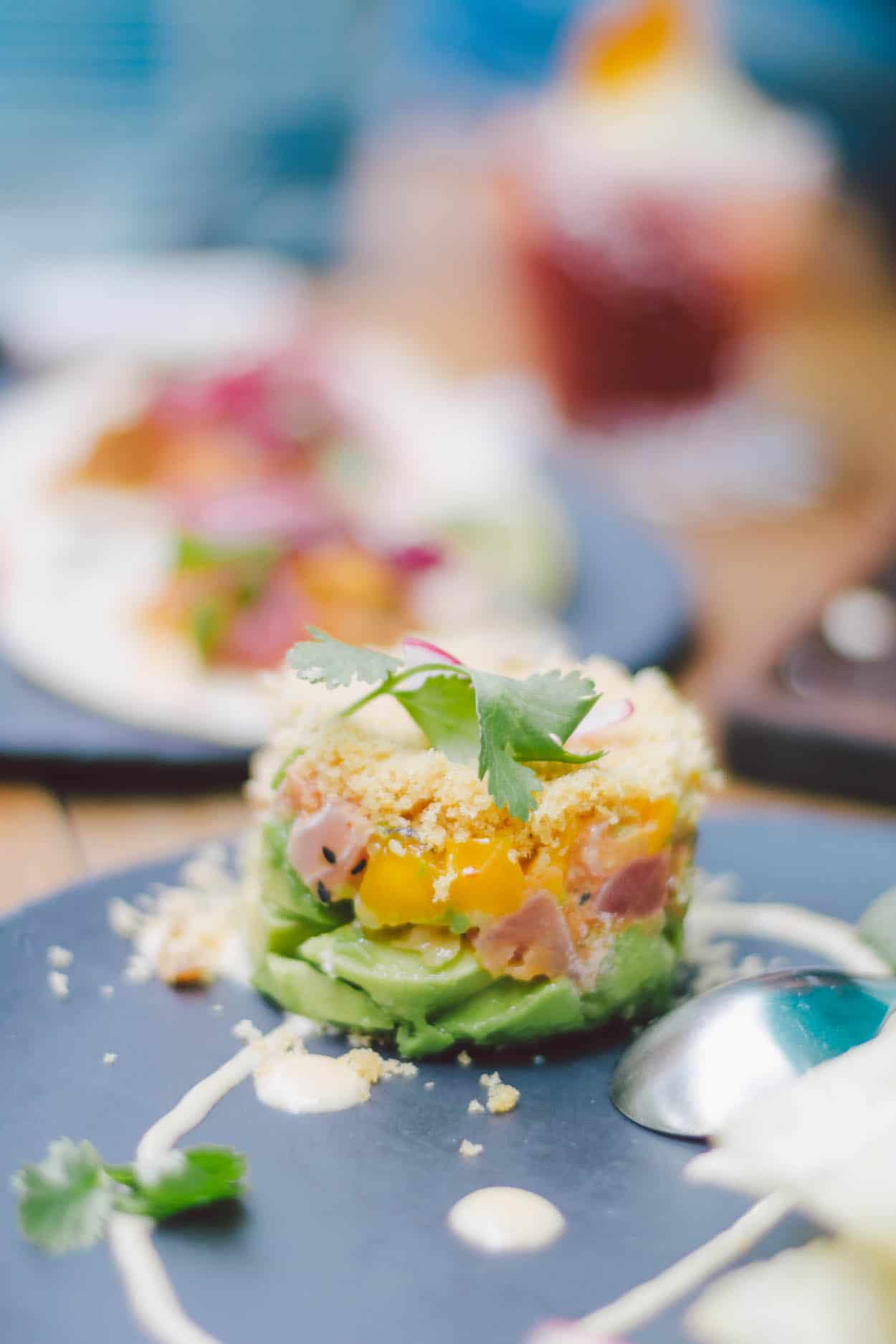 They also have a massive menu full of drinks, whether you're into craft beer, fun cocktails, or fine wine.
They also now have a location out on the west coast if you find yourself in Kelowna!
LOCATION: 100 King St W, Toronto, ON
---
Gusto 101 is one of the best restaurants on King West, and you'll find them in the chic King & Portland neighbourhood.
They're housed in an old industrial-esque building that actually used to be an auto shop!
You can enjoy classic Italian eats and wine on their rooftop patio, which has a retractable glass roof for rainy days.
LOCATION: 250 Adelaide St. West, Toronto, ON
---
Patria serves up authentic Spanish tapas and paella on King West, and they've got a romantic patio that's completely covered.
They source premium ingredients directly from Spain, and they also source the freshest seafood for their dishes on a daily basis!
They've also got an extensive wine list with imported Spanish wines to pair perfectly with all your tapas.
LOCATION: 478 King St. West, Toronto, ON
---
Located right down the Harbourfront from General Assembly is The Goodman Pub, which has both uncovered and covered patio seating.
Enjoy waterfront views while sippin' on a beer or indulging in some comfort food!
The cabana-style booths feature glass windows to keep you sheltered all around from any darn weather mishaps, and they even have heating for the cooler months.
Funny thing – I snapped this photo right after a heavy rainstorm, and the people sitting in the far left booth look super dry and cozy.
LOCATION: 207 Queens Quay West, Toronto, ON
---
Cluny is one of the cutest and best restaurants in the Distillery District, and they've got a beautiful semi-enclosed outdoor patio that'll keep you dry on rainy days.
Enjoy all of the European vibes while indulging in delicious French dishes.
It's a super cute patio to visit with your girlfriends, or to go on a romantic summer date!
They even have heating for those extra chilly evenings at the end of summer.
LOCATION: 35 Tank House Lane, Toronto, ON
---
Best covered patios in Toronto:
Wish Restaurant
Bar Raval
King Taps
Gusto 101
Patria
The Goodman Pub & Kitchen
Cluny Bistro & Boulangerie
These were some of the best covered patios in Toronto to visit on rainy days in the city!
Have you visited any of these covered patios in Toronto? What are some other great patios to visit on rainy days? Let me know on Twitter or Instagram!
If you're planning a trip to Toronto, be sure to check out my posts on the most fun things to do in Toronto (including free things), the best time to visit Toronto, and what to wear in Toronto.
If you're looking for fun tours and activities to try in Toronto, check out this Kensington Market food tour!
More Toronto restaurants
Looking for more cool Toronto restaurants to visit? You might enjoy these posts:
Be sure to keep up with me on Instagram, TikTok, Twitter, Facebook, and Pinterest if you aren't already!
Feel free to subscribe to my weekly newsletter to get my blog posts delivered straight to your inbox.

---
Like this post? Pin it for later!