Searching for the best dessert places in Toronto to satisfy your sweet tooth?
How food looks is just as important as how it tastes – for the most part, at least!
Whether you're looking for jiggly soufflé pancakes or decadent cakes, Toronto has plenty of awesome and Instagram-worthy dessert places to satisfy your sweet cravings.
I'm a big fan of anything sweet, and I always love hitting up the best and new dessert places around Toronto (especially ice cream).
If you've also got a sweet tooth, you'll definitely want to hit up every Toronto dessert spot on this list.
Here are some of the best and most Instagram-worthy dessert places to try in Toronto!
Be sure to also follow me on Instagram and TikTok – I share a lot more content on those platforms that don't make it to the blog!
---
Best dessert places in Toronto
---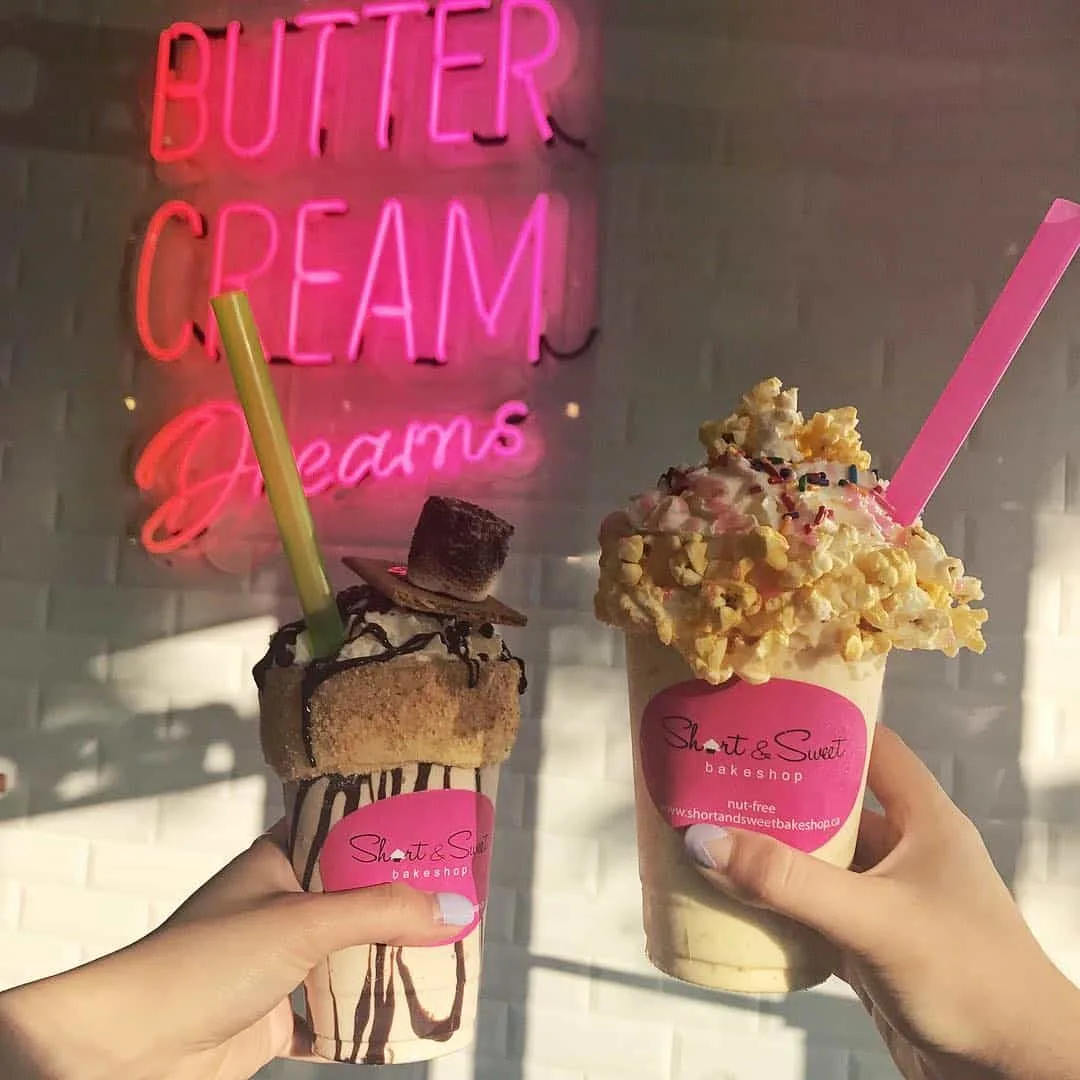 Short & Sweet Bakeshop is sassy, sweet, and all of the good things.
Taste one of their amazing cupcakes or try one of their incredible ice cream sammies!
Short & Sweet has all kinds of amazing pastries and sweet treats, all that are worthy for the 'Gram.
They have locations on Avenue Road and inside the PATH.
LOCATION: Various locations
---
Fancy some fresh, handmade doughnuts at one of Toronto's best doughnut shops?
Glory Hole serves up fresh, handmade doughnuts at their Parkdale and Gerrard locations, all made from scratch with whole ingredients.
They've got all kinds of unique doughnut flavours, and they're probably most known for their iconic Toast and Butter.
The inside of their Parkdale shop is super cute with an entire flower wall, if you're looking for Instagrammable indoor spots in Toronto!
LOCATION: Various locations
---
COPS is an adorable local doughnut shop, and all of their locations are a pink lover's dream.
All of their mini doughnuts are made from scratch daily, and they're made fresh to order.
They even worked with both a food scientist and fine dining chef to perfect their doughnut recipe!
Their two classic flavours are Cinnamon Sugar and OG Sour Cream Glaze, and they also drop a new, limited-edition flavour every Monday.
Some of their past limited-edition flavours include Mango Passion Fruit, Rose & Cardamom, and Caramelized Pear!
You can peep out their flavour drops over on their Instagram page.
They also offer a selection of flavoured milks from local dairy farm, Sheldon Creek!
They've got 3 locations downtown (Adelaide), in the East End (Riverside), and by Yorkdale Mall.
Their Adelaide location is their OG, and it's just as Instagrammable as their doughnuts!
LOCATION: Various locations
---
Daan Go is famous for their adorable character macarons, but they also have delicious cakes, cookies, ice cream, and even drinks!
A lot of their desserts feature Asian-inspired flavours, whether you're craving Vietnamese coffee or durian.
Daan Go is the brainchild of Christopher Siu, who starred in seasons 2 and 7 of MasterChef Canada and won the title of MasterChef in his second appearance!
Even their cakes are adorable, and some feature character macarons on top!
They've also got plenty of fun shaped mini cakes, like their Lucky Duck and Ramen Bowl.
They've got a whole range of cute and creative creations, and they've even got lucky cat smash cakes that are perfect for gifting!
You can find Daan Go Cake Lab in Chinatown, Scarborough, Mississauga, and Richmond Hill (watch my TikTok video here).
They'll also be opening their first location in Vancouver in spring 2023!
And if you're wondering what the name daan go means, it's "cake" in Cantonese!
LOCATION: Various locations
---
In the mood for some jiggly, jiggly Japanese soufflé pancakes?
Stop by Fuwa Fuwa in Toronto and enjoy these fluffy stacks of goodness in all their glory.
The word "fuwa" literally means "fluffy" in Japanese, and that's exactly what you can expect with their delicious pancakes.
Their downtown locations are in the Annex and at Yonge & Eglinton, but they've also got locations in Mississauga and Vaughan.
LOCATION: Various locations
---
The charcoal soft serve and cones at iHalo Krunch are probably one of the most unique and Instagram-worthy dessert finds you'll get in Toronto.
The charcoal soft serve is coconut flavoured, and they also have ube, matcha, and vanilla soft serve available to swirl with your charcoal cone.
I also love that they have limited edition flavours every now and then!
You can enjoy their amazing ice cream either at their Trinity Bellwoods Park or High Park locations, and the High Park location also has bubble tea, ice cream cakes, and ice cream pints available.
Also something fun: iHalo Krunch gives out a free cup or cone of ice cream on your birthday!
LOCATION: Various locations
---
Another epic ice cream spot in Toronto is Fugo Desserts, which you'll find near Dundas and University.
Not only are their desserts absolutely delicious – they're super Instagram-worthy as well!
They also have cute and Instagrammable mini donuts if you're craving pastries instead!
LOCATION: 205 Dundas St. West, Toronto, ON
---
I just love ice cream too much to not add one more Instagram-worthy ice cream spot on here.
Dutch Dreams is an ice cream spot you'll find in midtown Toronto, and their flavours are completely kosher-friendly.
They serve up jazzed up ice cream cones that you can customize from the waffle cone to the toppings, and they're totally worthy of being on your Instagram feed.
LOCATION: 36 Vaughan Rd, Toronto, ON
---
Okay, I lied: here's another ice cream spot in Toronto, but it's more about the doughnut cones here than the ice cream.
Chimney cakes are a Hungarian pastry that's crunchy on the outside and soft on the inside, and Eva's makes them with all-natural and mostly organic ingredients.
You can get chimney cakes on their own here, or get them decked out with ice cream and all the toppings!
LOCATION: Various locations
---
Kekou is one of the best gelato places in Toronto, and they've also got super cute and Instagram-worthy desserts.
Their menu is made up of mostly Asian flavours like Black Sesame and Thai Iced Tea, and the flavours rotate by the seasons!
I pretty much always stick to either the Hong Kong Milk Tea or Vietnamese Coffee flavours, but they have plenty of amazing flavours to choose from.
If you're in the mood for bubble tea, they've got that as well.
They've also got plant-based options for my vegan friends out there, like Soursop and Mango.
Kekou's OG location is on Queen West, but they now have a location in North York by Yonge & Finch.
LOCATION: 394 Queen St. West, Toronto, ON
---
Best dessert places in Toronto:
Short and Sweet Bakeshop
Glory Hole Doughnuts
COPS Doughnuts
Daan Go Cake Lab
Fuwa Fuwa Pancakes
iHalo Krunch
Fugo Desserts
Dutch Dreams
Eva's Original Chimneys
Kekou Gelato
These are some of the best and most Instagram-worthy dessert places in Toronto to check out!
Have you been to any of these Instagram-worthy dessert spots in Toronto? What are some of the best Toronto dessert places in your opinion? Let me know on Twitter or Instagram!
If you're looking for even more Toronto desserts, you might enjoy these posts: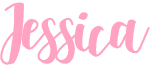 ---