Toronto has no shortage of amazing ice cream spots to satisfy your sweet tooth.
There ain't nothing better than a delicious cone of sweet, sweet ice cream, and there's always room for it no matter how full you are.
'Nom sayin'?
If you're looking for the best ice cream places in Toronto, you've come to the right place.
These are some of the best Toronto ice cream spots to satisfy your sweet cravings, not in any particular order!
I've also got a separate blog post all about the best Toronto vegan ice cream spots if you're interested.
---
1. iHalo Krunch
iHalo's ube and charcoal coconut twist soft serve is so good, you'll cry tears of joy.
P.S. don't be freaked out by your next number two if you eat the charcoal flavour.
You can grab your cone and head across the street to Trinity Bellwoods Park, or just eat it inside the shop because your ice cream might not make it on a hot day.
LOCATION: 915 Queen St. West | Website
---
2. Fugo Desserts
Fugo is another dessert spot that offers Asian-inspired ice creams, and they also offer mini donuts.
Their Thai iced tea soft serve is my fave, and their Cookie Monster cone is pretty awesome as well.
LOCATION: 205 Dundas St. West | Website
---
3. Bang Bang Ice Cream & Bakery
You're better off visiting Bang Bang during off times, because the lineups can get pretty long (especially during the summer).
I've tried a bunch of flavours over the years, and the avocado and lychee raspberry flavours are by far my most favourite!
If you're in the mood for a filling treat, grab your ice cream in the Hong Kong waffle or a cookie sandwich.
LOCATION: 93 Ossington Ave. | Website
---
4. Kekou Gelato
I love Kekou with all my heart.
Although I'd love to try new flavours, I pretty much always stick to either the Hong Kong milk tea or Vietnamese coffee flavours.
If you're in the mood for bubble tea, they've got that as well!
They've also got vegan ice cream options for my vegan friends out there.
LOCATION: 394 Queen St. West | Website
---
5. Wong's Ice Cream
This East End gem serves up Asian-inspired ice cream flavours you never would've imagined.
Think boozy egg tart and White Rabbit (yes, to my fellow Asian friends, those little candies we used to eat growing up).
LOCATION: 617 Gerrard St. East | Website
---
6. Ed's Real Scoop
Ed's is a small-batch ice cream shop that serves up some of the best ice cream in Toronto.
Stop by one of their four locations and grab a scoop, or feel free to pick up a whole pint (or two – I always do).
Their burnt marshmallow ice cream flavour is heaven on earth.
LOCATION: Various locations | Website
---
7. Summer's Ice Cream
Enjoy homemade ice creams at Summer's Ice Cream in the heart of Yorkville.
They've been around since the 80's, and their ice cream flavours are v good.
You can even find their ice cream pints at some grocery stores around the GTA.
LOCATION: 101 Yorkville Ave. | Website
---
8. Dutch Dreams
Dutch dreams is literally an ice cream shop filled with Dutch dreams.
If you want an epic cone for your Instagram feed, this ice cream spot in Toronto's St. Clair West neighbourhood is the place to visit.
Their pancake and waffle cones are made from recipes that have been passed down for generations, and their ice cream is all Kosher.
LOCATION: 36 Vaughan Rd. | Website
---
9. Roselle Desserts
Roselle is actually more of a bakery and dessert shop, but they've got fantastic soft serve made in-house.
They change up their soft serve flavours every so often, but their earl grey flavour white chocolate pearls and lemon filling is famous and a must for tea lovers!
LOCATION: 362 King St. East | Website
---
10. Milk Bar
Hidden on the second floor of Momofuku is Milk Bar, a NYC-based bakery with delicious confections created by pastry chef Christina Tosi.
You'll find the soft serve machine at the front of the restaurant though, and they switch up the flavours every now and then.
LOCATION: 190 University Ave. | Website
---
11. Tsujiri
Nothing beats matcha ice cream in Asia, but in my opinion, Tsujiri is as close as it gets in Toronto.
I like it way better than other places I've tried in the city.
Their hojicha soft serve is also v delicious.
LOCATION: Various locations | Website
---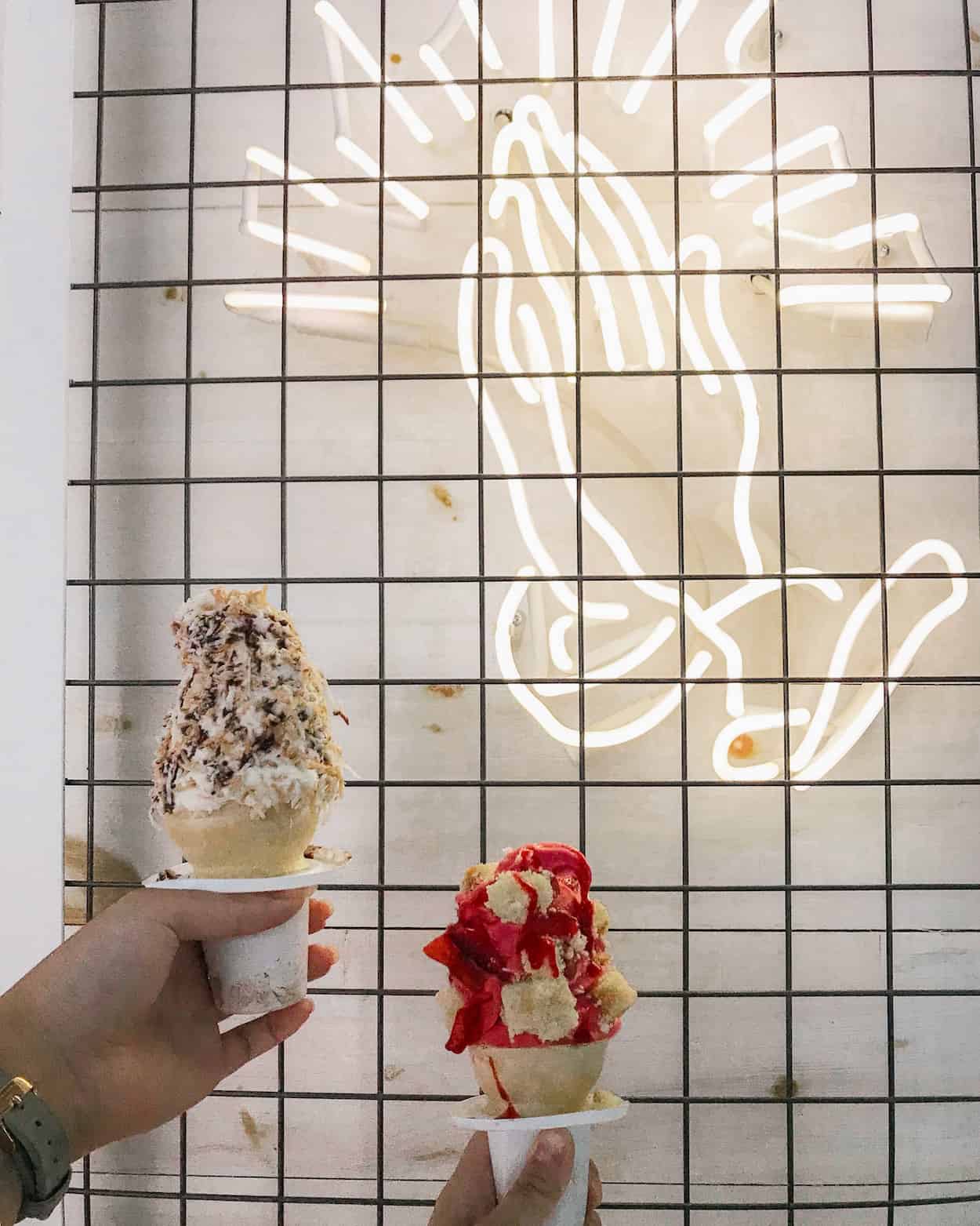 12. Sweet Jesus
You've probably already been here, but if you haven't, you seriously need to check Sweet Jesus out.
Although they're probably overrated, they've still got the most Insta-worthy cones.
The Red Rapture is my fave – it has everything red velvet in it and red velvet is my life.
Their Krusty the Kone is probably the most Instagram-worthy though!
LOCATION: Various locations | Website
---
Best ice cream spots in Toronto:
iHalo Krunch
Fugo Desserts
Bang Bang Ice Cream & Bakery
Kekou Gelato
Wong's Ice Cream
Ed's Real Scoop
Summer's Ice Cream
Dutch Dreams
Roselle Desserts
Milk Bar
Tsujiri
Sweet Jesus
These were just some of my favourite ice cream spots in Toronto!
What are some of the best Toronto ice cream places in your opinion? I'd love to know in the comments!
If you're looking for even more places to eat in Toronto, here are some other posts you might enjoy:
Be sure to keep up with me on Instagram, Twitter, Facebook, and Pinterest if you aren't already!
Feel free to subscribe to my weekly newsletter to get my blog posts delivered straight to your inbox.

---