Toronto has plenty of great vegan ice cream options, whether you're living a vegan lifestyle or just lactose intolerant.
I've started to become lactose intolerant as I've grown older, so I've had to implement lactose-free and dairy-free foods into my lifestyle.
Here are some of the best Toronto spots to get vegan ice cream!
Also be wary that most of these ice cream places offer dairy options as well, so there may be traces of dairy in vegan products.
I've also got separate blog posts all about the best Toronto ice cream spots and best Toronto gelato spots, if you don't have any dietary restrictions!
More Toronto restaurants
If you're looking for more of the best Toronto restaurants, you might enjoy these posts:
---
Best vegan ice cream spots in Toronto
---
Bar Ape is a small gelato shop in Toronto that only opens up from May through October, and they're always busy.
They're located in the St. Clair & Bathurst area, but it's worth venturing a bit outside of the city core for some delish gelato soft serve and popsicles.
Bar Ape is currently only open for takeout and pickup on Mondays and Fridays, and you can find more info on their Instagram page.
They have different flavours every week, and some of their recent vegan ice creams include Blueberry Raspberry Twist, Cucumber Cantaloupe, and Sour Watermelon.
LOCATION: 283 Rushton Rd, Toronto, ON
---
Bang Bang is one of the most popular Toronto ice cream spots, and you'll typically be waiting in lines out the door to grab a cone of their sweet, sweet ice cream.
This Trinity Bellwoods ice cream shop and bakery makes their own ice cream, waffles, and cookies, and they're all to die for.
They've got both dairy and vegan ice cream flavours, so you can visit with both your vegan and non-vegan friends.
Bang Bang makes their vegan ice cream using water, oat milk, and coconut milk.
They've got 4 vegan ice cream flavours in their lineup: Coconut Vanilla, Chocolate Sorbet, Mint Chocolate, and Vegan Cinnamon.
They even have vegan cookies, so you can have a fully vegan ice cream sandwich!
LOCATION: 93 Ossington Ave, Toronto, ON
---
Death in Venice is one of my all-time fave gelato spots in Toronto, and they've got a huge selection of both dairy and dairy-free gelato flavours.
It's one of the few ice cream shops in Toronto where there's an almost equal amount of dairy to non-dairy flavours!
Their gelato flavours change depending on the season, and you can either grab scoops or pints of their gelato.
Some of their non-dairy gelato flavours include Propellor Cold Brew Espresso, Blueberry Lavender Lemonade, and Peach Prosecco Bellini!
LOCATION: 1418 Dundas St. West, Toronto, ON
---
Get an authentic taste of Southern Italy at this café in Yorkville that also serves up amazing gelato and sorbet!
They make handcrafted gelato in an old Italian style using organic ingredients, so you're truly getting the real deal here.
They've got a good amount of sorbet flavours, which is naturally vegan – try the Orange or Melon flavours!
Afterwards, you can stroll around the gorgeous Yorkville neighbourhood.
LOCATION: 29 Bellair St, Toronto, ON
---
Kekou serves up Asian-inspired gelato flavours along Queen West, and they've expanded to serving popsicles and bubble tea.
They make their own gelato and sorbet in-house without any preservatives, and they've got vegan options on top of their dairy options.
Their non-dairy ice cream flavours switch up every so often, but some flavours they've had in the past include Spicy Salted Pineapple, Tsing Tao Peach, Osmantus Plum Berry, Soursop, and Mango.
LOCATION: 394 Queen St. West, Toronto, ON
---
Bunner's is a completely vegan and gluten-free bake shop, and they've got delicious dairy-free soft serve ice cream made with oat milk.
Their soft serve flavours switch up every so often, and they've had flavours including Strawberry, Blueberry, Raspberry, Mango, and Cotton Candy.
Find them in Kensington Market or in the Junction!
LOCATION: Various locations
---
Ed's Real Scoop doesn't have actual vegan ice cream, but they've got vegan sorbet.
Their vegan sorbets are made of pure fruit purees, sugar, and water, so it's made up of real ingredients.
Some of their sorbet flavours include raspberry and mango.
Ed's has 4 locations across Toronto, and they make their ice cream in small batches.
LOCATION: Various locations
---
Like Ed's, Summer's is another OG Toronto ice cream shop, and they're located in the heart of Yorkville.
They have dairy ice creams and dairy-free sorbets, including flavours like Watermelon Sorbet, Raspberry Mango Sorbet, Lemon Sorbet, and Lime Sorbet.
Grab a cone or cup of dairy-free sorbet and head over to the Yorkville Rock at the Village of Yorkville Park.
LOCATION: 101 Yorkville Ave, Toronto, ON
---
The Fix is a teeny little ice cream bar part of the Joe Bird Restaurant at the Harbourfront.
They've got a delicious house made peanut butter soft serve you can have on its own, or as a jazzed up chocolatey-peanuty cone full of goodness.
They also have house made vanilla and chocolate soft serve with dairy, as well as Kawartha Dairy ice cream flavours, if you're with friends who eat dairy.
If you're looking for more fun things to do in the area, I've got a blog post all about the best things to do at the Harbourfront.
I've also got a blog post all about the best Harbourfront restaurants!
LOCATION: 207 Queens Quay West, Toronto, ON
---
Get epic Hungarian chimney cones right in Toronto, made with a vegan dough using all natural and mostly organic ingredients.
Most options on their menu are also available as vegan options, such as their vanilla and chocolate soft serve and house made sauces.
Simply ask for the vegan option when you're ordering!
You'll probably want to share with someone, as their loaded up cones are super filling.
LOCATION: 454 Bloor St. West, Toronto, ON
---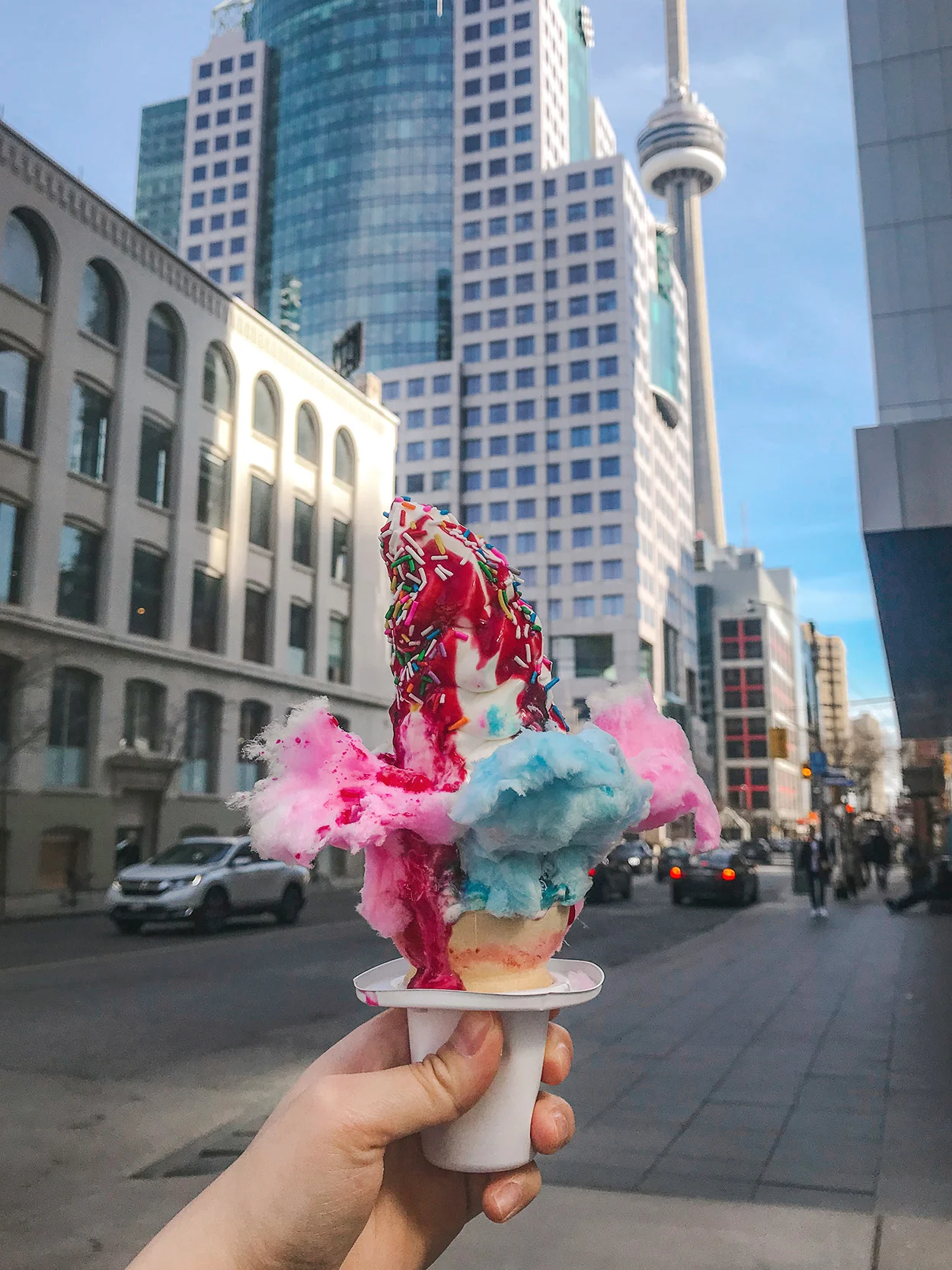 Sweet Jesus started off its humble beginnings at its John Street location, and they've now expanded across the GTA.
They've got some of the most jazzed up ice cream cones in Toronto, perfect for your Instagram feed.
The Bounty Killah soft serve cone is currently the only vegan option on the menu, and it's got a delicious coconut soft serve ice cream.
Every so often, they do have limited edition vegan soft serve flavours.
They also now have everything from milkshakes to ice cream cakes to satisfy your sweet tooth!
LOCATION: Various locations
---
Nanashake's offerings are entirely vegan, so you can order anything you want off the menu.
Their ice creams are made exclusively from plant-based ingredients, and they're all about making ice cream ~healthy~ while keeping it delicious.
They actually work with a registered holistic nutritionist to create desserts that are healthy and nutritious!
Try the Banana Bread or Rosey Pistachio flavours!
You can find them in North York near Yonge & Sheppard.
LOCATION: Unit 134, 4750 Yonge St, Toronto, ON
---
Best vegan ice cream in Toronto:
Bar Ape
Bang Bang Ice Cream & Bakery
Death in Venice Gelato
Coco Espresso Bar
Kekou Gelato
Bunner's Bake Shop
Ed's Real Scoop
Summer's Ice Cream
The Fix Ice Cream Bar
Eva's Original Chimneys
Sweet Jesus
Nanashake
These were just some of my favourite vegan ice cream places in Toronto!
Have you been to any of these ice cream places? What are some of the best Toronto shops to grab vegan ice cream in your opinion? Let me know on Twitter or Instagram!
More Toronto restaurants
If you're looking for more of the best Toronto restaurants, you might enjoy these posts: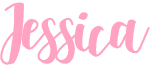 ---