On the hunt for the best dessert places in Markham to get your sweet tooth fix?
I love me a good dessert, and I always love hitting up dessert spots after a good meal.
There are so many amazing restaurants in Markham, so it's totally worth planning to visit somewhere for dessert afterwards.
Whether you're into traditional Asian desserts or big scoops of ice cream, you'll find plenty of incredible dessert places in Markham that'll tickle your fancy.
Here are some of the best places to grab dessert in Markham, Ontario!
If you're visiting from out of town, book a stay at one of the best hotels in Markham.
---
Best dessert places in Markham
---
Bake Code is one of my fave local bakeries in the GTA, and you can usually find their pastries at Chatime locations.
Try their incredible croissants, macarons, and other pastries!
Their Markham bakery is located by 16th & Woodbine, and they've also got bakeries in North York, Richmond Hill, and Vaughan.
LOCATION: 9255 Woodbine Ave, Unit 16, Markham, ON
---
Butter Baker is a Toronto-based French bakery, and they've now got a location in Markham!
Find everything from croissants to chiffon cakes – heaven on earth for all of the baked goods.
Their soft serve is actually only available from April through October, and the flavours change up every month – some recent flavours include Strawberry Vanilla soft serve and Guava Vanilla soft serve!
Everything in their shop is handcrafted using natural ingredients and local Ontario dairy and free-run eggs.
LOCATION: 140 Amber St. Unit #10, Markham, ON
---
HCafe is a Japanese bakery serving up freshly-baked, traditional Japanese cheesecakes.
It's one of my family's favourite dessert places in Markham – we love the taro Japanese cheesecake!
Their Markham location is located in Main Street Unionville neighbourhood, which is also one of the cutest and most Instagram-worthy spots in York Region 😉
They also have a location in North York at Yonge & Sheppard!
LOCATION: 158 Main St. Unionville, Markham, ON
---
Sugar Marmalade makes traditional Hong Kong-style desserts with a twist.
You'll find everything from glutinous rice, to sago, to bubble waffles on the menu!
Their Markham location is at First Markham Place, and they also have locations across the GTA and Canada.
LOCATION: 3255 Hwy 7 East, Unit 19-20, Markham, ON
---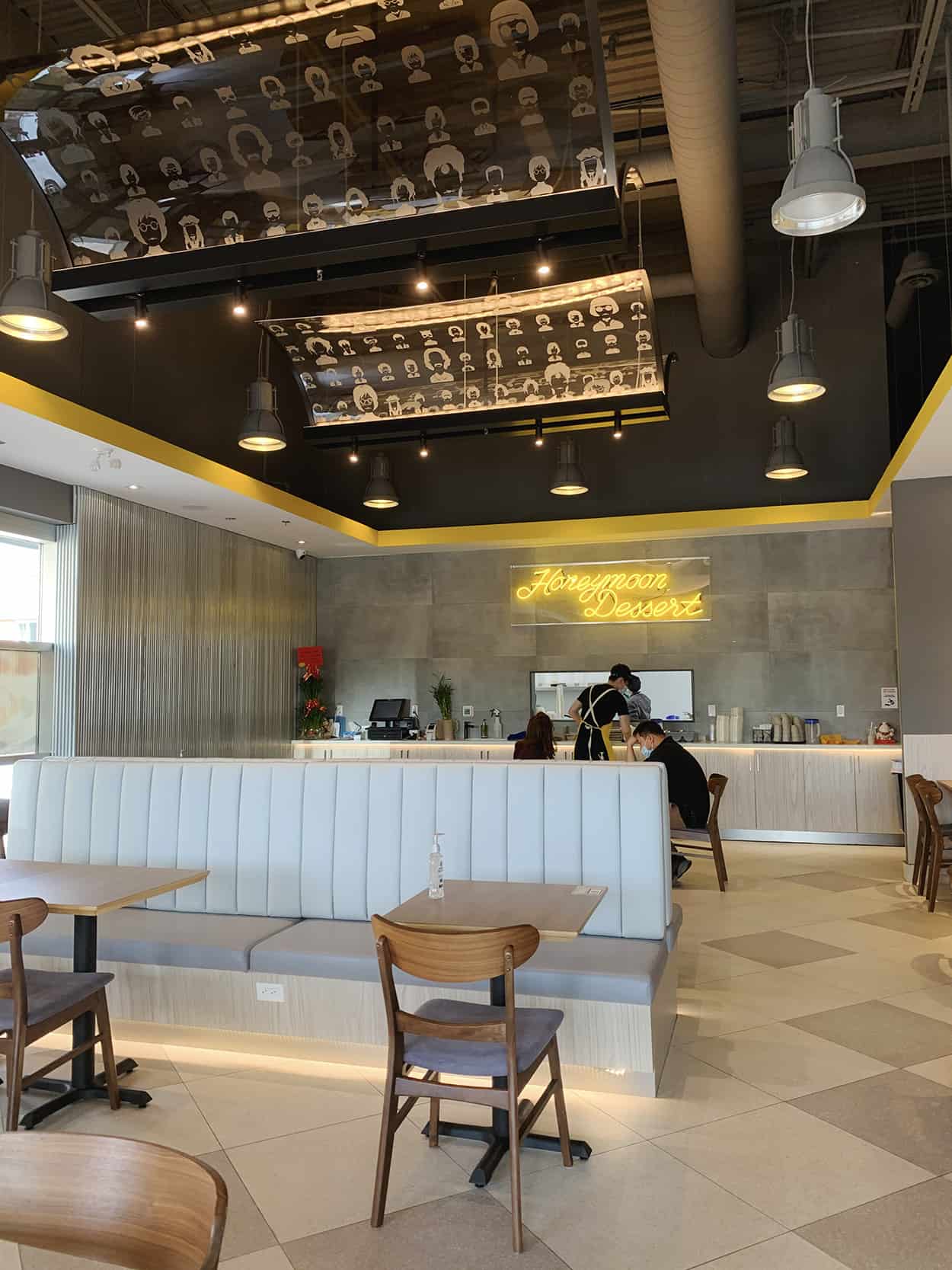 Honeymoon Dessert is a Hong Kong-based dessert chain with locations all over Hong Kong and China.
Their Markham location is actually their first location in North America!
If you're into Hong Kong-style fruit pancakes (stuffed with whipped cream and fresh fruit!) and sago soup, you'll love the desserts at Honeymoon.
LOCATION: 3828 Hwy 7 Unit 2, Unionville, ON
---
Meet Fresh is a Taiwanese dessert chain that serves up delicious Taiwanese dessert bowls.
Their desserts are made fresh daily, without any preservatives!
Find all the goods including taro balls, grass jelly, and tofu pudding.
They've also got locations across Canada!
LOCATION: 28 South Unionville Ave, Markham, ON
---
The Old Firehall Confectionery is a fave dessert spot of locals during the summertime.
They offer all kinds of old-fashioned and handcrafted sweets, from delicate chocolates to classic macarons.
It's located right along Main Street Unionville, and it gets really busy during the summer months!
LOCATION: 170 Main Street, Unionville, ON
---
I've been going to Demetres for desserts for as long as I can remember.
Before the York Region food scene was poppin', Demetres was the go-to dessert spot in Richmond Hill.
The Demetres in Downtown Markham is a newer location, and the space is absolutely gorgeous.
I've always loved the punny names of all the desserts on the menu!
Come here for ice cream crepes, loaded sundaes, and creamy milkshakes.
LOCATION: 180 Enterprise Blvd, Markham, ON
---
Best dessert places in Markham:
Bake Code
Butter Baker
HCafe
Sugar Marmalade
Honeymoon Dessert
Meet Fresh
Old Firehall Confectionery
Demetres
Have you been to any of these dessert places in Markham? What are some of the best spots in Markham to grab sweet treats in your opinion? Let me know on Twitter or Instagram!
If you're looking for more fun things to do in York Region, you might enjoy these posts:
If you're looking for even more restaurants in the Greater Toronto Area, here are some other posts you might enjoy:
Be sure to keep up with me on Instagram, Twitter, Facebook, and Pinterest if you aren't already!
Feel free to subscribe to my weekly newsletter to get my blog posts delivered straight to your inbox.

---