Searching for the best coffee shops in Markham to get your fix of coffee?
We all know how fantastic Markham's food scene is, and there's also no shortage of great coffee shops.
Whether you're looking for a cute coffee shop to meet a friend or a coffice (coffee + office) to sit down and get some work done, you'll definitely love all these cafés in Markham.
You can even hit up all of them and do a little café hop!
Here are some of the best coffee shops and cafés to visit in Markham, Ontario.
Be sure to also follow me on Instagram and TikTok – I share a lot more content on those platforms that don't make it to the blog!
More things to do in Markham
If you're looking for more fun things to do in Markham, you might enjoy these posts:
---
Best coffee shops in Markham
---
The Library Specialty Coffee is one of Toronto's best coffee shops, and they now have a location in Markham!
This chic Aussie-style café serves up espresso-based drinks and pour-over coffees, and their Vanilla Bean Latte is v delicious.
They use quality milk from Sheldon Creek Dairy, as well as oat milk from Minor Figures and macadamia nut milk from Milkadamia.
They've also got a shelf filled with their own beans, non-dairy milks, and coffee-making tools that you can shop.
You can find their gorgeous and minimal coffee shop in the First Markham Centre plaza, which is right across from First Markham Place.
There is a limited amount of seating if you're looking to enjoy your coffee inside the shop.
If you're looking to visit their downtown locations, you can find them by the Art Gallery of Ontario or on Queen West!
LOCATION: 11 Fairburn Dr #32, Markham, ON
---
Platform is a cozy spot on Highway 7 serving up both coffee and brunch, and they've also got a gorgeous interior with a cool train mural!
From Belgian waffles to torched salmon toast, they've got a good selection of classic and Asian-inspired brunch options to choose from.
The brunch is pretty good, but I think the drinks are definitely the specialty here!
They have an extensive drink menu featuring all kinds of interesting coffee and tea drinks, like their Hojicha Latte and Blue Rose (butterfly pea flower tea with rose, white chocolate, and milk).
We tried the Torched Ube and Kyoto Love (matcha with white chocolate and rose petals), and both were delicious!
You can even try seasonal drinks like their Peppermint Mocha!
It's nice that they also have a decent selection of caffeine-free drinks, perfect for anyone who's sensitive to caffeine.
They serve up coffee and tea from local and international roasters and companies, including coffee from Hatch Coffee nearby and 49th Parallel in Vancouver!
LOCATION: 4450 Hwy 7, Unionville, ON
---
STAE CAFE is a super cute and cozy spot in the east part of Markham.
They've got an extensive drink menu with espresso and tea options, including all the classics and more unique concoctions like their Oat Lavender Latte (which is heavenly).
They also have a changing seasonal selection, with options like their Brown Sugar Mushroom Latte and Matcha Pandan Latte.
Something really nice about this spot is that they can make their drinks decaf, which is great for anyone who's sensitive to caffeine, or anyone who isn't in the mood for caffeine!
All of their drinks even come with cute lil' madeleines, which is a really nice touch.
They've also got a small selection of house-made pastries and unique bites, including their Spicy Italian Sandwich and Strawberry Matcha Toast.
If you're into sweets, you definitely need to try their Crème Brûlée Cookie, which is amaze.
You can even order ahead on their website to make your life easier.
There's a good amount of seating if you're looking to enjoy a bite or drink in the café, but there's only one table with an outlet, so it's more of a spot to catch up with a friend than to work out of!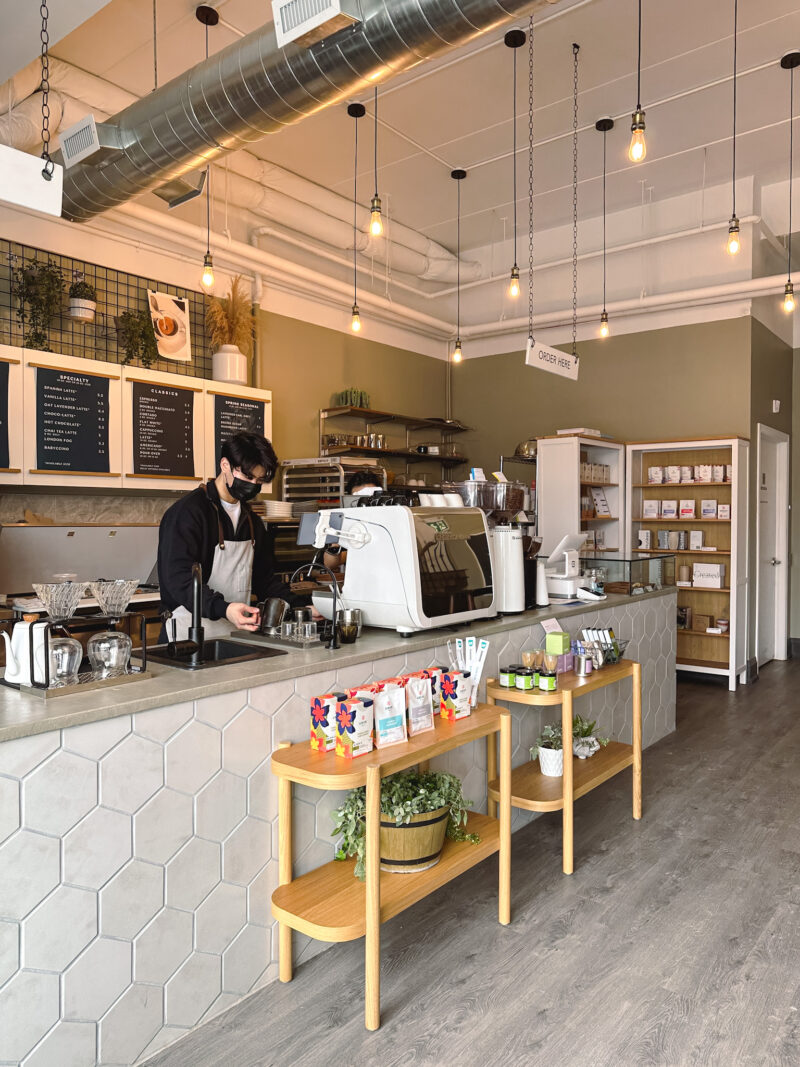 STAE actually used to be called Reset Coffee Bar, but they were sadly forced to change their name recently.
They're still a fantastic coffee shop in Markham though, and I really like the new interior changes they made after switching up the name!
LOCATION: 222 Copper Creek Dr, Markham, ON
---
Pod Coffee is a super cute little coffee shop located right in Main Street Unionville.
They're housed in a minimalist white building with black accents, v perfect for your Instagram feed.
They've got all the classic coffee and tea fixings, as well as seasonal drinks.
You can even shop some coffee accessories in-store if you're looking to level up your coffee game at home!
You'll find Pod Coffee pretty much right at the entrance to Main Street Unionville from the Highway 7 side.
LOCATION: 142 Main St Unionville Unit 2, Unionville, ON
---
Located inside Pacific Mall is this authentic Vietnamese coffee shop that specializes in traditional Vietnamese-style drip coffee and Egg Coffee.
Egg coffee is a Vietnamese specialty made with espresso and topped with custard (egg yolk and sweetened condensed milk), and it's truly heavenly.
They've got a pretty wide selection of unique drinks (caffeinated and non-caffeinated), such as their Green Thai Milk Tea, Durian Milk, and Taro Frappe!
They have actual food as well, including banh mi and more interesting bites like Rice Paper Salad and Rice Crackers.
LOCATION: 4300 Steeles Ave E C2-208, Markham, ON
---
I honestly didn't expect much when I first heard about A-OK, but Adam and I were thoroughly impressed during our first visit!
A-OK Cafe is an in-house coffee shop from Canadian clothing brand Aritzia, and they've now got a location at their newly-expanded Markville store.
They've got some pretty unique drinks made using their house-made syrups, like their Purple Pop Latte made with ube and sweetened condensed milk.
They also have their own signature espresso blend for all their espresso drinks!
You'll also find a small selection of locally-made pastries, alongside cocktails and bar snacks.
The almond croissant we had tasted a little stale, but we still thought it was pretty good.
Their café is also extremely gorgeous and every corner is super Instagrammable!
There's also plenty of seating inside the café, which is great because it does get quite busy in there.
You can also find A-OK Cafe at Aritzia locations in Yorkville, at Sherway Gardens, at Vaughan Mills, and at Mapleview Shopping Centre!
LOCATION: 5000 Hwy 7, Markham, ON
---
This adorable spot offers up classic espresso drinks alongside unique concoctions like their Black Latte (with charcoal)!
They source their beans from local and international roasters, and you can actually choose your own from their selection for your drink!
There's a limited amount of seating in their cozy café, but they do have patio seating outside during the summer months.
B.P.M. is tucked away in the Cathedraltown neighbourhood of Markham, which is north of Major Mackenzie.
Definitely stop by for an Instagrammable photo opp at the stunning Cathedral of the Transfiguration afterwards!
Also take note that B.P.M. is closed on Wednesdays and Thursdays.
LOCATION: 46 Cathedral High St, Markham, ON
---
This fun and colourful café in east Markham specializes in Ca Phe Da (Vietnamese iced coffee) and matcha.
They get their matcha from Junbi, which sources their matcha from a century-old farm in Uji, Japan!
They've got a bunch of matcha drink options, and their White Chocolate Matcha Latte is delicious.
Monkey Hut also serves up a range of delicious pastries, including incredible locally-baked cookies from Fatty's Cookies, all perfect for pairing with coffee or matcha.
I love all the fun little touches in the café, like the rainbow bench, plant wall, and mural!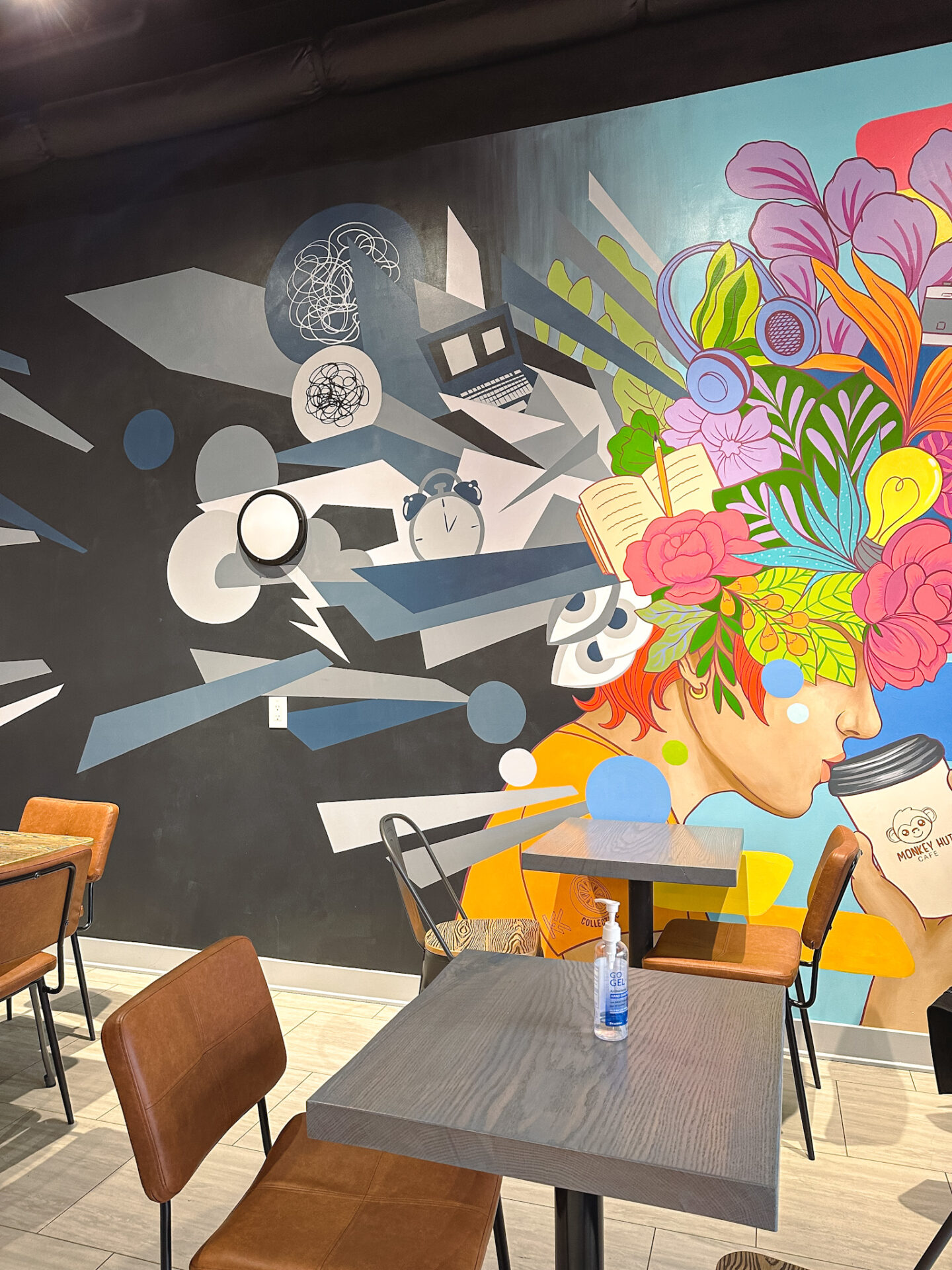 The bright and fun mural is also the perfect backdrop for snappin' a shot of your coffee.
There's a good amount of seating inside the café as well if you're looking to catch up with a friend or looking for somewhere to work for a few hours!
LOCATION: 336 Copper Creek Dr, Markham, ON
---
If you're looking for a coffee shop where you can actually bring your doggo inside, you'll adore The Bernese Barista in Markham.
This pup-friendly café is all about barks and brews, and you'll find espresso drinks and tea lattes alongside locally-baked goods.
They also serve up a selection of butter tarts from The Maid's Cottage in Newmarket, which makes some of the best butter tarts in Ontario!
We don't have our own pup, but we enjoyed sippin' on our lattes while watching everyone else's pups playing with each other.
Definitely come by the café on a weekend if you want maximum fur babies runnin' around.
The Bernese Barista even hosts fun events at the café for your furry friends, like Halloween costume contents and ugly Christmas sweater parties!
LOCATION: 6 Nipigon Ave, Markham, ON
---
Hatch is a specialty coffee roaster and shop based out of Markham, and you can actually find their beans at quite a few cafés across the GTA!
Stop by their coffee bar and try one of their drip coffees made with beans roasted on-site, or go for a bottled cold brew.
You can also subscribe to their coffee subscription service and try their new coffee offerings each month!
They're also a carbon neutral company, which is pretty cool.
LOCATION: 802 Cochrane Dr, Markham, ON
---
Cafe N' One serves up unique Japanese-inspired fare alongside an extensive drink menu.
From their Dorayaki Pancake to their Karaage Moffle (mochi waffle), they've got plenty of delish all-day breakfast options.
They also have a good selection of Japanese-inspired signature pastas and specialty croissant sandwiches.
For drinks, they've got fun creations like their Iced Strawberry Latte and Iced Red Bean Matcha Latte!
They've currently got a takeout special where you can get a free drink with the purchase of a pasta, but it's cash-only.
You can find Cafe N' One near Highway 7 & Woodbine, and they also now have a second location in North York by Yonge & Finch!
LOCATION: 8366 Woodbine Ave, Markham, ON
---
If you're looking for somewhere with great coffee and fantastic brunch, you'll definitely want to pay a visit to Alchemy.
Owned and operated by two brothers who left their corporate jobs to join the restaurant industry, Alchemy quickly became one of Markham's most beloved brunch spots!
They've got unique brunch dishes like their Duck & Waffles with duck confit and plum sauce.
You'll also find all of the classic coffee fixings, so you can enjoy a good cuppa cappuccino with your brunch.
If tea is more your thang, their Hojicha Latte is really good!
The restaurant is teeny-tiny and it gets quite busy, so be sure to arrive early for a seat.
They've also recently opened a new location in Richmond Hill, by Leslie & 16th!
LOCATION: 4361 Hwy 7, Unionville, ON
---
SCENIC serves up delicious coffee and Japanese-inspired brunch every single day of the week.
Their dishes are made with local ingredients, including their Yuzu Eggs Benedict, Strawberry Rose Mochi Pancake, and Tamagoyaki Omelette!
I adore their Okonomiyaki Grilled Cheese, with is topped with nori and comes with an okonomiyaki dipping sauce.
They've also got all your typical coffee offerings made with locally-roasted coffee, alongside more unique options like their Hojicha Latte and Kabocha Soy Latte.
You can find their café right by Woodbine & Highway 7 in a small plaza!
LOCATION: 8241 Woodbine Ave #7, Markham, ON
---
Best coffee shops in Markham:
The Library Specialty Coffee
Platform Espresso Bar
Reset Coffee Bar
Pod Coffee
Coffee Dak Lak
A-OK Cafe
B.P.M. Café
Monkey Hut Cafe
The Bernese Barista
Hatch Coffee Roasters
Cafe N' One
Alchemy Coffee
SCENIC coffee + brunch
These were some of the best coffee shops and cafés in Markham to visit, whether you're looking to grab a quick coffee or sit down and do some work.
If you're looking for a great spot to go café hopping, you can hit up Downtown Markham, where you can find Lucullus, Patisserie Fleur, and Aroma.
Have you been to any of these cafés? What are the best coffee shops you've been to in Markham? Let me know on Twitter or Instagram!
More things to do in Markham
If you're looking for more fun things to do in Markham, you might enjoy these posts:
Be sure to keep up with me on Instagram, TikTok, Twitter, Facebook, and Pinterest if you aren't already!
Feel free to subscribe to my weekly newsletter to get my blog posts delivered straight to your inbox.

---
Like this post? Pin it for later!