Looking for the best sushi restaurants in Markham to visit?
Markham is known for having amazing Asian food, and there's no shortage of great sushi restaurants in the neighbourhood.
Whether you're looking for classic maki rolls, torched sushi, or decadent chirashi bowls, you'll definitely enjoy hitting up these sushi restaurants in Markham.
Here are some of the best sushi restaurants you must visit in Markham, Ontario!
If you're looking for even more great sushi spots in the GTA, check out my post on the best sushi restaurants in Toronto.
And if you're searching for restaurants in specific areas, check out my blog posts on the best restaurants in First Markham Place, Main Street Unionville, or Downtown Markham!
Be sure to also follow me on Instagram and TikTok – I share a lot more content on those platforms that don't make it to the blog!
More things to do in Markham
If you're looking for more fun things to do in Markham, you might enjoy these posts:
---
Best sushi restaurants in Markham
---
This beautiful sushi restaurant is located in the historic Main Street Markham neighbourhood, and it's such a gem.
Adam and I visited for our anniversary, and it was the stunning interior that made Adam pick this spot!
The sushi was pretty great, and the service was also fantastic.
The Appetizer Sashimi was quite fresh, and we really enjoyed the Salmon Pressed Sushi!
Aside from sushi, they also have a good selection of Korean dishes, and we'll definitely be trying their Korean fried chicken next time we visit!
LOCATION: 6040 Hwy 7, Markham, ON
---
This little takeout sushi shop shares a space with a bakery, and you can find them by Esna Park & Denison.
Their sashimi is pretty fresh, and they've got plenty of unique and colourful rolls like their Esna Roll (with torched mixed fish, mango, crab meat, avocado, spicy sauce) and King Roll (with king crab meat, green onion, fish roe, spicy sauce, avocado, cucumber).
They even have seasonal specials, like their Snowflakes Roll and Black King Roll!
They've also got a good selection of party trays at decent prices, like their Specialty Mix Trays ($88 for 70 pieces or $128 for 120 pieces).
Note that it's a takeout-only spot, and you can order ahead on their website for pickup!
LOCATION: 170 Esna Park Dr Unit 2, Markham, ON
---
If you're in the mood for a little bit of Japanese and a little bit of Korean, you can enjoy your fave sushi rolls alongside Japchae or Bulgogi at Osaka Sushi.
They have a huge selection of special rolls to choose from, as well as plenty of different cooked dishes like udon noodles or donburi.
You can find them near Highway 7 & McCowan!
LOCATION: 5762 Hwy 7, Markham, ON
---
I've been going to Gal's Sushi since I was in high school, and it never disappoints.
The sushi is pretty good, and I love the Korean side dishes that come in the bento boxes!
They've got both Japanese and Korean food on the menu, so you can have a taste of both.
The lunch specials are actually quite good – the bento boxes above were $12.99 (sashimi and sushi) and $15.99 (sushi and bulgogi)!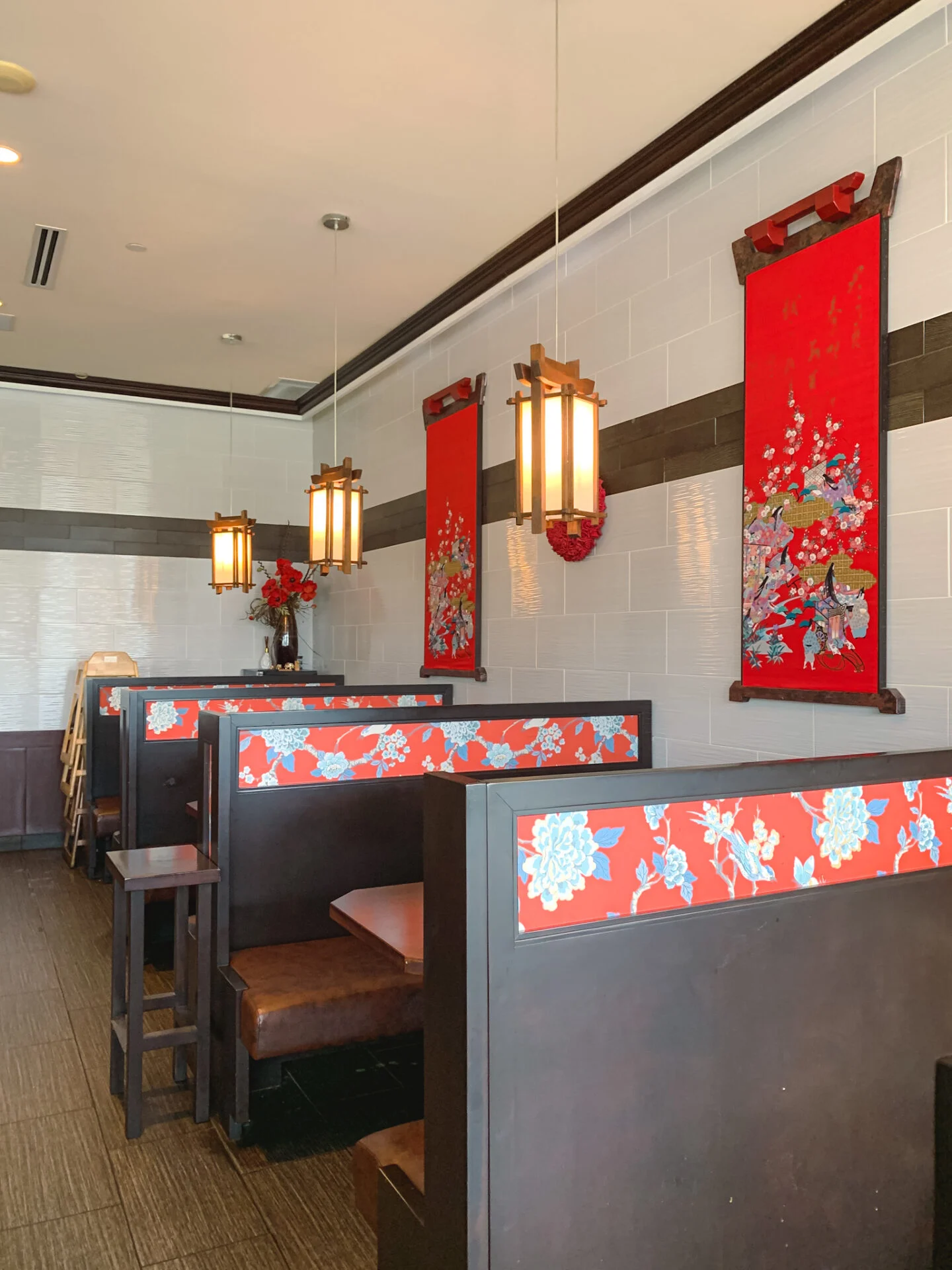 There's also a ton of seating inside the restaurant, and I love that it's all booth seating to make it more cozy and intimate.
You can find them right by Highway 7 & Warden!
LOCATION: 3621 Highway 7 #106, Markham, ON
---
Looking for fantastic takeout sushi in Markham?
Mi-Ne has plenty of great bento boxes and lunch specials available for takeout, plus plenty of awesome signature maki rolls to enjoy if you dine in.
Mi-Ne Sushi has one location in Markham and one in Aurora.
LOCATION: 8865 Woodbine Ave, Markham, ON
---
This modern Japanese and Korean restaurant serves up sushi alongside Korean comfort foods, and their sushi rolls are massive.
They've even got some Korean fusion rolls, like their Bulgogi Roll and Unagi Kimchi Pressed Sushi!
They've also got an extensive special roll menu, whether you're craving aburi oshi sushi, raw sushi, or cooked sushi.
The Perfect Dinner combo is perfect for sharing, which comes with chicken, beef, or salmon teriyaki, tempura, dynamite roll, sashimi, and sushi for just $30!
We also like to get an additional roll to try something different each time, though the Perfect Dinner is enough for Adam and I.
If you've got any dietary restrictions, you can swap sushi rice and seaweed for brown rice or soybean paper!
LOCATION: 4471 Hwy 7, Unionville, ON
---
J San is part takeout restaurant and part market, and you'll find some of the freshest fish in Markham here.
They've got plenty of sushi rolls (including torched) on the menu, but the make-your-own-sashimi-box and make-your-own-donburi is definitely what you'll want to come here for!
Both make-your-own options start with a base of sushi rice, and you can add your choice of toppings a la carte.
From o-toro (blue fin tuna belly), to seabream, so uni (sea urchin), they've got tons of topping options to choose from that you typically won't find at other sushi places.
It's nice, because you can just add all your favourite things to the box and pay per piece!
They've also got seating inside if you're looking to dine in!
LOCATION: 3365 Steeles Ave E Unit B01, Toronto, ON
---
Hana Don serves up sushi at their gorgeous restaurant, though donburi is actually the specialty here.
Donburi is a Japanese dish where things are served atop of rice, so it's kind of like sushi in a bowl!
They import their fresh and seasonal ingredients directly from Japan, and you'll find dishes like their Aburi Don (with seared fish) and Hokkaido Don (with uni, ikura, and Hokkaido scallop).
You can find them at Woodbine & 16th in the same plaza as T&T, and they've also got a location in North York!
LOCATION: 9255 Woodbine Ave Unit B14, Markham, ON
---
IKON is known for having fresh and delicious premium sashimi, which you can have in one of their platters or in their donburi (rice bowls).
You'll find a variety of platters you can choose from, and the Salmon Deluxe Sushi & Roll is perfect for salmon lovers.
It features a mix of fresh and torched salmon nigiri and rolls, and it's v delicious.
Their special rolls are definitely worth ordering as well, and they've got an amazing Supreme Roll with otoro, uni, and ikura and a super unique Salted Egg Spikon Roll with a delicious salted egg sauce.
If you're a sashimi lover, try their IKON Chirashi Don, which features the chef's selection of cubed sashimi with tamago, cucumber, ikura, and ponzu sauce.
They also wrap their takeout in fabric, a Japanese method called furoshiki, so you can keep it and reuse it for other things!
And if you're dining in, you can enjoy a glass from their delicious selection of sake.
Located at First Markham Centre, which is across from First Markham Place, they're kind of hidden, but totally worth the visit.
If you're visiting during lunch, definitely stop into The Library Specialty Coffee in the same plaza, which is an incredible Toronto coffee shop with a new Markham location!
LOCATION: 11 Fairburn Dr Unit 20, Markham, ON
---
If you love both anime and aburi oshi sushi (AKA torched pressed sushi), you'll definitely want to visit Cafe Mozaiko in Markham.
They've got a bunch of aburi oshi sushi options you can choose from, and they've got pretty decently-priced lunch specials and platters as well!
For anime fans, they've got menu items inspired by Spy Family, Attack on Titan, and Demon Slayer.
They also have a bunch of different Japanese iced and milk teas you can pair with your meal.
You can order ahead for pickup on their website, which makes life lot easier, but their party tray does require ordering 3 hours in advance.
Their restaurant is located in a sort of hidden area near Woodbine & Major Mac, so it's kind of a cool hidden gem.
It's also more of a takeout spot, but they do have seating inside and patio seating outside if you want to dine in!
LOCATION: 60 Cathedral High St, Markham, ON
---
Toyosu is actually a takeout sushi spot in Markham, but their sashimi is super fresh and great quality.
They have tons of different sushi platters to choose from, as well as some donburi, a la carte sashimi, sushi, and pressed sushi options.
They're actually only open from Friday through Sunday, and they close whenever they run out of fish.
It's a little bit pricy, but it's definitely worth it for the quality.
You can find them inside the Langham Square Plaza above T&T, and you'll also want to pre-order at least a day ahead!
LOCATION: 8339 Kennedy Rd. Unit 2660, Markham, ON
---
You can find Yin Sushi Market in the Langham Square plaza as well, and it's also a takeout-only spot.
Their menu is a little pricy for being just a takeout spot, but their sashimi is super fresh and their sushi is delicious!
You can choose from a bunch of different sashimi and sushi roll options, and we absolutely love their selection of torched sushi.
Our favourites are the Unagi Oshi Sushi, Salmon Oshi Sushi, and Torched Scallop Dragon Roll.
Their takeout packaging is also stunning, and they even decorate with little flowers!
If you're looking to make your own sushi at home, they also sell fresh sashimi and other Japanese ingredients in-store.
And if you're looking for a great coffee spot nearby, A Lot Coffee is an amazing coffee shop in the same plaza!
LOCATION: 30 South Unionville Ave. Unit 1023, Unionville, ON
---
If you're looking for the best all-you-can-eat sushi in Markham, KAKA is it.
Just because you're eating AYCE, doesn't mean you have to skimp out on quality.
KAKA serves up delicious and great quality sushi alongside izakaya-inspired dishes, including everything from donburi, to skewers, to maki rolls.
They've got classic maki rolls like Black Dragon and Dynamite, as well as unique specialty rolls like their Honey Mustard Salmon Roll and Fried Chicken Roll.
They even have aburi nigiri and aburi oshi sushi, which you don't usually find at AYCE sushi restaurants.
If you haven't heard of aburi oshi sushi, it's torched and pressed sushi, and it literally tastes like heaven on earth – especially with the caramelization of the sauces!
Of course, dessert is always the best part of AYCE, and my fave dessert item here is the matcha crème brûlée.
The atmosphere of their Markham restaurant is also super nice, with chic and modern decor.
You'll find them at First Markham Place, and they also have a location in downtown Toronto on Bay Street!
LOCATION: 3235 Hwy 7 #18A, Markham, ON
---
Kiu is one of the many fantastic restaurants in Downtown Markham, and you'll find a variety of raw and cooked appetizers, noodle and rice dishes, and sushi.
Best of all? They've got aburi oshi sushi!
They also recently hosted a popup in collaboration with Bopomofo Cafe (a concept by the guys behind Wong Fu Productions), which is really cool!
Afterwards, you can explore the Downtown Markham neighbourhood and walk off your full belly.
LOCATION: 169 Enterprise Blvd 2nd Floor, Markham, ON
---
Classic Japanese dishes and premium sushi are what you'll find at Hibiki, located right on Highway 7 by Main Street Unionville.
They serve up some of the freshest sashimi in Markham, with options like Toro (tuna belly) and Uni (sea urchin).
They've also got delicious cooked dishes like Yakionigiri (grilled rice balls), Black Cod Misozuke (grilled black cod), and Seared Foie Gras & Scallop!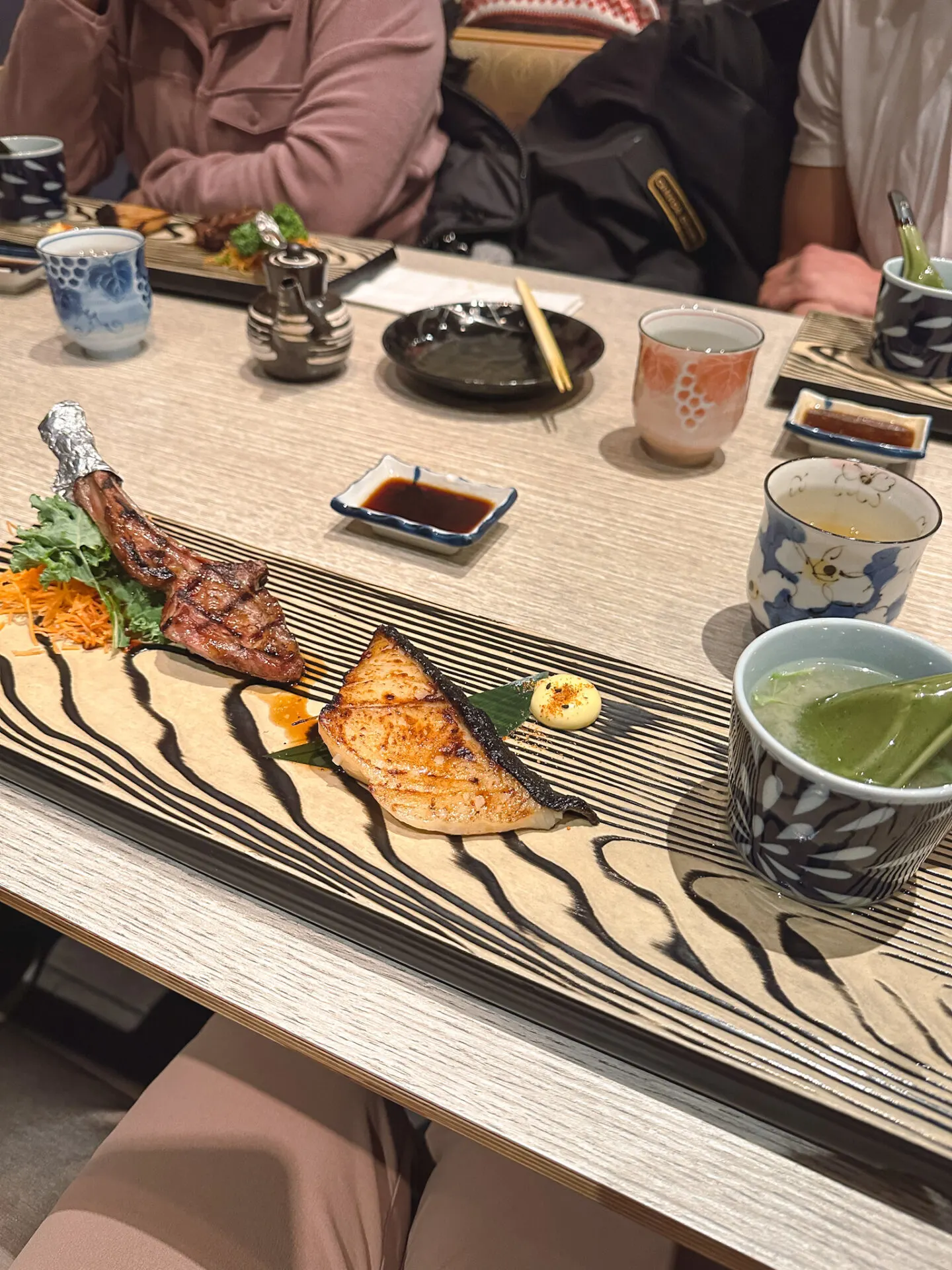 If you're a fan of tasting menus, they offer set menus during holidays like Valentine's Day and Christmas, perfect for sampling a bunch of different Japanese dishes (and sushi!)
My family and I visited for my dad's birthday and tried the Christmas set menu, and the sushi was definitely our favourite part of the entire meal.
The interior of the restaurant is also lovely, with plenty of booth seating!
If you're familiar with restaurants in Richmond Hill and Markham, you might remember their sister restaurant Inatei, which sadly shut down years ago!
Hibiki is actually located right next door to Platform Espresso Bar, which is an adorable coffee shop in Markham that also serves great brunch.
LOCATION: 4450 Hwy 7, Unionville, ON
---
If you're in the mood for some omakase, Zen Japanese Restaurant is definitely worth visiting.
They have a few different omakase options, whether you're looking to just enjoy the chef's choice of sushi or a set course meal.
If you prefer to order a la carte, they've got some delicious and unique menu items like their wagyu options, Kamo Roast (roasted duck), and Lobster Tempura!
You can also choose between table or counter seats, and counter seats are an additional $10 per person.
It's definitely a place to take someone if you're looking to impress them!
You can find Zen by Woodbine & Esna Park.
LOCATION: 7634 Woodbine Ave, Markham, ON
---
Another ~fancy~ sushi spot in Markham is Sushi Umi, located near Highway 7 & Warden.
Their $150 Omakase includes 2 appetizers, sashimi, 10 pieces of sushi, a hand roll, tamago, soup, and dessert.
They also have a few a la carte options you can order, including Foie Gras Sushi and A5 Wagyu Uni Sushi.
They make their own soya sauce and vinegar in-house and import their fish straight from Japan, which is pretty cool!
If you're looking to just get takeout, they have some omakase, chirashi, sushi, and sashimi options available.
LOCATION: 3621 Hwy 7 Unit 104-105, Markham, ON
---
Best sushi restaurants in Markham:
Araya Sushi
Baben Sushi
Osaka Sushi Japanese Korean Restaurant
Gal's Sushi
Mi-Ne Sushi
MiKi Sushi
J San Sushi & Market
Hana Don Japanese Cuisine & Bar
IKON Sushi Bar & Lounge
Cafe Mozaiko
Toyosu Markham
Yin Sushi Market
KaKa All You Can Eat
Kiu Japanese Restaurant
Hibiki Japanese Cuisine
Zen Japanese Restaurant
Sushi Umi
These were some of the best sushi restaurants to visit in Markham!
What are the best sushi restaurants you've eaten at in Markham? Let me know on Twitter or Instagram!
More things to do in Markham
If you're looking for more fun things to do in Markham, you might enjoy these posts:
Be sure to keep up with me on Instagram, TikTok, Twitter, Facebook, and Pinterest if you aren't already!
Feel free to subscribe to my weekly newsletter to get my blog posts delivered straight to your inbox.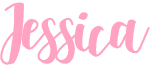 ---
Like this post? Pin it for later!