Searching for the best restaurants in Richmond Hill to eat at?
Richmond Hill has plenty of awesome restaurants to eat at, especially if you're a fan of Asian food.
Although I grew up in Richmond Hill, I was always trying to get out of it – I spent more time exploring Toronto and even Markham.
Pretty much the only places my friends and I went to growing up in Richmond Hill were the basic Canadian chains (All Star Wings, Kelsey's, you know what I mean) and Destiny (a mediocre bubble tea spot all the ~kool kids~ used to hang out at).
While there have always been great food spots in Richmond Hill, a lot more spots have popped up over the years since I've moved to Toronto.
Since my parents still live in Richmond Hill, I actually do visit and eat there pretty often!
Whether you're into fresh sashimi boats or savoury lobster dishes, there are so many incredible restaurants and places to eat at in Richmond Hill.
Here are some of the best Richmond Hill restaurants to check out!
Be sure to also follow me on Instagram and TikTok – I share a lot more content on those platforms that don't make it to the blog!
More things to do in Richmond Hill
If you're looking for more fun things to do in Richmond Hill, you might enjoy these posts:
---
Best restaurants in Richmond Hill
---
We randomly stumbled across Mikaku Udon Bar when parking in the plaza it's located in, and we had to come back to try it.
Their udon is absolutely incredible, with such rich flavours!
Adam got the Chicken Curry Udon and I got the Spicy Cream Udon, both of which were so delicious.
The service was also very kind and attentive, and they refilled the sides (pickles and coleslaw) without us asking.
They even gave us Yakult drinks to end off our meal because it was our first time there!
We also loved the beautiful interior of the restaurant, with cool murals on the walls and other Japanese art pieces.
They also have an izakaya in North York that's all about Asian fusion bites paired with sake.
LOCATION: 360 Hwy 7 Unit 10, Richmond Hill, ON
---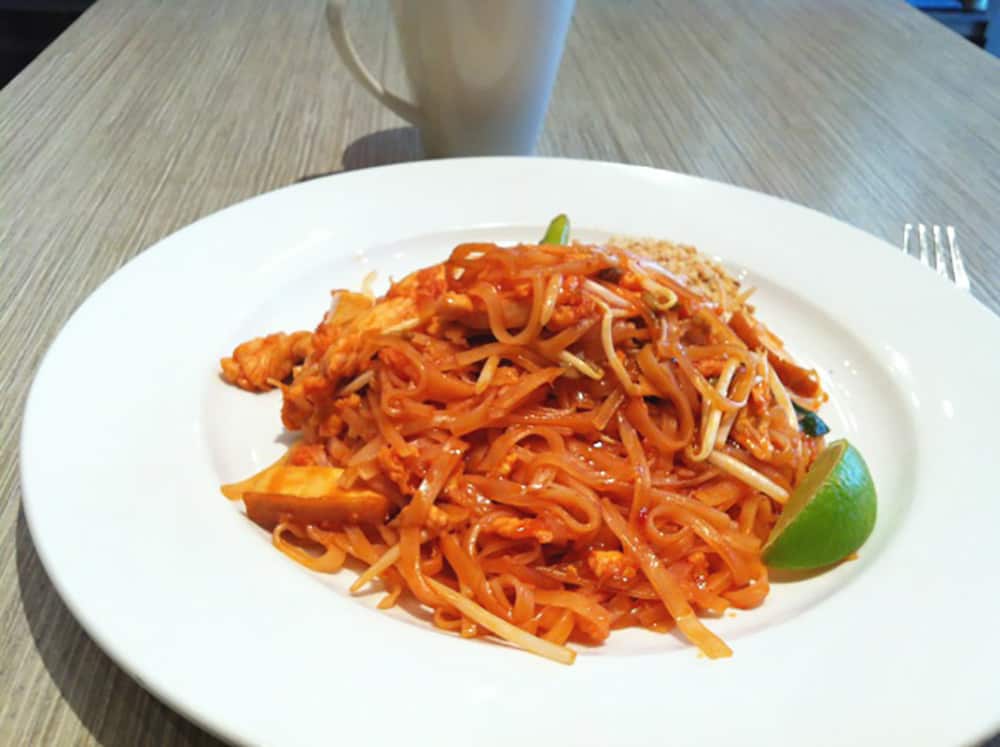 If you're looking for the best Thai food in Richmond Hill, this is it.
Yellow curry, red curry, and pineapple fried rice are my family's go-to dishes here at Thai Basil.
Their appetizers are v good as well, and the appetizer platter is worth getting if you're looking to try a mix of different items on the menu.
Thai Basil's main location is downtown at Bloor & Spadina, but I've only visited their Richmond Hill location.
I actually went to high school next door, so I came here all the time for their lunch specials back in the day!
If you're looking for even more great Thai food, I've got a blog post all about the best Thai restaurants in Toronto!
LOCATION: 1070 Major Mackenzie Dr E, Richmond Hill, ON
---
Got a craving for something warm, hearty, and spicy?
If you're a ramen lover, definitely pay a visit to Touhenboku Ramen in Richmond Hill for your ramen fix.
The black garlic ramen is my fave, and the boku chicken wings are worth trying if you can handle the spiciness.
It's actually located in the same plaza as Thai Basil, so you have another option if one of these restaurants is busy!
LOCATION: 1070 Major Mackenzie Dr E, Richmond Hill, ON
---
Looking for even more delicious ramen options to try in Richmond Hill?
Sansotei is another awesome ramen restaurant chain in Toronto that you can find in Richmond Hill.
If you can handle spicy dishes, you should definitely grab the spicy tantan ramen noodles!
They're located right at Yonge & Weldrick.
LOCATION: 9555 Yonge St, Unit 12, Richmond Hill, ON
---
Beefing with 7 is a Hong Kong-style restaurant by HK actor/singer Jordan Chan, and they're all about homey Cantonese comfort foods.
Try their Signature Beef Brisket Noodles or Braised Pork Feet!
Their Satay Beef Noodles are my absolute fave – the soup and the beef slices are so dang delicious.
You also can't enjoy an HK meal without a Hong Kong milk tea (called lai cha in Cantonese), which you can have iced or hot.
Their Richmond Hill location is by Highway 7 & Leslie, and you can find them in Chinatown and Markham.
LOCATION: 9021 Leslie St, Richmond Hill, ON
---
Got a craving for some authentic Korean food in Richmond Hill?
Owl is an amazing Korean restaurant chain based in Toronto, and they've been around for over two decades now.
They've got locations all across Ontario, with one right by Bayview & Major Mackenzie.
Their Kamjatang (pork bone soup) and Kalbi (BBQ short ribs) are my faves to order!
You can even find some of their frozen products inside Asian grocery stores like T&T.
LOCATION: 815 Major Mackenzie Dr. East, Richmond Hill, ON
---
There's nothing like saucy deep-fried food, especially at Donburi.
Donburi is an amazing little Japanese restaurant at the Commerce Gate plaza in Richmond Hill.
The grilled skewer selection is pretty darn great, and of course their donburi (rice bowls).
LOCATION: 505 Highway 7 Unit #93-95, Richmond Hill, ON
---
You'll find Unome at Bathurst and Rutherford, and they serve up delicious sushi rolls and fresh sashimi in their bright and airy space.
I love that they serve up their sushi on wooden cheeseboards – it's v ~aesthetic~.
I also love that they have the little booths that can be closed off with curtains if you're looking to have a lil' more privacy.
LOCATION: 9301 Bathurst St. Unit 7, Richmond Hill, ON
---
Abruzzo has been serving up authentic Italian eats in Richmond Hill for over 40 years.
Pizza is definitely the specialty here, with a variety of toppings you can choose from.
They use imported Italian tomatoes for their sauce and a blend of three local cheeses for their base cheese!
They've also got other Italian dishes on the menu like panzerotti, pasta, and chicken parmigiana!
LOCATION: 9010 Yonge St, Richmond Hill, ON
---
Scaddabush is one of my fave Italian restaurant chains in Toronto.
I remember randomly deciding to stumble into their first Yonge & Gerrard location for dinner after class at Ryerson one day, and how happy my friends and I were to discover such a great spot.
Their charity bread and straight up meatball are amazing!
Scaddabush now has locations all across the GTA, with one in Richmond Hill along the East Beaver Creek stretch of restaurants.
LOCATION: 155 York Blvd, Richmond Hill, ON
---
Want some dim sum?
You should definitely pay a visit to Yang's at Bayview & Weldrick.
As most dim sum places do, it gets really busy really quick, so come as early as possible if you want a table.
If you're into Chinese food, check out my posts on the best Chinese restaurants in Toronto and the best Chinese takeout in Toronto!
LOCATION: 9665 Bayview Ave. Unit 30, Richmond Hill, ON
---
Curry crab is as dreamy as it sounds, and I've been craving it ever since I had it literally once years ago.
If you're a fan of seafood, you'll definitely want to visit this Vietnamese/Thai fusion restaurant for their huge selection of seafood dishes.
They do the typical pho and vermicelli dishes as well, but the fancy seafood dishes are what you'll want to come for!
LOCATION: 330 Highway 7, Richmond Hill, ON
---
If you're looking for a fancier restaurant to eat at in Richmond Hill with your family (or a large group of friends), Lobster Port No. 1 is your spot.
The set menus are what you'll want to order, and you can choose between crab, lobster, or both.
One thing I have to note is how great the service was when I visited – the manager and server were both very nice!
LOCATION: 9021 Leslie St. #9, Richmond Hill, ON
---
Omei is another one of those fancy Chinese seafood restaurants people visit for special occasions, and it is hella expensive.
They also try to pack as many tables as possible in the room which is pretty uncomfortable, but it's still worth visiting.
The lobster 4 ways is amazing if you and your group love lobster.
LOCATION: 420 Highway 7, Richmond Hill, ON
---
Frilu is kinda on the border of Richmond Hill and Thornhill, so we'll include it in here.
It's the only restaurant outside of Toronto to earn a Michelin Star on the 2022 Toronto Michelin Guide, which is amazing!
The $150 contemporary Canadian tasting menu features Asian influences and focuses on quality and seasonal ingredients.
The coolest thing about this spot? They source ingredients from their own farm for a true farm-to-table experience!
LOCATION: 7713 Yonge St, Thornhill, ON
---
Best restaurants in Richmond Hill:
Mikaku Udon Bar
Thai Basil
Touhenboku Ramen
Sansotei Ramen
Beefing with 7
The Owl of Minerva
Donburi
Unome Sushi
Abruzzo Pizza
Scaddabush Italian Kitchen & Bar
Yang's Fine Chinese Cuisine
Saigon Star
Lobster Port No. 1
Omei Restaurant
Frilu
These were some of the best restaurants to eat at in Richmond Hill!
Sadly there are quite a few great restaurants I grew up visiting that have shut down since, but at least there are always new places popping up in Richmond Hill!
Have you been to any of these spots? What are some of your favourite restaurants in Richmond Hill? Let me know on Twitter or Instagram!
More things to do in Richmond Hill
If you're looking for more fun things to do in Richmond Hill, you might enjoy these posts:
Be sure to keep up with me on Instagram, TikTok, Twitter, Facebook, and Pinterest if you aren't already!
Feel free to subscribe to my weekly newsletter to get my blog posts delivered straight to your inbox.

---
Like this post? Pin it for later!