On the hunt for the best seafood restaurants in Toronto to eat at?
I'm definitely a seafood gal, and I love everything from freshly-shucked oysters to deep-fried lobster towers.
If you're a seafood lover too, you'll definitely want to check out these awesome seafood restaurants in Toronto.
Here are some of the best seafood restaurants to visit in Toronto!
Be sure to also follow me on Instagram and TikTok – I share a lot more content on those platforms that don't make it to the blog!
More Toronto restaurants
---
Best seafood restaurants in Toronto
---
This beloved casual seafood spot started out in St. Lawrence Market, and now they've got a few locations across downtown.
Their menu is made up of what's seasonally available, and they've got everything from fish and chips, to sandwiches, to tacos.
Buster's Lobster Roll is definitely one of the best in Toronto!
LOCATION: Various locations
---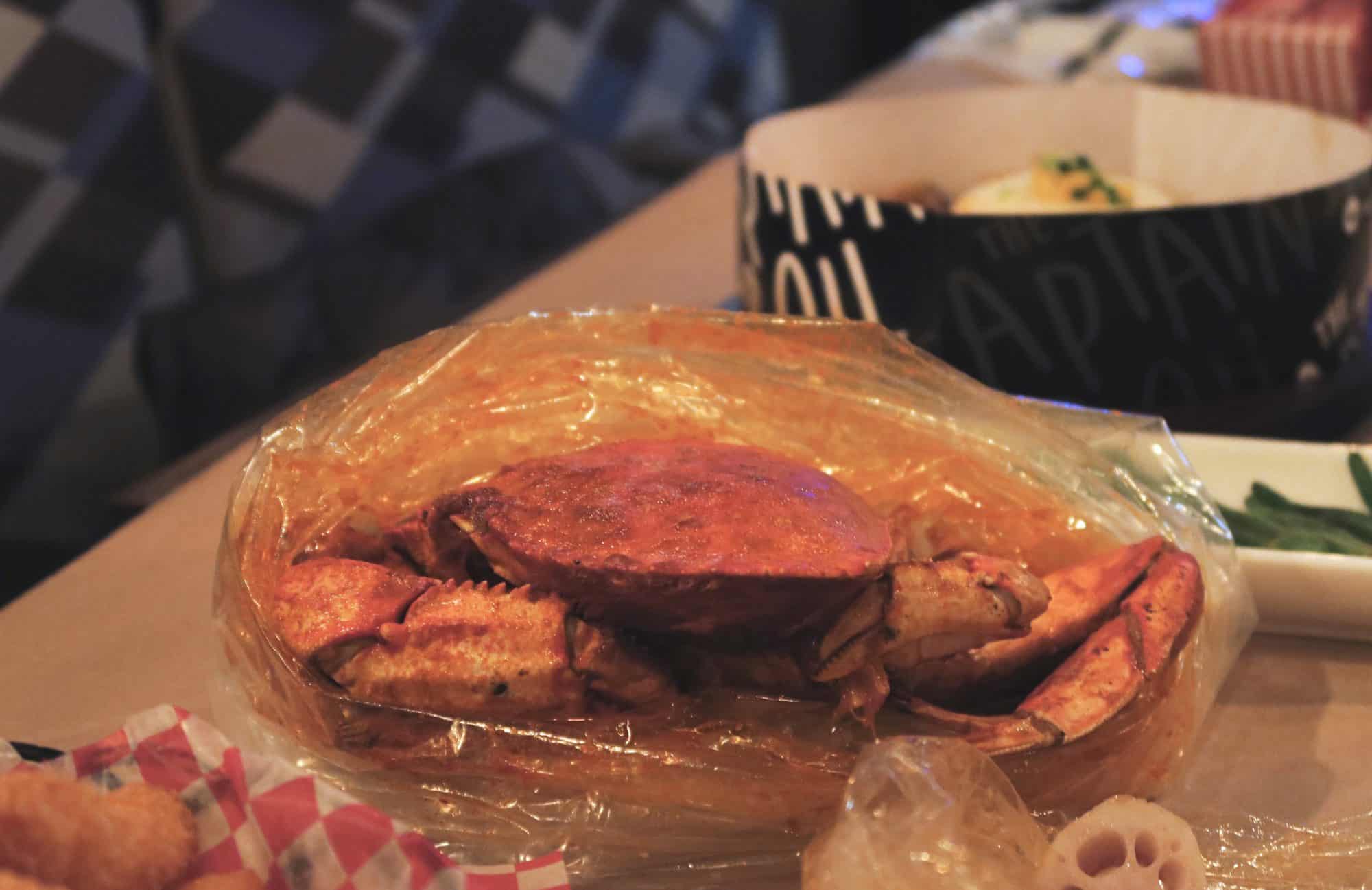 I tried seafood boil for the first time at The Captain's Boil awhile back, and it was literally amazing.
The way the menu works is that you choose your catch, flavour, spiciness, and add-ons, and you order it by the pound.
They infuse Cajun and Asian flavours for their sauces, and their Captain's Boil sauce is *chef's kiss*.
The most interesting thing about eating here is that there are no plates or utensils – you eat using only your hands, and you eat right off of the table.
It gets a little messy, but that's what the bibs and gloves are for!
Their OG location was in North York, and they've since expanded to over two dozen locations across Canada and the US.
LOCATION: Various locations
---
If you haven't had Filipino food before, prepare to be amazed.
Tinuno offers up a traditional Filipino Kamayan experience, where you eat family-style with your hands.
The Kamayan feast ($40) serves two and includes a variety of different seafoods, meats, veggies, and sides.
They've also got a la carte appetizers and all-day breakfast available!
You can find their three locations in St. James Town, by Bathurst & 401, and near the Scarborough Town Centre.
LOCATION: Various locations
---
Rodney's is a long-standing seafood restaurant that's been serving Toronto for almost 40 years.
Oysters are their specialty, but they've got all kinds of incredible seafood options, including cooked dishes like their Adobo Shrimp and Pasta with Scallops.
They source their fresh oysters from around Canada and the world!
They also now have a location in Calgary.
LOCATION: 469 King St W, Toronto, ON
---
My fellow oyster lovers will definitely adore Oyster Boy.
Located in Toronto's Queen West neighbourhood, they serve up oyster and seafood heaven.
Whether you're a fan of Kusshi oysters from B.C. or French Kiss oysters from New Brunswick, they have tons of oyster options to choose from.
They get their oysters shipped in fresh daily from small farmers on both the east and west coasts of Canada!
If you're not into fresh oysters, they've got baked oysters for ya.
They've also got plenty of cold and hot seafood dishes, including Shrimp Cocktail, P.E.I. Lobster Bisque, and Beer Battered Fish N' Chips.
If you're in the mood for a seafood feast, they have a Seafood Tower featuring whole P.E.I. lobster, snow crab legs, cocktail shrimp, red snapper ceviche, Atlantic oysters, and various sauces!
LOCATION: 872 Queen St W, Toronto, ON
---
Pearl Diver is a cozy seafood restaurant serving up a menu of shareables, seafood towers, and fresh oysters.
From their Chicken Liver & Oyster Pate to their Grilled Sardines, they've got plenty of unique dishes.
They also have daily specials everyday, including $65 seafood towers on Tuesdays and 100 oysters for $100 on Thursdays!
LOCATION: 100 Adelaide St E, Toronto, ON
---
Minami is one of my fave sushi restaurants in Toronto, and they're actually a sister restaurant to the wildly popular Miku.
They've got everything from oshi sushi (pressed sushi) to their own signature sushi rolls, and it's all amaze.
They also have a variety of small plate and entree options, including their Charred Octopus Wasabi Niçoise and Hamachi Poke Lettuce Wraps.
If you're in the mood for a tasting menu, they offer a 4-course tasting menu for $125, which can be paired with wine and sake for $40.
They've also got an extensive sake list, as well as their own craft cocktails!
LOCATION: 225 King St W, Toronto, ON
---
This chic fine-dining spot on Temperance serves up seafood-focused small plates and craft cocktails.
They've also got seafood platters, which are perfect for sharing.
The bright interior of their rooftop restaurant is stunning, and they've even got a beautiful outdoor patio that offers up gorgeous views of the city.
LOCATION: 10 Temperance St Fl 5, Toronto, ON
---
Prime Seafood Palace is one of Chef Matty Matheson's latest ventures, with a focus on high-end seafood dishes.
Enjoy cold seafood dishes like their Dungeness Crab Cocktail or warm seafood dishes like their Grilled Humbodlt Squid, Stratcciatella, White Asparagus.
Other unique dishes include their Lobster and Ricotta Dumplings and Kaviari (which comes with chips, bread, butter, chives, shallots, and creme fraiche).
I adore the cozy and woody architecture of the restaurant – it's super ~Instagrammable~.
You can find Prime Seafood Palace right by Queen & Shaw!
LOCATION: 944 Queen St W, Toronto, ON
---
Ever seen those epic lobster towers on your Instagram feed?
Fishman is one of Toronto's most popular spots for lobster towers, and they serve up all kinds of delicious Chinese seafood dishes.
You can choose between set seafood dinners for large groups, or order a la carte dishes.
My fave is the set dinner where the lobster is prepared in 4 different ways!
Chef David Chang of Momofuku also loves this spot, and he featured it on his Netflix docu-series Ugly Delicious.
It's actually located in Scarborough by Kennedy & Finch.
LOCATION: 4020 Finch Ave E, Scarborough, ON
---
Best seafood restaurants in Toronto:
Buster's Sea Cove
The Captain's Boil
Tinuno
Rodney's Oyster House
Oyster Boy
Pearl Diver
Minami
The Chase Fish and Oyster
Prime Seafood Palace
Fishman Lobster Clubhouse Restaurant
These were some of the best seafood restaurants to visit in Toronto!
Have you been to any of these seafood restaurants in Toronto? Let me know on Twitter or Instagram!
More Toronto restaurants
Be sure to keep up with me on Instagram, TikTok, Twitter, Facebook, and Pinterest if you aren't already!
Feel free to subscribe to my weekly newsletter to get my blog posts delivered straight to your inbox.

---
Like this post? Pin it for later!