Looking for the best Thai restaurants in Toronto to eat at?
I'm a huge lover of Thai food, and there's definitely no shortage of amazing Thai restaurants in Toronto.
Sure, you can always go to Thai Express and order a quick meal to-go, but there's nothing like going to an actual restaurant and having authentic Thai food.
Here are some of the best Thai restaurants to visit in Toronto!
Be sure to also follow me on Instagram and TikTok – I share a lot more content on those platforms that don't make it to the blog!
---
Best Thai restaurants in Toronto
---
You're going to be hearing Chef Nuit Regular's name quite a few times in this post.
She's a well-known chef here in Toronto, and she's got several popular Thai restaurants in Toronto under her belt!
Northern Thai cuisine is what you'll find at PAI, and you can visit either their Entertainment District or Yonge & Eglinton locations.
Try the Khao Soi – you'll be dreaming about it for weeks.
There are also a good number of vegan options for any plant-based peeps out there!
Be sure to arrive early for a table because lines form pretty quickly, and don't take a first date here 'cause it's hecka loud inside the restaurant.
LOCATION: Various locations
---
Sukhothai has all the Thai dishes we know and love, and more.
Their Pad Thai is absolutely amazing – definitely one of my favourites in the city!
Sukhothai was actually Chef Nuit Regular's first restaurant that she opened with her husband back in 2008.
They've got 3 locations across the city on Dundas West, in the Old Toronto neighbourhood, and in Corktown.
LOCATION: Various locations
---
Sabai Sabai is a bar restaurant by Chef Nuit Regular, and you'll find Northern Thai and Laos cuisine here.
The focus here is on shareable plates, with dishes like Squash Fritters, Thai or Lao Style Papaya Salad, and Crispy Shrimp Chips.
You'll also find curry and noodle dishes, as well as plenty of vegan options!
They've got a large drink menu made of up signature Thai-inspired cocktails, local craft beers, and imported and local wines.
LOCATION: 81 Bloor St. East, Toronto, ON
---
If you're looking for something a little more upscale, you'll want to visit Chef Nuit Regular's Kiin.
Kiin's menu is inspired by royal Thai cuisine, in both the taste and the aesthetic of the dishes.
Think lots of bright colours, and flower-shaped dumplings.
You'll find all kinds of different and traditional dishes from across Thailand at Kiin, and it's all meant to be shared with friends.
LOCATION: 326 Adelaide St. West, Toronto, ON
---
Khao San Road is actually a famous street in Bangkok for backpackers, and that's what this Toronto restaurant is named after.
Their menu isn't huge, but they've got all the classic Thai curry and noodle dishes.
They also have both vegan and gluten-free menus for anyone who has dietary restrictions!
They also import some ingredients directly from Thailand, which is pretty cool!
LOCATION: 11 Charlotte St, Toronto, ON
---
Little Khao is a mini version of Khao San Road (by the same owners), and you'll find it inside Assembly Chef's Hall in the Financial District.
Assembly Chef's Hall is a food hall filled with upscale Toronto restaurants in a casual setting – it's one of my favourite spots to dine in the city!
Since it is a booth within a food hall, the menu is teeny tiny, but I guess that makes it easier to decide what you want to eat 😛
LOCATION: 11 Charlotte St, Toronto, ON
---
I discovered Salad King while I was a Ryerson student – actually, it's quite famous amongst Ryerson students.
Is it because it's 20% off for Ryerson students? Or just because it's delicious? Probably both.
The Green Curry was my fave here as a student, as well as their ~secret menu~ Islamic Noodles.
Their portions are huge, so I usually saved half of my meals for another meal!
Their OG location is near Yonge & Dundas, and they now have a new location at Queen & McCaul.
Fun fact: Salad King was literally a salad restaurant when it first opened, and it slowly became a Thai restaurant over the years when it got taken over by new owners.
LOCATION: Various locations
---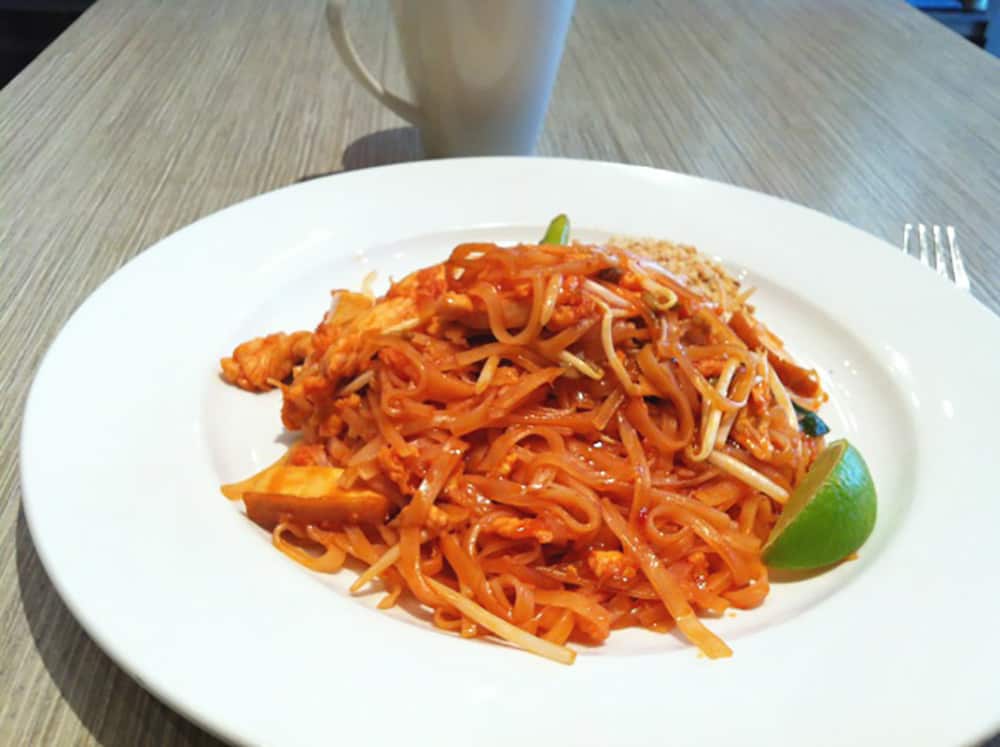 Okay, I'll be honest: I've only been to Thai Basil's restaurant in Richmond Hill, but I've visited dozens of times if that counts for anything!
I went to high school next door, so I often came for their lunch specials, or my family ordered takeout for dinner.
They actually started out in Vancouver in 1995 (the year I was born!), and came to Toronto in 2005.
Their Thai Yellow Curry and Pad Thai are my faves on the menu!
LOCATION: 467 Bloor St. West, Toronto, ON
---
Jatujak is the name of the world's largest weekend market, which is located in Bangkok!
It's also the name of this amazing family of restaurants, all under the Jatujak name.
Jatujak has 3 locations, but they're all located in North York and Scarborough, so my downtowner friends will have to travel for this one.
Their food is absolutely amazing and authentic, and also very affordable, so it's totally worth the trek!
Try their Pad Thai – it's one of the best in the city.
LOCATION: Various locations
---
Basil Box is a fast casual restaurant serving up Southeast Asian-inspired flavours – specifically Thai and Vietnamese!
Their dishes are "healthier" than other restaurants, and you can choose everything from the base, to the protein, to the toppings.
I also love their house-made sodas and drinks, and their Thai Iced Tea is my favourite in all of Toronto.
They also have signature boxes that are specifically catered to different diets, including keto and low calorie diets!
I frequented their Yonge & Dundas location while I was a Ryerson student, and they've since opened up locations across Canada!
LOCATION: Various locations
---
Best Thai restaurants in Toronto:
PAI Northern Thai Kitchen
Sukhothai
Sabai Sabai Kitchen and Bar
Kiin

Khao San Road

Little Khao
Salad King
Thai Basil
Jatujak
Basil Box
These were some of the best Thai restaurants in Toronto, in my personal opinion!
Have you visited any of these Thai restaurants? What are some of the best Thai restaurants in Toronto in your opinion? Let me know on Twitter or Instagram!
If you're looking for even more ethnic Toronto restaurants to try, you might enjoy these posts:
Be sure to keep up with me on Instagram, TikTok, Twitter, Facebook, and Pinterest if you aren't already!
Feel free to subscribe to my weekly newsletter to get my blog posts delivered straight to your inbox.

---
Like this post? Pin it for later!