Looking for some fun and festive Christmas events and activities in Toronto to attend this holiday season?
The holidays are one of my favourite times of the year here in the city – from ice skating under the stars to sipping hot apple cider at festive markets, there are just so many fun and wintery Toronto holiday events and activities!
It also makes me so excited to see glittering lights and decorations across the city – everything is just so darn jolly and cute.
Maybe the Canadian winter weather isn't so bad with all the festive cuteness going on…
While there are tons of great Toronto Christmas events, today I'll be sharing my absolute favourite things to do whenever the winter season rolls around.
Here are some of the best Toronto holiday events, markets, and festivals to visit during the Christmas season!
Be sure to also follow me on Instagram and TikTok – I share a lot more content on those platforms that don't make it to the blog!
More things to do in Toronto
If you're looking for more festive things to do this Christmas, you might enjoy these posts:
---
Best Christmas events & activities in Toronto
---
The holiday season isn't complete without a visit to the Toronto Christmas Market, which is now called the Distillery Winter Village!
Located in the adorable Distillery District (where there are so many fun things to do), there are tons of festive decorations and delicious holiday eats.
Grab a turkey leg, sip on some hot apple cider, and do a little holiday shopping at all the unique vendors.
Or, hit up one of the many local restaurants in the Distillery District neighbourhood like Cluny (for French cuisine) or Boku (for Japanese eats)!
It's best to explore the Distillery Winter Village in the evening to enjoy all the dazzling holiday lights, but it's also really nice to visit during the day as well!
The Distillery Winter Village is happening everyday from Tuesday through Sunday from now through December 31st (except for Christmas Day, when it'll be closed).
Tickets ($11 plus tax) are also required for entry Friday through Saturday after 4 PM, but it's a free event otherwise.
It's a staple Christmas event that every Toronto person does at least once a year!
DATES: November 17th to December 31st, 2022
---
Take in the sights and sounds of Christmas at Northern Lights, a new full-on holiday experience in Toronto filled with holiday decor, light installations, shopping, food, and more!
The venue features 80,000 square feet of holiday fun, including a 30 foot long immersive light tunnel and a stunning 25 foot tall Christmas tree.
There'll even be tons of cute photo opps, perfect for snapping for your next Christmas card!
This immersive outdoor light festival is happening every night from December 1st through January 8th from 5 PM to 10 PM, so you can even visit after the holidays.
The event is happening at the Grand Bizarre at Exhibition Place, and you can use my discount code "JessLam15" to get 15% off your tickets.
Tickets are $22.95 per adult and $17.95 per child, and they've also got discounted 4-pack tickets for families and friend groups.
Definitely purchase your tickets ahead of time, because there's an additional $5 charge per ticket if you buy them at the box office in-person!
DATES: December 1st, 2022 to January 8th, 2023
LOCATION: 15 Saskatchewan Rd, Toronto, ON
---
Not really feelin' going out in the below 0 degree weather?
Go on an immersive 1.5 km journey through the annual Canadian Tire Christmas Trail, where you can stay nice and toasty in the comfort of your car.
You will have to roll down your windows to get the full experience, but it ain't so bad!
You'll also get milk and gingerbread cookies to enjoy while you ride your sleigh (car) down the trail!
This Toronto event is especially fun for the kiddos because it's super interactive – you'll get to chat and sing with elves and other Christmas characters.
Adam and I had fun even as adults, and you can peep out the full experience in my TikTok video.
Be sure to brush up on your singing skills, 'cause you'll need 'em!
The experience is $25 per vehicle with all proceeds going to the Canadian Tire Jumpstart Charities, and you can snag tickets on their website.
You'll even get to snap a photo with Santa at the end of the trail!
You gotta purchase your tickets online ahead of time, and the next ticket release dates are November 20th and December 4th.
The Canadian Tire Christmas Trail is located pretty much on the border of North York and Vaughan, right by Black Creek Pioneer Village.
DATES: November 12th to December 23rd, 2022
LOCATION: 1000 Murray Ross Pkwy, North York, ON
---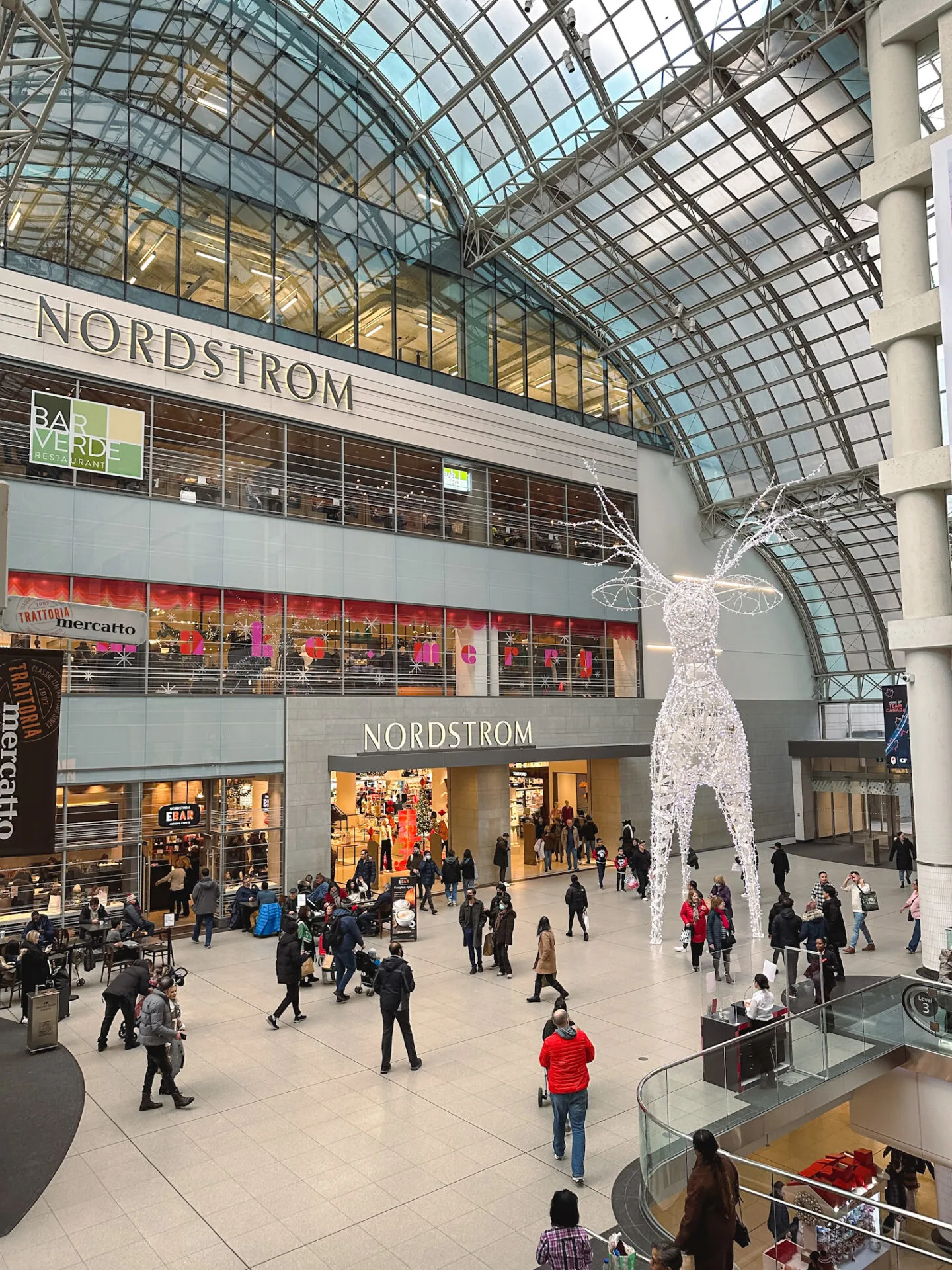 Get at least some of your holiday gift shopping done while you're at the Eaton Centre.
Let's be real – who really gets it all done before the last week leading up to Christmas?
After you've done your gift shopping, head on over to the centre of the mall to see live music performed by local artists, be mesmerized by the magical indoor snowfalls, and meet Santa!
The Eaton Centre is usually host to Canada's tallest Christmas tree (which sits at 108 feet tall of glimmering glory), but they won't have it up this year due to renovations.
LOCATION: 220 Yonge St, Toronto, ON
---
The chic Yorkville neighbourhood is especially beautiful with all the festive lights and decorations lining the streets.
Every year, the Bloor-Yorkville BIA kicks off the holiday season with Holiday Magic, an annual community concert in support of the Canadian Foundation for Aids Research.
It's happening this year from November 26th through December 31st, and you can see the official tree lighting on opening night from 5-7 PM!
There'll be live performances by Chantal Kreviazuk and Jeremie Albino, and the night will be hosted by Traci Melchor of Etalk and Canada's Drag Race.
It's totally free to attend, but you can enjoy a delicious maple taffy on a stick for a suggested donation of $2.
You can even make it a productive visit and get some of your holiday shopping done along Yorkville, then check out one of the best restaurants in Yorkville!
There'll also be traditional carollers strolling and singing their way through Yorkville on weekend afternoons to bring you all the festive cheer.
DATES: November 26th to December 31st, 2022
---
The Cavalcade of Lights is back at Nathan Phillips Square, and it's the perfect excuse to go skating under all the pretty holiday lights adorning the square.
There'll also be plenty of lighting installations and artwork for you to enjoy!
You can peep out the Cavalcade of Lights on November 26th from 3 to 11 PM, and the official tree lighting ceremony takes place at 8:30 PM.
Afterwards, you can hit up one of the many amazing restaurants on Queen Street, arguably the best shopping and dining street in all of Toronto!
DATE: November 26th, 2022
LOCATION: 100 Queen St W, Toronto, ON
---
Holiday Fair in the Square is an annual event held at Nathan Phillips Square, and it's sort of like a holiday market combined with a winter carnival.
From one-of-a-kind gifts at the Artisan Marketplace to delicious eats from Toronto's best food trucks, the Holiday Fair in the Square is a super cute festive market to visit.
You'll find some unique vendors selling things like cotton candy art and holiday-themed bubble tea drinks!
They even have a ferris wheel and carousel, for kids or adults to enjoy!
There's also a 50-foot-tall Christmas tree for all your Instagram photo needs, and Santa will be visiting on weekends for more photo opps.
The fair itself is completely free to visit, and it's open everyday except Mondays.
The whole event is in partnership with Epilepsy Toronto, and a portion of the proceeds of the fair goes towards supporting Epilepsy Toronto services!
DATES: December 2nd to 23rd, 2022
LOCATION: 100 Queen St W, Toronto, ON
More holiday markets in Toronto
If you can't get enough of the cute holiday markets in Toronto, here are some other fun ones worth visiting in the city, all with free admission:
Holiday Artisan Market at The Great Hall (1087 Queen St W): Shop from 50+ local artisans, happening November 27th from 11-5 PM & December 18th from 11-5 PM
Toronto Art Crawl at The Great Hall (1087 Queen St W): Shop from 80+ local artists and artisans, happening December 4th from 12-5 PM
Toronto Holiday Market at The Garrison (1197 Dundas St W): Shop from 30+ local vendors, happening December 11th from 11-6 PM
---
The Santa Claus Parade draws in crowds and crowds of families every year, but you'll never be too old to watch it!
The Toronto Santa Claus Parade begins at Christie Pits Park and ends at St. Lawrence Market, and it's happening on November 20th this year.
Don't forget to bring a warm hat, your ugliest holiday sweater, and a hot drink – it gets pretty dang chilly out there.
If you can't make it in person, you can also watch it live on CTV!
Fun fact: the Santa Claus Parade has been happening annually since 1905 – it's been almost 120 years!
DATES: Sunday, November 20th, 2022
---
Get all of the festive feels at WinterFest, where you can enjoy holiday lights, ice skating, and live entertainment.
They have millions of twinkling lights and hundreds of Christmas trees throughout the entire park, and it's literally a winter wonderland!
Peep it out from now until December 31st, with tickets starting at $29.99.
Canada's Wonderland is located north of Toronto, up in Vaughan, but it's definitely one of the GTA's most beloved attractions!
Like a lot of kids in the GTA, I grew up going to Wonderland, and I have so many fond memories with my friends and family.
DATES: November 18th to December 31st, 2022
LOCATION: 1 Canada's Wonderland Dr, Vaughan, ON
---
The annual One of a Kind Winter Show is the perfect spot to get all of your holiday shopping one and done.
You can shop locally-made goods and unique gifts from over 800 makers and artisans from across Canada!
Admission is $18 for adults and $15 for students, and GO Transit even offers discounted combo tickets if you're coming from outside of the city.
This bi-annual event (also happens in the spring) is held at the massive Enercare Centre, and you'll definitely need at least one day to fully explore the whole marketplace!
You'll be doing a lot of walking, so be sure to wear some good walking shoes!
DATES: November 24th to December 4th, 2022
LOCATION: 100 Princes' Blvd Unit 1, Toronto, ON
---
Glow Toronto at Toronto Congress Centre
See all the pretty holiday lights as Glow Toronto turns the Toronto Congress Centre into a glistening winter wonderland.
You can enjoy all the fancy light displays, taste delicious food and holiday-inspired drinks, and shop for one-of-a-kind-gifts from local makers.
You're guaranteed to get plenty of cute and festive Instagram photos here!
Tickets start at $30 for general admission, with discounted pricing for seniors, children, and their family pass.
Best part of all? It's all indoors, so you can stay nice, toasty, and warm!
DATES: November 30th to December 30th, 2022
LOCATION: 650 Dixon Rd, Etobicoke, ON
---
The Fairmont Royal York has a holiday-themed popup every year, and you can check out The Thirsty Elf from now through December 17th!
Enjoy fun and festive cocktails like their Gin-gle All the Way and Let It Smoke, Let It Smoke, Let It Smoke, or enjoy spirit-free drinks made using Seedlip non-alcoholic spirits.
It's open every Thursday through Saturday from 5 PM to 11 PM, and they're only allowing walk-ins with a 1-hour seating time!
Don't forget to take a walk down Gingerbread Lane while you're at the Fairmont – it's made up of real gingerbread and candy and smells like sweets heaven!
DATES: November 16th to December 17th, 2022
LOCATION: 100 Front St W, Toronto, ON
---
If festive cocktails are your thing, you'll fa-la-love Miracle Toronto.
You can snap some cute holiday pics for the 'Gram and sip on holiday-inspired classic cocktails at this adorable popup cocktail bar, which pops up in different locations of the city each year.
$1 of every drink sold will be donated to Nellie's Shelter, an incredible organization that provides shelter, education, and advocacy for women and children in the GTA.
Miracle is open 7 days a week from now through December 31st, from 6 PM to 2 AM!
DATES: November 18th to December 31st, 2022
LOCATION: 875 Bloor St W, Toronto, ON
---
See all the holiday decorations in Downtown Toronto
Downtown Toronto is filled with glittering lights and festive decorations during this time of year, and it's absolutely stunning to see!
It's so much fun to walk around and enjoy all the pretty decorations all across the city during the holiday season in Toronto.
The Fairmont Royal York Hotel is one of the best spots to see holiday decorations – they deck out their front windows in festive displays during the holidays!
You can also make your way up from the Financial District towards the Eaton Centre, where you can peep out the pretty holiday window displays at the Hudson's Bay.
---
Christmas events & activities in Toronto to check out this holiday season:
Distillery Winter Village
Northern Lights at the Grand Bizarre
Canadian Tire Christmas Trail
Get festive at the Eaton Centre
Holiday Magic in Yorkville
Cavalcade of Lights at Nathan Phillips Square
Holiday Fair in the Square
Holiday Artisan Market at The Great Hall
Toronto Art Crawl at The Great Hall
Toronto Holiday Market at The Garrison
Santa Claus Parade
WinterFest at Canada's Wonderland
One of a Kind Winter Show
Glow Toronto
The Thirsty Elf at Fairmont Royal York
Miracle Toronto
Decorations in the Financial District
The holidays are a great time to be in the city, and you'll find a lot more Toronto Christmas events and activities than what's on this list.
I wish you all a wonderful holiday season, no matter what you celebrate!
And if you're lookin' to spend a lot of time chillin' at home this holiday season, you can cozy up to some holiday movies on Netflix or Prime Video.
You can even build some DIY gingerbread houses or open up some advent calendars while you're enjoying all the cheesy holiday movies!
Will you be kicking off the festive season at any of these Christmas events in Toronto? Are there any other Toronto Christmas events I missed? Let me know on Twitter or Instagram!
More things to do in Toronto
If you're looking for more festive things to do this Christmas, you might enjoy these posts:
Be sure to keep up with me on Instagram, TikTok, Twitter, Facebook, and Pinterest if you aren't already!
Feel free to subscribe to my weekly newsletter to get my blog posts delivered straight to your inbox.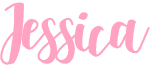 ---
Like this post? Pin it for later!