Despite the miserable cold weather, winter in Toronto brings us some actually nice photo spots.
I'm pretty sure most Torontonians dislike winter, but you can't deny that it can look a little pretty sometimes.
Most of these spots are specific to the holidays, but they can be cute all throughout the winter as well!
Here are some of the best winter photo spots in Toronto.
Be sure to also follow me on Instagram and TikTok – I share a lot more content on those platforms that don't make it to the blog!
---
Winter photo spots in Toronto
---
Polson Pier
Polson Pier looks extra cool (#punny) in the wintertime, with the Toronto skyline sitting on top of the icy lake.
It's hella cold in the winter though, so I wouldn't chill (#oopsididitagain) here longer than necessary.
LOCATION: 11 Polson St, Toronto, ON
---
The Harbourfront is one of my favourite neighbourhoods in the city to explore, and although it's cold as heck in the winter, it's still very pretty!
If you're lucky, you might see the boardwalk coated in fresh snow or the lake coated in broken plates of ice.
Plus, you can skate at the Natrel Rink during the winter and grab some cute skating photos.
If you're looking for more fun things to do in the area, I've got a blog post all about the best things to do at the Harbourfront.
I've also got a blog post all about the best Harbourfront restaurants!
LOCATION: 235 Queens Quay West, Toronto, ON
---
Sugar Beach may not be much of a beach, but it's an adorable spot to take photos in Toronto.
It's especially nice during the winter because you won't have anyone in the background of your photos, but you'll also be freezing.
Come on a snowy day for even cuter wintery photos!
LOCATION: 11 Dockside Dr, Toronto, ON
---
The Fairmont Royal York is an iconic hotel here in Toronto, and the best time to see it is during the holiday season.
They always have cool decorations in their windows, and the spotlights above the entrance make for cool festive shots!
LOCATION: 100 Front St. West, Toronto, ON
---
Of course, we can't forget the Distillery District, which is probably the cutest in the wintertime.
Throughout late November to late December, the Distillery District turns into the Distillery Winter Village (formerly known as the Toronto Christmas Market), with all kinds of sparkly festive decorations and holiday vendors.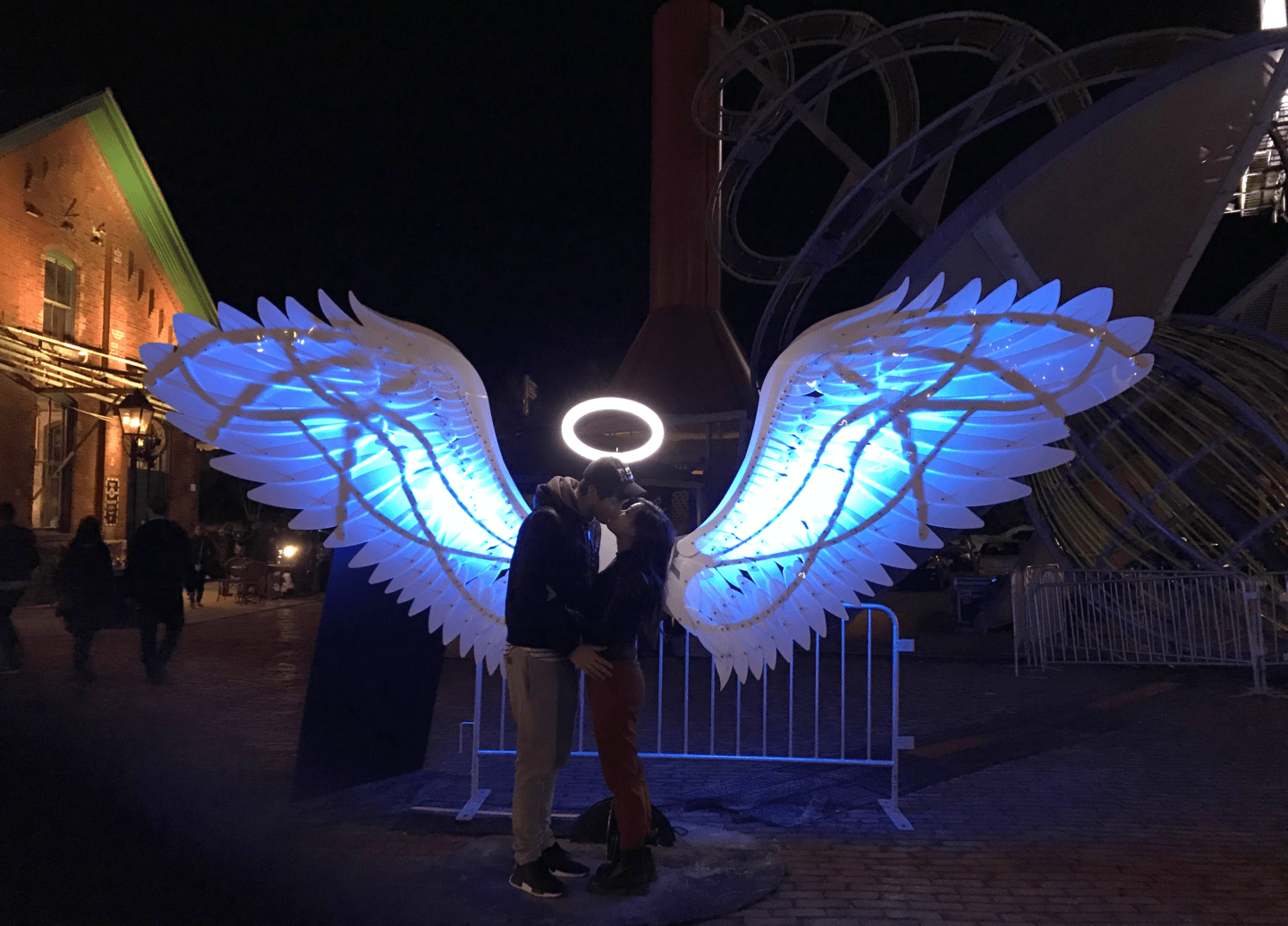 In January they also have the Toronto Light Festival, and the entire neighbourhood gets sprinkled with cool light installations.
If you're looking for more festive activities, I've got a blog post all about things to do in Toronto during the holidays!
Also, if you're looking to visit, I've got blog posts on things to do in the Distillery District and the best Distillery District restaurants!
---
Nathan Phillips Square also gets their share of cool holiday decor, and you can get plenty of cute winter photo opps here.
If you're visiting after the winter holidays, you can still grab some Instagrammable shots while skating around the rink.
LOCATION: 100 Queen St. West, Toronto, ON
---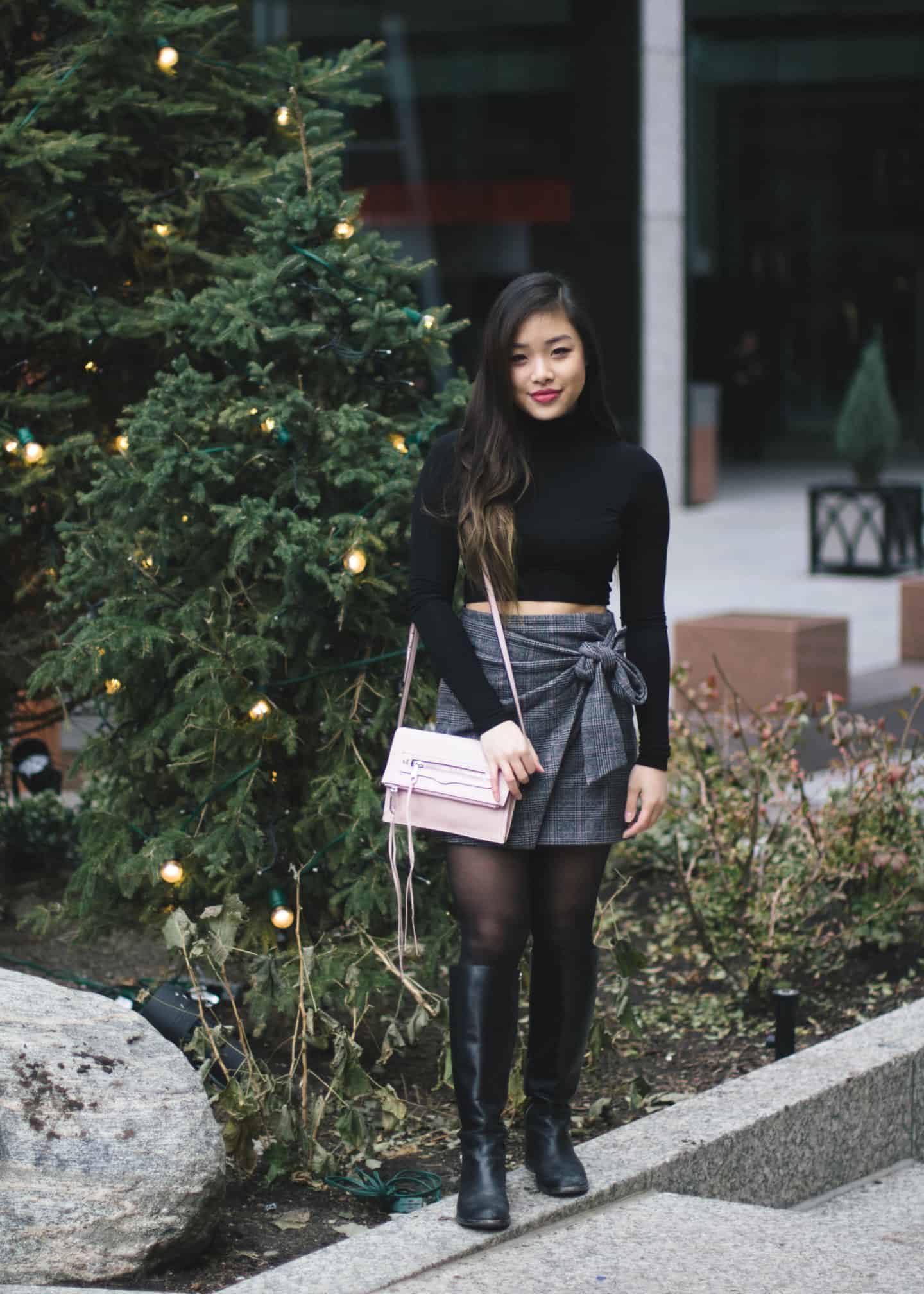 Financial District
The Financial District also gets lit up in festive decorations throughout the holidays, and it's always fun to go around exploring all the different lights and decor in the area.
Afterwards, stop into one of the best restaurants in the Financial District!
---
Bloor-Yorkville hosts the IceFest every February, and you can take in all the cool ice sculptures while snagging some cute pics.
---
Toronto winter photo spots:
Polson Pier
Harbourfront
Sugar Beach
Distillery District
Nathan Phillips Square
Financial District
Bloor-Yorkville
It might not be fun going out in the freezing cold to take photos, so it always helps to have some go-to spots 😉
If you're not crazy about going out in the cold, you can always check out some cool indoor Toronto Instagram spots instead.
If you're planning a trip to Toronto, be sure to check out my posts on the most fun things to do in Toronto and what to wear in Toronto.
Be sure to check out some local tours as well, if you're looking to do some fun and unique activities.
Where are your favourite winter photo spots in Toronto? Let me know on Twitter or Instagram!
P.S. if you liked this post, you might like this post on winter date ideas in Toronto, or any of my other Toronto posts.
Be sure to keep up with me on Instagram, TikTok, Twitter, Facebook, and Pinterest if you aren't already!
Feel free to subscribe to my weekly newsletter to get my blog posts delivered straight to your inbox.

---