If you're looking for where to eat in Whistler and Squamish, there are plenty of awesome restaurants and food spots.
I actually found this pretty surprising, since the neighbourhood is so touristy!
After a full day of activities in the Whistler area, you're definitely going to want to devour a delicious meal.
Here are some of the best restaurants to visit in Whistler and Squamish, British Columbia!
If you're planning to hang around Vancouver, I've also got a blog post all about the best Vancouver restaurants.
Be sure to also follow me on Instagram and TikTok – I share a lot more content on those platforms that don't make it to the blog!
---
The best restaurants in Whistler
---
Stonesedge Kitchen
If you're a brunch lover, you'll definitely want to pay a visit to Stonesedge Kitchen in Whistler.
The Chicken Benny may well be one of the best chicken and waffles I've ever tasted!
It features fried chicken, corn relish, hot hollandaise, two soft poached eggs, buttermilk waffle, and potatoes.
The iced coffee was delicious as well!
LOCATION: 4122 Village Green #13, Whistler, BC | Website
---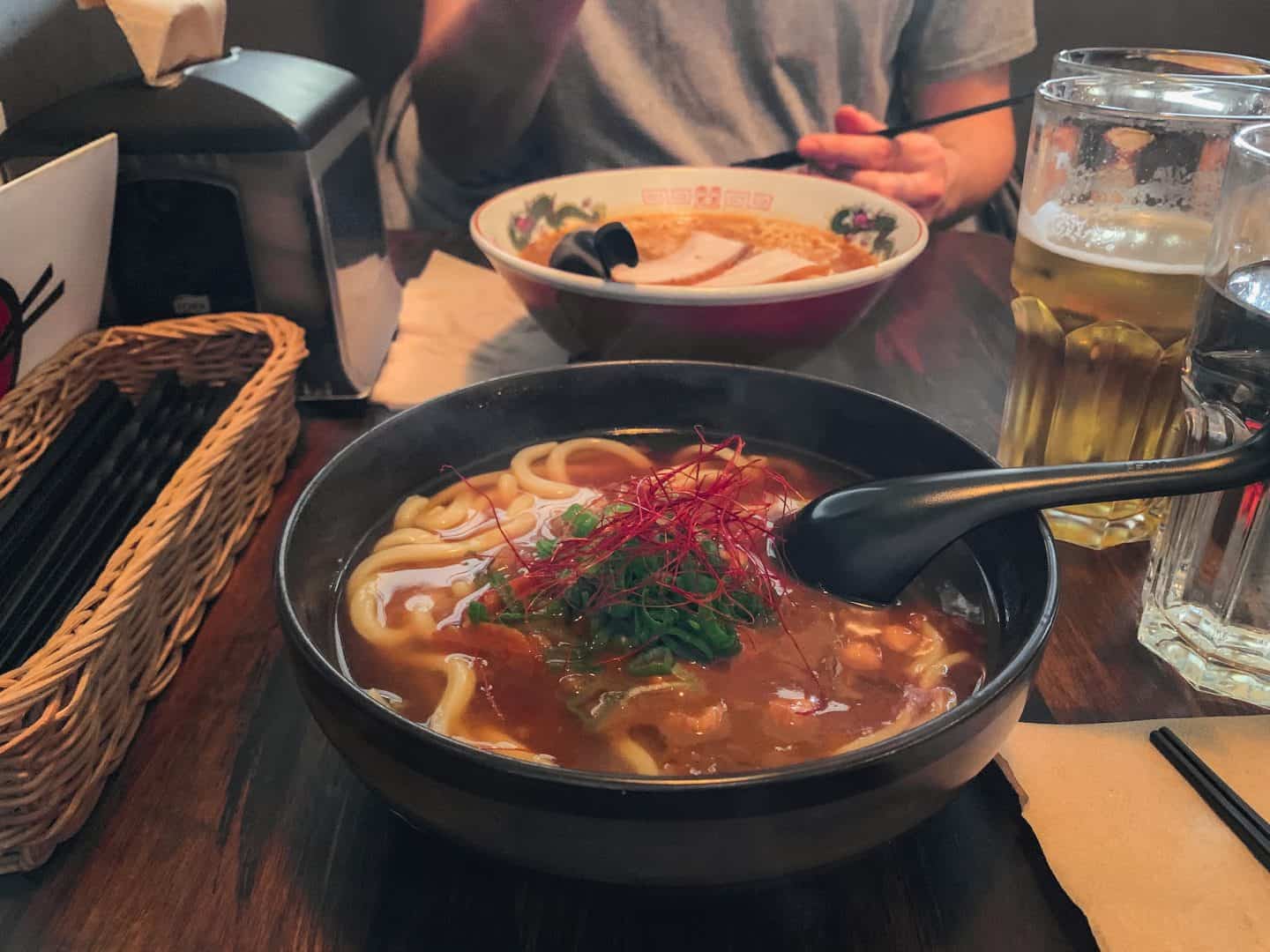 Ohyama Ramen
Looking for a hearty and warm meal after some time out on the slopes?
Tucked away out of the centre of Whistler Village is this little ramen spot.
It's connected to Fuji Market, a small Japanese grocery store, and Harajuku Izakaya, a Japanese tapas spot.
The Vegan Curry Udon is pretty good and the Spicy Ramen is definitely spicy!
They also have a combo offer for $10 that gets you a pint of Sapporo and 4 pieces of pork gyoza, which is a pretty great deal.
LOCATION: 4000 Whistler Way #204, Whistler, BC | Website
---
Rimrock Café
If you're looking to dine somewhere a little fancier, Rimrock Café is a hotspot in Whistler for all things seafood and game meats.
They've also got an extensive wine list if you're looking to wind down after a day out skiing or adventuring!
They were on Yelp's top 100 restaurants in Canada list of 2020, so that's also pretty cool.
LOCATION: 2117 Whistler Rd, Whistler, BC | Website
---
Araxi Restaurant & Oyster Bar
Araxi is another fancy spot in Whistler, and their menu is more seafood-based.
If you're a lover of fresh oysters, you'll definitely want to pay a visit.
They work with local farmers and source their local and sustainable ingredients for their menu!
They've also got an impressive wine menu, with over 1,000 different labels.
LOCATION: 4222 Village Square #110, Whistler, BC | Website
---
Cows Ice Cream
Okay, so Cows isn't a restaurant, but it's still a food spot you absolutely must visit in Whistler.
They're an ice cream chain based out of Prince Edward Island, and their ice cream is handmade using an old-fashioned recipe!
If you've got a sweet tooth, definitely make a stop for some sweet, sweet ice cream at Cows.
LOCATION: 4314 Main St. Unit 1, Whistler, BC | Website
---
The best restaurants in Squamish
---
The Salted Vine Kitchen + Bar
The Salted Vine offers up farm-to-table contemporary dining in Squamish, with a focus on shareable dishes using sustainable and seasonal ingredients.
They make most things on their menu in-house, and they've got amazing charcuterie boards!
Executive chef Jeff Park is also an executive chef at Araxi Restaurant in Whistler.
The restaurant is actually housed in the oldest building in Squamish, which was built in 1910 – pretty cool stuff!
LOCATION: 37991 2 Ave, Squamish, BC | Website
Sushi Sen Japanese Restaurant
One of the reasons why we love visiting Vancouver is because of all the amazing and fresh sushi.
You wouldn't expect for there to be good sushi in Whistler, but Sushi Sen is pretty good!
The Blue Sea Roll with real crab, mango, mayo, tuna, and garlic sauce is absolutely delicious.
The rolls are ginormous, so don't order too much!
LOCATION: 40382 Tantalus Rd, Garibaldi Highlands, BC | Website
---
Backcountry Brewing
We always try to hit up at least one brewery every time we travel, and we decided to stop by Backcountry Brewing in Squamish during our last trip to Whistler!
Backcountry Brewing serves up delicious craft beers that are sure to satisfy even those who don't drink beer often.
We tried one of the IPAs, which was not too bitter and tasted fruity, as well as the amazing coconut and chocolate imperial stout.
The food is pretty average, but the beer is definitely worth visiting for!
LOCATION: 405-1201 Commercial Way, Squamish, BC | Website
---
There are plenty of great restaurants and food spots to check out in Whistler and Squamish.
If you're looking for even more fun activities and things to do in Vancouver, be sure to check out some local tours!
What are some of your favourite restaurants in Whistler or Squamish? Let me know on Twitter or Instagram!
P.S. if you liked this post, you might like this post on how to spend a winter weekend in Whistler, or any of my other posts on traveling in British Columbia.
Be sure to keep up with me on Instagram, TikTok, Twitter, Facebook, and Pinterest if you aren't already!
Feel free to subscribe to my weekly newsletter to get my blog posts delivered straight to your inbox.

---
Like this post? Pin it for later!
---