On the hunt for the best restaurants in Whistler to eat at?
If you're looking for where to eat in Whistler, there are plenty of awesome restaurants and food spots.
After a full day of activities in the Whistler area, you're definitely going to want to devour a delicious meal!
Here are some of the best restaurants to visit in Whistler, British Columbia.
If you're visiting Whistler without a car, you can also take a shuttle from the Vancouver Airport!
Be sure to also follow me on Instagram and TikTok – I share a lot more content on those platforms that don't make it to the blog!
Plan your Whistler trip
If you're planning your trip to Whistler, you might find these posts helpful:
Where to stay in Whistler
If you're looking for hotels in Whistler, here are the hotels we've stayed at during past trips:
We loved our stays at all of these hotels, and they each had their own unique charm!
---
Best restaurants in Whistler, British Columbia
---
This casual Australian-inspired bakery and café serves up handmade meat and veggie pies that are baked fresh in-store daily.
We loved the Steak, Bacon & Cheese Pie, and I was definitely intrigued by The Hopper (made with ground kangaroo imported from Australia), which I'll probably try next time.
Be sure to have your pie "peaked" with mushy peas, mashed potatoes, and gravy, but come hungry, because it's quite filling!
They also have fantastic pastries and coffee, and we really enjoyed their Vanilla Slice.
If you don't get a chance to try this spot in Whistler, they also have locations in Vancouver and Burnaby!
LOCATION: 4369 Main St #105, Whistler, BC
---
La Cantina is an authentic Mexican taqueria serving up tacos, burritos, quesadillas, and more.
They've got vegetarian, vegan, gluten-free, and dairy-free options as well!
We tried all their meat tacos, and they were all delish.
I was tempted to try their vegetarian tacos, which I will definitely do next time!
They've got a location in Whistler Village and one just north of the village.
LOCATION: Various locations
---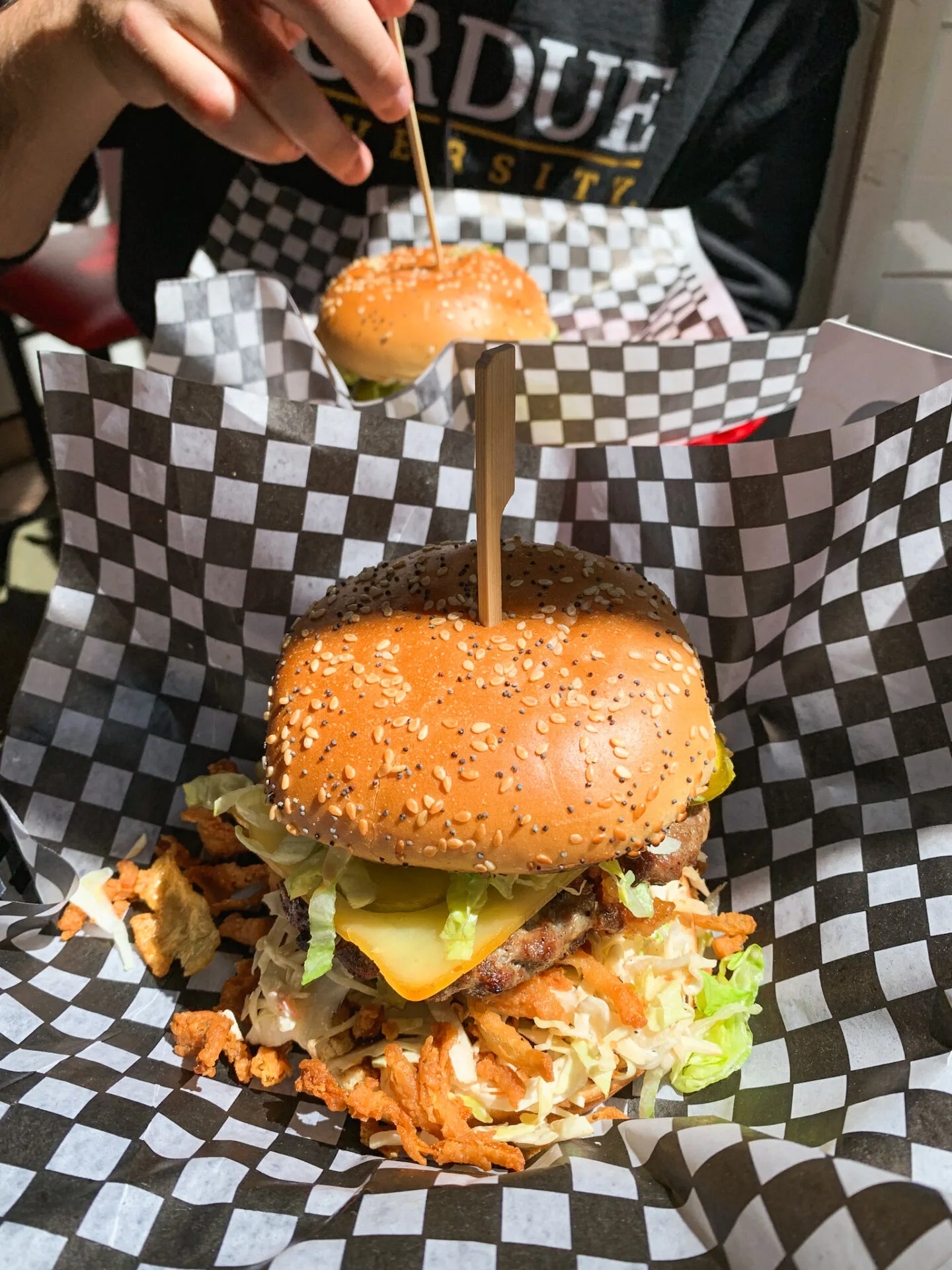 Splitz Grill serves up oh-so-greasy yet oh-so-delicious burgers in Whistler.
Choose from one of their many different beef, chicken, or veggie burger options, or build your own burger.
We loved the Smokehouse Burger with bacon jam and crispy onions – the Angus prime beef patty was so juicy and delicious, and all their sauces are made from scratch!
They even have a few hot dog options, as well as milkshakes to pair with your juicy burgs.
They've also got a lovely patio out back with plenty of seating!
LOCATION: 4369 Main St, Whistler, BC
---
If you're in the mood for pizza, you'll definitely want to hit up Creekbread, located just outside of Whistler Village.
This rustic spot serves up gourmet wood-fired pizza using locally-sourced, organic, and all-natural ingredients, and their dough is made daily using 100% organic Canadian wheat.
Go for The Four Cheese if you're a cheese lover, or try the Mopsy's Kalua Pie if you love pineapple on your pizza!
They're mostly a takeout spot, and they're open Tuesday through Sunday from 3-8 PM.
They actually opened just before the 2010 Vancouver Winter Olympics, which is pretty cool!
LOCATION: 2021 Karen Crescent, Whistler, BC
---
Looking for a hearty and warm meal after some time out on the slopes?
Tucked away out of the centre of Whistler Village is this little ramen spot.
Their vegan ramens are actually quite good, and their Spicy Ramen is the perfect amount of spiciness!
They also have a combo offer for an extra $10 that gets you a pint of Sapporo and 4 pieces of pork gyoza, which is a pretty great deal.
The ramen shop is connected to Fuji Market, a small Japanese grocery store, and Harajuku Izakaya, a Japanese tapas spot.
LOCATION: 4000 Whistler Way #204, Whistler, BC
---
Right next-door to Ohyama is Harajuku, a Japanese izakaya serving up drinks and tapas.
We loved the Popcorn Calamari, Honey Garlic Chicken, and Crispy Tuna Roll, and the Pork Gyoza was good, but nothing special.
Four dishes between Adam and I was the perfect amount to share for dinner!
There's plenty of cozy booth seating, as well as little sectioned-off "rooms" for larger tables where shoes have to be taken off.
They're open everyday for dinner at 5 PM!
LOCATION: 4000 Whistler Way #205, Whistler, BC
---
If you're a brunch lover, you'll definitely want to pay a visit to Stonesedge Kitchen in Whistler.
They switch up their menu every so often, and the Chicken Benny I had last time I visited was one of the best dang chicken and waffles I've ever tasted.
Their iced coffee was delicious as well!
LOCATION: 4122 Village Green #13, Whistler, BC
---
We absolutely adored the vibes, drinks, and food at The Raven Room in Whistler.
Their inventive cocktail menu is ever-changing, and their incredible eats are made using local ingredients.
Small plates and shareables are definitely the move here, and we loved the Spicy Thai Fried Chicken, Crispy Cauliflower, and Ahi Tuna Tartare.
We also shared one of the mains, Duck Leg Confit + Foie Gras Ravioli, and the ravioli was literally to die for.
There were so many interesting cocktails and drink options to choose from, and we loved the Liquid Poetry and Negroni.
Some of their cocktails included spirit infusions like bacon fat, green tea, and white chocolate, which I thought was really cool!
You can find The Raven Room inside the Pan Pacific Village Centre Hotel, and they actually recently placed #35 on Canada's Top 50 Bars for 2022!
LOCATION: 4299 Blackcomb Way, Whistler, BC
---
You'll find modern Canadian comfort foods and creative cocktails at 21 Steps.
From Garlic Chili Prawns, to Stuffed Pork Schnitzel, to Bison Flat Iron Steak, they've got a variety of fusion eats to choose from.
They've even got a kids menu with dishes like Chicken Fingers and Pepperoni Pizza.
I love that they've got a wide variety of local craft beers, ciders, and wines from across British Columbia!
They're open everyday for dinner starting at 5:30 PM.
LOCATION: 4433 Sundial Pl, Whistler, BC
---
If you're looking to dine somewhere a little fancier, Rimrock Café is a hotspot in Whistler for all things seafood and game meats.
They've also got an extensive wine list if you're looking to wind down after a day out skiing or adventuring!
They were on Yelp's top 100 restaurants in Canada list of 2020, so that's also pretty cool.
LOCATION: 2117 Whistler Rd, Whistler, BC
---
Araxi is another fancy spot in Whistler, and their menu is more seafood-based.
If you're a lover of fresh oysters, you'll definitely want to pay a visit.
They work with local farmers and source their local and sustainable ingredients for their menu!
They've also got an impressive wine menu, with over 1,000 different labels.
LOCATION: 4222 Village Square #110, Whistler, BC
---
Best restaurants in Whistler:
Peaked Pies Whistler
La Cantina
Splitz Grill
Creekbread
Ohyama Ramen
Harajuku Izakaya Restaurant
Stonesedge Kitchen
The Raven Room
21 Steps Kitchen & Bar
Rimrock Café
Araxi Restaurant & Oyster Bar
There are plenty of amazing restaurants and food spots to check out in Whistler.
If you're a big foodie, I'd definitely recommend checking out some fun food tours in Whistler, like this Distillery Tour & Tasting Experience, Hidden Gems Dinner Tour, or Fine Dining Tour!
And if you're looking for fun things to do in Whistler, I'd highly recommend ziplining or whitewater rafting!
What are some of your favourite restaurants in Whistler? Let me know on Twitter or Instagram!
Plan your Whistler trip
If you're planning your trip to Whistler, you might find these posts helpful:
Be sure to keep up with me on Instagram, TikTok, Twitter, Facebook, and Pinterest if you aren't already!
Feel free to subscribe to my weekly newsletter to get my blog posts delivered straight to your inbox.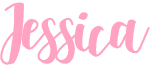 ---
Like this post? Pin it for later!