Planning out your Hawaii vacation outfits?
While you'll see a lot of tourists sporting Hawaiian shirts and flip flops, you're probably going to want to dress a little cuter for all your Instagram photos.
Hawaii has become one of our most favourite places in the world, and we definitely plan on visiting many more times in the future.
From the scenic hikes to the incredible food scene, Hawaii is just such an amazing place to visit!
We've only been to Oahu so far, but Maui and the Big Island are on our list to visit.
Below is an outfit diary featuring most of the outfits I wore and what activities I wore them for during our Hawaii vacation.
Here are some cute vacation outfits you can wear in Hawaii!
---
Hawaii vacation outfits
---
1. Hawaiian shirt & denim shorts
Adam and I bought matching Hawaiian shirts at a local Walmart in Honolulu.
I originally wanted to get them at a local gift shop in Waikiki, but we realized it was double or triple the price for pretty much the same quality.
So, we went with Walmart shirts, and the quality ended up being pretty good!
I wore my Hawaiian shirt both tucked in and tied up over my Levi's white denim shorts, and it was v cute.
While you'll be fine doing regular touristy activities wearing this outfit, I would not recommend it for hiking.
Trust me, unless you want to be a disgusting sweaty mess afterwards.
---
2. Simple t-shirt & denim shorts
You can't go wrong with a simple tee and shorts!
It's one of my go-to outfits on a regular day, and it's an easy outfit to throw on during your Hawaii vacation.
I'd recommend bringing along at least one pair of denim shorts on your Hawaii vacation – it's such a versatile piece for all your outfits!
I only brought this one pair of white Levi's denim shorts, and it was so easy to pair with different outfits.
I probably wouldn't wear white shorts on any hikes or more adventurous activities though, 'cause mine got pretty dirty after falling on trails and ziplining.
---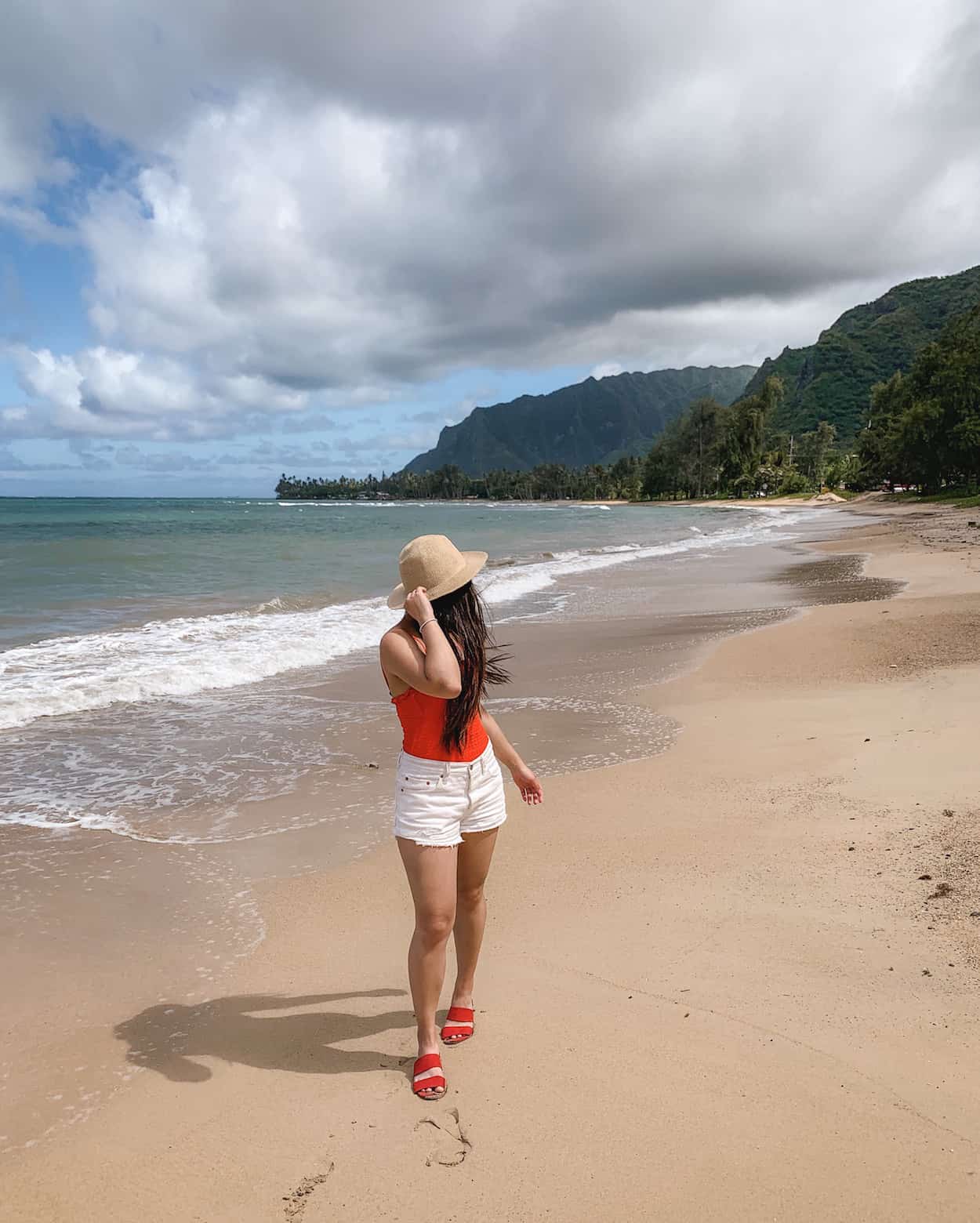 3. One piece swimsuit & denim shorts
Another super cute and easy Hawaii outfit you can wear is a simple one piece swimsuit under a pair of shorts.
Great for a day of exploring the beach or doing any water activities like snorkelling!
This way, you don't have to change into or out of your swimsuit, especially when you're at a beach with no public bathrooms.
Otherwise, you'll have to change in your car rental… Or under a towel while on the beach.
And neither of those options is very fun, I must say.
---
4. Sports bra & athletic shorts
I was nervous that it might be too ~scandalous~ to wear just a sports bra and athletic shorts, but there were other girls dressed similarly on our hikes.
Comfort over conservativeness, ya know?
With how stinkin' hot it gets on hikes in Oahu, you'll definitely want to be in as little clothing as possible.
A sports bra and athletic shorts makes for the perfect hiking outfit!
Running shoes will be fine for more simple and paved hikes like the Makapu'u Lighthouse Trail, but you'll want hiking shoes for tougher trails like the Maili Pillbox hike.
While these Nike Dri-Fit shorts were great and comfortable for hiking, they were really sweaty by the end, so I'd recommend wearing shorts without any underwear lining inside (unless you're going commando yourself).
---
5. Romper
Another simple beach outfit you can't go wrong with is a chic romper.
Just throw it on over a bikini and you're set for a day of relaxing on the beach.
Also a friendly note to not wear any nice shoes on your beach days, because they'll got totally destroyed in the sand and water.
Wear durable sandals that won't get ruined by water, like Birkenstocks!
---
6. Mini dress
I wore this outfit for our first day out of exploring, and it was perfect for walking around Waikiki and scouting out Terrace House locations.
To dress up my outfits a little more, I pretty much wore this straw hat every single day.
It made simple outfits just a little more interesting!
You can't go wrong with some cute and simple dresses for your Hawaii vacation.
---
7. Midi dress
This button down midi dress was probably one of the worst outfits I could've worn to climb this tree, but I guess it was worth it for the 'Gram?
I loved wearing midi dresses throughout this trip because they were so darn comfortable and they didn't fly up in the wind.
---
8. Maxi dress
I'm not much of a maxi dress gal in general, but I can't deny that a chic floral maxi dress will make for some cute Hawaii photos.
It's also just easy to throw on over a swimsuit or wear out for a date night!
It also gets windy out later in the evening, so you definitely would rather be wearing a maxi dress than a mini dress unless you want a Marilyn Monroe moment.
---
9. Crop top & midi skirt
A simple tube top goes great with a flowy midi skirt.
It lets your armpits breathe, cuz that's important when it's hot af outside.
You can also wear the tube top with other bottoms, or the midi skirt with other tops!
I love me some good versatile pieces for a vacation.
---
10. Matching two-piece set
What's cuter than a monochrome two-piece set?! Nothing, I say.
I definitely wouldn't wear pants out in the blazing Hawaiian heat, but they're great for the windier evenings on the beach.
---
Hawaii flights & accommodations
Looking to book your flights and accommodations for Hawaii?
I love booking all of my flights and hotels on Expedia and collecting points towards free rewards.
As most hotels were out of our budget, we opted for an Airbnb (and even got a weekly discount on it).
We stayed at an Airbnb near Waikiki Beach, and it was the perfect location.
Waikiki is the main touristy part of Oahu, and you could really spend all your time here if you wanted to.
There are tons of amazing restaurants, great shopping, and fun beach activities all within walking distance!
The great thing about Oahu is that you can basically drive from one end of the island to the other in an hour (without traffic).
We usually stay in multiple accommodations in areas we'll be visiting, but we were able to stay in one place the entire time!
I have a separate blog post all about how to find the best Airbnbs.
If you're willing to spend a bit on accommodations, the Royal Hawaiian and Moana Surfrider are both gorgeous hotels right on Waikiki Beach.
The Hilton Hawaiian Village has a great outdoor shopping centre within it, and they have free fireworks every Friday evening (open to the public).
---
Hopefully this gave you some inspiration on your own Hawaii vacation outfits!
Check out my Oahu vlog on YouTube to see more of our trip!
If you're looking for things to do in Honolulu, check out these tours!
What outfits would you wear on a Hawaii vacation? Let me know on Twitter or Instagram!
If you're planning a trip to Hawaii, here are some other posts to help you plan your perfect trip:
Be sure to keep up with me on Instagram, Twitter, Facebook, and Pinterest if you aren't already!
Feel free to subscribe to my weekly newsletter to get my blog posts delivered straight to your inbox.

---